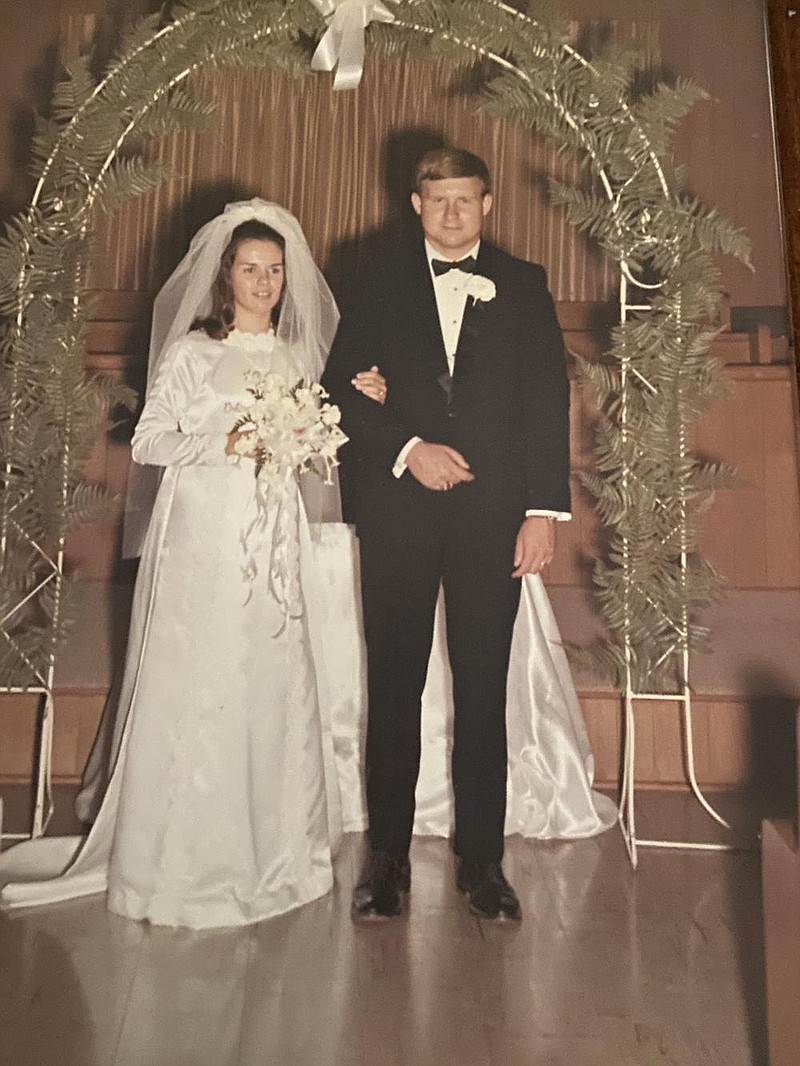 Kay and Ed Hicks exchanged their vows on Aug. 15, 1970. "She lived several places overseas and around the United States," Ed says of when they met. "The [farthest] I'd traveled was from Holly Grove, Ark., to Conway, Ark., to go to school." (Special to the Democrat-Gazette)
Kay Funkhouser's friend, Frank, asked her to call when she got a phone installed in her college dorm at the beginning of the year, and she did.
Ed Hicks answered the phone and asked her for a date.
"From then on, it was Ed and Kay and Frank got left in the dust," she says with a laugh. "Frank was very unhappy because Ed was a source of companionship and transportation for him."
Kay and Ed had been on the campus of State College of Arkansas, now University of Central Arkansas, for two years when Frank had introduced them in line at the cafeteria in 1969.
"You know, people would just go to lunch all in a wad and we were all there together," she says. "I thought he was just handsome and good-looking and so funny."
Their first date was a party hosted by Ed's fraternity brother on a farm near Greenbrier.
"We went out there and had a bonfire," Kay says.
Ed had graduated from high school in Holly Grove. Kay had finished school at the International School of Bangkok in Thailand.
"We just had an instant attraction and I could not imagine this big handsome tall fraternity man with the gorgeous blue eyes was interested in little me, coming from a culture that didn't fit anything really, you know, one foot in overseas and one foot in America and, and not a typical high school experience at all," she says.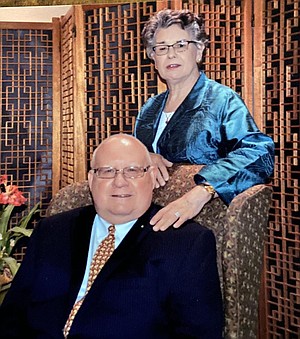 Kay Funkhouser and Ed Hicks met in college and formed an instant kinship. "We shared our faith and we were both good, old-fash- ioned people and conservative," Kay says. "I guess we kind of were old souls perhaps." (Special to the Democrat-Gazette)
Ed doesn't remember asking many questions about her experience abroad, but their backgrounds, he supposes, did lend themselves to some interesting topics of conversation.
"I was a young man from eastern Arkansas. Son of a sharecropper meets a girl with roots in western Arkansas but really from all around the world because of her dad's history and military. She lived several places overseas and around the United States," he says. "The [farthest] I'd traveled was from Holly Grove, Ark., to Conway, Ark., to go to school."
One of their early dates was to a Kenny Rogers and the First Edition concert on campus, and there were always fraternity activities.
They spent most of their time together, however, in the campus library.
Kay was finishing her degree in three years, summers included, so her study load was heavy and the library was a common hangout.
"Also, the library was a cheap date," she says.
After studying they would go to a little dairy bar, where she would get an orange sherbet cone and he would get a chocolate milkshake.
By Thanksgiving of 1969, Kay was wearing Ed's fraternity pin.
Her mother and brothers were living in Danville at the time, and Ed had met them multiple times.
"Mother thought Ed was a very fine gentleman," Kay says. "She was glad I was dating because I hadn't dated much. She thought, 'Oh, they're dating. This is fun.' But then her husband was thousands of miles away and we were talking about marriage and we had only been dating a few months and oh my goodness."
Kay's father was still in the Army, serving in Vietnam. In December, Ed wrote him a letter asking for Kay's hand in marriage.
"He basically agreed, but he said, 'You will take care of her or there will be consequences,'" Ed says.
When her father returned in February 1970, he had sage words for them both about the sacred commitment of marriage.
Ed gave Kay an engagement ring in June and they planned for an August wedding.
They were married on Aug. 15, 1970, in First Baptist Church in Danville, the church where her parents had married.
"The singers were the same ones who had sung at my parents' wedding," she says.
Kay's parents were living in Colorado by then, and it seemed to make sense for them to get married the same weekend as they graduated so their families wouldn't have to make the trip twice.
"She had promised her mom that she would graduate from college before she was married," Ed says. "So we graduated on Friday night, Aug. 14, and we got married Saturday night, Aug. 15."
The schedule left no time for a rehearsal, though, and the pastor had simply called Kay to give her an idea how things were going to work.
Ed's mother died when he was 15, but his sister came from Atlanta for the wedding with her two children.
Kay went to Colorado to spend a few weeks with her family after finishing her course work that summer, and while she was gone, Ed found an apartment for them in North Little Rock. They now live near Otter Creek.
Kay is a retired special education teacher and Ed is a retired tax administrator.
They hope to take a cruise when the covid-19 pandemic is under control. For now, they settled for a road trip to visit a jeweler in Russellville and pick up a slide for the bracelet Ed and her mother gave Kay for her birthday last year.
"We've traveled to more than 20 countries so far," Kay says, "and we are looking forward to traveling more."
If you have an interesting how-we-met story or if you know someone who does, please call (501) 425-7228 or email:
kimdishongh@gmail.com
More News
The first time I saw my future spouse:
She says: "I thought he was just amazing. I mean, he was so tall and good looking and these blue eyes and just such a great personality — and so funny. Just so cute."
He says: "She was cute and she had some real good-looking legs."
On our wedding day:
She says: "I was excited but also petrified because we had no wedding rehearsal."
He says: "I wasn't nearly as nervous as she was. I was just, 'Let's get it done.'"
My advice for a long happy marriage:
She says: "Pray together. That really bonds a couple."
He says: "Honor your vows. Keep your word and be faithful to each other. OK?"
Sponsor Content