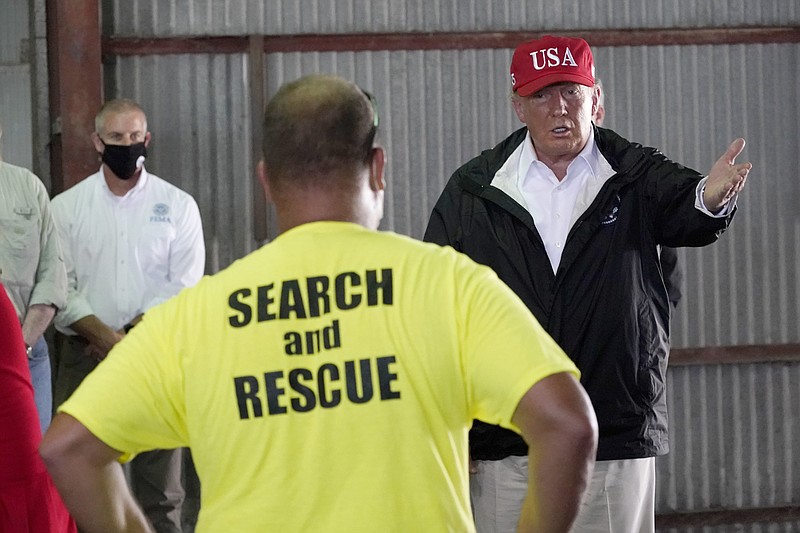 President Donald Trump speaks with first responders as he tours a warehouse being used as a distribution point for relief aid after Hurricane Laura hit the area, Saturday, Aug. 29, 2020, in Lake Charles, La. (AP Photo/Alex Brandon)
LAKE CHARLES, La. -- President Donald Trump got a firsthand look Saturday at the damage inflicted by Hurricane Laura.
His stops, first in Louisiana and later in Texas, came two days after the Category 4 storm slammed ashore on the Gulf Coast, eventually leaving at least 16 dead and storm-hit areas in rubble from severe winds and flooding.
[Video not showing up above? Click here to view » https://www.youtube.com/watch?v=8l9pMoburA0]
The storm surge had receded and the cleanup effort had begun Saturday, and although the storm was not as bad as initially feared, authorities warned that some people in its wake could be without running water or electricity for weeks in the stifling late summer heat. The storm left roads impassable, tore roofs and walls off buildings, and strew debris.
"I'm here to support the great people of Louisiana," Trump said in Lake Charles, La. "It was a tremendously powerful storm."
He said he knows one thing about the state: "They rebuild it fast."
Among those traveling with Trump from Washington were Chief of Staff Mark Meadows and Pete Gaynor, head of the Federal Emergency Management Agency. The president said Gaynor had done "a hell of a job." FEMA, so far, has delivered some 2.6 million liters of water and 1.4 million meals to residents displaced by the storm, Trump said.
Louisiana lawmakers accompanying Trump included U.S. Sen. John Kennedy and U.S. Reps. Clay Higgins, Steve Scalise and Garret Graves, all Republicans.
During the slightly more than two hours he spent in the city, Trump met with officials and relief workers but not with any of the residents whose homes had been ripped apart in the storm.
He got a good look at the extensive damage and the debris strewn across the city of 80,000 people, beginning with a bird's-eye view from Air Force One as it flew in for landing.
His first stop was a warehouse being used as a staging area for the Cajun Navy, a group of Louisiana volunteers who help with searches and rescues after hurricanes and floods. "Good job," Trump told them.
Trump then toured a neighborhood with Gov. John Bel Edwards and acting Homeland Security Secretary Chad Wolf, making his way along a street blocked by felled trees and damaged houses, one with its entire roof torn off.
The president said Louisiana had "been through a lot" between the deadly hurricane and its covid-19 outbreak. "You've done a great job," he told Edwards, a Democrat.
Edwards has said Laura was the most powerful hurricane ever to strike his state, surpassing even Hurricane Katrina, which was a Category 3 when it hit 15 years ago.
"Whether you come from Louisiana or Fifth Avenue in New York, you know about Katrina," Trump said.
The president then flew by helicopter to Orange, Texas, which was the worst-hit area in that state. Several hundred supporters greeted him with Trump 2020 banners and signs. Among the Texas officials on hand were Gov. Greg Abbott, U.S. Sen. Ted Cruz, and U.S. Reps. Brian Babin and Randy Weber, all Republicans.
Before a flyover to view damaged areas, Trump and other officials visited the emergency operations center in Orange County to discuss storm damage and the government response. Trump flew back to Washington on Saturday evening.
Gallery: President Trump visits Louisiana and Texas
[Gallery not loading above? Click here for more photos » arkansasonline.com/830trump/]
Trump made the trip a day after holding a rally in New Hampshire, a potential swing state in November's election, and as he criticized Democrat Joe Biden for not appearing more frequently in public.
Biden issued a statement Saturday saying he and his wife were praying for people hurt by the storm and promised "we will be there to help you build back better."
Biden praised the response of families in the hurricane-hit states and thanked them for "reminding Americans that no disaster, no single person, no injustice can match the humble, personal, courageous ways that Americans choose decency every single day."
[RELATED » Full coverage of elections in Arkansas » arkansasonline.com/elections/]
THREADED NEEDLE
Laura, which at one point packed 150 mph winds and a storm surge as high as 15 feet, toppled trees and damaged buildings as far north as Central Arkansas.
In the midst of the coronavirus pandemic, more than 580,000 coastal residents fled inland.
Laura was a monster storm that would have been much worse, except for a few lucky breaks and some smart thinking by Gulf Coast residents, experts say.
Just before striking Louisiana, Laura wobbled. It wasn't much, maybe 15 miles for a Category 4 storm that was nearly the width of two states, but it was enough to move the worst of the storm surge east of Lake Charles and into a far less populated area.
And even before that, Laura threaded a needle between well-populated New Orleans, and Port Arthur and Houston in Texas. It came ashore in Louisiana in Cameron Parish, which is the second-least-populated county along the coast. The population of the average Atlantic and Gulf Coast county is 322,000 people. Cameron Parish has less than 7,000.
Before Laura struck, coastal governments and residents took the right steps and got out of harm's way for the most part, a veteran New Orleans disaster expert said.
Lauren Sylvester heeded the mandatory evacuation, leaving her townhouse in Lake Charles, La., on Wednesday to stay with her mother in New Iberia, La., east of where Laura came ashore. Between the evacuation order and the storm surge projections, she didn't want to risk staying home.
She returned home to some lost shingles and downed trees. There was no water damage.
NARROW MISS
Lawrence "Lee" Faulk of nearby Grand Lake, La., a member of the Cameron Parish governing body called a police jury, said if the storm had been 10 miles to the west, "Lake Charles and this part of the parish would have got all that water."
National Hurricane Center storm surge specialist Jamie Rhome referred to the storm's last-minute course change as the "little wobble that saved" Lake Charles. In the end, the city got maybe half the storm surge it could have received, he said.
The worst storm surge is to the east of a hurricane's eyewall because of the combination of the storm's counterclockwise whirl and northward movement. As Laura wobbled more to the east, Lake Charles got the eyewall, and the worst surge hit farther east in the marshlands, Klotzbach said.
More than half of those who died succumbed to carbon monoxide poisoning from the unsafe operation of generators, according to authorities. The hurricane also killed nearly two dozen people in Haiti and the Dominican Republic as it barreled toward the U.S.
Residents in southwestern Louisiana embarked Saturday on the epic task of clearing away debris.
Lake Charles Mayor Nic Hunter said National Guard troops would begin handing out tarps today to residents so they could cover damaged roofs.
Katlyn Smith, 24, found more than just roof damage when she returned Friday to her two-bedroom mobile home in the Jesse James Mobile Home Park in the city. She said Saturday that the wind ripped the roof off "like a sardine can. And then the walls folded in." Many of the other mobile homes in the park were also decimated.
On Friday night, the few residents who remained barbecued roasts, burgers and chicken on a makeshift grill before the food went bad.
"There is a time to cry and to be sad and there's a time to pick up, too. You have to pick yourself up and keep going, and my strength comes from God and my fiance," she said.
IMPASSABLE AREAS
Simply driving was difficult in Lake Charles, La. Power lines and trees blocked paths or created one-lane roads, leaving drivers to negotiate oncoming traffic. The parish sheriff's office posted an extensive update on its Facebook page of streets that were impassable.
The mayor cautioned people that there is no timetable for restoring electricity and that water-treatment plants "took a beating," leaving barely a trickle of water coming out of most faucets.
Several hospitals in Calcasieu Parish and one in Cameron Parish evacuated critical patients to other facilities because of loss of water and power, the state health department said.
At South Cameron High School in Creole, La., parts of the roof of one building were ripped off, and debris littered the area. A barge appeared to be tilted on its side near the water.
Shirley Laska, a sociologist who studied Louisiana disasters at the University of New Orleans and co-founded the Lowlander Center, said parish leaders, emergency managers and citizens did the right thing before the storm.
"I'm pretty much a cynic and a critic, but I think these parishes did wonderfully. And I mean both the citizens and the leaders," Laska said. "But they got out of Dodge. They evacuated as they were told."
Information for this article was contributed by Gerald Herbert, Nomaan Merchant, Melinda Deslatte, Rebecca Santana, Seth Borenstein, Melinda Deslatte, Janet McConnaughey, John Mone and Ellen Knickmeyer of The Associated Press.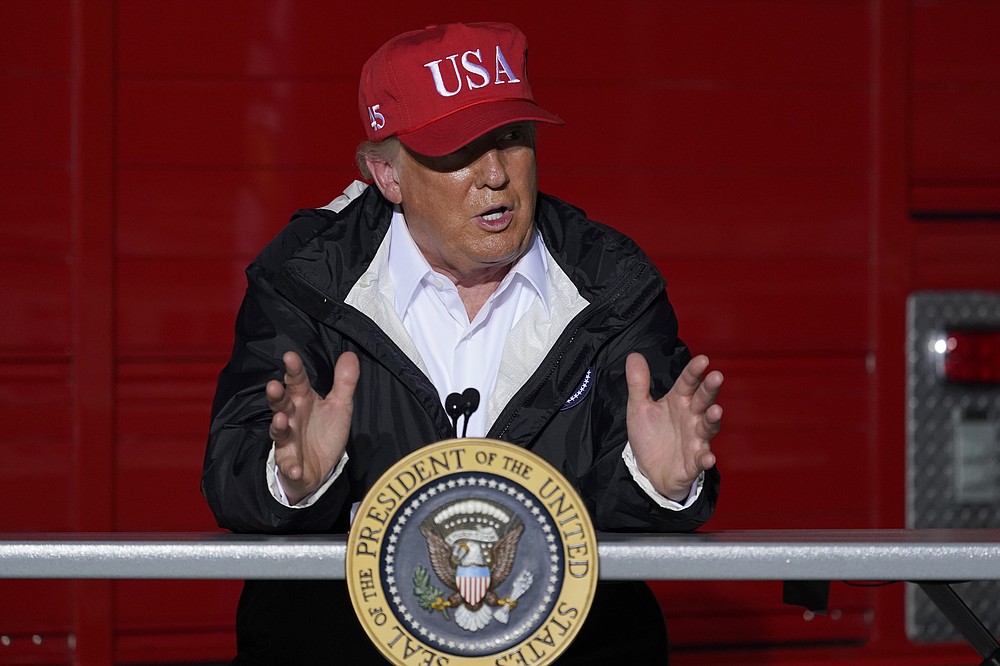 President Donald Trump speaks during a briefing from first responders on the response to Hurricane Laura, Saturday, Aug. 29, 2020, in Lake Charles, La. (AP Photo/Alex Brandon)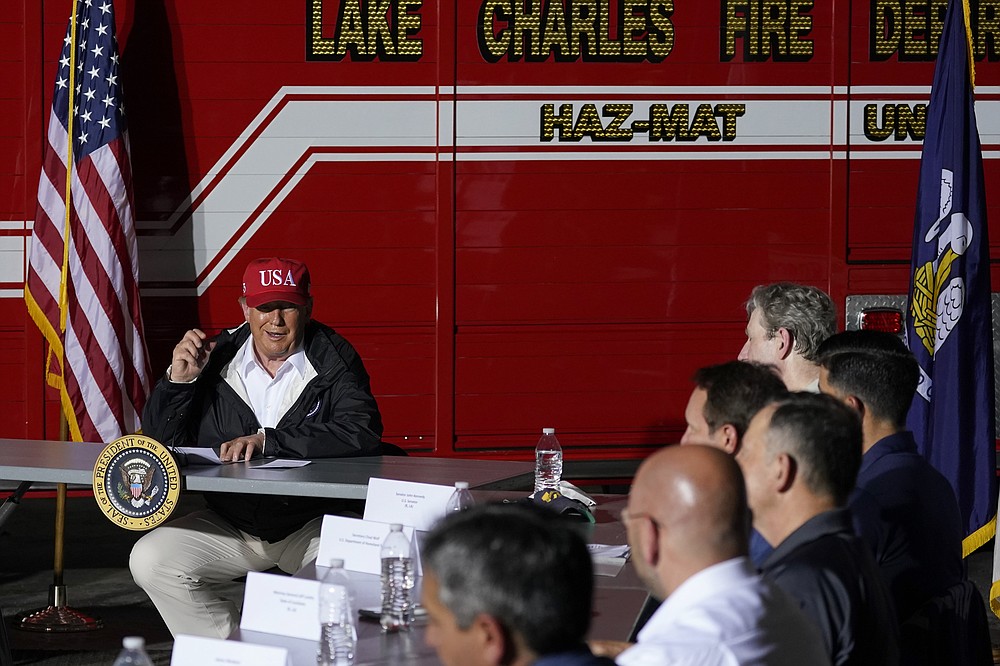 President Donald Trump speaks during a briefing on the response to Hurricane Laura, Saturday, Aug. 29, 2020, in Lake Charles, La. (AP Photo/Alex Brandon)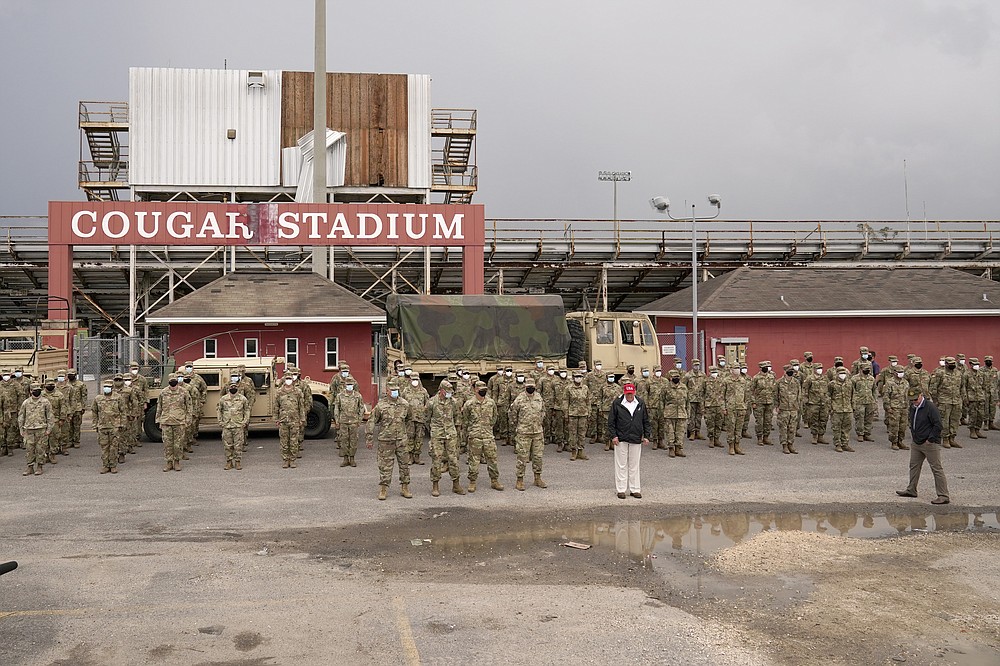 President Donald Trump poses for a photo with members of the Louisiana National Guard helping with recovery efforts from Hurricane Laura, Saturday, Aug. 29, 2020, in Lake Charles, La. (AP Photo/Alex Brandon)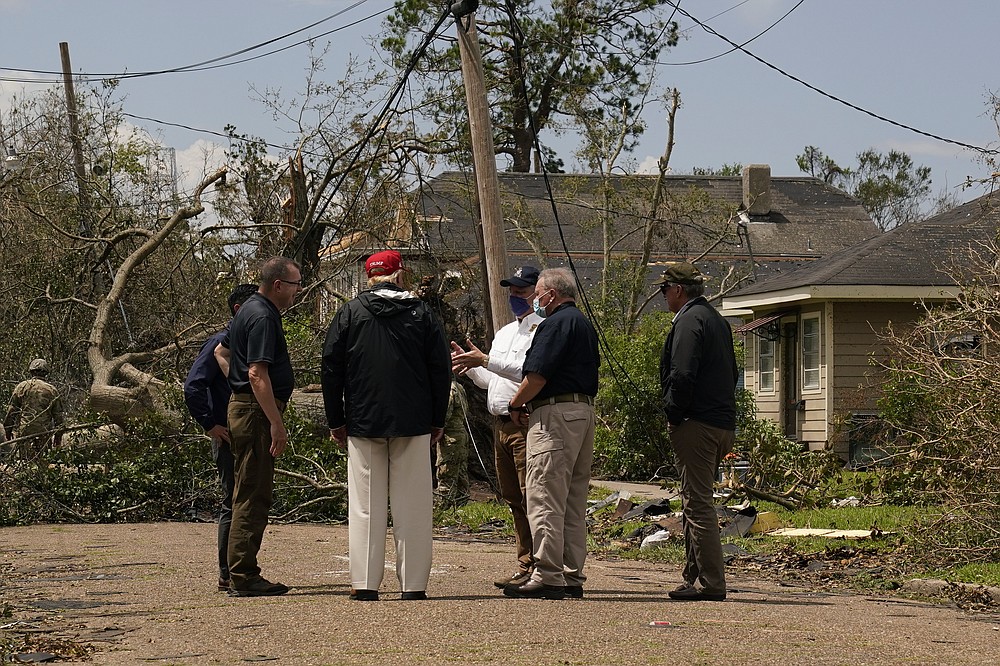 President Donald Trump tours damage from Hurricane Laura, Saturday, Aug. 29, 2020, in Lake Charles, La. (AP Photo/Alex Brandon)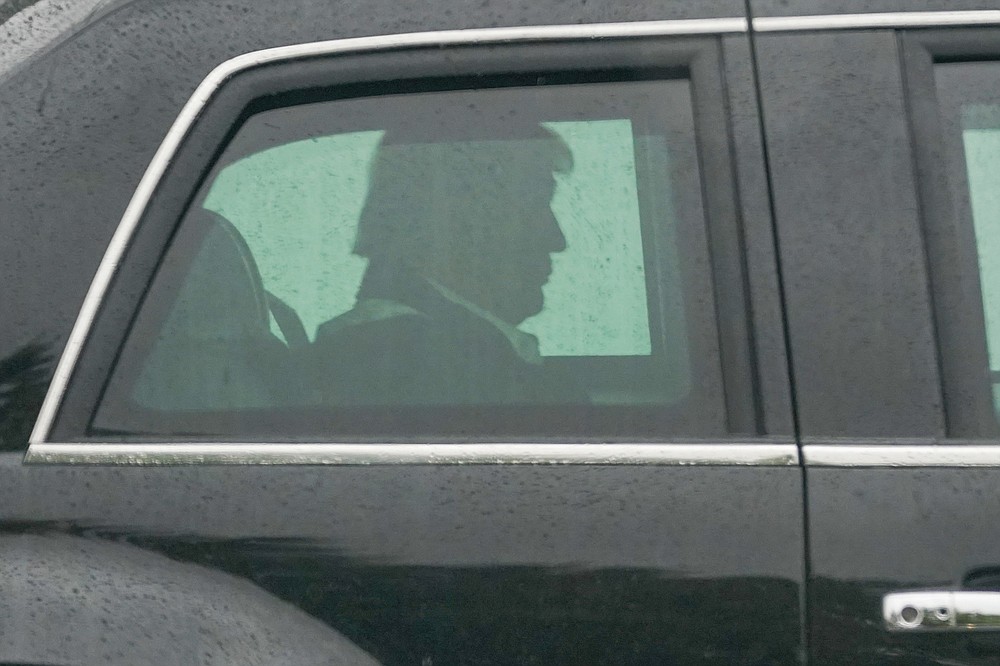 President Donald Trump leaves the White House as he heads to Andrews Air Force Base Saturday, Aug. 29, 2020, in Washington. Trump going to tour damage from Hurricane Laura in Texas and Louisiana. (AP Photo/Alex Brandon)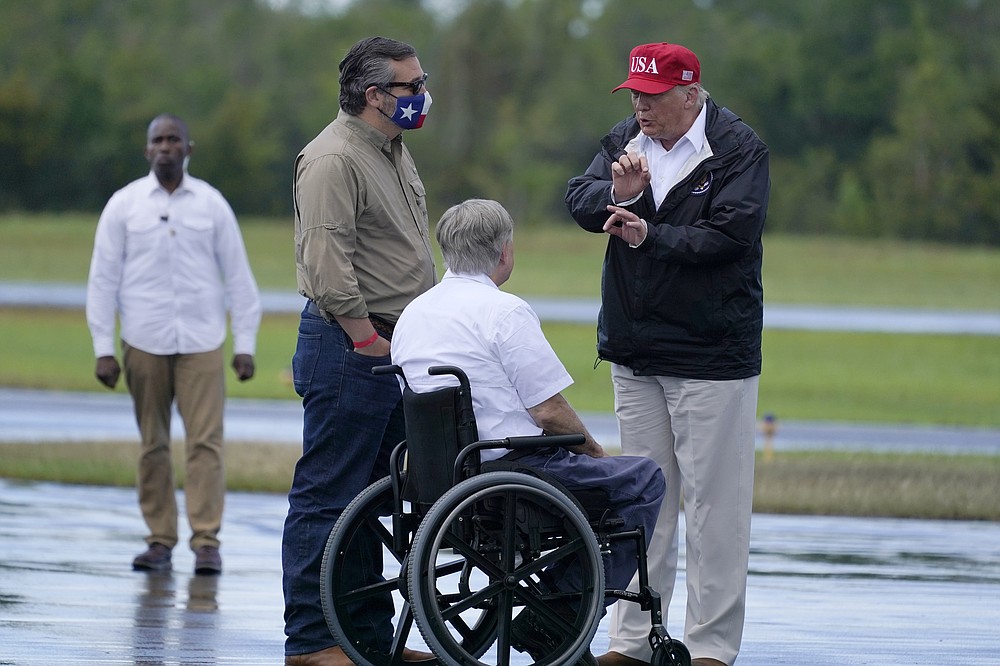 President Donald Trump talks with Texas Gov. Greg Abbott and Sen. Ted Cruz, R-Texas, as he arrives to view damage caused by Hurricane Laura, Saturday, Aug. 29, 2020, in Orange, Texas. (AP Photo/Alex Brandon)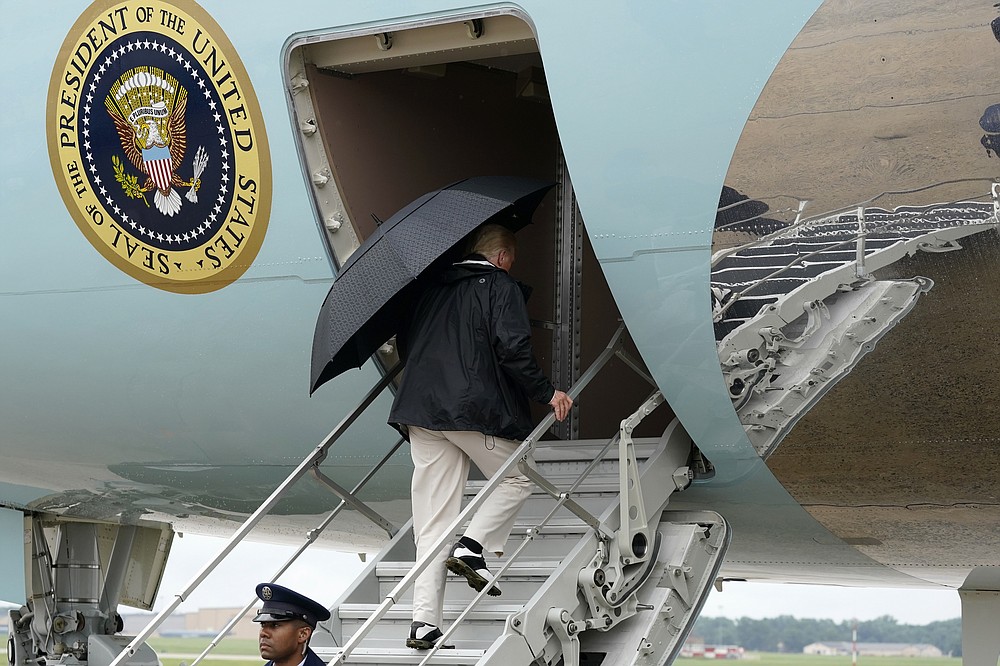 President Donald Trump boards Air Force One as he departs Saturday, Aug. 29, 2020, at Andrews Air Force Base, Md. Trump is en route to tour damage from Hurricane Laura in Texas and Louisiana. (AP Photo/Alex Brandon)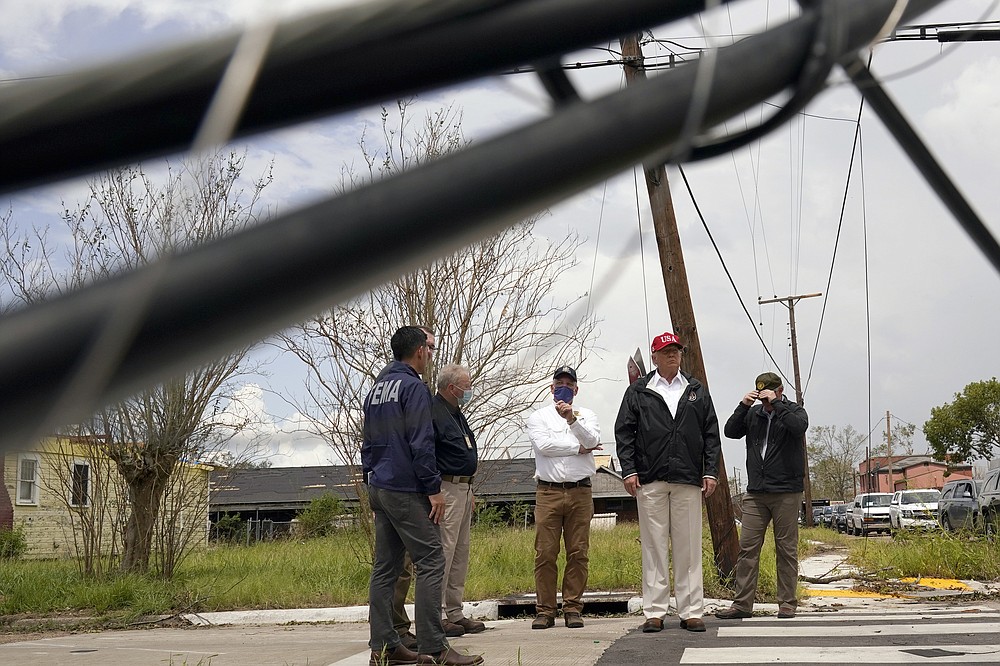 President Donald Trump tours damage from Hurricane Laura, Saturday, Aug. 29, 2020, in Lake Charles, La. (AP Photo/Alex Brandon)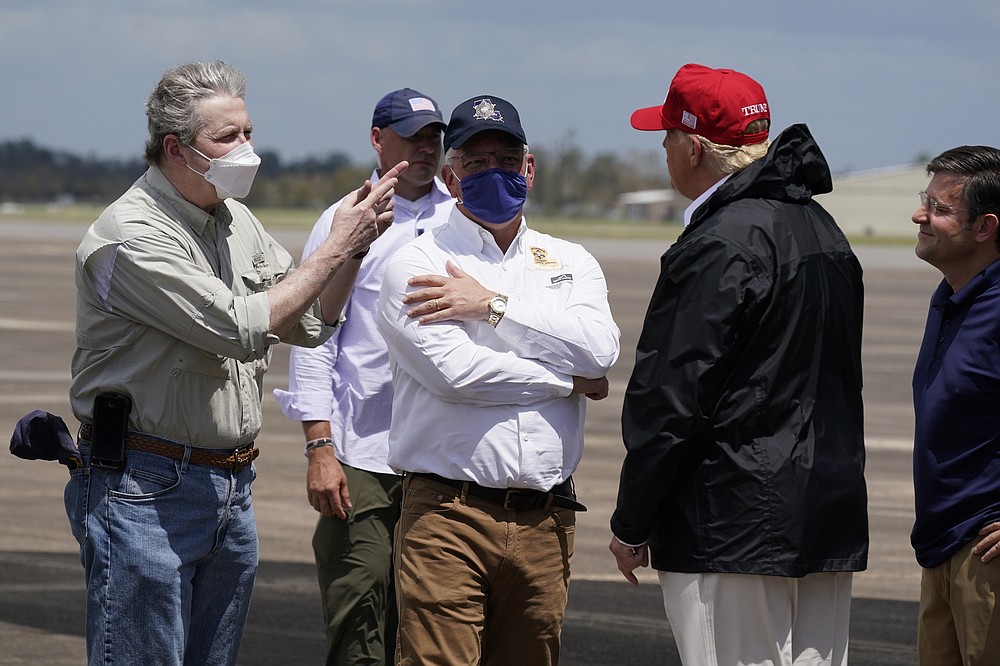 President Donald Trump talks with Sen. John Kennedy, R-La., left, and Louisiana Gov. John Bel Edwards upon arrival at Chennault International Airport, Saturday, Aug. 29, 2020, in Lake Charles, La. Trump is planning to tour damage from Hurricane Laura in Texas and Louisiana. Rep. Mike Johnson, R-La., is at far right. (AP Photo/Alex Brandon)
Sponsor Content