In simplest terms, a song is a succession of musical notes, expressed by a human voice or by an instrument that mimics or suggests a human voice. It doesn't necessarily need words.
Legally, it may be a musical work combined with a literary one. Words and music. The author (or authors) of the song are the people who invent the music and the words. Other components of what we might think of as a song -- harmony, chordal cushioning, rhythm, contrapuntal texturing, feel, etc., are not considered part of the writing of the song, but part of a song's arrangement.
An arranger, in the eyes of the law, is not an author.
But let's consider how things actually work in the world. Songs do not always arrive in discrete packages; they are not always the product of an artist retreating to a room with a guitar or a piano and emerging with a lead sheet and lyrics. Often songs come in the heat of collaboration, in a sweaty garage or basement or rehearsal hall where musicians are playing together, investigating the possibility of a beat, of a key. Songs can start with a riff or an offhand joke by the bass player.
In the world of practice, it is not so easy to define what came from where. It's impossible to engrave your initials on the underside of an idea. The author of a song is the one who files the papers first.
This matters. In the music business, publishing royalties are important. Owning a song is like owning a business; playing bass or guitar or singing in a band is like working for a wage. Once upon a time you could get rich playing rock 'n' roll music, power chords in 4/4 time. But you could get a lot richer writing classic rock 'n' roll songs.
There is a simple answer to who wrote The Band's songs. Look at the credits on the first two albums. On 1968's "Music From Big Pink," Robbie Robertson is credited as the sole writer of four songs, "The Weight," "Caledonia Mission," "To Kingdom Come," and "Chest Fever."
Richard Manuel has three solo writing credits ("In a Station," "We Can Talk," "Lonesome Suzie,") and a co-write with Bob Dylan ("Tears of Rage").
Rick Danko is credited, along with Dylan, for "This Wheel's on Fire."
The Band also covers Dylan's "I Shall Be Released" and the Marijohn Wilkin/Danny Dill chestnut "Long Black Veil."
On the second album, 1969's "The Band," Robertson is credited as the sole author of eight of the 12 songs, shares credit with Manuel on three others and with Levon Helm on "Jemima Surrender."
From this we might deduce that Robertson is the primary creative engine for the Band, with others making significant lesser contributions. Had Helm not famously disputed this, had he not vociferously protested that Robertson took advantage of his bandmates who were more interested in the process of music making than the assigning of credit (and future royalties), we would accept Robertson as one of the great rock 'n' roll songwriters.
Helm's position was that Robertson was just the one who filed the papers. And there is something to that -- who thinks of "Chest Fever" as anything but a Garth Hudson song?
"Does it even have lyrics?" Robertson, its putative lyricist, once asked, and there are accounts of the lyrics been improvised by the singers Helm, Manuel and Danko. Hudson started it out interpolating Bach's Tocatta and Fugue in D minor, and there's a weird part where Manuel is sawing on a violin while Hudson honks on a sax. But J.R. Robertson is listed as the sole songwriter.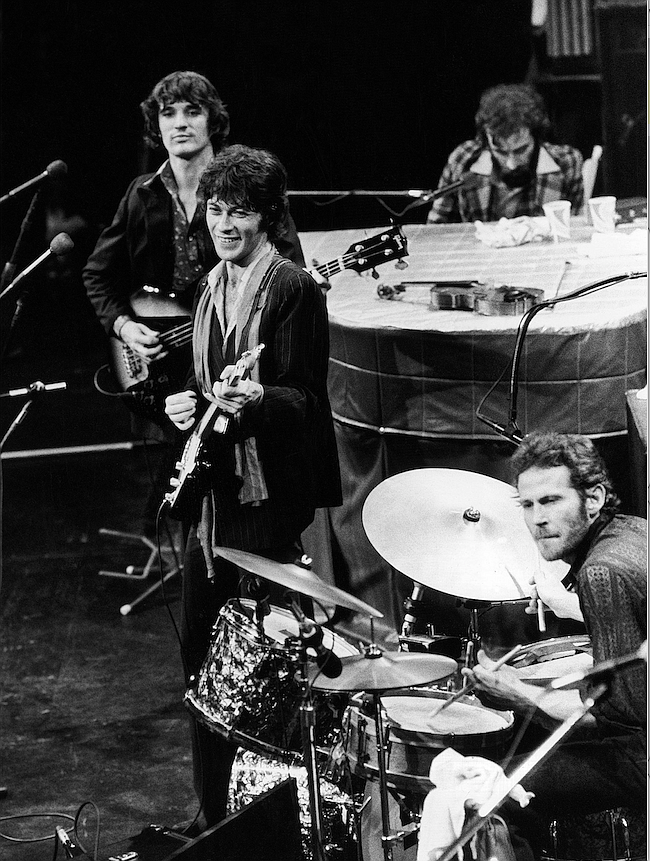 The Band (from top right, clockwise): Richard Manuel on piano, Levon Helm on drums, lead guitarist Robbie Robertson and bass guitarist Rick Danko, take the stage for their final live performance at Winterland Auditorium in San Francisco on Nov. 27, 1976.(AP file photo)
We will never know. In Sandra B. Tooze's sympathetic new biography "Levon: From Down in the Delta to the Birth of The Band and Beyond" (Diversion Books, $28.99) she sets out Helm's position as being that "the music was a group effort, an amalgamation of all their creativity."
This is no doubt true, though it doesn't preclude the possibility that Robertson was the author of the melody and lyrics to those songs in which he claims sole copyright.
What is legal is not always what is fair and ethical. Robertson's version is that he was taking care of business while his bandmates partied and wallowed in drug abuse. He kept The Band going when the others would have frittered the dream away. He has made his case in his 2016 book "Testimony" and in Daniel Roher's recent documentary "Once Were Brothers: Robbie Robertson and the Band."
By way of disclosure, like a lot of people in Arkansas, I had some dealings with and warm feelings for Helm. I've written a lot about The Band. But I understand Robertson's point of view.
Yet there's another argument. If Robertson's taking sole credit for "The Night They Drove Old Dixie Down" wasn't outright theft, it was at least an egregious case of cultural appropriation.
While Tooze tries to remain nonpartisan, the romantic view will always tilt toward the charismatic, easy-flowing Helm over the relatively buttoned-up and occasionally vainglorious Robertson. She gives the final word to Canadian musician David Clayton-Thomas (Blood, Sweat & Tears), who says that "Music From Big Pink" really began before the as-yet-unnamed Band retreated to Woodstock, when they were still playing clubs on Toronto's Yonge Street:
"I know a great deal of that album was Levon Helm. Sure, everyone contributed, but I just knew what a force he was in that band, and there's no way he didn't co-write some of those songs, and he maintained that right up until his death. And I believe him because I was privy to the process of that group and how they worked. Levon definitely was the driving force ...
"It's more likely Robbie was smart and they were busy partying and drugging ... I would have felt better about it had [Robbie] gotten the publishing but still credited the writers ... I knew how much they contributed."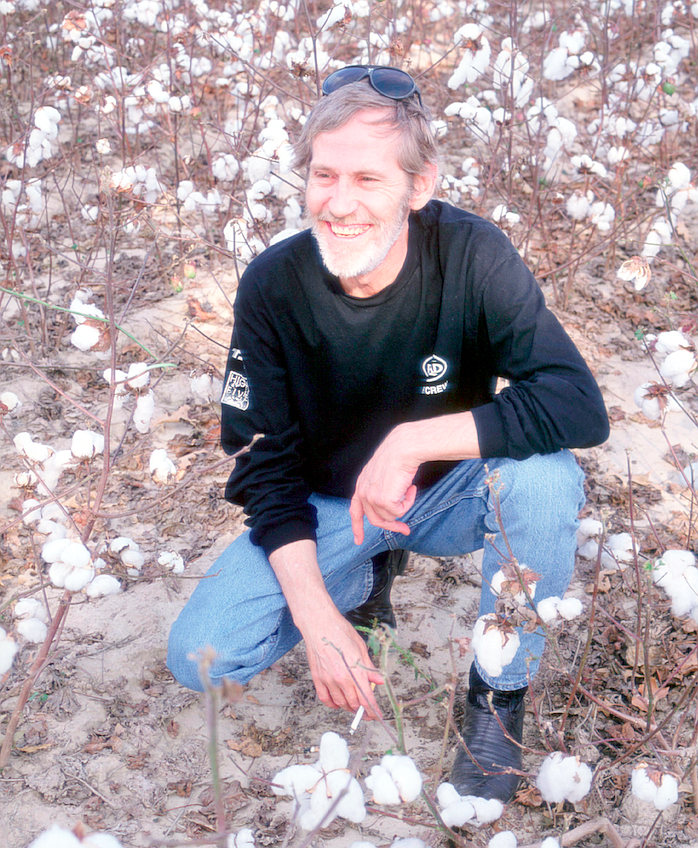 Phillips County native Levon Helm was photographed in 1994 for the Democrat-Gazette's High Profile section.(NWA Democrat-Gazette/David Gottschalk)
Thankfully Tooze's biography, the only major book about Helm apart from the 1993 memoir he wrote with Stephen Davis, "This Wheel's on Fire," doesn't belabor the feud, and does some wonderful work excavating Helm's childhood in Turkey Scratch, thanks largely to extensive interviews with family friends that elevate the book above the sort of clip-job biographies that rely exclusively on secondary sources. (Tooze also relies on a lot of secondary sources. Bravo.)
A wonderfully detailed account of young Levon -- champion tractor driver, indifferent student, irrepressible personality and grace-touched musician -- emerges in the early pages before moving into the more familiar story of how Ronnie Hawkins brought teen-ager Helm with him to Toronto and the lucrative Canadian bar circuit.
There, as part of Hawkins' backing band The Hawks, Helm grew into an assured multi-instrumentalist, on-stage band leader, and an uncommonly alert and sensitive artist. Tooze, a Canadian who interviewed Helm for her 1997 biography of Muddy Waters, one of Helm's musical touchstones, is very good at limning Helm's musical and show-biz education under the tutelage of Hawkins, who quickly understood that Helm and the other young musicians -- the nascent Band -- he'd collected would eventually outgrow him.
"They were the best white rhythm and blues band probably in the world at that time," she quotes Hawkins as saying. "They were too musical for me. They got too good."
Helm and Robertson were especially close, and even before as The Hawks set out on their own it was apparent that their skills were complementary. Robertson was the cerebral one who could write lyrics, while Helm was an incandescent showman who effortlessly channeled traditional musical styles while imbuing it with his own signature panache. Technically, Robertson was the writer, Helm the arranger. (And, at least in the beginning, the best guitar player in The Hawks. And probably the best bassist.)
Tooze understands and explicates Helm's not always obvious gifts, the way "he laid down his groove at the far end of the beat" to make a song more danceable; the way he managed great projection with a light touch and maintained a "slight swing, inhabiting a sweet spot between a shuffle and a straight groove, a technique influenced by Earl Palmer."
There's a lot here that will be familiar to even casual fans of Helm and The Band. But Tooze has done us a significant service -- "Levon" is a judicious, tender and remarkably thorough biography of an American icon, a definitive biography of Levon Helm.
Email:
pmartin@adgnewsroom.com
blooddirtangels.com