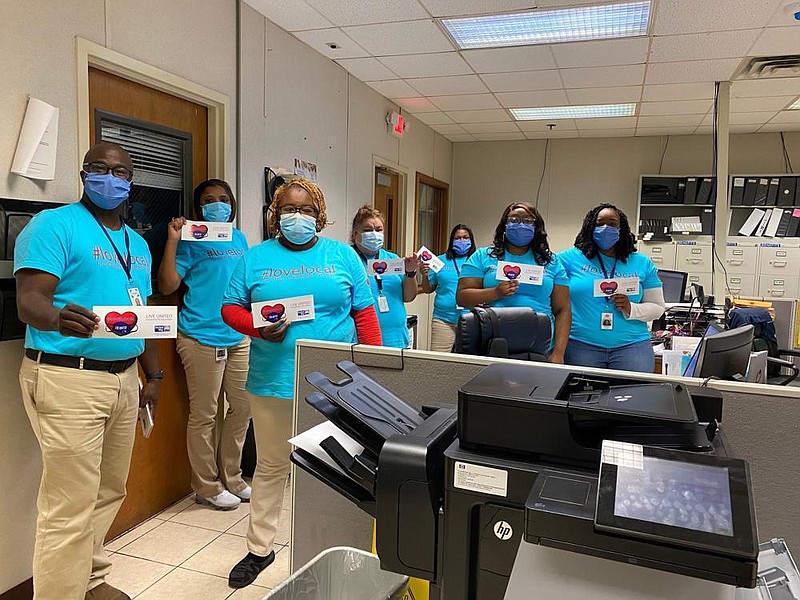 Employees of Tyson Foods gather to plan how to raise money for the United Way at their plant. (Special to The Commercial)
Leslie Dorn is a bit anxious these days.
The United Way of Southeast Arkansas kicked off its annual campaign on Oct. 1, and so far, the organization is about where it normally is in its march to raise $1 million, something it's done in each of the past 33 years.
But things are different this year. Normally, Dorn, who is the executive director, and her staff are out and about, holding meetings with businesses large and small, and arranging for speakers from one of the 22 agencies it supports to talk to the employees at those businesses. And at the end of those sometimes tear-jerking sessions, Dorn and crew gather up the donor pledge cards, which are the lifeblood of the United Way, in essence, promissory notes that define how much the employees are committed to giving and how they will give it.
Because of covid-19, a lot of that isn't happening this year.
"This really makes me nervous," she said. "I've gone out and done this for 20 years, and now I'm sitting in my office and saying, 'hmm, who do I need to talk to today and give a pep talk to?'"
The reason the face-to-face meetings are so important is because it is at those sessions when a company's employees find out what the United Way does in an up-close and personal way.
"We were on-site at a business last year and had a representative from one of our agencies speaking to the group," Dorn said. "The employees couldn't believe the agency had 5,000 clients and that 3,000 of them are from Jefferson County."
Those kinds of stories being told by the people who run the nonprofits that United Way supports show how the agencies are working to make Pine Bluff a better place.
"Bad stuff happens," Dorn said. "And United Way agencies are doing their best to take care of it every day."
Those personal testimonies also make for powerful motivators for someone to donate to the United Way, Dorn said, adding that employees who make modest salaries are sometimes the most generous.
"The people making $10 to $15 an hour will actually give more because many times, they themselves have been in need or their family members have used some of the services of our agencies," Dorn said. "So there's a real, live connection."
Because the face-to-face meetings at businesses have worked so well over the years, the United Way here has not done what some other sister agencies have done, which is to mail out hundreds of pledge cards to the general public. And even with the disruption that the pandemic has caused, the agency is depending on the leaders at the various businesses to hold their own face-to-face meetings and to work hard to secure the pledge cards, Dorn said.
So far, so good, she said. While she would feel more comfortable going out in person to area businesses, she is seeing those businesses step up. One example is the Tyson Food plant in Pine Bluff, she said, which had reduced its United Way giving for the past few years, but there is now an enthusiastic group of employees working on the campaign.
"We're still on track," Dorn said. "No bad news yet. We're just not going to have any bad news."
The next few weeks, however, will determine how well the campaign has gone. That's because the big corporate supporters in town -- Simmons Bank, Evergreen Packaging, Jefferson Regional Medical Center and Central Moloney -- have yet to run their own internal campaigns, Dorn said. Evergreen Packaging, for instance, matches every dollar its employees give with 60 cents of corporate money. Consequently, those big businesses and their employees make up a sizable percentage of the total the United Way is trying to raise.
But Dorn said she is convinced that the United Way will once again hit its goal of a million dollars, an amount, she said, that agencies in other more prosperous areas of the state find hard to believe. That's despite the fact that as businesses have downsized, such as the Union Pacific Railroad, which has far fewer employees here than it did a few years ago, reaching the million dollar mark is dependent on fewer and fewer pocketbooks.
How then does the agency continue to meet such a lofty goal, Dorn was asked.
"We have hung in there," she said. "People are just generous. Pine Bluff and Jefferson County people are just generous."
Sponsor Content