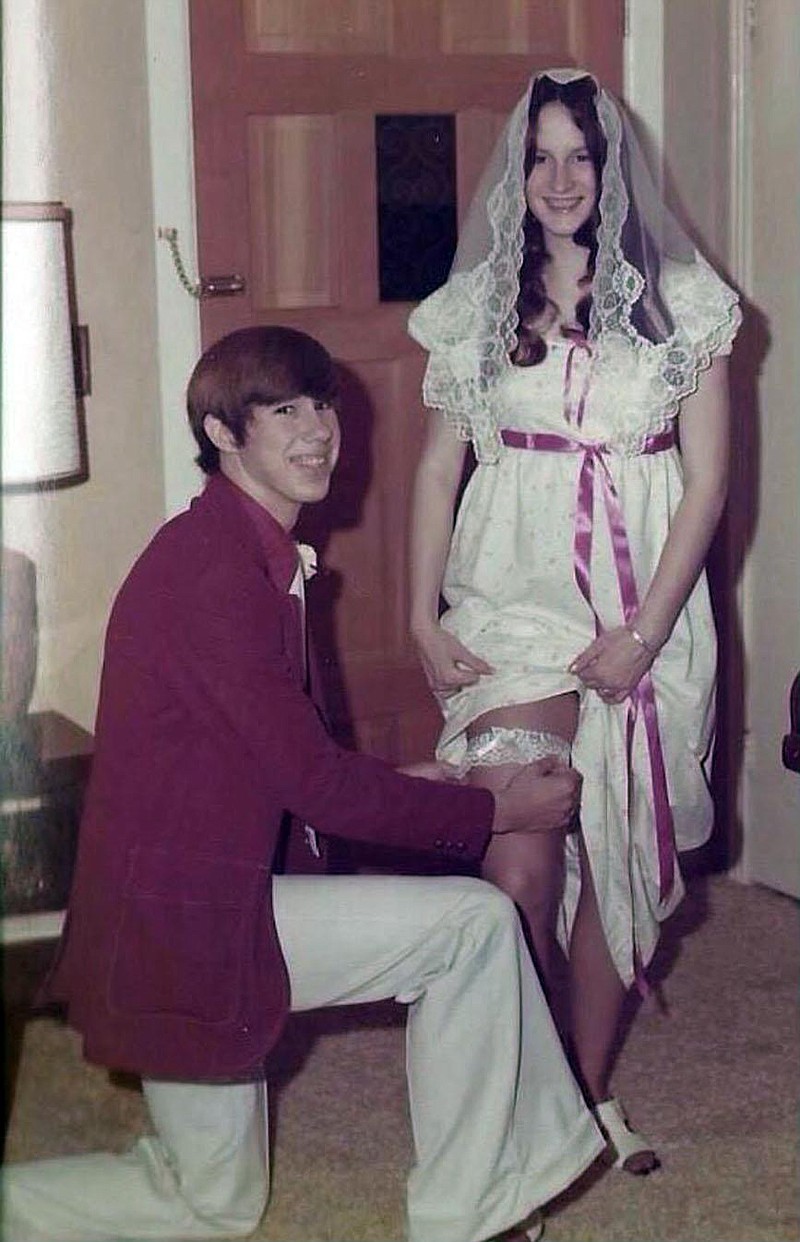 Chuck and Kathy Huffman were married on Feb. 15, 1974. "We've been blessed all along the way and our faith in God has been central to that," Chuck says. "Our love of and love by our family helped hold everything together, all things we're thankful for." (Special to the Democrat-Gazette)
Kathy Goodwin wasn't the only new girl in Chuck Huffman's junior high school in Hooks, Texas, in 1972, but she was the one he noticed.
"I looked for the first opportunity to get to know her," he says.
Kathy's family lived in nearby Red Lick and she went to the elementary school there but she and her classmates were assigned to the junior high school in Hooks.
Chuck and Kathy were both eighth-graders that year, but they didn't have any classes together.
"He was in all the accelerated classes and I was not," Kathy says.
They passed in the hallway often, though, and while they didn't go to the same church they were both Methodists and their churches' congregations often held coordinated events and activities.
Their first date was a church hayride.
"We were already sort of an item," she says. "But, you know, that was our first date because he didn't even have a driver's license yet. We rode on a bus to the hayride."
Shortly after the hayride Chuck went to a birthday party Kathy's mother had organized for her.
"We sat and talked for a long time," he says. "Here we were eighth-graders, and we were talking about our life's dreams -- what we wanted to do, where we wanted to travel, what we hoped for and all of that."
When Chuck's birthday rolled around the following month, Kathy gave him a collage representing their conversation about the future.
"It basically had highlights from all the things we talked about," he says.
They were inseparable after that.
"He was involved in football, I was in band, so we were busy," Kathy says.
They found time for movies and hanging out with friends at school and church functions.
They had been dating for about two years when they discovered Kathy was pregnant. Emotions were running high but both say there was never a question of whether they would stay together.
"He never had any inclination that this was my problem," Kathy says. "He was always there and supportive, and, you know, we're gonna make this work, we'll do whatever we need to do."
They made up their minds to marry -- and Chuck had proposed -- before they shared the news with their parents.
They exchanged their vows on Feb. 15, 1974, in a small ceremony at Kathy's church.
"I made my wedding dress. I made a lot of my clothes then. Our best friends at that time were our attendants," she says. "I don't even think we did invitations. It was just open to whoever, because we put it together kind of quickly, but it was nice."
They were high school juniors when their daughter was born. During their senior year, Chuck got a job in a grocery store and, with the baby at a sitter's, Kathy completed a work-study program.
"We graduated high school together," she says.
Chuck started college and later found a job with an insurance agency and then a paper mill while he worked toward his undergraduate degree. Kathy went to cosmetology school, recognizing that that was a path that would allow her to finish and get a job quickly.
In 1974, Chuck completed a master of divinity degree at Southern Methodist University in Dallas and started pastoring churches. He retired in February.
"So all that time we lived in several different areas of mostly east Texas and Southeast Texas, from Texarkana, Mount Pleasant, Longview, Lufkin, Port Arthur," Kathy says.
In 2011, while they were living in parsonages, they bought a house in Hot Springs Village, and they settled there this past spring.
They have spent time during the pandemic visiting Arkansas state parks, with the ultimate goal of seeing all 52. As of mid-November, they had been to 13.
The Huffmans have two children -- Chasity Lansdell of Flower Mound, Texas, and Eric Huffman of Houston. They also have four grandchildren.
Chuck remembers his father's reaction on hearing that they were having a baby.
"My dad sort of modeled Christ for me that day. I knew on some level at least I had to be disappointing him greatly, and so I wasn't sure how he would respond. My mom and dad asked me, 'What do you plan to do?' And I said, 'We plan to get married,'" Chuck says. "Almost without the hesitation, at least that's the way I'm remembering it, my dad sprung up out of his recliner and made his way over to the two of us and gave Kathy a great big hug and said, 'Welcome to the family.' I can hardly talk about it without getting emotional still."
They are aware that some people probably surmised their marriage, begun when they were barely 16 and 17 years old, wouldn't last. For their anniversary this year they had planned to take a Viking River Cruise, but their trip was canceled because of covid-19. It has tentatively been rescheduled for spring.
"We've been blessed all along the way and our faith in God has been central to that," Chuck says. "Our love of and love by our family helped hold everything together, all things we're thankful for."
If you have an interesting how-we-met story or if you know someone who does, please call (501) 425-7228 or email:
kimdishongh@gmail.com
More News
The first time I saw my future spouse:
She says: "I thought he was a good guy. And I thought he was cute because that's what you think of first when you're 14."
He says: "We were at school and she was talking to some of her friends and I just remember how cute she was and that she kind of stuck out in my mind."
On our wedding day:
She says: "I was scared and excited."
He says: "I was pretty sure I was marrying the person I wanted to spend the rest of my life with so I was really happy about that even if I wasn't sure how other people felt about that."
My advice for a long happy marriage:
She says: "Travel. Laugh a lot. And don't wrap yourselves up in kids because your kids are going to grow up and leave."
He says: "Be open and honest about the things that you need from each other in your marriage and then each work to meet the other's needs because in a way when we, before God, committed our lives to each other, the other person becomes our mission field."
Sponsor Content