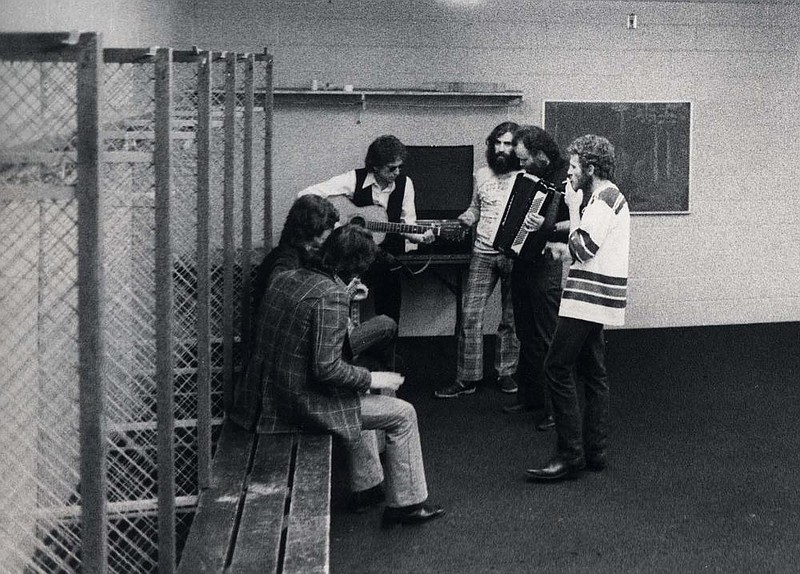 The Band, clockwise from lower left: Rick Danko, Robbie Robertson, Bob Dylan (with guitar), Richard Manuel, Garth Hudson and Levon Helm CORRECTION: An earlier version of this caption misspelled Rick Danko's name.
Bob Dylan has sold his entire songwriting catalog in a deal that has rocked the music world.
Universal Music Publishing Group bought his catalog of more than 600 songs spanning 60 years for an undisclosed sum.
All but one -- "The Weight" -- were written or co-written by Dylan, said Larry Jenkins, Dylan's publicist.
"The Weight" is an iconic song by The Band that refers to at least three Arkansans -- if you don't count the devil.
The Band, which consisted of four Canadians and one Arkansan, backed Dylan in the 1960s and '70s.
Ostensibly, "The Weight" was written by Robbie Robertson, The Band's guitarist. At least he got the sole songwriting credit.
Levon Helm, The Band's drummer and lone Arkansan, always contended "The Weight" and many other Band songs were communal efforts.
In Helm's autobiography, "This Wheel's on Fire," he said Robertson came up with the first part of the song, about arriving in Nazareth and finding no place to sleep. But instead of being a biblical reference, the song was really referring to Nazareth, Penn., where a Martin guitar factory was located, according to Helm, who died in 2012.
Helm said he also contributed to the writing of "The Weight." And he did most of the singing.
There are two lines in the song about Helm's childhood friend Anna Lee Amsden from Turkey Scratch in Phillips County.
Amsden, who now lives in Cabot, said she doesn't know why Robertson, who was from Canada, would have mentioned her in a song.
"When I met Robbie, he was kind of standoffish," she said Monday. "He didn't have as much to do with us as the rest of them."
According to Helm's book, the third verse of "The Weight" refers to Amsden and Jimmy Ray "Luke" Paulman of Marianna, which is about 20 miles from Turkey Scratch. Paulman played guitar for The Hawks, which evolved into The Band.
"Go down, Miss Moses, there's nothin' you can say.
It's just ol' Luke, and Luke's waitin' on the Judgment Day.
"Well, Luke, my friend, what about young Anna Lee?"
He said, "Do me a favor, son, woncha stay an' keep Anna Lee company?"
The song also refers to a "Crazy Chester."
"'Crazy Chester' was a guy we all knew from Fayetteville who came into town on Saturdays wearing a full set of cap guns on his hips and kinda walked around town to help keep the peace, if you follow me," wrote Helm. "He was like Hopalong Cassidy ... Two big cap guns, he wore, plus a toupee!"
"He was Levon's body guard," Amsden said of Crazy Chester.
In his book, Helm said he didn't know if the song would make it onto the album they were working on, "Music From Big Pink."
"We recorded the song maybe four times," wrote Helm. "We weren't really sure it was going to be on the album, but people really liked it."
People did.
Released in 1968, the single peaked at No. 63 on Billboard's U.S. chart.
Rolling Stone magazine referred to it as an underground classic.
By 2014, the magazine listed "The Weight as No. 41" in its list of "Greatest Songs of All Time."
THE DEAL
The New York Times said the deal is worth more than $300 million, possibly the most ever paid for a musician's or group's songwriting rights.
Mark Tavern, who teaches music business at the University of New Haven in Connecticut and LaGuardia Community College/The City University of New York, told NPR that the Dylan songs will be "a big jewel" in the Universal Music Publishing Group catalog.
He said there are several ways to make money with the songs.
"Print, which is like sheet music," Tavern told NPR. "Mechanical royalties, which is what the songwriter gets when their songs are recorded on CDs or vinyl or streamed. There is sync income, which is the money that gets paid when those compositions are put in a movie or on TV. And there is public performance, which is the money that's collected when those songs are performed, whether by Bob Dylan or by anyone else."
In a news release, Jody Gerson, chairman and CEO of Universal Music Publishing Group, said "to represent the body of work of one of the greatest songwriters of all time -- whose cultural importance can't be overstated -- is both a privilege and a responsibility."
Sir Lucian Grainge, chairman and CEO of Universal Music Group, the publishing group's parent company, echoed Gerson's comments.
"It's no secret that the art of songwriting is the fundamental key to all great music, nor is it a secret that Bob is one of the very greatest practitioners of that art," he said in the news release. "Brilliant and moving, inspiring and beautiful, insightful and provocative, his songs are timeless -- whether they were written more than half a century ago or yesterday."
Dylan's songs have been recorded more than 6,000 times, by artists from dozens of countries, cultures and music genres, according to the release.
Some of his best known works include "Blowin' In The Wind," "The Times They Are a-Changin'," "Like A Rolling Stone" and "Tangled Up In Blue."
"Bob Dylan is one of our culture's most influential and groundbreaking artists," according to the news release. "In the decades since he first burst into the public's consciousness via New York City's Greenwich Village folk music scene in the early 1960s, Bob Dylan has sold more than 125 million records around the world and amassed a singular body of work that includes some of the greatest and most popular songs the world has ever known."
In 2016, Dylan was awarded the Nobel Prize for Literature -- the first songwriter to receive the distinction -- "for having created new poetic expressions within the great American song tradition."
Sponsor Content