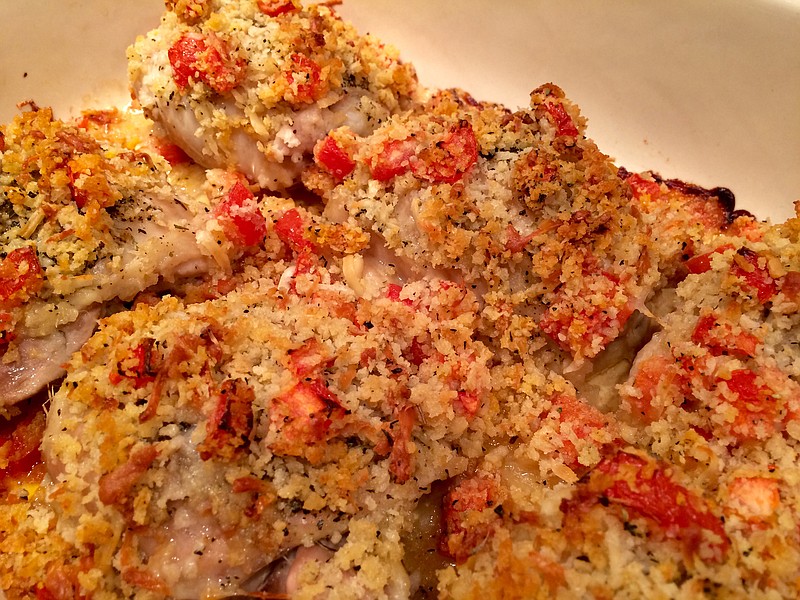 Smothered Panko Parmesan Chicken (Courtesy of Gwynn Galvin, SwirlsOfFlavor.com)
A week's worth of quick, healthful meals for budget-minded families
SUNDAY: Smothered Panko Parmesan Chicken (see recipe) is perfect for family day. Serve the one-dish meal with a fresh spinach salad with orange sections and dinner rolls. Apple turnovers (frozen, such as Pepperidge Farm or another brand) are a family kind of dessert.
MONDAY: This version of Greek Stew is easy on the food budget. In a 4-quart slow cooker, toss about 2 pounds beef stew cubes (cut into 1-inch pieces) with 2 tablespoons flour until evenly coated. Mix in 2 large onions cut into thin wedges. In a small bowl, mix together 1 (6-ounce) can no-salt-added tomato paste, ½ cup dry red wine or beef broth, ½ teaspoon cumin, ½ teaspoon cinnamon, 3 tablespoons fresh lemon juice, 2 tablespoons water and ½ teaspoon sugar; mix until well-blended. Stir into beef mixture. Cover and cook on low heat for 6 to 7 hours or until meat is tender, but not falling apart. Top each serving with 1/3 cup toasted chopped walnuts and ½ cup crumbled Greek feta cheese. Serve it over noodles. Add a romaine salad and whole-grain rolls. For a light dessert, try pears.
Plan ahead: Save enough stew and feta and cook enough noodles for Tuesday.
TUESDAY: Take advantage of the Monday leftovers for Beef-Stuffed Peppers. Split orange or yellow bell peppers in half lengthwise and remove pith and seeds. Place cut-side down in baking dish. Cover and microwave on 100% power for 1 minute per half pepper. Let stand 3 minutes; drain. Meanwhile, combine leftover beef with leftover noodles; moisten with beef broth and heat. Stuff peppers with mixture and sprinkle with crumbled Greek feta cheese and serve with green peas and whole-grain bread. Fresh or canned tropical fruit is a light dessert.
WEDNESDAY: Make it quick tonight with your favorite frozen burritos topped with sour cream. Add canned pinto beans and guacamole over shredded lettuce. Make flan (from a mix) for dessert.
THURSDAY: What could make kids happier than to have Cheeseburger Melts for dinner? Heat oven to 400 degrees. Coat a 9-by-13-inch baking dish with cooking spray. In a medium bowl, mix together 1 1/3 cups baking mix (such as Bisquick), ¼ cup water, 2 eggs and 1 cup (of 1 ½ cups total) shredded cheddar cheese. Spread in dish. Cook 1 pound lean ground beef or 1 pound ground turkey breast (or mixture of both) in a large nonstick skillet on medium-high heat for 6 minutes or until no longer pink; drain well. Add 1 (10 ¾-ounce) can condensed cream of mushroom soup and 1 cup frozen mixed vegetables (thawed); heat 5 minutes or until hot. Spread over batter. Bake 23 to 25 minutes or until edges are light golden brown. Sprinkle with remaining ½ cup cheese. Bake 1 to 3 more minutes or until cheese melts. Cut into squares and serve. Garnish with mild salsa, if desired. Add carrot salad. Fresh pineapple chunks make a good dessert.
FRIDAY: There were no leftovers of Spaghettini With Goat Cheese and Fresh Basil. Cook 12 ounces whole-wheat or regular spaghettini (thin spaghetti) according to package directions; drain. Place in a large bowl and add 2 ounces herb-flavored goat cheese (cut into small pieces), ½ cup chopped fresh basil, ½ teaspoon coarse salt and ¼ teaspoon pepper; stir until well-blended. Meanwhile, heat 1 tablespoon olive oil in a large skillet on medium-high. Add 2 teaspoons minced garlic; cook 30 seconds. Add 2 cups grape tomatoes, halved; cook 2 minutes, stirring frequently. Add 2/3 cup vegetable broth; cook 1 minute. Add tomato mixture to pasta mixture; toss gently to combine. Serve with mixed greens and garlic bread. Make instant banana pudding for dessert.
SATURDAY: We're putting Herb-Baked Tilapia (see recipe) on our favorites list. Serve it with Couscous Salad With Pomegranates (see recipe), green beans, a Boston lettuce salad and crusty bread. An easy dessert is peach sorbet and butter cookies.
THE RECIPES
Smothered Panko Parmesan Chicken
6 skinless, bone-in chicken thighs
1 teaspoon dried Italian seasoning, divided use
1 teaspoon coarse salt, divided use
½ teaspoon garlic powder
3 chopped plum tomatoes (about 1 ½ cups)
¾ cup panko crumbs
½ cup freshly grated parmesan cheese
4 tablespoons olive oil, divided use
Heat oven to 425 degrees.
Arrange chicken thighs in 9-by-13-inch baking dish coated with cooking spray. Sprinkle chicken with ½ teaspoon of the Italian seasoning, ½ teaspoon of the salt and the garlic powder. Combine tomatoes, panko, parmesan, 3 tablespoons olive oil and remaining Italian seasoning and salt. Spoon tomato mixture over chicken. Drizzle with remaining oil. Bake 45 minutes or until topping is golden and chicken is cooked through and meat thermometer registers 165 degrees.
Makes 6 servings.
Nutrition information: Each serving contains approximately 262 calories, 20 g protein, 17 g fat, 7 g carbohydrate, 98 mg cholesterol, 495 mg sodium and 1 g fiber.
Carbohydrate choices: ½
Herb-Baked Tilapia
4 (4- to 6-ounce) tilapia filets
1/3 cup freshly grated parmesan cheese
¼ cup mayonnaise
2 tablespoons minced green onions
¼ cup dry bread crumbs
1 teaspoon dried basil
1 teaspoon dried oregano
¼ teaspoon coarse salt
¼ teaspoon ground black pepper
Heat oven to 400 degrees. Place tilapia on nonstick foil-lined baking sheet.
In a small bowl, combine cheese, mayonnaise and onions; spread evenly over fish.
In another bowl, combine bread crumbs, basil, oregano, salt and black pepper; sprinkle over fish. Coat fish lightly with cooking spray. Bake 10 minutes or until fish flakes easily with fork and is opaque throughout.
Makes 4 servings.
Nutrition information: Each serving contains approximately 193 calories, 26 g protein, 5 g fat, 10 g carbohydrate, 63 mg cholesterol, 474 mg sodium and 1 g fiber.
Carbohydrate choices: ½.
Couscous Salad With Pomegranates
1 ½ cups Israeli couscous
1 ½ cups hot water
¼ cup extra-virgin olive oil
½ cup diced red bell pepper
½ cup diced yellow bell pepper
½ cup diced red onion
1 cup cilantro leaves, roughly chopped
2 cups pomegranate arils from about 2 large pomegranates (see tip)
¾ cup dried cranberries
3 tablespoons freshly squeezed lemon juice
Coarse salt and pepper to taste
Crumbled Greek feta cheese and sunflower seeds for garnish
Place couscous in a bowl with water. Cover with plastic wrap; let stand 10 minutes and strain excess water, if necessary. Add oil to couscous; toss gently. Add peppers, onion and cilantro; mix to combine. Add pomegranate arils, cranberries, lemon juice and salt and pepper to taste. Spoon into a serving bowl; garnish with feta and sunflower seeds.
Makes 8 servings.
Tip: How to seed pomegranates: www.youtube.com/watch?v=5BExPRwPdAs
Nutrition information: Each serving contains approximately 265 calories, 5 g protein, 8 g fat, 45 g carbohydrate, no cholesterol, 8 mg sodium and 4 g fiber.
Carbohydrate choices: 3.
Susan Nicholson is an Atlanta-based cookbook author and registered dietitian. She can be reached by email: susan@7daymenu.com
Sponsor Content