Since so many people are staying close to home this year, home gardening has gained in popularity. Arkansans are branching out and trying a host of new gardening ideas. Edible gardening is on the upswing, but so are houseplants. Home gardening kits are on the rise as well.
From mushroom kits to hydroponics, indoor herb gardens and more, there are plenty of opportunities to buy unusual gifts for your gardening friends — or start a new hobby on your own. Look for kits at greenhouses, garden centers and at farmers markets and food co-ops, and check with growers in your area.
It is a fact that many gardeners are also great cooks, so gardening/cooking themes are quite popular. While a lot of gardeners have extensive herb gardens outdoors, there are myriad kitchen-counter herb gardens available to keep a ready supply of fresh herbs during the winter months.
Many of the countertop kits come with a light source to make sure the plants get ample light. Some include the soil to grow the herbs in, while others are hydroponic.
Think of the available counterspace you have open before choosing a size that is convenient. Then consider what herbs you use the most and which will be compatible for growing together. Some systems have individual pots for each herb, which allows for different water needs, while others have one container for all the plants together.
SPROUTS OR MICROGREENS?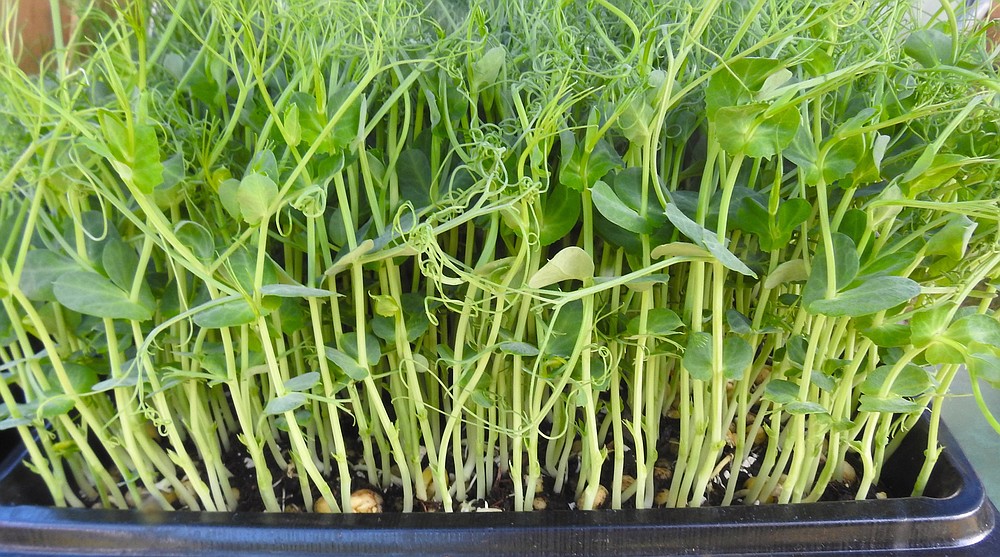 Grow your own microgreens kits provide a tray, soil and seeds, in this case green pea seeds. Microgreens are usually larger than sprouts, are grown in soil rather than water and have produced their first true leaves. (Associated Press file photo/Dean Fosdick)
Sprout kits and microgreens kits are another hot commodity right now.
Sprouts are basically seeds that have germinated but not yet produced leaves. They are harvested a few days after the seeds germinate.
Sprouts are often eaten raw and give foods a little crunch and some added flavor. Mung beans were one of the first sprouts widely available on the market, but you can use almost any vegetable or grain seeds, with the resulting flavor varying by the seed source.
Because spouts are often grown in a moist, humid, enclosed container, bacteria can be a problem. Once the sprouts are ready, refrigerate them, and avoid eating any sprouts that have a strong smell or a slimy feel.
Microgreens became a thing in the '80s, actually starting in California. Also called "vegetable confetti," microgreens are basically tender vegetable seedlings. Think of sprouts with leaves on them.
The seeds are packed in close together, and then the plants are harvested once their true leaves appear. The first leaves that emerge from a seed are called "seed leaves" or cotyledons. The second leaf set that appears are the true leaves.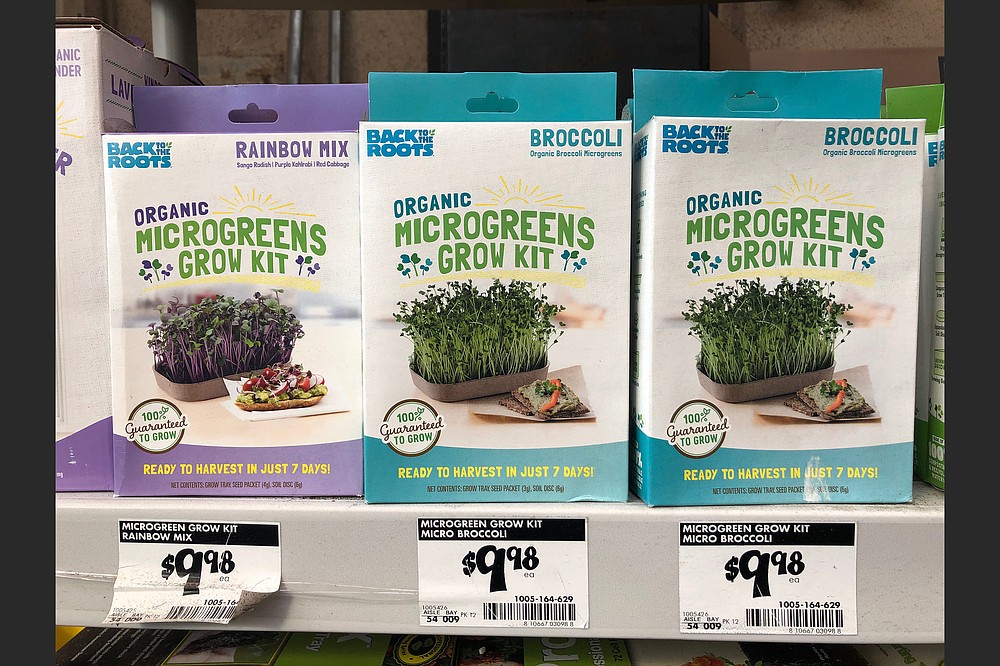 Garden centers and nurseries have small microgreens kits for sale in Arkansas. (Arkansas Democrat-Gazette/Celia Storey)
The flavor is concentrated, and the microgreens are packed with nutrients. The most popular microgreens are members of the cabbage family and the lettuce family, but makers now sell microgreens of carrots, spinach and even the cucurbits. A few websites sell cereal seeds such as rice, oats and wheat.
Microgreens can be used as a substitute for lettuce on sandwiches or in salads. They can be a topping on pizza or other dishes, and some people use them in healthful smoothies or in juices.
There are a lot of kit options out there. There is one with a Super Salad mix — broccoli, arugula, cauliflower, kale, cabbage and kohlrabi.
You just put the prefilled packet in the tray, add water and give it some light, then harvest in as little as seven days. Some kits have suction cups where you can attach the kit to a window to free up counter space, while others come in a pre-seeded jute mat that you roll out and add water to.
'SHROOMS ZOOM
[Gallery not loading above? Click here for more photos » arkansasonline.com/1219shroom/]
Mushroom kits can also be a lot of fun. There are some mushroom experts out there who can forage in the wild and bring home edible mushrooms, but most people don't need to take the chance of harvesting something poisonous.
Today you can order a mushroom kit that can produce mushrooms you enjoy eating. From oyster mushrooms to shiitake, lion's mane and more, a wide variety of kits is available in Arkansas.
Mushroom kits come in several forms. The most common is a box containing a substrate, or medium, that is pre-loaded with mushroom spores. Directions will come with each kit as to temperature and moisture requirements. In some cases, you can be harvesting fresh mushrooms in two to four weeks, while others can take a bit longer.
GARDEN IN A JAR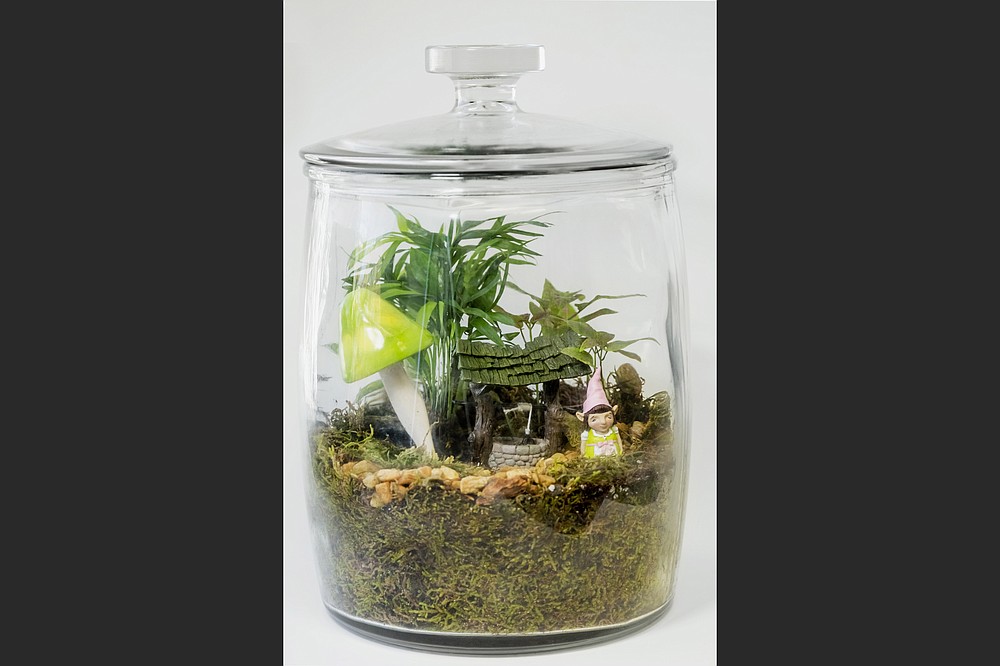 Terrariums make interesting holiday gifts or fun projects to do with a child. See instructions at arkansasonline.com/1219jar. (Democrat-Gazette file photo)
Terrariums are making a comeback from the '70s. Almost any glass container can be used. Add small plants with a mixture of rocks and moss, and you have a miniature landscape project indoors.
Hydroponics, or growing plants in water, has been around since the Hanging Gardens of Babylon, but today there are kits for a tabletop garden or elaborate towers that can produce lettuce, strawberries and other vegetables or flowers. Space and money are the limiting factors.
Gardening kits are not just for adults. There are quite a few designed for children. There are magical gardening kits, fairy gardens and small terrariums. One even comes with a light in the lid to aid in growing in lower light conditions.
You might be staying at home more and lower temperatures limit outdoor activities, but there is an endless array of gardening kits available to keep that gardening drive going.
Janet Carson's blog is at arkansasonline.com/planitjanet.