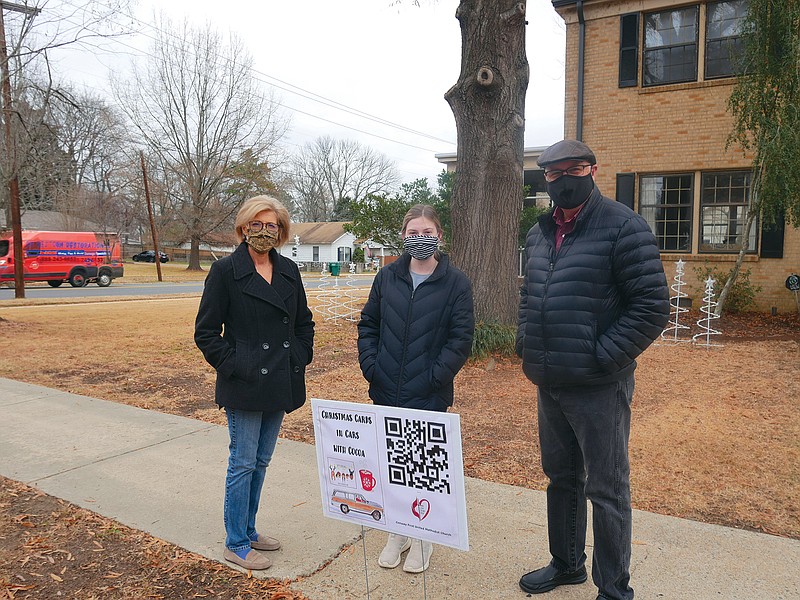 First United Methodist Church of Conway is hosting Christmas Cards in Cars With Cocoa, a virtual way of getting a holiday greeting from members of the church. Pictured, from left, are Pam Lentz, the director of children's ministries; Olivia Cash, the children's ministries intern; and Senior Pastor Michael Roberts. They are planting one of the signs used to access the videos in the yard of Emily Walter.
CONWAY — Emily Walter never realized how much she was going to miss her church family until she wasn't able to attend services every week.
"Before the [COVID-19] pandemic, I would sometimes wish we had something online because it is not always easy to get to church because of work or schedules," Walter said. "But now that we have online worship, I'd rather go back to an in-person worship because that is your church family.
"For me, it is really important to connect with people that I have been apart from for so long during quarantine."
Walter's church, First United Methodist Church in Conway, has found a way to keep members of its congregation connected to one another: Christmas Cards in Cars With Cocoa.
"We have asked some of our congregants to do a video of their families and send it to us," said Michelle Morris, associate pastor at FUMC of Conway. "Then we link those videos, as well as some other augmented reality pieces, to a QR code.
"We put that code on a sign and put the sign in people's front yards. Then people can email us for a map, drive around, scan the codes, get a greeting from the family and send a greeting back."
She said it is a way for everybody to drive around and see Christmas decorations and also interact with each other without being face to face. She said that also, because the church has a growing online congregation as well, this provides a way for people who do not live in Conway to participate. The event is now live. For more information, contact Morris at michelle.morris@arumc.org or visit conwayfumc.org.
The Christmas videos are more or less a sequel to what the church did in October for Halloween. The church hosted a scavenger hunt with scary stories from the Bible, and families got to choose whether to act out a Scripture or read it.
Walter said Morris gave her Mark 5:1-20 to act out, which she said is one of the scariest Scriptures in the Bible.
"It tells the story about this guy who was possessed, and Jesus takes the demons out of the man's body and passes them on to pigs, and then the pigs go on to drown themselves," Walter said. "It was just fun because we got to do whatever we wanted with it, so we got creative.
"We had some spooky lighting and sound effects, which really set the mood for the Scripture."
Emily Walter and her husband, Jeremy, are both Realtors, and Jeremy has a graphic-design degree, so he does all of her marketing. She said people — even those who weren't at the church — are used to the couple doing video ads, especially during quarantine. She said that for the Christmas video, they wanted to theme their greeting around a movie, so they chose "It's a Wonderful Life."
"Once people scan our QR code, the end of the movie starts playing, and we interrupt to say how much we miss everybody and wish them a merry Christmas," Emily said. "Then it goes back to the movie, where the little girl says, 'Look, Daddy. Whenever a bell rings, an angel gets its wings.'
"We are all so miserable this year; it is nice to have a nice Christmassy feeling, finally."
Morris said that as of last week, the church had about 12 videos for the activity, which is close to the number the church had for the scavenger hunt at Halloween.
Prior to working at FUMC of Conway, Morris worked for the Arkansas Conference Offices and helped to launch an online learning system. As part of that work, she was trained on how to use virtual and augmented reality.
"The families that we invited to help us got to be very creative [at Halloween]," said Pam Lentz, who has been the children's director at FUMC of Conway since 1995. "Church members could either drive through the neighborhood or download the map and watch the event online without leaving their homes."
Lentz said that for the Christmas event, the church will hand out to families with children an Advent box that is filled with cocoa, cups, marshmallows and instructions for participating in the activity.
"Michelle has done a real good job of instructing folks on how to access [the event]," she said. "Michelle went online and explained, and we also have it written out in a couple of places — trying to make it as user-friendly as possible.
"We realized our families are not getting to see each other. Before, our church drew people together from different parts of town, and now our children are not getting to see each other. This is an opportunity for families to reconnect."
Sponsor Content