During the March coronavirus lockdown, Melissa Fahlstrom, owner of Sugar Whipped Bakery, a Plattsburg, Mo., business that specializes in wedding cakes, feared the worst. "I panicked that my business would come to a crashing halt," she said. "I could last two months to pay my mortgage, my loan, my overhead costs."
That spring a few wedding-related orders trickled in. There was the groom who commissioned a cake to share with his fiancée on the day their canceled wedding was supposed to take place. And there was the couple who ordered cupcakes for family and friends who watched their wedding ceremony on Zoom. "They were all individually boxed, and they dropped them off on people's doorsteps so they could all share cake together," Fahlstrom said.
But it wasn't until late May that her real savior arrived: the backyard wedding. As shutdown orders lightened, couples had 10-, then 20-, then 50-person ceremonies outside. They posted pictures on social media of these events, showing how they transformed ordinary yards into magical venues with fairy lights and flowers. Then even more couples gave it a try.
Couples still ordered cakes for their scaled-back festivities, and now half of Fahlstrom's business is from backyard weddings. "In the past, cakes would be so big and elaborate, I couldn't take on any other orders," she said. "Now I can fit in more orders. At the height of September and October, I had three wedding cakes a week."
CAKES ARE SIMPLER
Even though the cakes are simpler, she loves making them. "They are more about nature, floral," she said. "They bring in the surroundings."
Backyard weddings have become the heroes of the wedding industry. Most are simpler and smaller than pre-pandemic ceremonies, and they are held in informal places such as parks or porches rather than gilded ballrooms. But vendors, like photographers and videographers, caterers and musicians, are still hired. This keeps them busy and financially stable.
"I am fortunate enough to say it has grown in surprising ways," Fahlstrom said.
Alisa Tongg, a professional celebrant based in Stroudsburg, Pa., feels fortunate that many clients have chosen not to delay their big day but move it to a backyard. "Even when people postpone their weddings, they are taking away a date that could have been booked by a new couple," she said.
Many of Tongg's clients have their own green space in which to marry. But for those who don't, she offers her own home. "I live on the edge of this cliff that overlooks the Appalachian Trail Ridge in the Pocono Mountains," she said. "It's really beautiful." She has staged more than 80 weddings in her home since April. "We are packed," she said.
MAJORITY IN BACKYARDS
Outdoor weddings have made up the majority of Tongg's business. During the pandemic, she has only officiated at five weddings that did not take place in a backyard.
Backyard weddings support many businesses in her community. "The people who get hired because a wedding ceremony occurs are a lot," she said. "It's the local photographer, the person who knows how to set up the livestream, the liquor store supplying the Champagne toast. We've partnered with a local bakery to do cakes. We've probably had 70 orders this season just with that bakery."
Small businesses who weren't equipped to provide for large weddings with hundreds of guests and complicated logistics are seeing an increase in wedding-related business.
Before the pandemic making beautiful cakes was a side hustle for Ana Calderone, a food reporter for People Magazine who lives in Brooklyn. "I used to just bake for family and friends and random birthdays and stuff like that," she said.
"I don't have a commercial kitchen," she added. "I can't do a 150-serving cake or anything like that."
ASKING FOR SMALL CAKES
But during the pandemic, friends of friends, old high school buddies and colleagues, and Instagram followers started asking her to make small cakes for their backyard weddings. "Where they normally might use the cake provided by the venue, they are scrambling to find someone," she said.
She now makes four or five wedding cakes a month, mostly for clients on New York's Long Island. "I make a decent amount on every order, and I use the money for a new baking tool or something like that," she said.
Another company born out of the backyard wedding trend is LoveStream. The Charlotte, N.C., company offers three packages, from $450 to $1,850, to couples who wish to outsource the task of livestreaming their weddings.
"We heard too many horror stories of people trying to do it themselves, and grandma couldn't figure out how to mute herself and someone forgot they were on video camera," said Samie Roberts who owns the company with her husband, Ryan Roberts. Their other company, Bustld, which matches vendors to people planning weddings, took a big hit in early spring because many vendors could no longer afford to join the service.
HUSBAND AND WIFE TEAM
"Being a husband and wife team, it was important for us to figure out what to do as a next step," she said. "Last month we had our highest revenue month ever. LoveStream has really taken us to the new level." The company has worked at more than 100 weddings since the beginning of May, and it is hiring two new employees to join the team.
Of course winter is coming, which means backyard weddings might taper off as well. Some couples and wedding vendors are getting ready with outdoor heaters, hot cocktails, blankets and tents. But if these small businesses have learned anything, it's that they can't plan for any certainty. Normal rules don't apply during the pandemic.
"We do have weddings already booked for January, February and March, but it's a toss-up," Fahlstrom said. "The orders all have that attached note of, 'If I can have my wedding.' We'll just have to see. People have been so creative so far."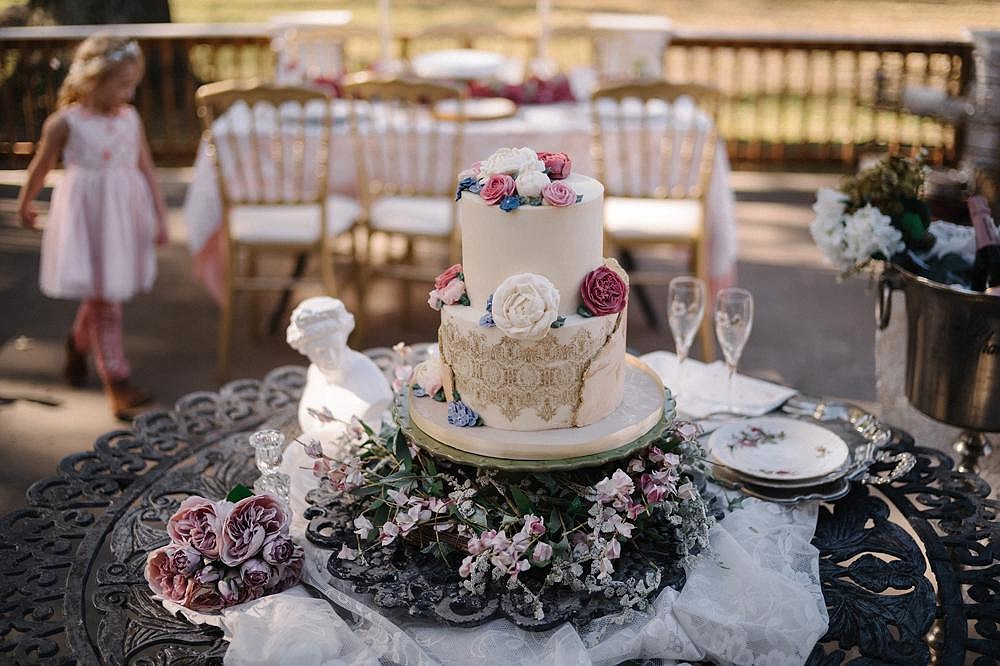 This custom buttercream wedding cake was made by Melissa Fahlstrom for an intimate celebration in the outdoor space of the Pink Rosebud, a bed & breakfast in Plattsburg, Mo. (The New York Times/Jacob Moscovitch)