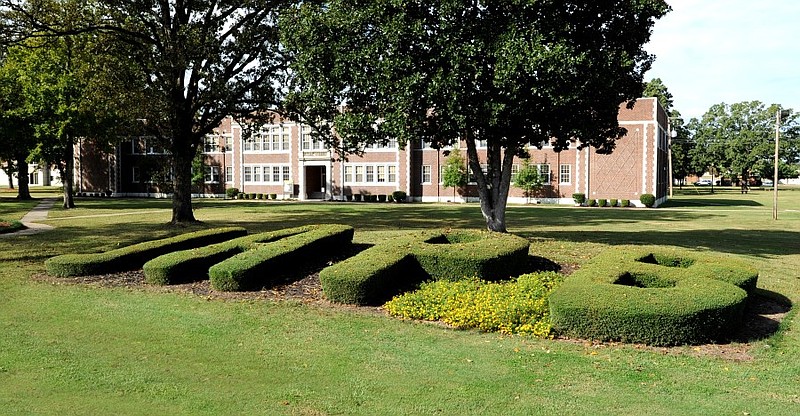 The University of Arkansas-Pine Bluff campus is shown in this undated file photo.
With Southwestern Athletic Conference play beginning this weekend, the University of Arkansas at Pine Bluff women's basketball team will play its final nonconference game today at the University of Oklahoma at Norman.
The 7 p.m. game today can be seen on Fox Sports Oklahoma, with live stats available at www.uapblionsroar.com.
The Lady Lions return to action after Dec. 21's 86-52 loss at No. 12 Arkansas in the first ever women's basketball meeting between the schools. Kaila Walker led the Lady Lions in scoring with 15 points, her fourth consecutive game scoring in double digits. Khadijah Brown tallied her second double-double of the season scoring 13 points and grabbing 10 boards in the contest. Joyce Kennerson added 10 points and three rebounds in her first game back.
Despite the loss, UAPB (1-4, 0-0 SWAC) had positive stats in several key categories against Arkansas. The Golden Lions were outrebounded by three (41 to 44), tallied more offensive rebounds (13 to 10), made more free throws (14 to 13) and nearly had the same number of shot attempts (65 to 67) against the Razorbacks.
In her first three games against New Mexico, Central Arkansas and Arkansas, Brown averaged 14.3 points, 10.3 rebounds, and 2.7 blocks. Brown recorded double-doubles vs. New Mexico (22 points, 12 rebounds) and at Arkansas (13 points, 10 rebounds), and nearly missed recording a third double-double at Central Arkansas (eight points, nine rebounds).
Over the last four games, Walker is averaging 16.3 points per game, and over the season she is averaging 13.8 points, 4.0 rebounds, and 2.2 assists. Kennerson, currently ninth in active career scoring in NCAA Division I with 1,634 points, is averaging 12.7 points, 3.3 rebounds, 4.0 assists and 2.0 steals per game.
Oklahoma (2-4, 0-2 in Big 12) has won their last two nonconference games over Texas State (52-40) and South Dakota (80-73), sandwiched around Big 12 losses at Kansas (74-64) and vs. Oklahoma State (66-53). Madi Williams leads three Oklahoma players in double figures, averaging 20.7 ppg, ahead of Gabby Gregory's 16.3 ppg.
Sponsor Content