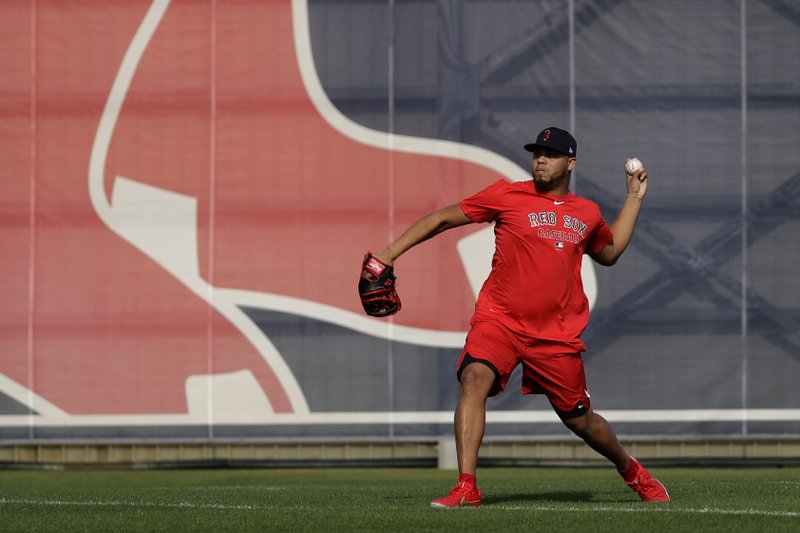 Boston Red Sox reliever Darwinzon Hernandez throws after reporting for spring training Tuesday in Fort Myers, Fla. The Red Sox begin spring training without manager Alex Cora who was fired following the Houston Astros sign-stealing scandal and the trade of 2018 American League Most Valuable Player Mookie Betts in the past month. (AP/John Bazemore)
FORT MYERS, Fla. -- The crack of the bat at spring training camps replaced the sound of trash can lids banging in homemade YouTube videos as baseball emerged from its winter of cheating scandals and salary dumps to bask in the Florida and Arizona sun.
The Pittsburgh Pirates and San Diego Padres held their first official workouts, and pitchers and catchers for 16 other teams reported to their Grapefruit and Cactus League complexes on Tuesday. The rest of the major leagues will filter in this week.
Boston Red Sox players checked in without knowing who their manager will be, almost a month after Alex Cora was fired for his part in the Houston Astros 2017 sign-stealing scheme. Bench coach Ron Roenicke, a former Milwaukee skipper, was named the team's interim manager later Tuesday.
Although there is no expiration date on Roenicke's tenure, the interim tag will stay until Major League Baseball completes its investigation into whether the Red Sox engaged in illegal sign-stealing during their 2018 World Series championship season. If the probe clears Roenicke, who has denied being part of any rules violations, he is expected to stay.
"We felt that naming Ron our interim manager was the best way to respect the investigation that's ongoing into our 2018 club. But we feel very strongly about Ron's ability to lead this group and how well-suited he is for this task," Red Sox Chief Baseball Officer Chaim Bloom said in a news conference on the eve of the team's first formal workout.
"We have no reason to think that there is anything that would cause an adverse result for Ron in this investigation," Bloom said. "We're going to respect the ongoing investigation and we'll address permanency once it's complete."
Just one year after winning the World Series in his first season in Boston, Cora was let go when Commissioner Rob Manfred named him as a ringleader behind the Astros' 2017 illegal sign-stealing. The Red Sox have maintained that there was no similar scheme after Cora took over in Boston the next year.
Manfred said last week that he hoped to have the Red Sox investigation completed before the start of spring training. But a person with knowledge of the probe said Tuesday the investigation will continue at least into next week. The person spoke on the condition of anonymity because there was no formal announcement.
The Red Sox also are without a former MVP and Cy Young Award winner after the long-haggled trade of Mookie Betts and David Price to the Dodgers was finalized Monday.
"Great teammates. Great players," Red Sox outfielder Jackie Bradley Jr. said after arriving at Fenway South on Tuesday. "Time to move forward."
At the Red Sox complex in Fort Myers, reliever Matt Barnes tossed a football on a back field while teammates stretched and sprinted. The rest of the position players are scheduled to report Sunday.
Spring training games begin in earnest Feb. 22.
Across Fort Myers at the Minnesota Twins' camp, Marwin Gonzalez became the first Astros hitter to apologize for his role in the sign-stealing. The utilityman was in Houston from 2012-18, including the championship season that was the subject of the MLB investigation that led to the firing of Manager A.J. Hinch and General Manager Jeff Luhnow.
"I'm remorseful for everything that happened in 2017, for everything that we did as a group and for the players that were affected directly by us doing this," Gonzalez told reporters. "I wish I could take it back and do it a different way, but there's nothing we can do. I just want to move forward and focus on the 2020 team."
The Dodgers added Betts and Price to make another run at a World Series after being denied in back-to-back seasons by teams that have been accused of cheating. The Astros, who report to West Palm Beach on Wednesday, replaced Hinch with Dusty Baker.
The Mets were the third team to fire a manager in the wake of the scandal. They reported to Port St. Lucie on Monday with new Manager Luis Rojas. He replaced Carlos Beltran, a player on the Astros World Series team who never managed a game for New York.
"We expect to be a contender," Rojas said in his first spring training news conference. "We have a great roster, great position players with versatility, great starting rotation or pitchers that have a history of Cy Youngs and World Series winners. And our bullpen has a history of saving games and being closers."
Sports on 02/12/2020
Print Headline: Red Sox calling on Roenicke
Sponsor Content