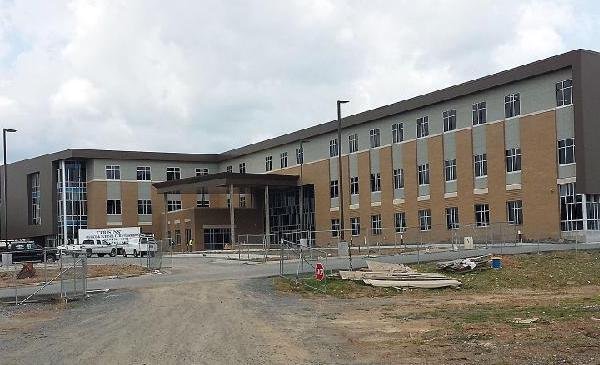 The classroom building addition to Pulaski County Special School District's Sylvan Hills High School in Sherwood opened to students in 2019. ( Cynthia Howell)
Sylvan Hills High School's North campus, also known as the freshman academy, is closed Thursday due to a threat posted online Wednesday night, the district said.
The Pulaski County Special School District also closed the main Sylvan Hills High School campus Wednesday and Thursday after threats were posted on Tuesday and Wednesday.
Both campuses are using alternative methods of instruction, or AMI, to remotely teach students.
Additional security is present Thursday at Sylvan Hills and Cato elementary schools, district spokeswoman Jessica Duff said. No threats have been made against the schools but security was added due to their proximity to the high school campuses.
Duff said authorities do not believe the post threatening the freshman campus was credible. It came from a newly created Instagram account that was deleted shortly after the post was made.
"We don't believe it to be legitimate," Duff said. "But due to what's going on (at the main campus), we wanted to take it as credible."
She said the initial threat against the main campus, posted on Reddit and a confessional website, was considered viable because it detailed the intended location and targets.
Another threat against the main campus was posted Wednesday on the same confessional website, leading to the decision to close the school for a second day. Duff said she does not know whether it was written by the same person.
Investigators have "narrowed the source of the threat" against the main campus, Duff said, but no arrests have been made.
Duff said that both campuses would be open Friday, and that state police and Sherwood police would offer "additional security" at several schools in the district. Every student and staff member at the Sylvan Hill High School main and north campuses will also be required to enter the building through designated areas where metal detectors and scanning devices are present.
Spokesman for the FBI in Little Rock Connor Hagan declined to provide details on the ongoing investigation but said authorities are calling on the public to come forward with any information they have.
"If you as a student or parent know something about these threats, give the FBI a call," Hagan said.
In Little Rock, police were investigating threats to Central High School and eStem High School Thursday.
Sponsor Content