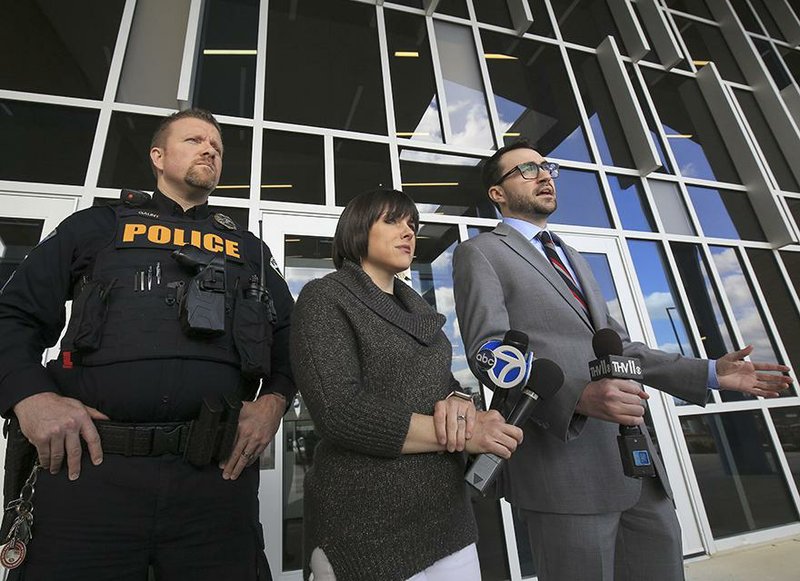 Sherwood Police Sgt. Tyler Grant (from left), Pulaski County Special School District Executive Director of Communications Jessica Duff and FBI Public Affairs Officer Connor Hagan answer questions Thursday at Sylvan Hills High School in Sherwood about threats that prompted the closure of the campus. (Arkansas Democrat-Gazette/Staton Breidenthal)
Three minors have been arrested after allegedly posting online "hoax" threats against Sylvan Hills High School, the FBI in Little Rock said Friday.
Multiple online threats led the Pulaski County Special School District to close the school Wednesday and Thursday.
A threat against the school's North campus, also known as the freshman academy, led the district to also close that campus Thursday.
At a news conference late Friday morning, officials from the FBI declined to provide additional information on the arrests.
Scott Reinhardt, assistant special agent in charge with the FBI in Little Rock, said the investigation is ongoing.
He did not answer whether the minors arrested were students at the schools or even from Arkansas, and he declined to say what charges the minors could face except that no federal charges are currently planned.
FBI spokesman Connor Hagan declined to answer which particular threats the arrests were connected to.
"We understand the need for information," superintendent Charles McNulty said. "But we also have to make sure we don't hamper the investigation and that information we send out is the information that supports the law enforcement investigation and keeping our children safe."
Officials warned students against posting hoax threats and urged parents to monitor their kids' activity online. Reinhardt said all threats are taken seriously by investigators.
"Most cases are going to be felony charges," Reinhardt said. "If you're a student that's the last thing you want moving forward trying to go to college and beyond school here."
Reinhardt said there is "an ongoing threat stream" and authorities are continuing to monitor them. He did not specify if that means there are new threats and if so, what they regard.
District spokeswoman Jessica Duff said attendance numbers are not finalized but about 60% of students came to Sylvan Hills' main high school campus as of mid-morning Friday.
This story was originally published at 10:31 a.m.
Sponsor Content