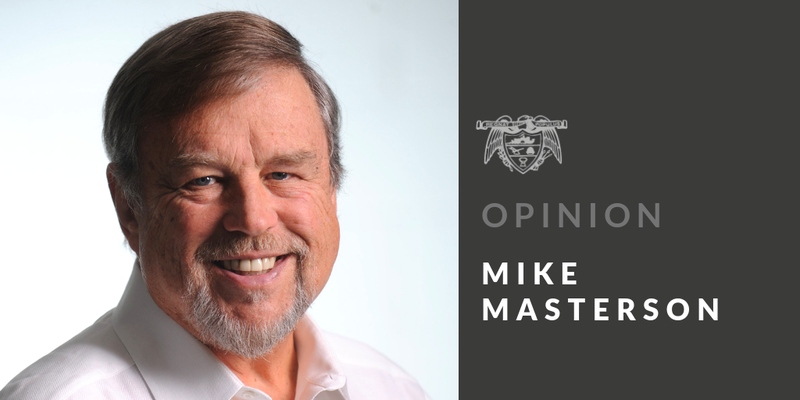 Valued readers likely know about my many columns over the years centered around the natural beauty of our Ozark Mountains and efforts to preserve their abundant charms.
I'm talking about a dozen stories detailing the lives of veteran fishing guides at the famed Gaston's trout resort along the White River. And scores of columns that advocated for preserving our Buffalo National River, which for six years was threatened by the existence of the hog factory our state wrongheadedly permitted into her fragile watershed.
As one born within these sacred hills, I've always felt moved to call attention to the magnificence of this wonderland assigned to our stewardship.
And speaking of natural wonders, I've also written over the decades about my affections for Crooked Creek, which flows through my hometown of Harrison, across Boone County and into Marion County.
This emotional attachment to the creek stems from early childhood when my father, Rue Masterson, on special days would include me on his wade-fishing trips.
Those outings always began at a country store near the hamlet called Harmon. There, he'd purchase sliced bologna, cheese and crackers for our early summer's afternoon snack, along with a Nehi grape soda from one of those ice-filled antique chest coolers.
Then we'd head out and turn off the highway after a few miles to bounce along an overgrown logging road until we'd park in the tall grass near a leaning clapboard barn with a rusting roof.
There, Dad would methodically rig his ultralight spinning rod with a favorite green-and-yellow Flatfish lure, hang a metal stringer on his belt, fix a rod for me, and off we'd stroll along a weeded path to the bank.
While we walked, my heart would begin to race with expectation as the fragrance of enveloping greenery blended with the familiar fishy aroma, while hearing the rushing allure of the still-unseen creek.
All this was entrancing stuff for any 8-year-old who was always delighted when his father decided to take him along. Such things matter a lot to a child.
Squeezing through a rusty barbed-wire fence, we'd enter the creek and feel the encircling rush of cold water rise to our knees. I was so enraptured that the shock didn't slow my excitement to feel a foot-long brown bass, a goggle eye, a bream, a line-side bass, or heck, just any ol' fish tugging on my line.
We'd wade through the shallows to the first deep hole then cast around brush piles near the opposite bank, or into the riffles where swift water swirled into deeper translucent blue-green pools.
I remember wondering how many fish lurked in these shade-sheltered waters and being fascinated by the suspense. Heck, I still am whenever I take my grown son and granddaughter to the same spot 65 years later.
My father and I would slip and slosh our way for a mile or more down the creek, occasionally encountering a contented cow standing in the cool waters. These were the only animals we would see, unless you include the red-tailed hawks screeching overhead, or myriad songbirds, or crows calling in the distance.
The Army lieutenant colonel and World War II veteran was adept at dropping his lure in all the spots that looked "fishy." Not surprising since he'd done so for years. I, on the other hand, frequently found my lure snagged in shoreline brush or an overhead tree. Thankfully, he was patient about freeing my mistake or retying yet another bait.
There were times as the day wore on after watching him fill loops on the stringer with a family meal that I'd sit tummy-deep in the shallows and quietly study all the forms of life this fascinating water world supported.
Flipping flat rocks scattered crawdads. Curious minnows and tiny sunfish would gather to analyze the enormous creature that invaded their peaceful domain. Schools of sucker fish passed by. Even baby bass watched me from almost within reach. Waterbugs skittered everywhere. I also saw turtles from time to time, once even catching a plum-sized infant too slow to escape.
Even mesmerizing reflections from an overhead sun tiptoed like sparkling diamonds amid the waves.
The magic of Crooked Creek offered an enticing world filled with fascinations for any child who loved the outdoors.
After a few hours we'd start the slog back upstream against the current over slippery, moss-covered rocks. By then I was usually content to watch him still making casts along our journey back to a demanding and hectic place.
He'd occasionally snag a nice brownie and hand me the rod with a smile, urging me to land it, which I often could unless the fish darted beneath a submerged log or broke the line on a sharp rock.
Back at the car, he'd put the fish in a cooler to clean them later. We'd each use a towel to dry ourselves as best we could, then spread the towels across the seat. I always felt sad we had to leave.
My father's been gone 40 years now. But those precious childhood recollections keep Dad and our enchanted times on mystical Crooked Creek alive in my heart and mind.
Now go out into the world and treat everyone you meet exactly how you'd like them to treat you.
------------v------------
Mike Masterson is a longtime Arkansas journalist, was editor of three Arkansas dailies and headed the master's journalism program at Ohio State University. Email him at mmasterson@arkansasonline.com.
Editorial on 02/16/2020
Sponsor Content