As a young Muslim in the Detroit suburbs, Abdu Murray would talk often about Islam with people of other faiths, and most often those he encountered said they were Christian.
"I would engage with them, asking why they were Christian," Murray said, recalling that much of the time those Christians told him that their family attended a Christian-denomination church. "I wanted to find out: Did you actually have a basis for this, or is [your] faith a tradition?"
Murray would challenge others' beliefs and give evidence of Islam, but occasionally encountered those who he said knew what they were talking about when it came to their faith.
"Not only would they respond to my objections to Christianity but had a few challenges of their own to give to me," Murray said. "So what really started out as just the effort to get Christians to think of Islam as true ended up being a journey to find out what I believed, and why I believed that."
Murray, now a Christian apologist and senior vice president of Alpharetta, Ga.,-based Ravi Zacharias International Ministries, will be the guest Friday at the latest City Center Conversations: Conversations About God, Life and Faith in the City.
The event series is hosted by Little Rock's Immanuel Baptist Church and its pastor, Dr. Steven Smith. Friday's discussion is set to be the first held at the church's newly constructed City Center near the church.
Murray will be featured in place of India-born, Canadian American Ravi Zacharias, a fellow Christian apologist and the ministry's founder. Zacharias was scheduled to appear but required emergency back surgery this week and will not be able to attend, according to ministry spokesman Ruth Malhotra.
Murray's journey ultimately lasted nine years, during his undergraduate and law studies in Michigan through to his first month of practicing law in the same state in 2000. It involved investigation to find the answers to historical, scientific, philosophical and theological questions, and a large measure of soul searching and questioning his identity.
Fearing he would lose the person he thought he was, Murray said he had to ask himself: Is the truth worth it?
"The reasons [for Christianity] became more and more evident, and more and more prominent in my mind, and more credible compared to everything else," Murray said. "I felt it compelling, but I found it to be an inconvenient truth ... because changing your worldview is not an easy thing. But ultimately, I realized that I had to be intellectually honest with myself ... [and] at the end of the nine years I realized that [Christianity] is true and it would be worth it to embrace."
Murray began a ministry on the side in addition to his work as a lawyer, which later developed into a nonprofit. In time he began to notice Ravi Zacharias' ministry at some of the same conferences, and eventually, he was invited to take part in ministry events before being asked if he would join its staff.
Christian apologetics is a branch of theology that seeks to defend and prove the faith, and Murray will address the need for Christianity to be communicated to others in a way that is inclusive and encourages them to further investigate its truth.
"One of the fundamental things to get back to is the idea that while truth is an exclusive category -- exclud[ing] that which is false -- it's also an inclusive category in the sense that it could invite everyone in," Murray said. "I think Christianity is given oftentimes a bad rap, and, in fact, I would even say that Christians sometimes earn that bad rap ... in that when we hold onto a truth point, we hold onto it with a clenched fist that we shake at people, especially in our very divided culture, as opposed to offering it with an open hand."
"We're not about pointing them to us," Murray said in reference to Christian apologetics communicating with others. "We're about pointing them to someone that can offer them hope."
Murray's hope for Friday's conversation is to help Christians to bridge the heart and the mind, and communicate their faith to others in a way that is credible and winsome.
"We need to recapture the intellectual robustness of the Christian faith but also recapture the sense of integrity of Christian people because the credibility of the methods is always judged by the integrity of the messenger -- and that is critical," Murray said.
More information is available at citycenterconversationslr.org and rzim.org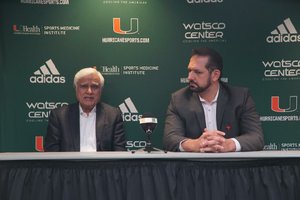 Christian apologist and author Ravi Zacharias (left) and Abdu Murray, senior vice president of Ravi Zacharias International Ministries, speak at the open forum "Does God Exist?" Feb. 13 at the University of Miami. (Special to the Democrat-Gazette/Gustavo Cruz)
Religion on 02/22/2020