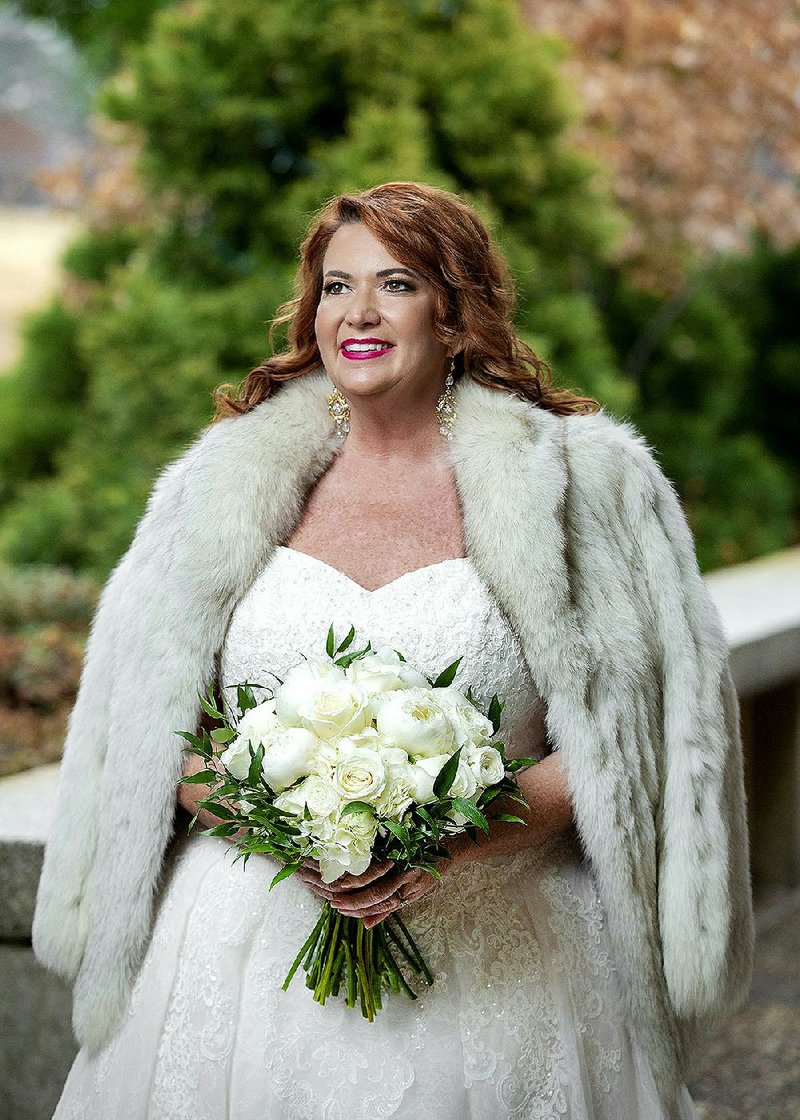 Jennifer Kay Owens Buie
Trapnall Hall was the setting at 4 p.m. Saturday, Dec. 28, for the wedding of Jennifer Kay Owens and George Matthew Buie. The Rev. Greg Schick of St. James United Methodist Church officiated.
The bride is the daughter of Cheryl Kay and James Dwight Owens of Little Rock. Her grandparents are the late Gertrude and James Owens of Story and the late Lillie and Marlin Laney of St. James, Mo.
Parents of the groom are Mary Catherine and Billy George Buie of Rison. He is the grandson of the late Ruth and Rufus Thomas Buie of Rison and the late Catherine and James Thomas Harvill of Camden.
The walkway leading to the front door was lighted with candles and Cedar garlands accented with magnolia and red and gold ribbons decorated the railings and entrance to the house. Inside was decorated with red and gold ribbons, red poinsettias, garlands, wreaths and a Christmas tree. Music was by the Da Capo String Quartet from the Arkansas Symphony Orchestra with violinists Sandy McDonald and Leanne Day-Simpson, violist Joe Joyner, and cellist Rafael Leon.
The bride, given in marriage by her parents, wore an Oleg Cassini strapless ivory ballgown embellished with beaded lace. She carried an Edwardian bouquet made of white peonies, ranunculus, hydrangeas and roses.
Honorary attendants were Don Deaton, Jennifer Cox, Julie Tabor, Andrea Rabeneck and Susan Altrui, all of Little Rock; Lee Anne Overall of Memphis; Yolanda Johnston of New Caney, Texas; Kevin Knell of Conway; and David Dodson of Jacksonville.
A reception was held after the ceremony, also at Trapnall Hall. A buffet held gold candlesticks topped with all white roses, stock, peonies and hydrangeas. Guest tables alternated arrangements of white wedding flowers on gold stands or in low gold compote-style containers. Music was by the Da Capo String Quartet.
The bride has a bachelor's degree in criminal justice from the University of Arkansas at Little Rock and a law degree from the UALR William H. Bowen School of Law. She is director of development for the Thea Foundation. She serves on the Association of Fundraising Professionals Board as National Philanthropy Day co-chair and will serve as president elect. She is on the UALR Alumni Association Board and is the board's scholarship chairwoman and is on the Taste of Little Rock committee. She is also is a member of the Rotary of Little Rock Club 99.
The groom has a bachelor's degree in history from Ouachita Baptist University and is employed by Vestcom as a solutions architect. He serves on the City of Little Rock Parks & Recreation Commission, the City Parks Conservancy Board of Directors and is a member of Rotary International and president-elect of the local Rotary Club of Little Rock Afterhours.
The couple will live in Little Rock after a short honeymoon in Ocean Springs, Miss., and New Orleans. They plan a spring wedding trip to Cabo San Lucas, Mexico.
Gallery: Owens-Buie Wedding
High Profile on 01/05/2020
Print Headline: Jennifer Kay Owens George Matthew Buie
Sponsor Content