Gov. Asa Hutchinson on Wednesday pointed to decreases in the number of new coronavirus cases reported, the number of Arkansans hospitalized with covid-19 and the number of active cases in the state as signs that the spread of the virus in Arkansas could be slowing.
But he said that progress could be threatened if Arkansans fail to take the proper precautions over the Fourth of July weekend.
"What you can see from our communication is that we fight complacency every day," Hutchinson said. "I mean, how do you balance, well we had a good day, and so people say, 'Well, cases are going down, so let's go out and everything's fine.' That's not the case."
The state's count of coronavirus cases rose Wednesday by 420 -- the smallest one-day increase since June 21.
That brought the tally to 21,197 cases since the first positive test result was announced in mid-March.
[CORONAVIRUS: Click here for our complete coverage » arkansasonline.com/coronavirus]
The state's death toll from the virus, as tracked by the state Department of Health, rose by seven, to 277.
Meanwhile, the number of Arkansans hospitalized with the virus fell by 15, to 275.
That was the second day hospitalizations fell after peaking at 300 on Monday.
But the number of patients who were on ventilators increased by five, to 72.
Hutchinson said the Health Department will use social media to emphasize the need to take steps during Fourth of July gatherings such as keeping a safe distance from people from other households and wearing a mask when that's not possible.
[Video not showing up above? Click here to watch » https://www.youtube.com/watch?v=hsaPOp8fTic]
Staff members at state parks also will remind visitors to practice social distancing, and Alcoholic Beverage Control agents will be watching for violations of Health Department rules at restaurants and bars, he said.
"I want them to be active and to make sure that the owners that have those permits are mindful of their responsibility and just don't let the parties and the celebration get out of control, where we forget that we individually make a difference in our future and whether the cases are going to go up or down," he said.
Hutchinson had said Tuesday that the coronavirus is spreading too quickly to lift the state's prohibition on team practice and competition for "close contact" sports, such as football and basketball.
At his daily news conference on the pandemic on Wednesday, he held a white football in one hand and cloth mask in the other to emphasize the need to curb the virus's spread.
[Gallery not loading above? Click here for more photos » arkansasonline.com/72briefing/]
"There's a connection between the two," Hutchinson said. "We wear our masks, we reduce the cases, we reduce the growth, we stop the spread of the virus, and that puts us in a better position to have some type of team sports this fall."
NEW CASES DOWN
Health Secretary Nate Smith said that at least 33 of the cases added to the state's total on Wednesday were confirmed to be among prison or jail inmates.
But he noted that an additional 69 new cases were from Lee County.
Most of those were likely inmates at the East Arkansas Regional Unit prison in that county but hadn't yet been classified as inmate cases in the Health Department's database, Smith said.
[Interactive Arkansas map not showing up above? Click here to see it: arkansasonline.com/arvirus]
If Wednesday's number of new noninmate cases stood at 387, that would be the lowest number of such cases added to the state's total since June 23, when 383 such cases were added.
The average number of cases added to the state's total each day over a rolling seven-day period fell on Wednesday for the third-straight day, going from a high of 608 as of Sunday to 546 as of Wednesday.
The number of active cases, in which a person has tested positive and has not yet recovered, fell for the first time since June 18 as 632 people were newly classified as having recovered.
The number of Arkansans who have recovered rose to 15,163, while the number of active cases fell by 219, to 5,757.
Smith noted that 180,595 Arkansans were tested in June, beating Hutchinson's goal of 120,000 as well as the goal of 180,000 tests that the governor set for this month.
[EMAIL SIGNUP: Form not appearing above? Click here to subscribe to updates on the coronavirus » arkansasonline.com/coronavirus/email/]
But Smith said the state needs to watch the percentage of tests that are positive to ensure the amount of testing is sufficient.
"We've seen the percent positives creep up on us," he said. "We need to get enough testing out there that we know that we're catching as many positives as possible, we're not missing any populations, we're not turning people away who really do need to be tested."
Just 4.6% of the tests that were performed on Tuesday were positive, down from 8.3% a day earlier, according to information the department had received as of Wednesday. Those numbers are adjusted as more results are reported to the department, however.
'GOOD NEWS' SEEN
Hutchinson also used his news conference to highlight trends in the two most populous counties in each of the Health Department's five public health regions.
In Washington and Benton counties in the Northwest region, where the state's growth in new cases has been concentrated, the average number of new cases added each day over a rolling seven-day period has been falling over the past few days.
Washington County's average of 99 cases a day as of Wednesday was down from a high of 113 as of Sunday.
In Benton County, the average fell from a peak of 83 on June 24 to 55 as of Wednesday.
Pulaski County's average had been increasing until Wednesday, when it dropped from a high of 61 on Tuesday to 57.
The other counties included Faulkner County in the Central region, Craighead and White counties in the northeast region, Miller and Union counties in the southwest region, and Jefferson and St. Francis counties in the southeast region.
In each county, "we have either downward trend or flat, and that's good news for Arkansas," Hutchinson said.
PATIENT OUTCOMES
Smith said information about the outcomes of Arkansans who have been hospitalized with covid-19 illustrates the disease's severity.
Of the 1,300 Arkansans who had been hospitalized with the virus through June 25, 860, or about two-thirds, had been discharged.
About 20% -- 263 people -- were still hospitalized as of that date and 177, or 13.6%, had died.
Of the 203 patients who had been on a ventilator, 94, or 46%, died. The rest were almost evenly split between those who had recovered enough to be taken off the machine (57, or about 28% of the total), and those who were still on it as of June 25 (52, or about 26%).
"This is the sobering reality of what severe covid-19 can result in," Smith said.
One Arkansas man in his 20s, whose respiratory symptoms weren't severe enough to require hospitalization, died of a blood clot in his lungs, he said.
Smith said he also received an email from a physician who recovered from his respiratory symptoms but had other complications resulting in congestive heart failure.
"This was an otherwise healthy, strong individual who now has an uncertain health future because of covid-19," Smith said.
COUNTY BREAKDOWN
In addition to the cases in Lee County, the ones added to the state's total on Wednesday included 49 in Pulaski County, 48 in Washington County, 28 in Yell County and 20 in Benton County.
At the East Arkansas Regional Unit, the number of cases among inmates listed in Health Department reports as having tested positive increased by 29, to 650.
Among workers at the prison, the number of cases increased by 12, to 56.
Meanwhile the Health Department's count of virus deaths increased by one each in seven counties, raising the total to 59 in Pulaski County; 19 in Benton County; 13 in Crittenden County; seven in Craighead County; five in Sharp County; four in Columbia County; and two in Drew County.
The department's count of deaths increased by one, to 63, among Arkansans age 45-64, and by six, to 199, among those 65 and older.
At the Community Compassion Center of West Memphis, the number of virus deaths listed in Health Department reports increased from one to five.
The number of deaths listed at Brookstone Assisted Living in Fayetteville increased by one, to four.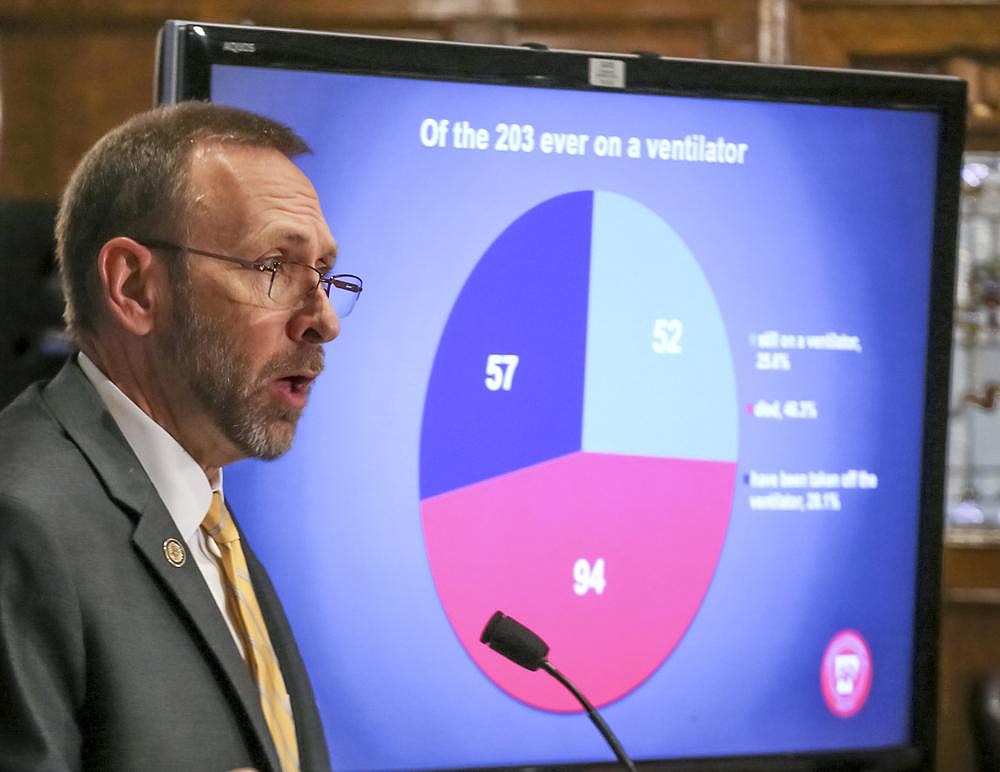 Health Department Secretary Nate Smith explains a chart Wednesday showing the outcomes for 203 people put on ventilators. More photos at arkansasonline.com/72briefing/. (Arkansas Democrat-Gazette/Thomas Metthe)