ROGERS -- Jim Humphreys knows what this weekend is going to be like at Beaver Lake.
"I expect insanity," said Humphreys, owner of Lost Bridge Marina in Garfield. "Insanity in a good way. It's going to be crowded.
All of his boat slips and boats are taken, and the 15-room motel is full.
"It's been a blessing," said Humphreys, who noted that reservations were off 25% to 30% in April as the coronavirus pandemic took hold.
Since the middle of May, though, business has been "lights out," he said.
"There are a lot of people out there with cabin fever."
[Video not showing up above? Click here to watch » https://www.youtube.com/watch?v=G-p7SoqXS0M]
All dock hands at the marina must wear masks and hand sanitizer is available at the gas pumps, Humphreys said. All life jackets and rental boats are sanitized after each use, he said.
Social distancing will be stressed at Ventris Trail's End Resort in Garfield, said Jody Simrell, owner and manager.
"We just don't have to protect ourselves, we have to protect our resort guests. People have become quite aware of this and will follow through," he said.
Maj. Glenn Tucker, assistant chief of the Arkansas Game and Fish Enforcement Division, said crowds and gatherings should probably be avoided this year.
"I get it, the holidays mean getting out and enjoying time with friends, but we still need to practice social distancing, even when we're outdoors," Tucker said in a news release.
"We've all seen videos and images from large on-the-water gatherings, and we've also seen some unfortunate cases where the coronavirus that causes covid-19 was able to spread quickly as a result. It's not illegal in Arkansas to gather like this, but we want to remind people to please think about the consequences of their actions. It shouldn't take a law to practice good judgment."
The eight cabins and two apartments at Ventris Resort are rented, Simrell said. Three-fourths of the rentals for the weekend are local folks, he said.
"The whole year has been like that," he said. "It's been consistent. It's really cool that people are finding out there is a whole lot to offer right in their back yard."
Whispering Hills Cabins near the lake in Garfield has all four of its cabins booked, said owner Beverly Patterson. The business is booked until mid-August, she said.
Campground sites at the lake are full, too, Chief Ranger Landon Thurman said. Some swim beaches are closed, including Horseshoe Bend, Hickory Creek, Lost Bridge north and south and War Eagle, he said. The Horseshoe Bend day use area also is closed.
Thurman stressed that visitors need to be careful on the lake because of the expected large turnout.
"Watch out for the tubers and skiers. Keep your head on a swivel and be observant," he said. "Covid-19 is still a risk. We encourage social distancing at the swim beaches."
Bruce Darr and Linda Oletti live on Beaver Lake near Rocky Branch Park. They plan to fish and perhaps do a little boating with family this weekend. They noted increased boat traffic as far back as April.
"April looked like June," Oletti said. "There were people tubing and skiing when the water was cold."
Darr and Oletti said not many people are wearing masks while on the lake.
Darr said the lake will be "crazy" this weekend if there is decent weather. Temperatures are forecast to be near 90, according to the National Weather Service.
Beaver Lake's elevation was 1,127.53 feet -- 6.1 feet above normal pool, on Thursday, according to the U.S. Army Corps of Engineers. Other Corps lakes on the White River were running much higher. Table Rock Lake was at 10 feet above normal pool, and Bull Shoals was 30.7 feet above.
Erin Jimenez, a public affairs specialist with the Corps, said there is the possibility of some debris in the lake because of high water. Boaters need to drive slowly, refrain from drinking alcohol and wear a life jacket, she said.
Wendy Alexander, operations manager at the Lodge at Table Rock Lake on Indian Point near Silver Dollar City, said that resort also has 100% occupancy this weekend.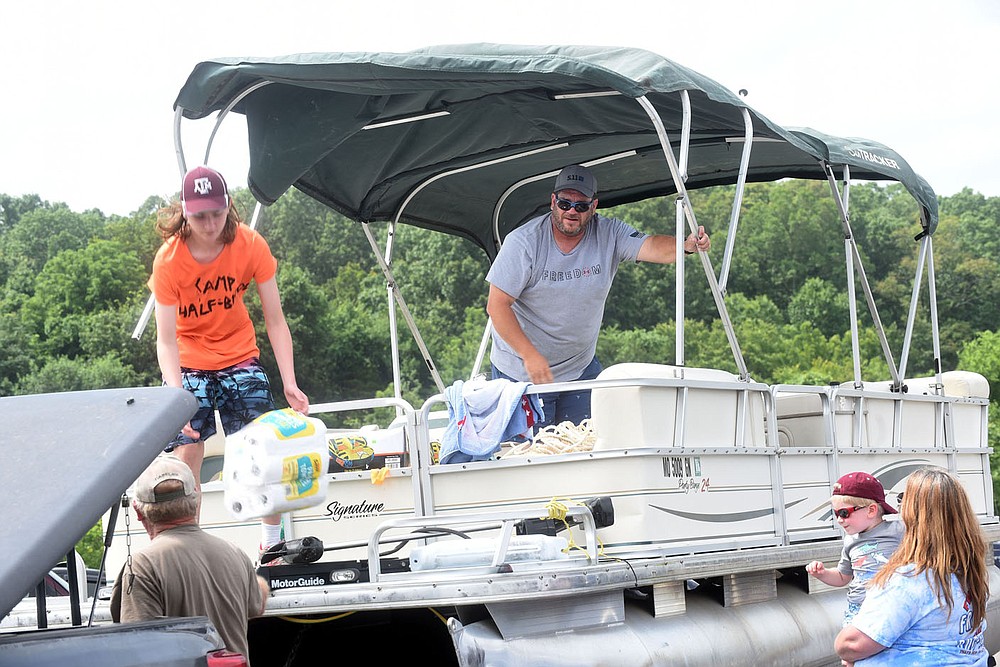 Dwayne Frantz, visiting the area from Texas, raises the canopy on a pontoon boat Wednesday for a family outing on Beaver Lake, launching at Prairie Creek park. The crew said they were getting on the water ahead of the holiday weekend rush. (NWA Democrat-Gazette/Flip Putthoff)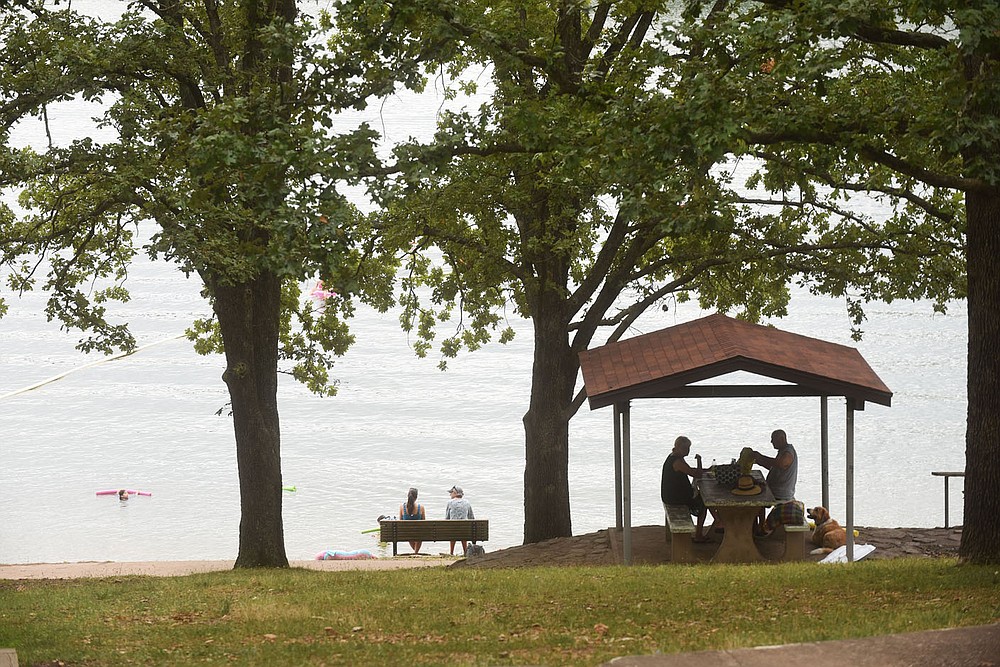 People picnic and swim Wednesday at Prairie Creek park near Rogers on Beaver Lake. Independence Day weekend is one of the busiest at the lake. Go to nwaonline.com/200703Daily/ to see more photos. (NWA Democrat-Gazette/Flip Putthoff)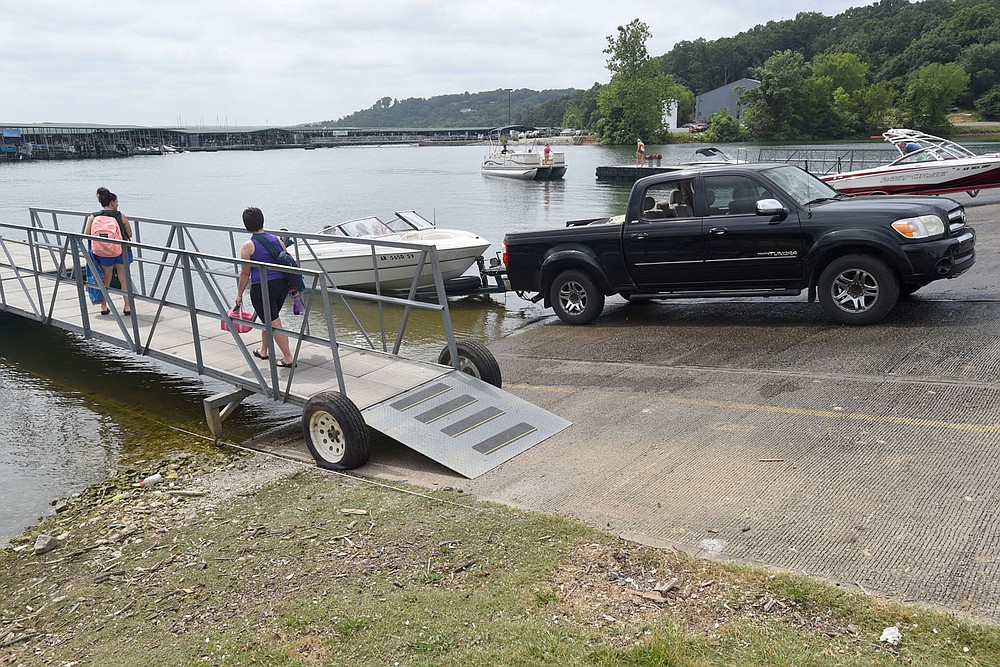 Boats are launched Wednesday July 1 2020 at Prairie Creek park on Beaver Lake. Independence Day weekend is one of the busiest at the lake. Go to nwaonline.com/200702Daily/ to see more photos. (NWA Democrat-Gazette/Flip Putthoff)