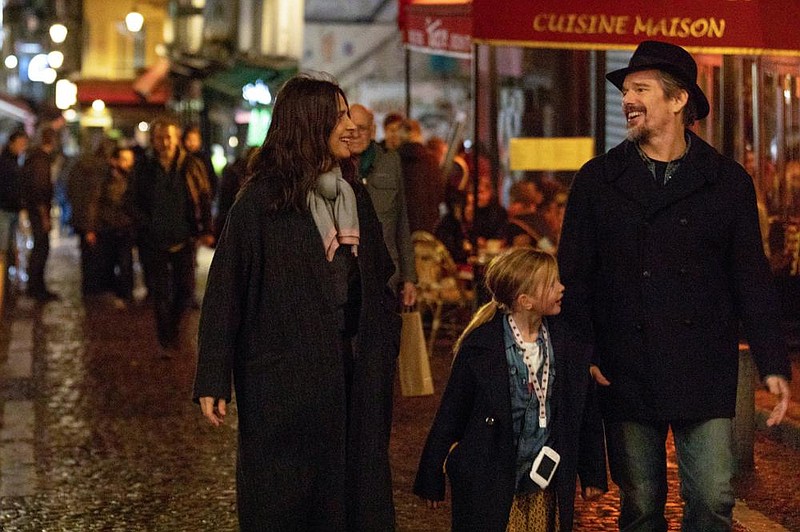 Lumir (Juliette Binoche), Charlotte (Clémentine Grenier) and Hank (Ethan Hawke) travel to Paris to visit a family matriarch (and self-involved movie legend) played by the unsinkable Catherine Deneuve in Hirokazu Koreeda's "The Truth," the follow-up to his 2018 breakthrough "Shoplifters."
The poet Miller Williams spoke a handful of languages fluently. But he only wrote poetry in English.
When I asked him why, he told me it was because, for him, English was the only "haunted language." He could see the shadows and depths of English words in a way he couldn't fathom Italian or French. He was forever a remove away from perfect comprehension of those words charged with history and myth that he respected too much to abuse. So he stuck with English for his poems.
Sometimes when I'm watching a movie in a foreign language, I wonder about what I may be missing. There are layers of meaning that subtitles can't convey. After I watched Japanese director Hirokazu Koreeda's "Shoplifters" a couple of years ago, I was sure of a couple of things: it's one of my favorite movies of this century, and the experience was much richer for a native Japanese speaker.
As sometimes happens when an arthouse movie reverberates beyond its home country, Koreeda was no doubt presented with some intriguing options after the success of "Shoplifters." It is interesting that he chose to make a film shot and set in France, with a French crew, in which most of the dialogue is in French, a language Koreeda does not speak. (There's also a considerable amount of English, another language that's foreign to the director.)
I worried that Koreeda's very specific sensibility wouldn't travel well. While his work seems to be better appreciated outside his own country -- which is to say it's widely appreciated by cinephiles -- it seems very Japanese. Koreeda's work reminds me of late-period Yasujirô Ozu, whose 1959 movie "Good Morning" would make an excellent double feature with "Shoplifters" -- and I worried that removing his work from the context of his native land would denature or at least dilute it.
This is not unprecedented; plenty of directors make movies in languages other than their own. But these have not always been terrifically successful. Michelangelo Antonioni's "Zabriskie Point" is interesting, but hardly his best work. Ingmar Bergman's "The Touch," which he made in English with Elliot Gould as his star, earned him the worst reviews of his career. It might be a minority opinion but I think "Snowpiercer" (2013), made with an international cast, is Bong Joon Ho's weakest film.
John Woo came to Hollywood in the mid-'90s as one of the great auteurs of world cinema, fresh off a trio of the best hard violence action movies ever -- "A Better Tomorrow" (1986), "The Killer" (1989) and "Hard Boiled" (1992). In his best English language films -- "Face/Off" (1997) and "Mission: Impossible 2" (2000) -- you can certainly discern the director's voice and vision, but they definitely feel like Woo Lite, and his later efforts feel like work for hire.
After he returned to Asia in the mid-2000s he made the two-part epic "Red Cliff," which is on a par with his best work.
On the other hand, Koreeda is fluent in cinema, and his familiarity with cosmopolitan upper-middle-class Frenchness is very much on display in "The Truth," a chamber piece about a famous actress and the family she slighted in order to become a great artist (or at least to win the adulation of the mob).
The story has its roots in a stage play Koreeda wrote years ago. It translates beautifully to the leafy Parisian suburb where screen legend Fabienne Dangeville (Catherine Deneuve) lives in a sprawling, tasteful estate that (make of this what you will) shares a wall with a prison.
As the film opens Fabienne, who has just published her autobiography "The Truth," is giving an interview to a journalist and performing as a larger-than-life movie star, waving around a cigarette and generally behaving like Catherine Deneuve. (I once interviewed Deneuve in a similar situation. She was immensely charming as she ignored the prominent "No Smoking" signs.)
That's part of the magic here. Koreeda wants us to wonder how much of his movie is actually Deneuve biography, Fabienne is obviously based on her (Deneuve's middle name is Fabienne) and she exudes the same sort of casual glamour and leonine ferocity as the legendary actress. Perhaps Fabienne is slightly less accomplished than her model; she's won one Cesar Award to Deneuve's two.
Anyway, as the interview continues, Fabienne's daughter and her family are arriving from New York, which she confides to the interviewer is no big deal. They're here to congratulate her on the publication of the book.
But her daughter Lumir (Juliette Binoche), a screenwriter, is a bit miffed. Her mother promised to let her read the book before publication, but apparently forgot -- or reneged on -- that promise. Now that she's read some of it, she's astounded at some of Fabienne's omissions and outright lies. It was her father that met her after school; Fabienne never did, not once! And Fabienne even missed the middle-school production of "The Wizard of Oz" where Lumir played the cowardly lion.
Of course, Fabienne says, she's not going to tell the naked truth in "The Truth." The truth is insufficiently "interesting," and she is all about heightened reality, not the everydayness of the "daily grind." She is, after all, a self-authored character who is most real when projected on a wall. That's why she continues to work; her latest picture is a science fiction story in which she plays opposite a rising young star.
It's not going to be a great picture, Fabienne tells her interviewer, but it will give her a chance to work with an actress many think to be the spiritual heir of Fabienne's long-ago friend and rival Sarah Mondavan, who died young and tragically. And it shouldn't be lost on anyone that the character Fabienne plays feels some of the same estrangement as her own real-life daughter.
Lumir's husband Hank (Ethan Hawke), is more sympathetic to Fabienne's perspective, or perhaps he's calculating how his mother-in-law might boost his own career. It's his first time visiting her at her home -- when Lumir and their young daughter Charlotte (Clémentine Grenier), visited before he was, euphemistically, "on a shoot."
Hank is a veteran TV actor who may finally be starting to have some success, and while he and Lumir seem to be getting along for the time being, there are hints that he hasn't always been the most reliable partner. That he's not quite taken seriously by either of these women is telegraphed by a scene at a children's birthday party where he winds up at the kids' table.
That said, Hawke portrays Hank as empathetic and well-meaning, and about the worst Lumir will say about him is that he's a better lover than actor. Conspiratorially, Fabienne admits her live-in Jacques (Christian Crahay) is a better cook than lover.
Those familiar with Koreeda's work will not be surprised at how deftly he plays the chords of familial alliance and tension here, though if you go in expecting the third act fireworks of "Shoplifting" you might be disappointed.
This is a deliberately small-scale movie, designed at least in part as a showcase for the magnificent Deneuve, who imbues Fabienne with a steely, devious narcissism. We are lucky to bask in her reflected light. We are lucky she doesn't turn us into toads and turtles.
More News
'The Truth'
87 Cast: Catherine Deneuve, Juliette Binoche, Ethan Hawke, Clémentine Grenier, Manon Clavel, Jackie Berroyer, Ludivine Sagnier
Director: Hirokazu Koreeda
Rating: PG, for thematic and suggestive elements, and for smoking and brief language
Running time: 1 hour, 46 minutes
Available on video-on-demand through iTunes, VUDU, Amazon Prime and other sites.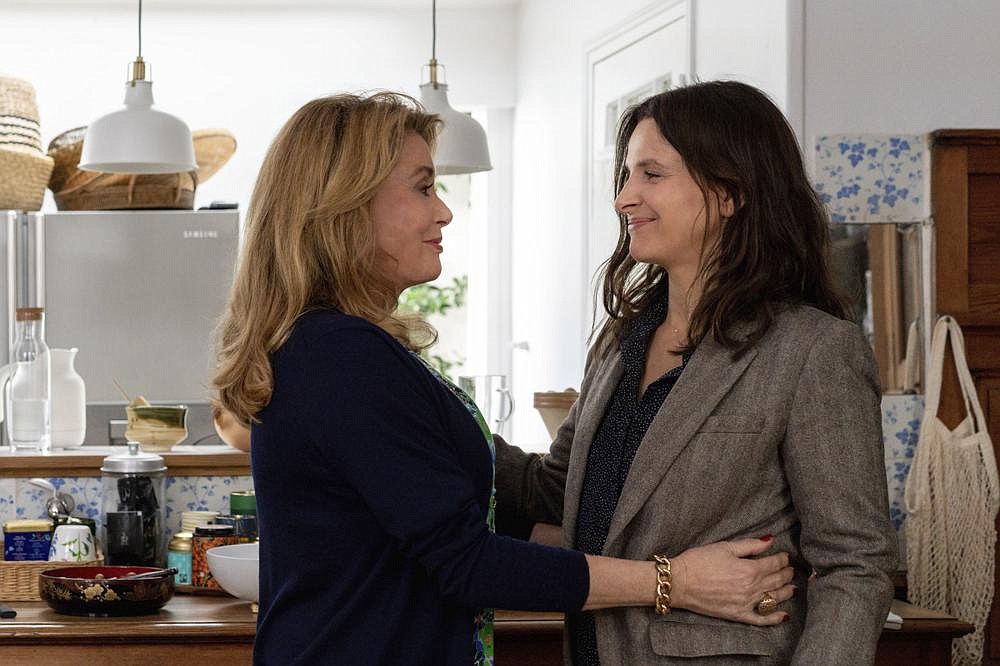 Fabienne (Catherine Deneuve) greets her semi-estranged daughter Lumir (Juliette Binoche), who has come to visit on the occasion of the publication of her mother's dubious autobiography, in Hirokazu Koreeda's "The Truth."
Sponsor Content