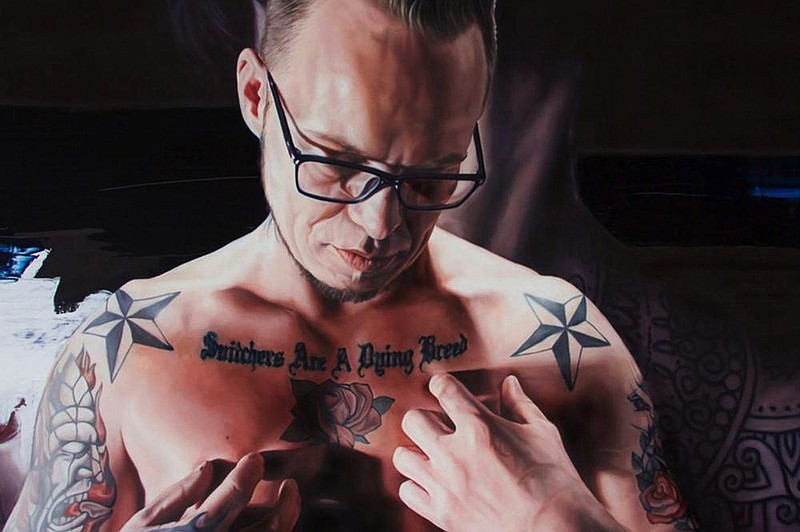 Painter Barbora Kysilkova's portrait of career criminal Karl Bertil-Nordland, a man who once stole one of her paintings because it was "beautiful," is at the center — but perhaps not the heart — of the documentary "The Painter and the Thief."
Art heists are fascinating. Thieves sneaking into the galleries of some fussy museum to snatch a priceless masterpiece off the wall and disappearing into the night always makes for a riveting tale.
But what if the work isn't exactly priceless and the thieves were so stoned and sloppy that the cops quickly caught them? And what if the artist decides to make friends with one of the men who stole her work? What if he becomes her muse?
This is what happens in "The Painter and the Thief," a documentary by Norwegian filmmaker Benjamin Ree that won the World Cinema Documentary Special Jury Prize for Creative Storytelling at this year's Sundance Film Festival and began streaming on Hulu last month.
It is an intimate, sensuous study of two vulnerable people and their profound and curious connection; a stranger-than-fiction documentary that feels more like a feature film, in part because of how Ree expertly uses flashbacks and voice-overs to circle around the narrative in a nonlinear but approachable way.
The painter is Barbora Kysilkova, a Czech-born hyper-realist who is just barely making her way in Oslo.
In 2015, a pair of her large oil paintings -- "Swan Song," depicting a dead swan among reeds and "Chloe and Emma," which shows two little girls on a couch -- were stolen from the Gallery Nobel in Oslo. The two thieves were caught on video and it wasn't long before the police tracked them down. But the canvases, which had been expertly removed from their frames, were nowhere to be found.
Kysilkova attends the trial of one of the men, Karl-Bertil Nordland, and actually approaches him in the courtroom. After introducing herself, she asks him why he stole her paintings.
"Because they were beautiful," he tells her.
She tells him she would like to paint his portrait, and he agrees.
We learn about Nordland's story first through Kysilkova's eyes. Growing up, he was a good student, but his parents divorced when he was 8 and his mother took his siblings and left him behind with his father. He was a youth counselor for a while, but got into drugs and crime and eventually spent eight years in prison. He hates pickles on his burgers, Kysilkova tells us.
The heavily-tattooed Nordland has a jailhouse-junkie handsomeness -- imagine a young, down-on-his-luck John Mellencamp with a mohawk -- and a mordant wit. There is a fragility about him, but he also possesses a frightening streak of self-destructiveness.
"It feels like that is... how he shouts for attention," Kysilkova says.
When she shows him the portrait she has made of him, his response is stunning.
At first it's as if he is seeing a ghost of himself. His eyes go saucer-wide with shock and disbelief and he actually denies the image. "No. No," he says.
He slowly begins to whimper and then is overcome with sobbing as he and Kysilkova embrace.
The scene carries out for over two minutes. Ree lets us feel every second of its seat-squirming discomfort and ultimate release.
This happens less than 20 minutes into the documentary, and is a signal that this is much more than a simple movie about a kind and gifted artist who paints a picture of the guy who stole her work. Ree goes deeper, and his patience and filmmaking skill means a richer payoff for us.
Kysilkova is earthy, warm and utterly unselfconscious. She is devoted to her art and obsessively works in her atelier.
She and her boyfriend have come to Oslo from Berlin, where she was involved in a long and abusive relationship with a violent man. There are intimations that she had a hard time extricating herself from him, and her boyfriend openly worries if her relationship with Nordland is a sign that she is still hopelessly drawn to dangerous, destructive men. They end up in couple's therapy.
She's also broke; as galleries refuse her work for being noncommercial, the scanner at the grocery store rejects her overdrawn debit card and the rent on her atelier is months overdue.
Nordland, who is refreshingly thoughtful and, like Kysilkova, speaks excellent English, gives us insight into the artist.
He admits that he was wary of her at first. A lifetime ducking the law has made him suspicious of strangers, but her kindness and sensitivity won him over.
She hates shopping for clothes and has been fascinated by death since childhood, he tells us.
"Some of her paintings are very dark," he observes. "Maybe too dark for most to hang on their wall."
He also understands that the negative forces driving him aren't that different from what compels her to make the decisions she makes.
"She sees me very well, but she forgets that I can see her, too," he says.
As the film progresses, Nordland's drug addiction rages and, after bailing on a trip to rehab, he ends up hospitalized and in a coma with several broken bones after crashing a car while fleeing the police. His hips are held together by screws, and watching him learn to walk again is excruciating.
Kysilkova helps him through his rehabilitation before he returns to jail. She is also determined to find her two missing canvases.
By the end we see them hanging a new gallery show of Kysilkova's work, as Ree lets us peek one last time into the cozy bond between these two unlikely friends before revealing a final, sublime image that is both shocking and beautiful.
More News
'The Painter and the Thief'
89 Cast: Documentary, with Karl Bertil-Nordland, Barbora Kysilkova
Director: Benjamin Ree
Rating: Not rated
Running time:1 hour, 42 minutes
This film is streaming on Hulu and available for rental on-demand on Amazon Prime, iTunes and other digital platforms.
Sponsor Content