Any Arkansans who fear going to the polls this fall during the coronavirus pandemic can use their concerns as an excuse to vote absentee, Gov. Asa Hutchinson said Thursday.
The governor, who had not previously committed to expanding the use of mail-in or absentee ballots during the election, made the announcement alongside the chairmen of the state's Republican and Democratic parties, as well as Secretary of State John Thurston.
Arkansas law allows voters to request absentee ballots if they will be "unavoidably absent" on Election Day or if they have illnesses or physical disabilities.
Thurston said last week in a news release that he believed the law will allow voters to choose whether to vote absentee during the pandemic, an interpretation with which Hutchinson said he concurred.
[CORONAVIRUS: Click here for our complete coverage » arkansasonline.com/coronavirus]
"They just simply have a concern, a fear of going to the polling place because of the covid-19, that's enough of a reason" to vote absentee, Hutchinson said.
Thurston said voters can immediately begin requesting absentee ballots from his office or their local county clerks. The deadline to request an absentee ballot by mail or fax is Oct. 27, though a voter can pick up an absentee ballot in person until Nov. 2, the day before the election.
All absentee ballots must be returned by 7 p.m. on Election Day, Nov. 3, to be counted, Thurston said.
The new absentee voting requirements are different from the universal vote-by-mail system in place in some states, which send a ballot by mail to every registered voter. In Arkansas, a voter must request an absentee ballot.
[RELATED » Full coverage of elections in Arkansas » arkansasonline.com/elections/]
Proponents of mail-in ballots characterized Hutchinson's announcement Thursday as an encouraging step, though they urged him and other election officials to do more to clarify the rules of absentee voting and to use federal funding to pay postage for voters.
"I still think the process for getting a ballot in Arkansas is fairly cumbersome," said Bill Kopsky, the executive director of the Arkansas Public Policy Panel.
Kopsky noted that an absentee voter is required to send a photocopy of his voter ID in with his ballot, but that many people don't have access to a copier at home and are not going to work because of the pandemic.
He said the governor should issue an executive order waiving the requirement and that the state should undertake a marketing campaign explaining how to request and mail in an absentee ballot.
Democratic Party of Arkansas Chairman Michael John Gray praised the governor for reaching a compromise with both parties, though he also suggested that more work would be required to implement expanded absentee voting.
"We have a challenge moving forward of educating the voters on how to properly obtain, how to properly document, and how to properly fill out absentee ballots," Gray said. "As well as questions from the local government on the increased costs surrounding this and the increased processes from here to Election Day."
Thurston, the secretary of state, said a lack of funding would prevent the state from simply mailing an application to every registered voter to use to request a ballot. He added that nothing in the law prevents county clerks from taking such a step.
Pulaski County Clerk Terri Hollingsworth said her office estimated that it would cost $125,000 to mail absentee ballot request forms to all of the county's 250,000 registered voters.
"We have talked about it, but it certainly is cost prohibitive for us," Hollingsworth said.
Republican Party of Arkansas Chairman Doyle Webb said he supports the governor's announcement and encouraged voters to request absentee ballots if they fear going to the polls. He added that there is an "important distinction" between expanding the existing absentee voting process and mailing ballots to all registered voters.
"It requires personal responsibility," Webb said. "You need to make that request as a registered voter, and then once you receive your ballot, you will send back with it your voter ID."
While the majority of states -- including those that traditionally vote Republican or Democratic -- already offer no-excuse absentee voting or all-mail elections, the issue has become increasingly partisan in recent years over accusations of voter fraud.
President Donald Trump has spoken out against the increased use of mail-in ballots and at times made inaccurate claims about the prevalence of fraud in elections that rely heavily on them.
In May, he tweeted "The United States cannot have all Mail In Ballots, It will be the greatest Rigged Election in history," before adding later in the same tweet, "Some absentee OK, when necessary." (The president voted absentee earlier this year in Florida's primary elections, a state that does not require an excuse to do so.)
An analysis of vote-by-mail in three states by the The Washington Post found that instances of voter fraud in mailed-in ballots represented 0.0025% of votes cast.
Even the conservative Heritage Foundation, which opposes the increased use of voting by mail, identified only two instances of fraudulent use of absentee ballots in Arkansas since 2002, despite millions of votes being cast in that period.
Hutchinson said allowing voters to use covid-19 as an excuse to vote absentee would be the "foundation" of this year's elections in Arkansas, though he did not dismiss exploring other options to protect voters from the coronavirus, such as expanding early voting or opening polling sites in larger venues to allow social distancing.
"I think there certainly can be a discussion about whether there should be in each county additional locations," the governor said. "That's a resource issue, it's a local county election commission issue."
Leslie Bellamy, director of the secretary of state's Election Division, said expanding early voting beyond its current two-week period before an election would likely require an act of the Legislature, which is not scheduled to meet in session until January.
Thurston said he hoped his office would be able to use funds from the federal Coronavirus Aid, Relief, and Economic Security Act to subsidize the cost of postage for absentee ballots, though he declined to elaborate, citing a lawsuit filed that seeks to make it easier to vote absentee.
One of the attorneys behind that lawsuit, David Couch, said Thursday that the governor's announcement of his interpretation of the law lacked legal authority. Couch said that absent an executive order signed by Hutchinson, he would seek summary judgment in court declaring that voters can cite coronavirus as an excuse to vote absentee.
Hutchinson said Thursday that he did not plan on issuing an executive order, saying his announcement along with Thurston's "adequately solves the problem."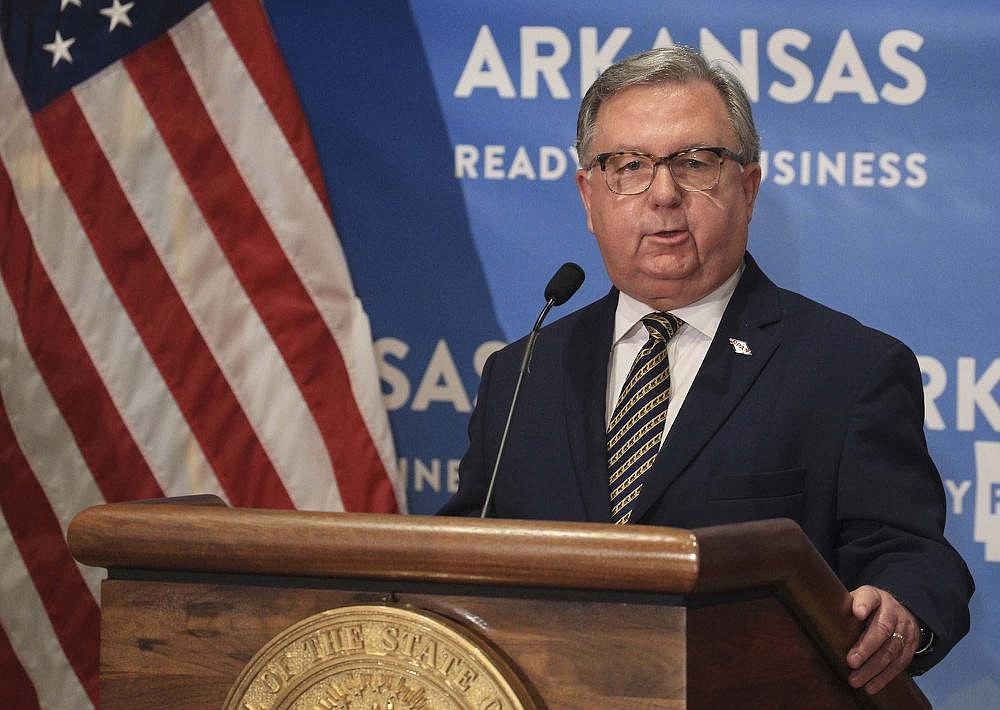 Doyle Webb, chairman of the Republican Party of Arkansas, discusses the plan to allow absentee voting for people worried about the coronavirus. (Arkansas Democrat-Gazette/Staton Breidenthal)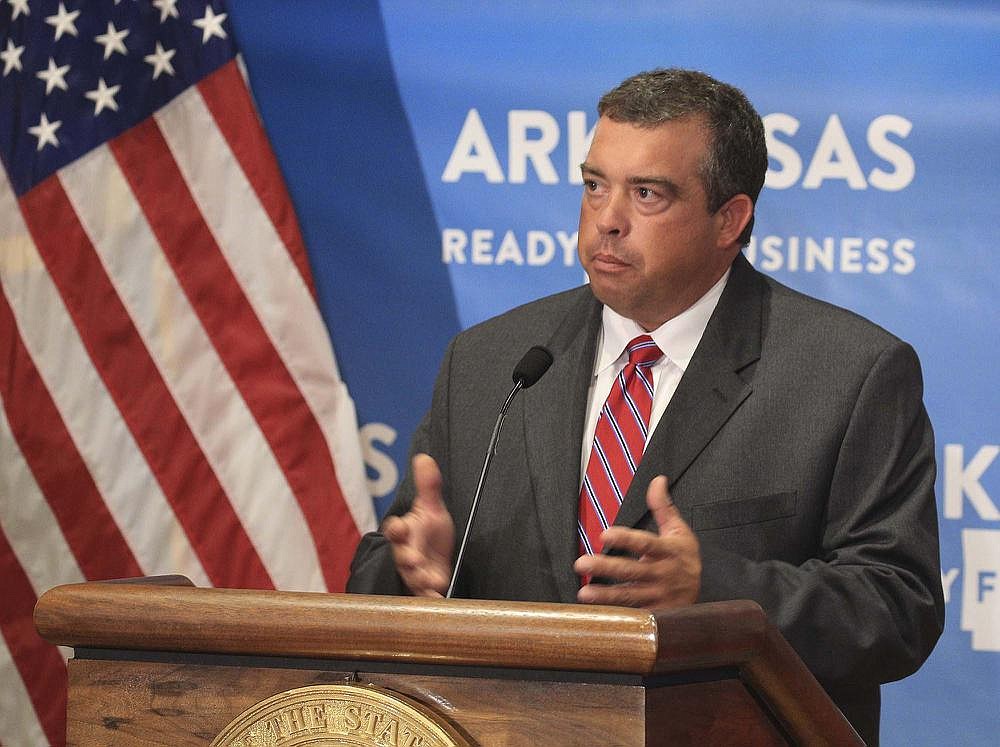 Michael John Gray, chairman of the Democratic Party of Arkansas, discusses the plan to allow absentee voting for people worried about the coronavirus. (Arkansas Democrat-Gazette/Staton Breidenthal)