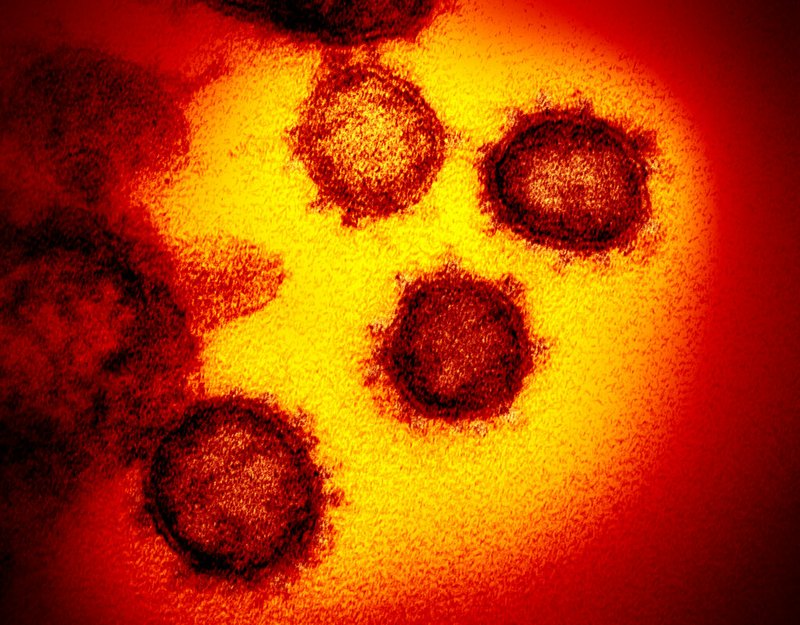 FILE - This undated electron microscope image made available by the U.S. National Institutes of Health in February 2020 shows the Novel Coronavirus SARS-CoV-2. Also known as 2019-nCoV, the virus causes COVID-19. ( NIAID-RML via AP )
SPRINGDALE -- Diabetes is a common underlying health condition of people who are dying of covid-19 in Northwest Arkansas, records show.
Fourteen of the first 26 Benton and Washington county residents to die of covid-19 had diabetes, according to death reports from the coroners' offices.
People with type 2 diabetes are at high risk for severe illness and death if they contract the virus, said Dr. Adam Maass, an endocrinologist for Northwest Health System. People with type 1 diabetes, which make up about 5% of diabetes patients, don't appear to be at any more risk for covid-19 complications than people without diabetes, Maass said.
Because covid-19 is a new virus, doctors don't fully understand what exactly makes the disease so risky, but it appears to be for several reasons, he said.
Type 2 diabetes is associated with obesity, hypertension, high blood pressure and older age, all of which make it harder to fight off a virus such as covid-19.
Some people with type 2 diabetes have demonstrated to have more ACE-2 receptors in their lungs, which is an entry point for covid-19, a respiratory illness. The virus has a protein that attaches to those receptors, Maass said.
Dr. Gary Berner, chief medical officer at Community Clinic, said chronically elevated blood sugar hurts the immune system by injuring the heart, kidneys and lungs.
"That sugar has just been hanging out in your blood vessels," he said.
That means when people with diabetes become severely ill with covid-19, their kidneys and lungs struggle to filter what they need to fight off the illness.
"That heart just cannot handle the stress," Berner said.
Patients who manage their diabetes well by eating healthy and taking proper medication can lower their risk of complications, Maass and Berner said, but Maass stressed having the disease alone is a risk factor.
Berner said this is a critical time for patients to check in with their doctors to make sure their diabetes is well-managed, their medications are up to date and they are eating healthy.
Managing anxiety, which can raise blood pressure or cause people to forget to take their medication, is important too, Berner said. Patients should seek mental health treatment, which many therapists are doing remotely because of the pandemic, if they are experiencing fear, anxiety or isolation.
Diabetes patients also are more likely than those without the disease to die of pneumonia and flu, Maass said.
Some are dying of covid-19 because they wait too long see a doctor or go to the hospital, Maass said.
"They're getting there much sicker and getting extreme medical care," he said.
Maass recommended people with type 2 diabetes who are diagnosed with covid-19 notify their doctors and seek medical attention sooner rather than later. He also recommended getting tested for covid-19 even if symptoms are not severe.
Maass said he is particularly concerned about Northwest Arkansas' Marshallese population, which has a high rate of diabetes. He said Marshallese people tend to be essential workers.
"All of that has made them very, very vulnerable," he said.
Marshallese people are dying at a disproportionate rate in Northwest Arkansas.
At least 72 Benton and Washington county residents had died of the virus as of Tuesday, according to information from Roger Morris, Washington County coroner, and Daniel Oxford, Benton County coroner. Half, or 36, of the people who died were Marshallese and/or Pacific Islander.
Marshallese people account for about 3% of the region's 520,000 residents, according to estimates from Melisa Laelan, director of the Arkansas Coalition of Marshallese, and the U.S. Census Bureau.
"It breaks my heart because I'm so proud to have that community in Northwest Arkansas. I have so many wonderful patients in my clinic from the community," Berner said.
The death reports from the first 26 people who died in Benton and Washington counties show 12 of the 14 people with diabetes were Marshallese. Diabetes is also a common underlying condition among younger people dying from covid-19, according to the reports. Thirteen of the 26 who died were under 60, and nine of them had diabetes, according to the reports.
Marshallese get diabetes more often and younger than other groups for several reasons, including less access to healthy food and good health insurance, Berner said.
He said people can help by donating nutritious food low in carbohydrates to local food pantries.
More News
Fast facts
People of any age with the following conditions are at increased risk of severe illness from covid-19:
• Chronic kidney disease
• Chronic obstructive pulmonary disease
• Immunocompromised state (weakened immune system) from solid organ transplant
• Obesity
• Serious heart conditions, such as heart failure, coronary artery disease or cardiomyopathies
• Sickle cell disease
• Type 2 diabetes
Source: federal Centers for Disease Control and Prevention
Alex Golden can be reached by email at agolden@nwadg.com or on Twitter @NWAalexgolden.
Sponsor Content