Designer purses, antique clocks, vintage clothes, autographed sports memorabilia and precious jewelry all can be found on a local online shop.
And the shop is not run by a high-end boutique. Instead, it's operated by Goodwill Industries of Arkansas and all of the items have been donated.
Courtney Piggee and Maliyah Reynolds have what may be the dream jobs of fans of series like "Antiques Roadshow" and "Pawn Stars." Both are "listers," and they spend their days researching the value of donated goods.
Both women started as cashiers at Goodwill retail stores and worked their way up to lister. And both women get a thrill when they discover something is valuable.
[Gallery not loading above? Click here for more photos » arkansasonline.com/75goodwill/]
For Piggee, that "something" was a silver loving-cup trophy featuring a silhouette of a woman holding a bird. It sold online for about $800. A former boutique store owner, Piggee knows the value of designer clothes and purses that are donated. Other items -- like the loving cup -- had to be thoroughly researched.
"We have people who clean up their house every year just to buy new things," Piggee says. "They know the value of the things they have. They just will pass it on to someone else."
Reynolds was surprised when she discovered an antique spinning wheel and a pair of vintage baby shoes.
"I like finding things and looking it up and researching it," Reynolds says. "I like expanding my knowledge."
Kerri Nettles, public relations and community engagement manager at Goodwill, says some of her favorite recent donations have been Coach purses, a football autographed by Roger Staubach and diamond jewelry.
"One of my [favorite] personal pieces recently -- an antique pair of women's boots we were able to trace back to a shoe store on Main Street in Little Rock," she says in an email. The shoes dated to the 1800s.
Donated items that are considered valuable are placed on Goodwill's online website at goodwillar.org/shop. All items start at $9.99, and shoppers have seven days to place their bids. The starting price is lowered to $6.99 for items that do not receive bids.
Leslie Heizman, vice president of community engagement at Goodwill, says some of the donated items are returned to the original owner.
For example, an expensive euphonium -- a brass musical instrument -- was donated. The Goodwill sleuths were able to trace and return it to Conway School District.
"Some things that are donated you are amazed to get them because it has to be an accident," Heizman says. "We've had a Purple Heart donated that we were able to trace back to the family."
The Purple Heart was returned to the World War II hero's family. His great-grandson -- and the hero's namesake -- now is in possession of the medal.
"It was incredibly touching for them to receive that," Heizman says. "They never knew him. He died in World War II. But they were able to have that memento and have that sort of closure, which was really, really nice."
Sales of donated goods contribute 95% of Goodwill's funding. The money is used to fund the agency's mission of changing lives through education, training and employment. Last year, Goodwill provided services to 18,653 Arkansans.
Some of Goodwill's services include:
• The Excel Center at Goodwill -- an adult high school providing students ages 19 and older a second chance to earn a high school diploma.
• The Academy at Goodwill -- a post-secondary career program offering the opportunity to earn credentials in many areas, including forklift operation, welding, environmental services, computer software and programming.
• Career services -- offering education and training programs to help prepare individuals to find a job. Goodwill also works directly with employers to match them with suitable candidates.
"We've had a hard time connecting people back to our mission because they know us so strongly for shopping and donating," Heizman says. "They don't always understand what happens after they shop or donate, so we are making a very concentrated effort to educate people so they can feel exceptionally good about what they are donating."
Some of Goodwill's mission is evolving as the covid-19 pandemic has caused high unemployment and the loss of many jobs. Heizman says Goodwill is working on strategies to focus on "high touch, high need situations."
Goodwill plans to unveil plans for new programs to help Arkansans find jobs in the coming months. "I can't image coming out of covid without having a job," Heizman says.
Back to those listers, both say they see things they would like to own coming through the Goodwill's doors, but they have to bid like everyone else. Reynolds says she has lost two bidding wars. Piggee has had better luck. She collects Pyrex bowls and says she probably has 30 of them.
"I've spent over $1,500 of my own money," Piggee says of items she has bought for herself and family members. "I'm not making a lot of money, but I'm making enough and it's enough that I want to go back and buy some stuff at my job."
For more information on Goodwill Industries of Arkansas, go to goodwillar.org.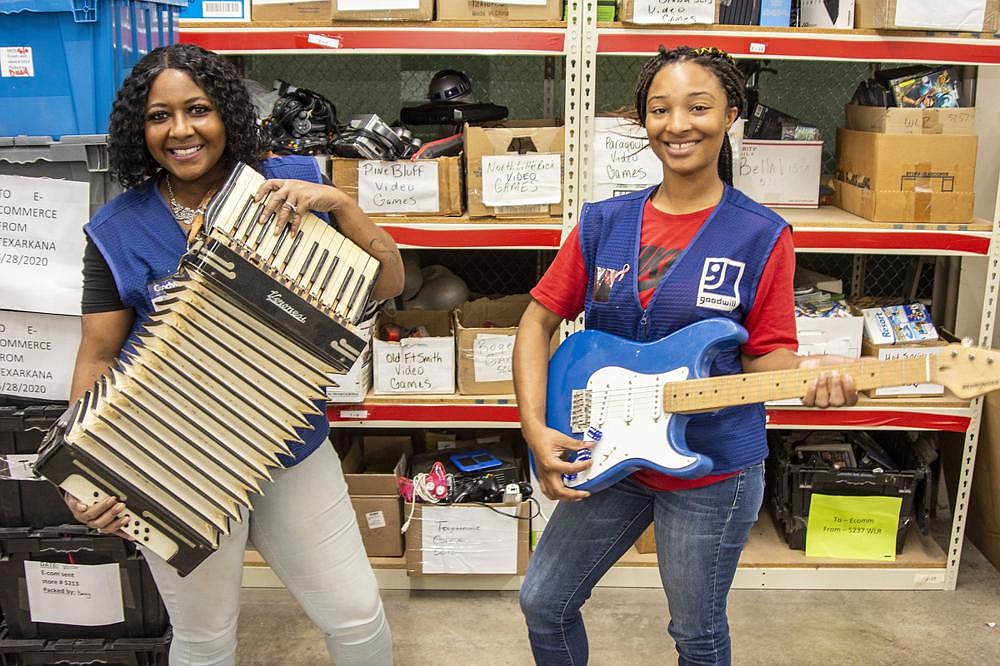 Goodwill Industries of Arkansas never knows what items are going to be donated. As "listers," it is the job of Courtney Piggee and Maliyah Reynolds to determine what the items are worth. (Arkansas Democrat-Gazette/Cary Jenkins)