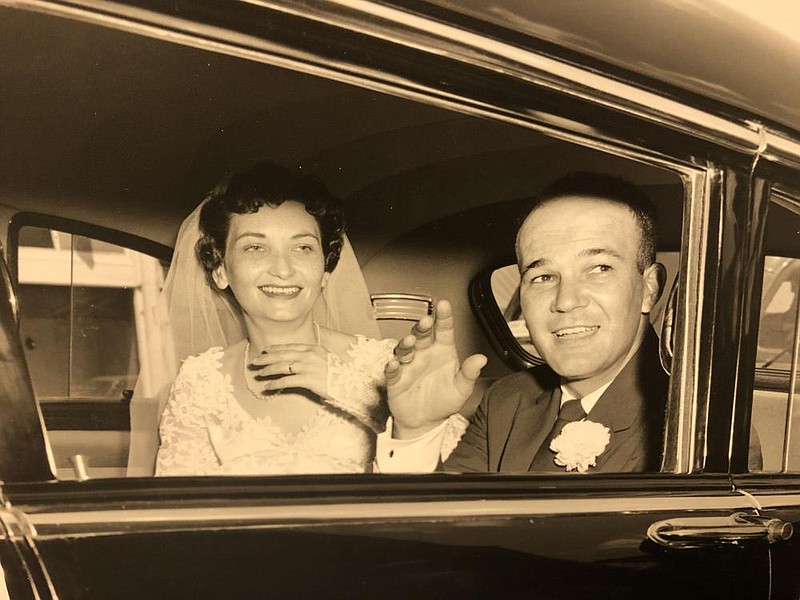 Ann Shaw and Dr. Amail Chudy were married on July 9, 1955. They met when she ended up in his lap at a quarterly medical school dance. After all these years, they have different stories about how that happened. "It's a fight, but at 65 years we're allowed it," he jokes. (Special to the Democrat-Gazette)
Amail Chudy and Ann Shaw agree that they met when she sat in his lap.
Almost 70 years after the fact, they don't agree on how she got there. It happened at a medical school dance in Robinson Auditorium in Little Rock in 1950.
"I walked by and he pulled me into his lap," says Ann, who was there with a date.
Amail tells another version.
"We sat down at a table with some of our classmates," says Amail, there with friends. "She sat down in my lap and said, 'Who are you?'"
They danced a couple of times, and the following Monday morning, Amail asked the young man who brought Ann to the dance if it would be OK for him to ask her out.
"I did. And look what happened," he says.
Their first date was at The Blue Goose Restaurant, where they chatted over 10 cent cups of coffee.
"Then I took her home and went back to studying," says Amail, who was a sophomore then.
He was busy with medical school so it took a while for them to find time to get together again.
"He called every night and we talked on the phone," Ann says, "but as far as having another date it was probably about a month."
Ann grew up in Rison, and she shared an apartment in Little Rock with two friends.
"I was going to X-ray school, and that was at the Med Center also, over in MacArthur Park," she says.
They saw a movie for their second date, he says, probably at the theater at Fourth and Main streets in Little Rock. She wore a poodle skirt with "five or six petticoats underneath," he says.
"I had an 18-inch waist and I always wore big skirts," she explains.
On a later date, she made him an apple pie. She was a good cook and baker, he says, and money was tight, so they didn't go to many restaurants together.
"We started dating seriously but we didn't go out because he was always studying or working," she says.
They went to lunch at Amail's mother's house most Sundays after Mass.
"Most of our stuff was just going for a cup of coffee," he says. "I would take a break from my studies and go pick her up. We would have a cup of coffee and then go back."
He relished those stolen moments.
"I listened to her," he says. "One of her favorite expressions was when you said something and she said, 'I think I'm gonna hush.' She brought that out of the Rison woods."
They dated for almost five years before they got engaged. Amail had finished medical school and completed an internship at St. Vincent by then. He bought a ring while he was doing post-graduate work in Monroe, La., before he went home for Christmas.
They went to Midnight Mass at the Cathedral of St. Andrew, and then returned to Ann's apartment. She wasn't expecting a proposal, she says.
"I was hoping for it," she says. "We had talked about it a lot. It just wasn't feasible for us to get married until he had finished all of his education."
They were married on July 9, 1955, at the Cathedral of St. Andrew in Little Rock.
The newlyweds honeymooned for almost a week in a cottage at Rockaway Beach, Mo., spending their time dancing on the sawdust floor of the dance hall, swimming and boating in the White River and enjoying rides at the resort's amusement park.
While Amail was in Monroe, Ann found a garage apartment for them to live in after the wedding. She also found an office space for Amail, just a few blocks from where he grew up in North Little Rock.
Rent for the apartment was $60, the same as rent for the clinic.
"That was my salary," says Ann, who was an X-ray therapist for a local physician group in the Donaghey Building in Little Rock.
Amail says he was the youngest doctor in the area, and that he spent much of his time in those early years doing house calls. But before Amail retired, he and Ann traveled the world, going to medical conventions and providing medical care for people less fortunate than they.
Ann still wears the original wedding band Amail gave her, but she has welcomed numerous new diamonds over the years.
"We were fortunate that she has had diamonds going out of her ears," he laughs. "She was making up for all that back time that we just went to the coffee shop."
They have two children -- Elizabeth Kready and Amelia Vestal, both of North Little Rock. They also have five grandchildren and one great-grandchild.
The Chudys have reached a peace about not knowing exactly what led to her being in his lap.
"It's a fight, but at 65 years we're allowed it," Amail says.
They will celebrate their anniversary with family this week, taking time to reminisce about good times shared over the years.
"We were very, very close and it was wonderful," he says.
"I'd do it again," Ann says.
If you have an interesting how-we-met story or if you know someone who does, please call (501) 425-7228 or email:
kimdishongh@gmail.com
More News
The first time I saw my future spouse:
He says: "I thought, 'I'm gonna look that girl over.'"
She says: "I thought he was a great dancer."
On our wedding day:
He says: "It was hot and I was sweating buckets and I was so nervous that I think the building was shaking, too."
She says: "My father had a heart attack the day before the wedding, so we went to the hospital just so he could see me in my wedding dress."
My advice for a long happy marriage:
He says: "Just keep your face smiling."
She says: "Pray a lot."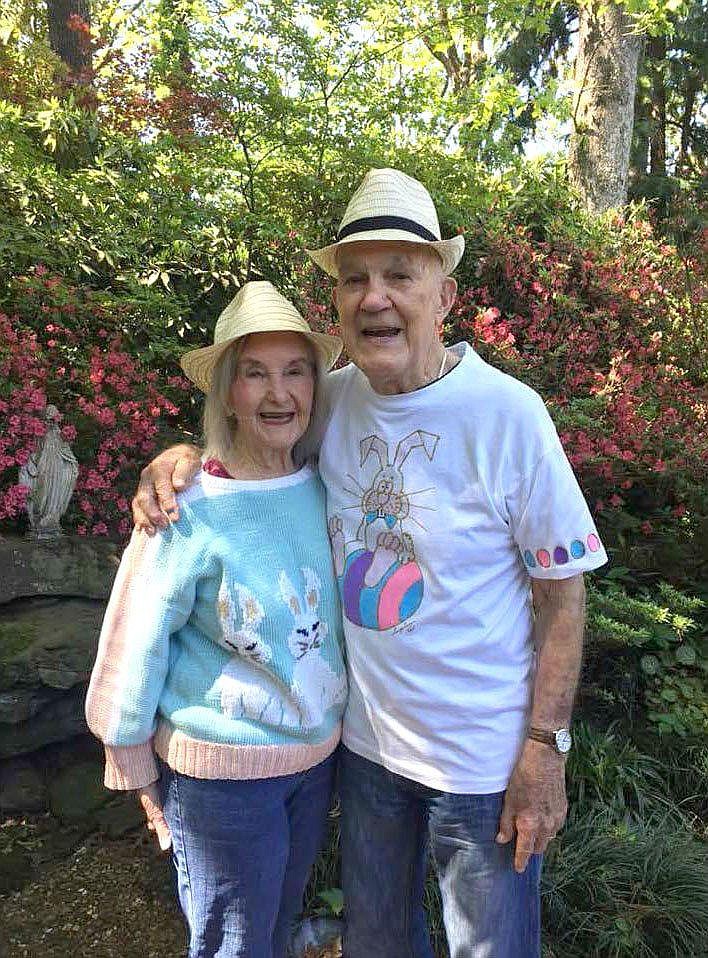 Ann and Dr. Amail Chudy will celebrate their 65th anniversary on July 9. They have had a true partnership over the years, building their home and Amail's practice and traveling the world together. "I'd do it again," Ann says. (Special to the Democrat-Gazette)
Sponsor Content