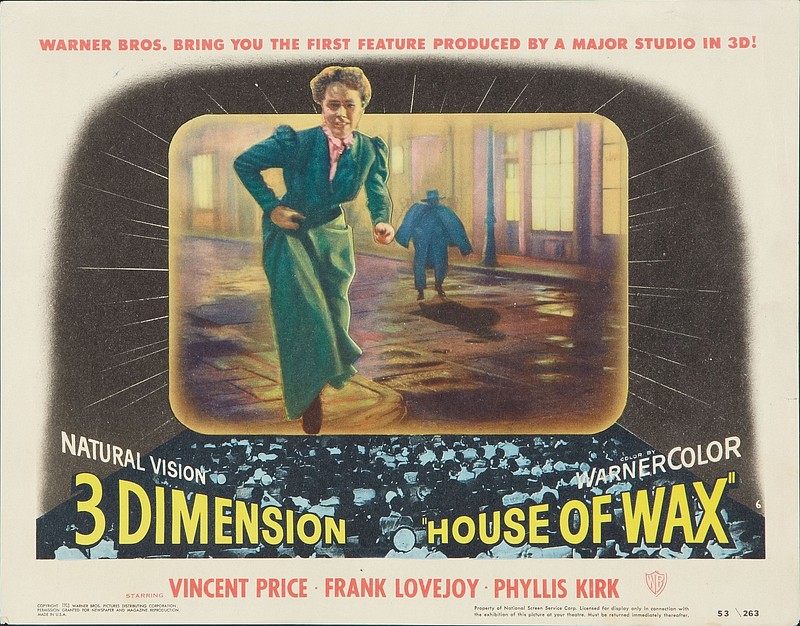 A lobby card from the 1953 3D horror film "House of Wax," which starred Vincent Price, Frank Lovejoy and Phyllis Kirk.
We went to the movies last Sunday, for the first time in more than 100 days.
We saw "Irresistible," an earnest political comedy with a bad title and a script that's a little too thin in which Steve Carell plays Steve Carell and Rose Byrne seems imported from a smarter, sharper, altogether crueler piece. All in all, it was about an 85, neither very good nor very bad, and the director — Jon Stewart, who used to sit at the white-hot center of infotaining political punditry as the host of "The Daily Show" — might have come closer to realizing his mission had he simply made a straight-ahead documentary about money in politics.
It was also glorious.
It was the first time we'd set foot in a theater since we'd watched Autumn de Wilde's "Emma." at the same theater in early March. It was a spontaneous decision. I'd gone into the office on Sunday morning and my wife, Karen, texted me to see if I was interested in going to see the film. Sure, if you are, I sent back. Then I contacted the theater to make sure tickets were available — I honestly had no idea whether people had started to come back to the movies or not.
Now, maybe it's important to point out that Karen and I are in some ways atypical moviegoers. We have both written about the movies, more or less continuously, since the 1980s. The first film I reviewed professionally was Oliver Stone's "Platoon" in 1986; she was booking films for the student union at Cleveland State back in her college days. We are veterans of hundreds of film festivals and dozens of film junkets. I have shaken hands with Paul Newman and watched with amusement as Karen rode down a dozen floors in the Beverly Hills Four Seasons (which technically isn't in Beverly Hills) oblivious to the fully Hollywood-party-turned-out Julia Roberts standing next to her.
It was Karen who created and was the first editor of this newspaper's Friday section, which used to be known as MovieStyle. We are both film critics with standing in several national and international critics' groups. It is not lost on us that there's something absurd about being a film critic in what, from the perspective of your typical Hollywood publicist, is at best a tertiary market. (For a few years, I wrote a column from the point of view of a fictive personality called "Mr. Big Shot Movie Man" in part to repurpose some of the frustration of trying to deal with marketers indifferent to our smallish market, which, I continue to try to tell them, isn't actually the Little Rock Standard Metropolitan Statistical Area but the entire state of Arkansas and that they'd serve their studio clients better if they gave us the same consideration they do Atlanta mommy bloggers.) Yet we persist.
Neither of us sees as many movies in a year as we used to; we have other interests to explore. But we still see a lot more than most people, and among the few pleasant surprises the covid-19 lockdown has brought is the opportunity to see more films in advance. Hardly an hour goes by when my email box doesn't chime to announce the arrival of another movie that we might watch and — please, please — write about in the newspaper.
"Irresistible" was one of those; some publicity material from its studio, Focus Films, showed up in my mailbox a couple of weeks ago, and I eventually received a link that would have allowed me to watch it on my laptop or iPad. (Or, if I wanted to get fancy with mirroring apps or HDMI cables, a full-size television.) Unfortunately, this link arrived too late for us to get a review in the newspaper — though our product is mainly digital now, we still have deadlines — so it got lost in triage. We attended to more critical things, and eventually forgot about it.
Until Karen, who was simply looking for something to do on a hot late June Sunday afternoon, asked me if I wanted to go to the movies.
...
The parking lot of Riverdale 10 was discouragingly empty when we arrived; since the theater — one of five in Arkansas owned by independent operator Matt Smith — reopened a few weeks ago, traffic has been sporadic. Smith tells me his main problem may be that most people assume he's still closed. An employee I asked says things picked up a little on Father's Day weekend and a few of the old regulars are starting to come back. Maybe when new Hollywood product starts to churn and there are movies of higher concept and more mass appeal than "Irresistible" start showing up in theaters once again.
When that will be is uncertain. Warner Bros. has pushed back the opening date for Christopher Nolan's sci-fi spy movie "Tenet" from mid-July to Aug. 17. Disney has moved the live-action "Mulan" from July 24 to Aug. 21. ViacomCBS recently announced that "The SpongeBob Movie: Sponge on the Run," which had been set to open in early August, will now get a digital-only release in 2021.
It looks like the studios are waiting for the major chains like AMC and Regal to reopen before turning on the tap and letting new releases flow, while the chains are waiting for the movies to start flowing before opening up their theaters. When those theaters open, they're almost surely to be at reduced capacity to maintain social distancing. There will be empty seats, masked-up moviegoers and employees. The experience will be altered. And the question for any prospective moviegoer might be: How much risk are you willing to assume for this altered experience?
Yet, here in the 21st century, we are used to having our lives disrupted. Up until the Industrial Revolution, a person could live out a lifetime without noticing much difference in the rhythms of daily routine. Change was incremental unless forced by natural catastrophe or the ravages of war. Now the laptop we bought in 2013 seems inadequate; our devices multiply and our lives complicate on a hourly basis. Now we are meeting each other through apps, bringing lawn chairs to parking lots to maintain necessary spacing, identifying allies and antagonists by how (and if) they cover the lower portion of their faces with fabric.
Some younger people are what they call "platform-neutral." They don't make much of a distinction between whether they watch a movie on a wall or a pocket-size screen. Presumably, this might be a boon for creators, who now have hundreds of channels and streaming services and studios looking for content. But for some of us, a movie will always be more than an audio-video presentation contained in a box. For some of us, a movie will always be an event, something you go to — a designated period of sitting in the dark with strangers, steeped in sound and fury, losing ourselves in the play of light and shadows on a wall.
There are some who think these rites are going away. And they are right. Everything is going away. Look on my Works, ye Mighty, and despair!
...
I am just old enough to remember seeing films in grand downtown theaters. I remember seeing a double feature of "Red Sky at Morning" and "The Andromeda Strain" in a gilded cave somewhere in downtown Los Angeles in 1971. I don't remember the name of the theater but remember that a ticket cost 50 cents. I also remember the plush red velvet seats and the rich greasy scent of buttered popcorn. I remember the filigree in the proscenium and the moment those high heavy curtains parted to expose a mirror-bright screen. I remember the experience much better than I remember those two films.
That wasn't my first moviegoing experience — I probably saw more movies in the generic, sticky-floored, concrete brick theater on Norton Air Force Base (they showed first-run movies, other air base theaters showed films that had been out for a while). That's where I saw Bruce Dern murder John Wayne in "The Cowboys," and where we watched old serials and "Heckle and Jeckle" cartoons on Saturday afternoons.
But I also watched movies, as we Air Force brats said, "on the economy." My father would take me to see cowboy movies with him in downtown San Bernardino; I watched "Rosemary's Baby" from the back seat of the family Chevrolet at a drive-in. I saw a revival showing of Andre de Toth's "House of Wax," a 1953 movie released at the peak of the '50s 3D craze at a beautifully detailed little theater in the tiny town of Pembroke, Ga. The showing was hosted by a huckster in the style of William Castle, who explained to us that by buying a ticket we waived our rights to sue him or the theaters should any of our weak hearts give out from fright.
By the mid-1970s, most of the old downtown movie palaces were gone or in disrepair and disrepute. In some markets they became porno houses; in a very few, arthouses. Some of them looked clinical and shameful, like places one might go to sell a pint of blood. Even the concession stands contracted, offering less choice at higher prices. I saw "Apocalypse Now" for the first time from the front row of just such a jam-packed and sterile stand-alone in Shreveport.
The architecture of theaters, like the architecture of ballparks, is constantly evolving. The places were by and large replaced by sterile, modernly efficient shoe-box multiplexes with 15 screens and hose-able concrete floors. Often these were attached to shopping malls. Then, with cable TV and premium channels ascendant, theaters began to add amenities to distinguish themselves from the home experience. It was about 20 years ago that they opened the refurbished Cinema 150 on Asher Avenue in Little Rock; it was razed in 2015.
In the early days of the 21st century, it seemed that there was always a new theater opening around these parts. UA Breckenridge Village 12 underwent a renovation. The 14-screen Cinemark Tinseltown opened in Benton, the Carmike in North Little Rock and the Wynnsong in west Little Rock were — to varying degrees — throwbacks to the days when movies were special events. They all had big sound systems, stadium seating, marble appointments and neon that smeared the night.
Then there was immersive IMAX, and the next 3D boom — which some of us still believe was simply a ploy to get all theaters on board with the digital technology that saved the studios from actually printing film copies of their movies — and Riverdale 10 got a liquor license and the Movie Tavern delivers supper to your seat. Theaters understand that it's not just the movies that matter.
...
I probably watched more movies at New York's Lincoln Plaza Cinema, which closed in 2018, than anywhere else. The Angelika Film Center, on the corner of Broadway and Mercer in SoHo, is probably in my Top 10. I've watched movies all over New York and Los Angeles (the TCL — formerly's Grauman's — Chinese Theatre, the Arclight Hollywood, the Egyptian, the Fox, El Capitan, the Lumiere Music Hall). I remember watching Guy Ritchie's "Snatch" in Amsterdam, which pegs our visit there to the year 2000. We saw "Rapa Nui" in New Zealand (1994), "The Wind That Shakes the Barley" in Paris (2006).
I saw Hitchcock's "Psycho" for the first time in a gilded cinema in Rio De Janeiro in 1977, with yellow Portuguese subtitles crawling across the bottom of the frame. The next week I returned to watch Richard Pryor and Gene Wilder in "Silver Streak," and I was confused about why the audience found a running joke, where Wilder gets tossed off the train and begins to curse, so over-the-top funny. Every time it happened, the Cariocas screamed with laughter.
My Portuguese friend explained that they were laughing at the subtitles that — despite everyone in Rio having a working understanding of English profanity — insisted on translating Wilder's tirades in mild terms. "Oh what bad luck I am having today," the subtitles reported.
The common denominator of all these experiences was that there was always a crowd. While the theaters weren't always sold out, there were generally very few empty seats. Even in these days when you have a wide and comfortable Barcalounger assigned to you before you enter the auditorium, I still want to get to the theater early "to get a good seat."
It wasn't until I was in my 30s, reviewing movies, that I began encountering half-empty theaters. And then there were years when I'd see most of my movies in screenings held for critics, with just a few of my ilk in attendance. More than a couple of times I've watched a film by myself in a 200-seat room, but it still feels odd. And more and more often, I find myself watching movies on my iPad, sometimes moving from room to room in my house.
When I finish up this story, I have Hirokazu Kore-eda's "The Truth" ready to go. And Natalie Erika James' "Relic." And, if for some reason I want to see it again, Jon Stewart's "Irresistible."
...
It was overcast and the Dark Sky app said rain was coming when we walked out of "Irresistible" last Sunday. This eased the transition some, I've never gotten used to the sensation of walking out of a movie theater into blasting daylight. It's like I imagine coming up from the bottom of the ocean must be like; the emergent moviegoer risks the bends. Maybe we need a decompression period, a little time to digest the dream we've just consumed, to acclimate to the idea of the coming ordinariness of the rest of our lives.
Maybe that's why so many of us don't want to go straight home after a movie; we want to get pie and coffee and talk about what we've just seen. Or at least that's how it used to be.
Karen and I talked about "Irresistible" the same way we'd talk about anything else we'd just been through together; we decided that its flaws were forgivable, that it got caught between wanting to portray its characters as the sort of nakedly self-interested creatures you'd see on HBO's "Veep" and delivering an important message about the way that money corrodes our best intentions. Stewart's heart outpaced his satirical chops — "Irresistible" represents the rare case where the art might have been improved had the artist been more cynical.
It also felt like something that probably belongs on TV, where it could be paused and walked away from. It didn't feel like the sort of show for which you'd need to make a reservation.
Yet I enjoyed going to the theater, whereas if I was watching "Irresistible" at home I might have switched over to "Bosch" or "Kipo and the Age of the Wonderbeasts"; I might not have given it a chance to work whatever magic it could muster. I did feel pulled into the story unfolding onscreen, at least enough to feel disappointed at the denouement. (Though maybe my favorite part of the movie comes near the end, when Will Sasso, dropping for a moment the big dumb hick persona he's been playing, casually reminds another Wisconsin farm-boy how Neil Postman's 1985 book "Amusing Ourselves to Death" anticipated our current celebrity death match culture.)
I don't know that "Irresistible" was better on the big screen, but it's not simple nostalgia that makes me think it's better to see films in theaters, sitting in the dark with strangers. It's important to remember these things we now carry in our pockets were once so great and terrible they demanded temples.
We need to care about things. We are diminished when we don't.
Email:
pmartin@adgnewsroom.com
blooddirtangels.com
Sponsor Content