THERE AREN'T MANY customers in the Fox Pass Pottery showroom on this afternoon in late May. In fact, it's safe to say that the number of pieces on display far outnumber the patrons browsing … like, several hundred times over. There are ceramic works everywhere you look: Dinner plates hang on the walls, teapots and bowls and vases are displayed on shelves, and a telephone pole repurposed as a load-bearing pillar in the center of the showroom is covered all the way around with mugs hung from their handles on wooden pegs. The lack of foot traffic isn't really surprising, though, considering that the shop has been closed to the public for almost three months because of the pandemic and only reopened the previous day. But the couple of customers who are browsing around the showroom can tell you a lot about what makes Fox Pass Pottery so special.
"This young lady that you see over here that's come in with her dad, I've done a dinner set for her grandparents, for her parents, and now, she and her sister are out of college, and I'm building them a dinner set," says Jim Larkin, who owns the pottery shop with his wife, Barbara, as he directs the view of our FaceTime conversation over to the customers. "So that's the third generation. They just happened to come in."
As Jim continues leading this virtual tour of Fox Pass, a couple of things jump out: Like the Larkins themselves, the showroom has a warmth to it. The all-wood interior of the building is inviting. The work on display is freestanding on shelves and tabletops, just begging to be picked up and handled.
Moving toward the Larkins' workshop just beyond the showroom, it becomes a little more clear that the artists' work, as gorgeous as it is, doesn't just blink into existence fully formed. Everywhere you look, there are pieces of pottery in various stages of completion, from semisoft bisqueware to glazed pieces ready for the kiln. There are texturing tools and aprons hanging on the wall, spattered with clay. There are buckets of glazes and containers of materials for making said glazes.
There is a raw energy in this space, the result of decades of hard work and passion and a drive to consistently improve their craft. The Larkins have built a legacy here at their home and studio, which backs up to the forests of Hot Springs National Park, and as their customers will tell you, there's a reason folks are drawn to their work, a reason they keep coming back.
Here's the thing, though. Jim Larkin was never meant to be a potter.
---
Although there weren't any art programs in the schools Jim attended as a boy growing up in Lonoke, he'd always been drawn to creating with his hands. The son of a carpenter-builder and the nephew of welders-farmers, he was a "maker" decades before the term was popularized. But when he went off to college at Ouachita Baptist University in Arkadelphia in 1964 year, he never even considered the arts as an option when it came to his education. Instead, he decided to study chemistry and biology. "I didn't know that you could go to school and major in making things," he says.
His eyes were opened, however, after seeing a pottery demonstration while attending a campus art show at nearby Henderson State University, also in Arkadelphia. "I saw that done and thought, Boy, I'd like to try that, but didn't have time to take a pottery class," he says. "I was in over my head doing everything else." But the spark that awoke in Jim that day never went out, burning instead as a low flame or a pilot light, just waiting for a little fuel to help it grow.
Barbara, on the other hand, was studying to be a painter when the couple met at OBU. After they graduated, they married, and Barbara started doing portrait work and going to art shows, while Jim taught high school science and math. But despite the paths their lives appeared to be taking, they were actually both slowly being called toward building their lives around pottery. Jim soon built a potter's wheel and started picking potters' brains at art shows. Barbara shifted mediums and slowly transitioned from portraiture to hand-built pottery.
For the Larkins, it seemed that working with clay was evolving beyond the hobby or craft foray. It was becoming a passion, a way for them to express themselves and create something that might stand the test of time. Pretty soon, pottery and ceramics were all the couple could think about. To hear Jim describe it, those early years were filled with fits and starts, mistakes and lessons learned. (In fact, the name "Fox Pass" is a sly nod to those early years, an inside joke inspired by Barbara's father's cheeky habit of referring to a "faux pas" as a "fox pass.")
Maybe it was trial and error, as Jim says. Or maybe, like a potter molding clay, Jim and Barbara steadily shaped and reshaped their approach to ceramics until the work matched the vision in their mind's eye. Either way, the couple soon found their respective voices when it came to their art.
---
Back in the Fox Pass showroom, Jim is pointing out examples of their work. He holds up a beautiful vase, one of his own, that's short and round, almost spherical, with a lovely lavender hue that shifts to a darker storm-cloud purple as it moves from the lip of the vase on down. It's a piece typical of Jim's work—thrown on the potter's wheel and characterized by clean, straightforward lines and an emphasis on volume, form and shape.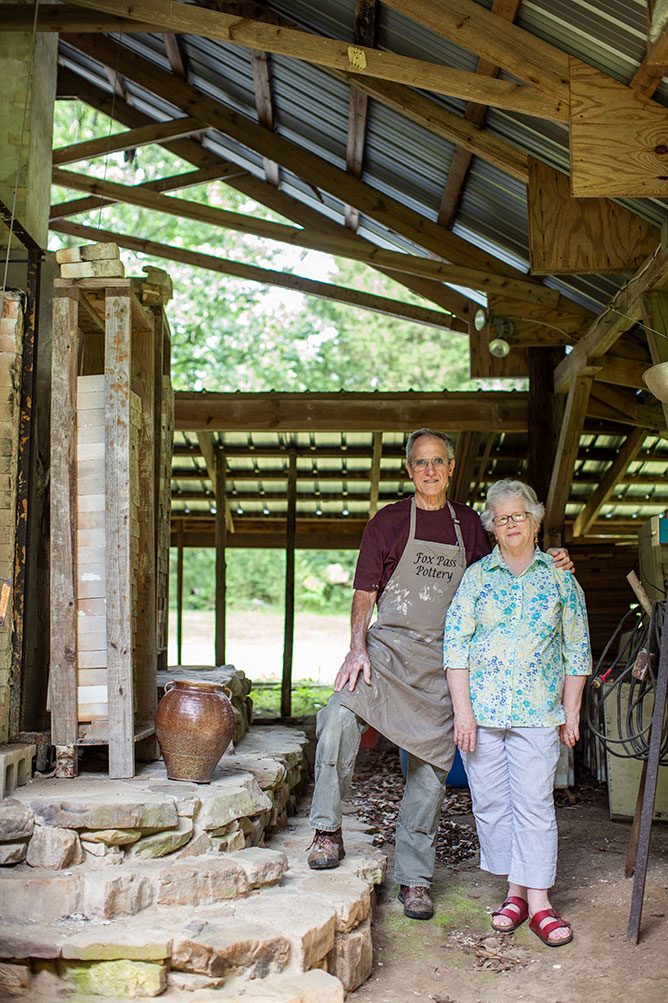 Most of his work is crafted for function—dinner sets, casserole dishes, mugs and the like—and he takes special care when it comes to things such as proportion and scale, making sure each piece's handles and knobs are in exactly the right place, that it functions both efficiently and comfortably. "I want people to pick them up and say, Oh, that feels good in my hand," Jim says.
He gestures to a couple other vases, ones crafted by Barbara, who prefers to forgo the potter's wheel in favor of ceramics that are hand-built and sculpted from slabs of clay. (In fact, Barbara's never even tried her hand at wheel-thrown pottery and has no interest in doing so, she says, laughing.) It doesn't take but a quick glance to see how strikingly different her work is from her husband's. For Barbara, it's all about texture. She manipulates the clay through the use of stamps and other tools or even just tears pieces of clay apart by hand, implementing the ripped edges into a piece's finished form.
"I like it to look stony," Barbara says. "It's stoneware clay, you know, and I want the end product to look solid like a rock, to have a natural form, but a pleasing form."
The couple even frequently collaborate on projects. Sometimes Barbara will sculpt a decorative accent knob in the shape of a leaf or maybe an animal for the lid of a teapot thrown by Jim. Other times, Jim will throw a component that Barbara will incorporate into her hand-building.
The Larkins are a font of knowledge when it comes to the minutiae of how their work is produced—how they mix their own clay and glazes, which temperature firings produce a desired result, the difference between pottery fired in a wood-fired kiln versus a gas kiln. But when the topic of conversation turns to their many accolades, they start to get a little bashful.
In 2012, Jim was named an Arkansas Living Treasure by the Arkansas Arts Council, an exceptionally prestigious distinction, but when asked about it, he's far from eager to gloat about the accomplishment. "I tell a lot of people, if you just live long enough, they gotta have somebody every year," he says with a laugh, but he adds what an honor it is to be recognized.
"You can be an Arkansas Buried Treasure," Barbara can be heard saying in the background, ribbing him for his modesty, and they both laugh.
It's moments like this that illustrate how the Larkins have lived and worked together so successfully for so many years—because their work is their life. They don't do it for the awards, and they certainly don't do it for the money. (Making a craft is one thing, and making a living making a craft is another," as Jim will tell you.) And it's yet another thing when your living space and your workspace are mere steps from one another.
"People come into the shop, and they say, Oh, I would give anything to live like you're living," Jim says. "They really wouldn't, because we come out of our kitchen, and there's our studio. So you're never far from work, and it's hard to know when to quit."
When you've dedicated yourself to your art, as the Larkins have, it's understandable when it ends up touching every part of your life. The Larkins' children came of age in that lifestyle, crawling around the studio as babies while their parents coaxed their creations from the clay, so it's no surprise that both younger Larkins forged their own careers in the art world: Jim and Barbara's daughter, Erin, is a costume designer at the Arkansas Arts Center's Children's Theater, while their son, Fletcher, is a full-time potter who also teaches the craft at the AAC's Museum School.
But Jim says that even now that their children are grown and out of the house and pursuing careers of their own, the work at Fox Pass hasn't ceased, or even really subsided by much.
"At our age now—we're 73, and at our age, we don't put in the hours we used to,"he says."We still put in a lot of hours, but it's just because we want to. I've never gotten tired of it. … I've watched a lot of people quit after about 12 years because they got done with the 'how,' and then … somehow they lose the 'why,' if that makes sense. And somehow or another, we were just really lucky to keep the 'why.'"
Looking to add some pottery to your own collection? Visit foxpasspottery.com for more information on the studio and the Larkins' work.