"A 15-inch-by-18-inch bronze plaque is mounted on the northwest corner of the exterior west wall of the old First National Building (now Regions Bank) in downtown Little Rock. It commemorates a hamburger joint that was founded on that spot."
— Arkansas Democrat-Gazette (Little Rock), May 19, 2002
IF YOU GO looking for that plaque, you can circle the Regions building without success. Instead, you'll find it inside on the ground floor, just across the way from Freiderica Pharmacy and Compounding, as part of a wall-spanning collection of historic images all under the heading "Cobblestones to Skyscrapers." In raised gold type on a black background, the plaque reads,
"On This Site The First Minute Man Restaurant Was Opened May 26, 1948."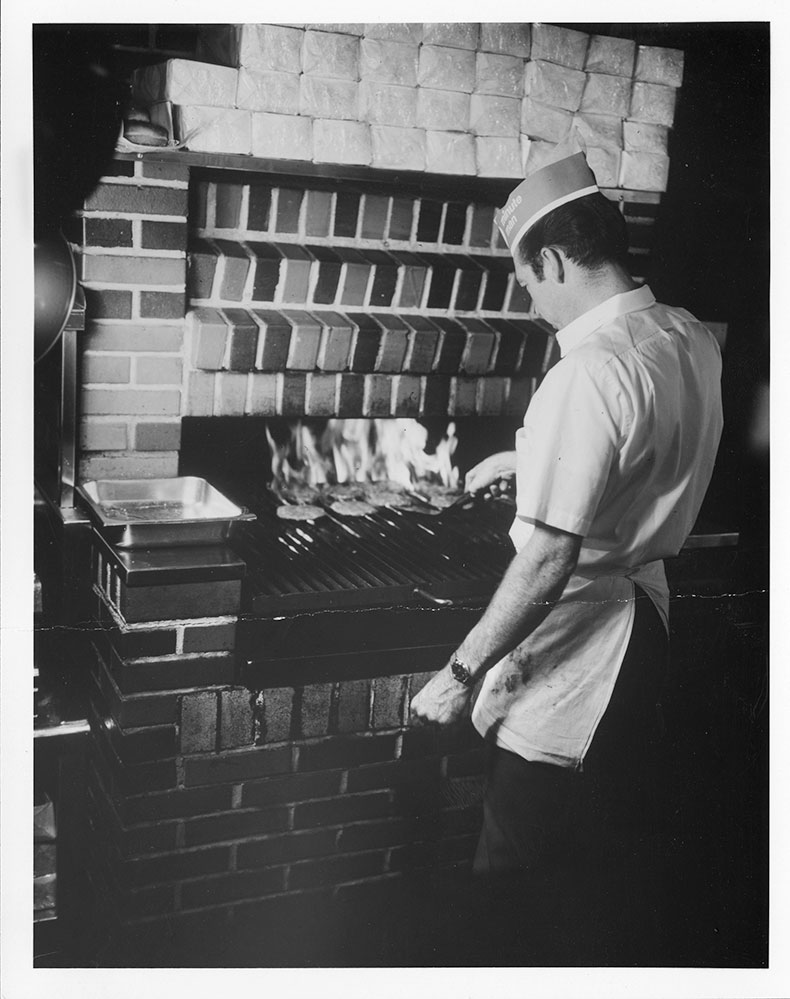 Lest you wonder why a long-forgotten burger joint would merit a plaque, know this: For a time, Minute Man was a big deal. Beginning with the original location at 407 Broadway, Minute Man's founder, Wes Hall, seeded franchises across the region, eventually amassing an empire of 52 locations within a 400-mile radius of Little Rock. Nowadays, however, that plaque is among the last material reminders that the chain ever existed.
Although the commercial vestiges of its legacy continue to linger—kids' meals, charbroiled burgers, the phrase "old-fashioned burgers," and the last remaining location, Minute Man No. 14 in El Dorado—it's been 20 years since a Minute Man stood in Central Arkansas. (In fact, the previously quoted article marked the occasion of the last Little Rock location's closure in 2002: "54 years and five days after Wes Hall opened the first Minute Man in Little Rock.")
But then, about a year and a half ago, something started to change.
In mid-January 2019, a press release made the rounds on local media. "Minute Man Restaurant of El Dorado, Arkansas, solely owned and operated by Ms. Linda McGoogan," read the opening line of the release, "has partnered with Matchbox Food Group founder and Arkansas native Perry J. Smith to revive this legendary brand." Not surprisingly, this created quite a buzz. In a followup interview with the Arkansas Democrat-Gazette, however, Perry cautioned that it'd be about 12 to 18 months before anything concrete started to take shape.
So where do things stand? We asked for a minute of Perry's time (full disclosure, it was closer to an hour), and spoke with him and one of his business partners, retired U.S. Air Force Gen. John E. Mitchel, about the challenges of reviving a brand in the midst of a global pandemic, the importance of veterans in their stores, and what diners can expect at the first new location in Jacksonville this fall.
On getting things right:
One of the biggest challenges Minute Man's reboot faces is that, because there are many people who have fond memories of the original chain—who remember, for instance, exactly what a No. 2 tasted like—it's very important that the restaurant gets the food right. For that reason, Perry says, they'll be turning to what Perry calls "Minute Man veterans": "[We'll be asking],
What do you think? Is it right? Do we need to fix this? Do we need to add something?
I've never had that experience as a restaurateur. You have to do these blind tastings and hope that it goes well and get feedback. But we have the benefit of these people who are living, breathing Minute Man veterans who will tell us, you know, this is not right, or it is right. So that's a huge, huge advantage, but at the same time, the bar is set very high."
On making changes:
In keeping with the innovative spirit of the original Minute Man, Perry says, the restaurant has been trying new items at the El Dorado location—giving away "radar fruit pies," a former menu staple, and testing out a chicken sandwich (something that was original to the menu but was later removed)—however, because it's "the customer's brand, an Arkansas brand," they're being mindful about what they do change, particularly when it comes to the El Dorado store.
"In all honesty, I have some people who say, What are you guys doing? Are you gonna make a lot of changes down here?" Perry says. "They've asked good questions. And our response has always been that, you know, Minute Man El Dorado is going to be a little bit different for us. We don't see making wholesale changes down there. In fact, Minute Man El Dorado is really going to be our classic store. We'll try to improve quality there, you know, but Minute Man El Dorado needs to kind of be that cornerstone Minute Man store that, in a way, we kind of see as being a shrine."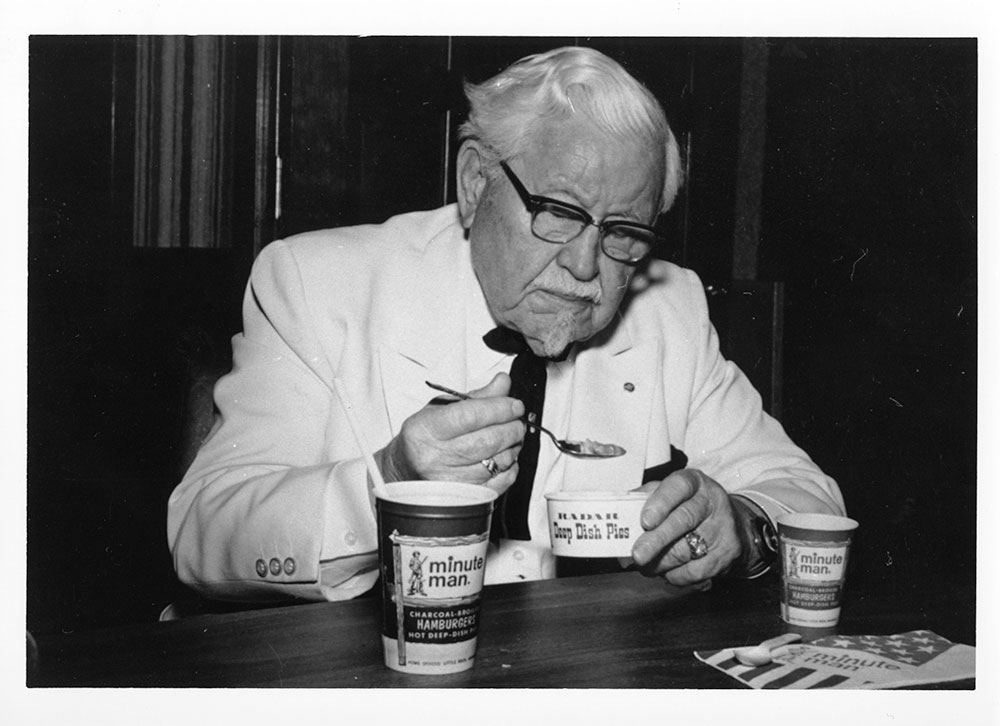 Images courtesy of UA Little Rock Center for Arkansas History and Culture
On the challenges of opening a restaurant in the time of COVID-19:
"When COVID-19 started to rear its head, we started to have discussions about this immediately, saying,
OK, we're in the build stage now—we don't need to just react
," Perry says. That's the reason why, he says, they'll be leaning on more touchless electronic technology and boosting their cleaning protocols. The fact that they've got a 5,000-square-foot space—and a leadership team full of former military—definitely doesn't hurt. "We're actually able to be proactive about the design choices and making people feel comfortable when they come into the space," Perry says. "They can feel good about it."
On the challenge of getting a new generation in the door:
"There are a couple of generations that don't really know anything about Minute Man at all—anyone under about 45," Perry says. "But they've heard their parents and grandparents speak of it. So it comes down to, we are relying on these folks to talk about Minute Man. And hopefully, we'll be able to meet their expectations when they come to the restaurant. And hopefully, they're going to bring their sons, their daughters, their grandchildren because it's going to be a great place for them to be and share these memories and actually commune with one another."
On recapturing the feel of the place:
Perry says the collections of Wes Hall papers at the University of Arkansas at Little Rock was a great help, not only for getting a sense of Minute Man's history—and Arkansas' own history by extension—but for determining the design of the new stores. The midcentury modern lines? The hanging globe lights? Tongue-and-groove ceilings? Open sightlines to the classic Minute Man grill? "Looking at those features, people are gonna be like,
Oh, yeah, that was Minute Man
. … We can't make it identical because the spaces have changed, but that's what we'll strive to do."
On the military mindset:
In addition to making it a point to hire veterans—they're planning to use veteran operators for all stores once they start franchising beyond the first three locations—the mindset of having systems in place has helped ensure that things are run properly.
"The first manager that we'll bring on to manage for us in Jacksonville is an Air Force veteran," Perry says. "So when we were explaining this to him, he says, Oh my gosh, this is the environment I want to work in. And we asked him a couple questions about that, and he goes, People just kind of slap these things together. You guys are thinking this through—this is gonna make me work better and more efficiently, and actually make my job easier to be able to put these systems in place."
Wanna clock in at Minute Man? They're currently aiming for a Labor Day-ish debut. Stay posted by following their Facebook page at facebook.com/minutemanburgers