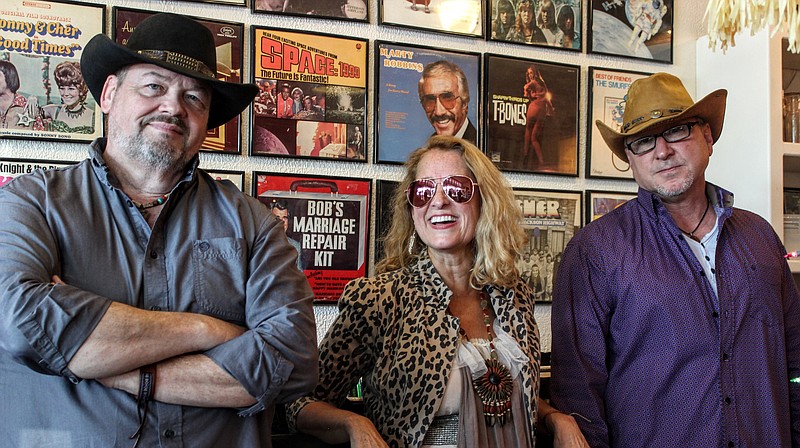 Guitarist-vocalist Buddy Case (left), with Laura Lynn Danley and Justin Patterson of country-folk duo Ten Penny Gypsy, is featured on "Fugitive Heart," Ten Penny Gypsy's new album, which will be released Friday. (Special to the Democrat-Gazette)
Funny how lyrics written and photos taken long before the pandemic began can take on added meanings now.
Witness "Fugitive Heart," the new album from Central Arkansas country-folk duo Ten Penny Gypsy that will be released Friday.
The cover image, a photograph of Gypsy members Laura Lynn Danley and Justin Patterson shows the pair seated on a bench in what at one time might have been symbolic of a romantic gap but now looks like an act of social distancing. It's also a stark contrast to the cover of their 2017 self-titled debut, which showed the sweethearts smooching over a kitchen table.
Within its music and themes, "Fugitive Heart" surveys the distances — literal and figurative — that can grow between people.
"It dawned on us that we are releasing a record that, thematically and lyrically, touches on the uncertainties of separation," Patterson, 56, says. "What a relevant time to touch on that. I think everybody can really relate to that concept right now."
The new record, which will be available for download at tenpennygypsy.com, on major streaming services and on CD, begins with "Making Headway," a song about moving forward with the help of someone you love despite the obstacles.
The second track, the Danley-written "Brick by Brick," might address a growing disconnection between lovers, but with its reference to "setting up different camps" and asking "are our heels too far dug in," could also be about political and social dysfunction.
[Video not showing up above? Click here to watch » https://www.youtube.com/watch?v=R11URkJRBP8]
The title song, Patterson says, "is about separation by emotional distance," while the gentle, shimmering road tune "Highway 65" is about traveling through the Arkansas Delta and the economic distance between people.
"Lonesome No More," a lively Patterson-penned tune that highlights the duo's vocal harmonies, has a positive, upbeat attitude and will be the second video for the album following "Brick by Brick."
Album closer "Your True You," another Danley composition, is a soothing, clear-eyed ode to the journey to self-realization and is highlighted by the frisky mandolin of producer Anthony Crawford.
"We're all dealing with this in our own way," Danley, 55, says of the pandemic. "For some of us who might be introverts, maybe it's OK to be home alone. For people like me, I'm an extrovert, and we need that positive social engagement."
Ten Penny Gypsy, five-time Arkansas Country Music Award nominees and curators of the monthly Sounds of Unity concert series, have been playing streaming shows since the pandemic put a halt to in-person performances.
Streaming shows from Unity Little Rock and Nexus Coffee House are scheduled for July 17 and 18, respectively. Check tenpennygypsy.com for information.
Patterson and Danley first met a little over a decade ago at a songwriting festival in Hot Springs.
"We've been sharing life and music together ever since," says Danley, who was born in Grand Rapids, Mich., and lived in Arizona and San Diego before settling in Arkansas in 1998.
She grew up playing music with her family.
"My mom put me onstage singing in church when I was 4 years old," she says. "I also sang in a gospel quartet with my brothers. Music has always been part of my soul and my life."
Guitarist Patterson grew up in Fort Smith, learned the guitar as a little kid and was soon making his own songs.
"I've been writing songs for as long as I can remember," he says.
He grew up listening to country music and then gravitated toward singer-songwriters like James Taylor and Gordon Lightfoot, whose influences can be heard on Ten Penny Gypsy.
"That plaintive longing is in Justin's music everywhere," Danley says.
As with their debut, "Fugitive Heart" was recorded, produced, engineered and mastered by Crawford at his Admiral Bean Studios in Loxley, Ala.
He also played on each track, adding bass, drums and other instrumentation.
"Their songs and everything they do is at a pretty high level of professionalism," says Crawford, who has toured with Neil Young and Dwight Yoakam and whose songs have been recorded by the Nitty Gritty Dirt Band, Steve Winwood, Lorrie Morgan and others.
"Justin is a thoughtful lyricist, and he's very proficient on the guitar," he says. "Laura really stepped it up on this CD. She brought so much to the table as a singer and she challenged herself as a lyricist. They make a great team."
A new member of that team also helped shape the sound of "Fugitive Heart."
VIDEO BUG
Type of element: video
1-sentence description: "Brick by Brick" by Ten Penny Gypsy
URL is: https://www.youtube.com/watch?v=R11URkJRBP8&feature=youtu.be
Redirect URL: arkansasonline.com/0709tenpenny/
Status: in youtube and not loaded into Pressreader hub
Patterson and Danley started playing with Greenbrier guitarist/vocalist Buddy Case after "Ten Penny Gypsy" was released, and Case plays a prominent role on the new record.
"He has been such a benefit to us," Patterson says. "Buddy adds that country/blues flavor and gives us a little more pep in our step. It translates onto this new record as well. The interplay between him and Anthony Crawford is really special."
"Buddy brings a new level of dynamics to us," Danley adds. "We have some killer three-part harmonies."
Sponsor Content