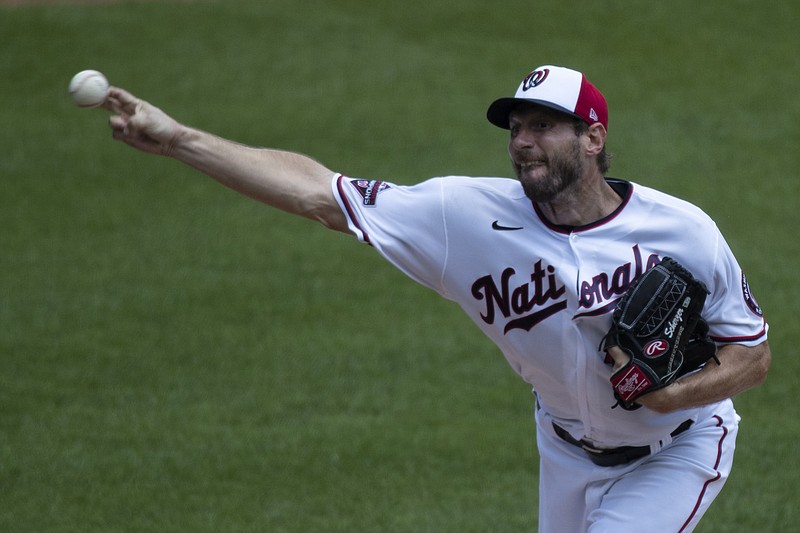 Washington Nationals starting pitcher Max Scherzer throws during a baseball training camp workout at Nationals Park, Wednesday, July 8, 2020, in Washington. (AP Photo/Alex Brandon)
As Major League Baseball cautiously tiptoes closer toward beginning its delayed 2020 season, several teams welcomed back players who might have been exposed to the coronavirus and the San Francisco Giants resumed workouts Wednesday after finally receiving the results of covid-19 tests administered over the weekend.
The San Diego Padres, however, revealed that newly acquired infielder Jorge Mateo's intake test for coronavirus came back positive and he's experienced symptoms. Mateo was acquired last week from Oakland for a player to be named or cash in the first trade since the transaction freeze was lifted.
Padres Manager Jayce Tingler said Mateo has not been to the ballpark and is self-isolating.
San Diego announced last week that outfielder Tommy Pham tested positive for coronavirus and was asymptomatic. He has not yet rejoined the team.
In Boston, third baseman Rafael Devers practiced at Fenway Park for the first time since the Red Sox opened summer camp. Devers and an unspecified number of other players were working out at nearby Boston College and have since tested negative three times.
When tests reveal "pending" or inconclusive results, the Red Sox have decided to keep those players out of full-team workouts -- even if a player hasn't had a positive test.
"We have to be overly cautious," Manager Ron Roenicke said.
Devers batted .311 with a league-leading 54 doubles, 32 home runs and 111 RBI in 2019. He is scheduled to get a few at-bats when the Red Sox hold their first intrasquad scrimmage on Thursday.
The Giants, meanwhile, resumed workouts at Oracle Park after receiving test results from Saturday, all of which were negative for players and staff. A delay in receiving the outcome of those tests forced the club to cancel practice Tuesday.
Devers wasn't the only player in the big leagues to get a late start joining the team.
Texas Rangers first baseman Ronald Guzman was on the field Wednesday after missing the first five days of workouts. Although he was at the facility, he wasn't cleared for workouts while still going through intake testing.
The only Texas players still not cleared to participate are right fielder Joey Gallo and left-hander Brett Martin, both of whom tested positive for coronavirus.
In Cleveland, outfielder Franmil Reyes was cleared by the team's medical staff to return to the field after being isolated for attending a party over the July 4 weekend.
The Indians kept Reyes away from Progressive Field after he attended a holiday gathering without wearing a mask. The Indians learned of Reyes' off-field actions on a social media posting.
Manager Terry Francona said Reyes was retested and can now participate in the team's training camp.
Also, Indians outfielder Delino DeShields Jr., who tested positive for the covid-19 virus, is traveling to Cleveland after he had one negative test. He will be tested again when he arrives.
"He was obviously excited. Said he was planning on traveling like the Michelin Man today through the airport," Francona said.
DeShields is in his first season with the Indians, who acquired him in December from Texas in the trade involving ace Corey Kluber.
In Oakland, right-hander Mike Fiers returned to the field for workouts after being delayed by what Manager Bob Melvin referred to as a "pending issue," which wasn't injury-related. Fiers pitched his second career no-hitter last season and was the whistleblower in the Houston Astros' sign-stealing scandal last fall.
The defending AL champion Astros were without infielder Alex Bregman on Wednesday because his test results were delayed.
"He's probably frustrated because I know how hard Alex works and how dedicated he is to getting off to a good start," Manager Dusty Baker said. "There's nothing that we can do about it."
Detroit Tigers pitcher Michael Fulmer throws during an intrasquad baseball game, Wednesday, July 8, 2020, in Detroit. (AP Photo/Carlos Osorio)
Sponsor Content