AFTER WE left, it felt like a dream—even more so than when we'd been there. Watching the cabin slowly dissolve once more into the tree line, the blackness of the purposefully burned exterior blending into the stands of white oak and hickory, we wondered why it was a place so difficult to get a grasp on. Perhaps it was this: It looked like every cabin we've ever pined after on Instagram, those impossibly aspirational properties which invariably beg the question, Who the heck even lives there? And maybe for this reason, we felt a quiet disbelief the entire time we'd stayed there, a feeling which lingered long after the fact.
But in all likelihood, there was another reason for the feeling of unreality: For the past several days before we'd decamped to this dream cabin outside Eureka Springs in early June, the whole world had felt like it was coming apart at the seams.
---
Opening the door of the Shou Sugi Ban River Cabin—a place named for the Japanese technique of using fire to weather-proof exterior walls—you encounter the heady rush of pine. The interior wood of the living space is a warm reddish color, and somehow that makes the whole space feel all the warmer. The entire northeast facing window is double-paned glass, and through that you look out onto the green of the forest, and through that you look out onto the blue water of the river.
Two comfy chairs—a rocker and a post-leg—occupy the main part of the living room, along with a large leather sofa. They face each other because there is no television (there is a small flat screen in one of the smaller bedrooms on the second floor, but that seems less a point of entertainment than it is a consolation to screen culture). It is not difficult to realize that this cabin was built not only as a retreat from the outside world, but as a place designed for self-reflection.
Even outside, standing near the water's edge, looking up at the 102 white stone steps that wind upward, like an uneven line of white piano keys, beside the curving Seussian trees, you get the sense that it is a place removed from the fraying edges of the world, because unless you're standing in precisely the right spot, you won't see the path leading up the hill.
---
The original owners, Bea Apple and her husband, Rob, the ones who'd had the vision and built it, had looked for waterfront property from the time they'd married. By the time Rob stumbled across this plot, located on the Beaver Lake Tailwater of the White River, in summer 2016, theirs was a young family—mom, dad, three kids and a dog—intensely involved in their community in Northwest Arkansas. They wanted a place where they could retreat and unplug from time to time. They wanted it to be clean, and they wanted it to be simple. Above all, though, they wanted a cabin.
And in late 2018, nearly two years after they'd closed on the property, they had it.
Although by most measures and appearances, the resulting structure might not look like your typical Ozark cabin, when they set out to design it with their architect, Bradley Edwards, it was in the hopes that it'd be a return to, not a departure from, those CCC (Civilian Conservation Corps) cabins they'd come to love when they were younger. Drawing on tenets of midcentury modern architecture, they created a place that was stripped down, free from clutter. It was a place that retained a sense of rusticity with the wood stove and wooden surfaces, where the membrane between life inside and life outside felt all but nonexistent, thanks to the wall-spanning glass.
At the end of our conversation, I asked Bea if she had anything else to add, and she said she did.
"If anything, I would hope that this story would inspire people to really dig into what they want out of their space—to strip it down to the bare essentials and then write it down, pull together some images," she said. "I think sometimes we spend too much time living on the surface and making decisions from the surface. You know, looking at Pinterest boards, [asking] What is Joanna Gaines doing right now? Like, we're trying to figure out what is popular, instead of really looking inside and saying, What do I want? What kind of feelings do I want to feel? When I'm in a space, you know, what kind of time do I want to spend with my family? Like, how do I want all that to go?"
If you do that, she said, "hopefully, you'll end up with a space that's more authentic to you."
---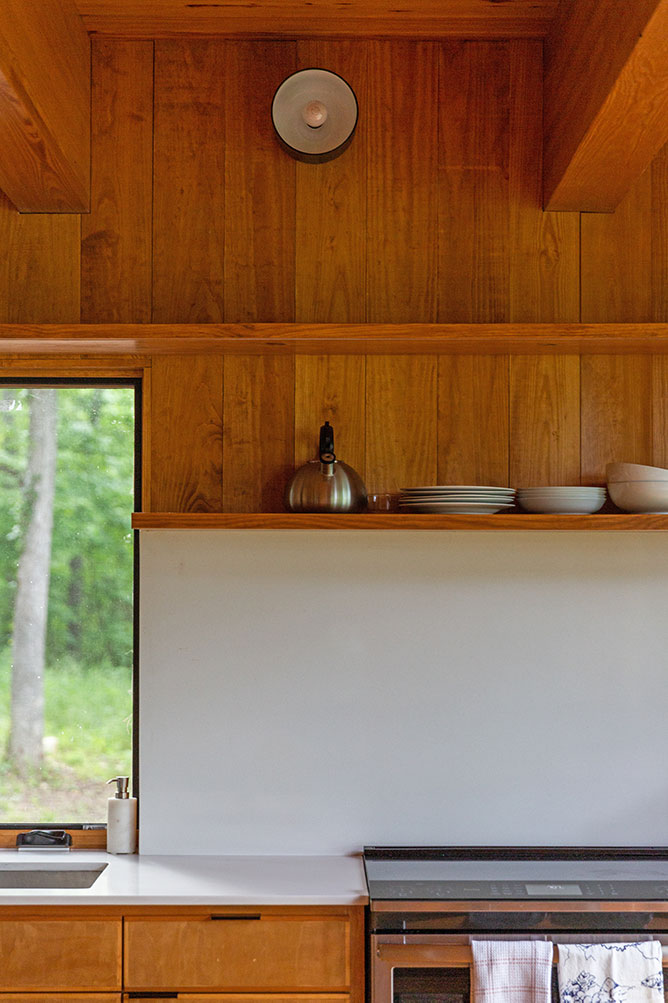 Bea had said that she was happy we were able to have a getaway. That is what it felt like. Like most everyone, we'd been cooped up inside for a long time. With the notable exception of a trip to our vet in Hot Springs, we hadn't left Little Rock, and only then made weekly trips to the grocery store. In that sense, this was an escape. For the past few days, our eyes had been glued to Twitter, and we'd been watching as the protests swelled and eventually grew outside the window of our phones and appeared outside the windows of our downtown apartment.
If there had ever been a time to escape or get away, this was it.
I'd be lying if I didn't admit to having some feelings of guilt, however. It is very easy to escape and leave the world, whether that's physically getting in your car, or losing your wits in a bottle, or simply closing your eyes to what exists, and continues to exist, in front of you.
---
Late at night, there was a moment when the light was blue outside, and the light from the kitchen was a deep orange. For reasons that I won't pretend to understand, this resulted in a trick of the light: Our kitchen was projected out into the dark through the northeast-facing glass wall. The French press on the open shelving and the dishes in the drying rack appeared superimposed over the black branches of the forest. It was as if the house had been pushed out into nature, as if we were sitting not in the air-conditioned, bug-free environment, but on a patio outside.
Initially, in a note to myself, I wrote that it seemed like there was a push and pull between nature and indoors, that we were somewhere in the middle of the struggle. But there was no struggle. There was no divide. The push and pull was imagined. We were always in the same place.
Editor's note: This story was originally intended to be a "Wish You Were Here" vacation rental feature. However, the property was sold to new owners in mid-June.