"In the heart of Arkansas lies a treasure," reads the first sentence of "Feasts of Eden," a cookbook penned by Ruby Thomas, founder of the seminal Red Apple Inn on Eden Isle, and great-grandmother to Little Rock restaurateur Scott McGehee.
The line is meant to describe the place of Eden Isle, a resort located four miles west of Heber Springs on Greers Ferry Lake. But it also summarizes perfectly the personal philosophy of the 50-year-old McGehee, founder of some of Arkansas' best-known and most successful restaurant concepts.
"I'm obsessed with Arkansas culture," he says. "A lot of people from here, I don't think, understand the breadth of our food culture completely."
McGehee is animated as he talks native Arkansas products, a current that runs through his Yellow Rocket Concepts restaurants ZaZa Fine Salad + Wood-Oven Pizza Co. (Little Rock and Conway), Big Orange and Local Lime (Little Rock and Rogers), and Little Rock's Heights Taco and Tamale Co. Even the bar menu at his wildly successful Lost 40 Brewing in Little Rock honors the home state, with native purveyors proudly listed and italicized to spotlight their provenance.
But it's more than just foodstuffs that, like the 20 crates of locally grown tomatoes stacked in McGehee's garage, infuse his restaurants' menus. Each morsel of a Yellow Rocket operation is a story, every crumb a memory and every plate passed from creator to consumer a validation of a land and its people. It's a heritage, he says, that's all too quickly slipping through our fingers.
"True Arkansas restaurants are disappearing, absolutely, a few more every year slowly and methodically replaced by chain restaurants," he says. "If you go to the Arkansas Heritage Association's Food Hall of Fame, they dig up all of these old pictures of the great restaurants and some of the amazing, incredible stuff they were doing.
"The Red Apple Inn was a really magical place for me. It was Ruby's kitchen that exposed me to the magic of taking things from the garden and manipulating them with your hands and creating magic. That's what cooking is all about."
Scott Thomas McGehee was born in Fayetteville in February 1970. His father, Frank McGehee (1926-2005) and mother, Linda Brown, were students at the University of Arkansas, where Frank played football.
DESHA COUNTY NAMESAKE
His is a family steeped in the terroir and timbre of the Natural State: Benjamin McGehee arrived in the Arkansas Delta with his family from Alabama in 1857. A namesake town sprang up, formalized when Benjamin's son Abner built the community's first commissary, wherein would reside McGehee's post office, in 1878.
The family's story rose and fell through the years. The railroad transformed the town of McGehee, and fueled local fortunes, only to be nearly wiped out in the Flood of 1927 from which it would take decades to recover. Scott's great-grandfather Herbert Thomas built his wealth and reputation through an insurance company and banks in Fort Smith and Booneville as well as various high-profile political activities. He also bought and developed the 500-acre Eden Isle a few years before the economic malaise of the 1970s badly damaged the family fortune.
Scott grew up comfortably but never too far removed from family members who had built things, stumbled and rose again, by the work of their hands.
"I was born into a passionate family, passionate for food, travel, art, history, science," he says. "I was really engaged in that, a nice little nerdy kid growing up. I would get lost looking at the mushrooms and the bugs and leaves. I was a little more of a romantic-type of kid."
"He was sweet and fun and full of life," says Linda Brown, his mother. "I always cooked with him and my daughter, who's a year and a half older. We used to pull up chairs to the counter and I would let them help me measure and pour and make things. They both liked doing that. His grandmother [Jane McGehee Wilson] was a wonderful cook, too.
"Scott always liked food. He was more likely to try unusual foods, more than other children. Going by the grocery store after school, all of the kids would get off the bus and grab Fritos or something. He would get an artichoke and come home and make artichoke and hollandaise."
The family's standing in the state's restaurant industry -- including his great aunt Mazie Collier who ran the Copper Kettle Restaurant in Hillcrest and his father's partnerships in Juanita's and Blue Mesa Grill -- gave McGehee a front-row seat to generations of Little Rock dining history.
"I was exposed to what was, really, a very colorful culinary scene all the way up until I went to college," he says. "I went to college in Fayetteville as a history major, but mostly I studied drinking and recreation. I didn't do very well."
Coming back home, he enrolled at University of Arkansas at Little Rock and worked at local restaurants, first U.S. Pizza then Blue Mesa Grill. When the chef there left, co-owner Mark Abernathy pushed the young foodie into the starring role in the kitchen.
"I got a taste of what it was like to do something a little more elevated," Mc­Gehee says. "Everything from my past came welling up and coalesced into this understanding, for the first time, I can do this for a living. My father always wanted me to get a business degree and go into business or be a lawyer or whatever. But it occurred to me, suddenly, that this was my future."
OOH LA LA
On the advice of his father, McGehee looked around for the best restaurant he could find to gain practical experience. Having read about it in a national magazine, he wrote multiple letters to Chez Panisse in Berkeley, Calif., for a tryout, a move less of ego than of naivete.
"I didn't realize they had a stack of resumés from the floor to the ceiling of chefs with credentials from all over the world who wanted to work there," McGehee says. "If I knew how preposterous it was for me to be there, if I had any idea, I probably wouldn't have gone."
McGehee's letter somehow sparked a reply. He loaded up his belongings and a pal -- Roger Runnells, himself on a quest to become a master baker -- and headed for the West Coast.
"They couldn't believe this kid from Arkansas actually showed up," McGehee says. "The late Catherine Brandel, one of the great chefs there, was like, 'Wow, I can't believe you're here. Come in tomorrow, bring your knives and we'll give you a tryout, see how it goes.'"
What McGehee lacked in classic training -- he left that first meeting to go buy knives, not knowing it was mandatory to have one's own set -- he made up for in attitude.
"I was very humble, very kind, very respectful," he says. "My first day they told me to sweep, I swept the polish off the floor. For the first week, I don't think I said a word. They were like, 'Is this guy OK?' I was there to earn a job."
After a week, McGehee was aboard and began his dual education at California Culinary Academy and the acclaimed restaurant. If there was any part of the experience he didn't appreciate in the moment, he's had plenty of time since, as the lessons learned from the chefs there, as well as Alice Waters, the restaurant's legendary owner and activist, continue to inform his professional life.
"Alice Waters, the greatest thing she taught me was how to taste," he says. "Ingredients change seasonally and day-to-day and no two tomatoes have the same level of acidity. You have to balance and use your palate. That's a skill you learn over a lifetime, how to evoke a feeling when you taste something."
McGehee was already rooted in food-as-culture, but those concepts were elevated globally by the eclectic crew at Chez Panisse.
"I learned that cooking was bigger than just the food," he says. "There was a lot of historical debate, philosophical, sociological, political and racial talks being in that environment. It was different back then; we worked 10-12 hours a day, six days a week. There were no 40-hour workweeks. We spent a lot of time together."
BREAKING BREAD
Upon completion of culinary school and after flirting with the idea of opening a restaurant, McGehee decided to return to his home state. He and Runnells, who had gained a similarly impressive education in baking under Craig Ponsford, decided to launch a new kind of establishment in Little Rock to fill a gaping hole in the local culinary landscape.
"The things you could not get in Little Rock at the time were really great, crusty European bread, really good espresso and really good cheese," he says. There was, however, a growing taste for such things.
"In 1990, people in Dumas didn't know what arugula was," McGehee says. "By 2000, they all knew because they were watching the Food Network. So, when we opened Boulevard Bread Company [in 2000], it was incredibly magical. It never occurred to me that it would be anything other than a success."
McGehee would sell to his Boulevard partners 10 years later, turning his eye to shoring up other holes in the local food market, breaking new ground and, always, leveraging fresh ingredients from local farmers, a tactic he learned under Waters.
"At Chez Panisse, the farmers brought in their produce every day and the menu changed daily. That style of cooking was very unique in that era," he says. "It occurred to me that I can take farm-fresh produce that doesn't cost more than the crappy produce that's shipped halfway across the world and I can give people a $50-$100 experience for $8-$12. I realized, starting with Boulevard, that that was my calling."
His other ventures quickly grew -- nine restaurants and the brewery in about 12 years -- each managed by the same people-forward philosophy.
"When we had one and two stores, he was physically present in the stores all the time," says Amber Brewer, Yellow Rocket's brand and creative director. "What he did, and this is what good leaders do, once we had a third store and a fourth store, he not only recognized talent and hired people and partnered with people, he also let them lead.
"I think he does a very good job of surrounding himself with like-minded talent and empowering them to lead themselves, which makes them invested. That has a real trickle-down effect."
LOW-HANGING FRUIT
Success in business has fueled other passions. An avowed progressive, Mc­Gehee snorts at the labels that often get in the way of doing the right thing in society, especially for disenfranchised and impoverished children.
"I think our kids are the low-hanging fruit," he says. "We -- as right, left, Democrats, conservatives, whatever -- should all be on board with exceptional education at the highest level for every child. That's it. To me, that's a non-partisan, easy issue. It's something that we should have done 100 years ago or 500 years ago, whenever. In the Middle Ages.
"But, also exceptional health care, certainly for every child and, I think, for every human being, at the highest level. Nutrition, particularly for kids. Kids need that brain food. Every child deserves that growing up, to have that security."
McGehee puts his polenta where his politics are. He's cooked for countless charitable causes, manned an outdoor kitchen for the World Central Kitchen organization to feed 10,000 in the aftermath of Hurricane Dorian and brewed a beer the proceeds of which went to fund California wildfire relief.
This spring, he was one of the first restaurateurs in Little Rock to deliver free meals to front-line health care workers, police, firefighters and nonprofits and, along with his partners, one of the few restaurants to keep paying staffers, even though he didn't know where the money would come from under covid-19 lockdown. And then, Yellow Rocket restaurants were among the very first to figure out curbside service that got things moving again, safely.
Paying employees when he couldn't even pay himself follows the strict personal and corporate philosophy of respect for each individual to which he's long adhered. His focus on the people who work in his restaurants is as well-refined as on the ones who are eating there, a quality that's vital in an industry replete with people seeking first jobs, second chances and, often, plagued by addiction. All of which McGehee knows something about.
"I'm no angel. I drank too much. I did drugs. I never went over the cliff. I walked up to it many times. I don't think I've ever been a real addict, but I've had bouts," he says. "Looking back on it, what a waste. What a ridiculous waste of time.
"I relate to a lot of my young work family and I tell them what I went through. I train them on what I call The Big Three: learn how to be honest, how to be consistently sober and how to be consistently positive. We're getting a lot here in 2020 and if you're sober and honest, it's a lot easier to be positive. All three of those go hand-in-hand."
The system not only helps Yellow Rocket Concepts go, it's equipped employees to go on to run restaurants of their own, two of whom are now in partnership with him.
"You look at the people he works with and how he has been able to develop a team where each of them has their own key responsibilities while he is integral to the whole," says Wally Gieringer, former restaurateur and president of Krebs Brothers Restaurant Supply, who's advised McGehee since Boulevard.
"The proof's in the pudding; we've worked with people who are proteges that worked under Scott. He's very proud not to have lost somebody, but to have developed talent to a point where they can go off and do their own thing."
CHEESE DIP CHALLENGE
For everything he's built and accomplished -- he once defended the state's honor against Texas in a cheese dip head-to-head before members of the U.S. Senate -- Mc­Gehee received 2020 Proprietor of the Year honors from the Arkansas Food Hall of Fame. He's platting his dream project, an Arkansas-forward finer dining homage to his great grandmother named Ruby's. He sees his life -- the past, the pitfalls and the purpose -- more clearly than ever.
"I've been on a journey in my life and I've been a cocky little [expletive] before. I mean, I've always been nice, but I look back and I'm like, yeah, I was a little much, you know?" he says. "My father passed 15 years ago and didn't leave me a red cent and I'm glad because I'm self-made in a way. But really, I'm not. I'm excessively fortunate to be born into a world where I have every advantage. I have a debt to society that I can never repay in my lifetime and I won't lose sight of that. Not for one second. It's something that I think about every day, particularly now.
"Being hateful, to me, is hard. It doesn't feel good and it's hard on your soul. It's not the natural way that we behave, as humans. If we can take the kids being born today and treat them equitably and fairly without systemic racism, 20-30 years from now that would flip our world right-side-up in the best of ways, I believe.
"Will it happen? I don't know. Does it have to happen? Absolutely. We have to find a way and I'll be screaming that from the hilltops until the day that I die."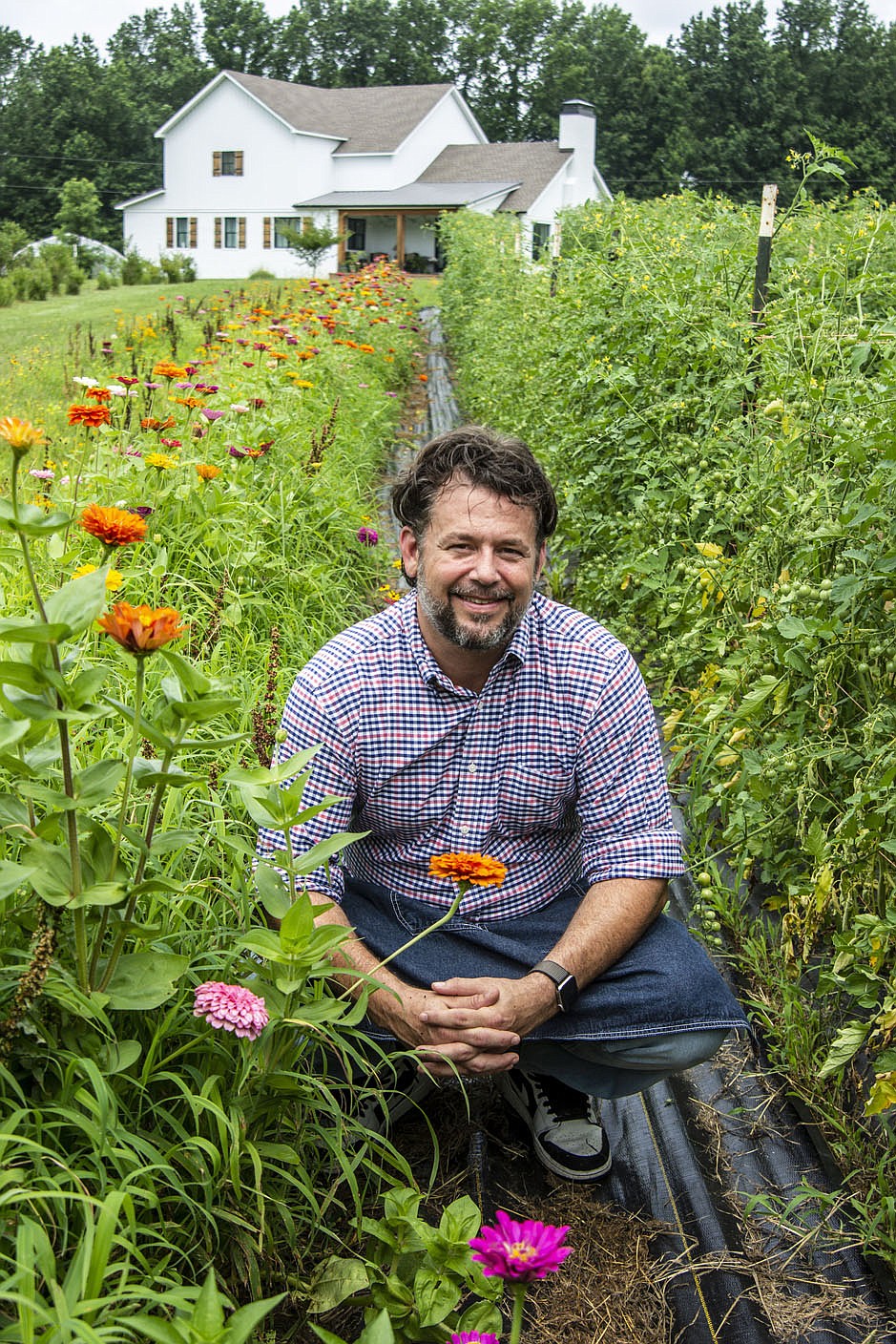 Scott McGehee at Riddle's Farm one of his sources for fresh produce on 07/01/2020.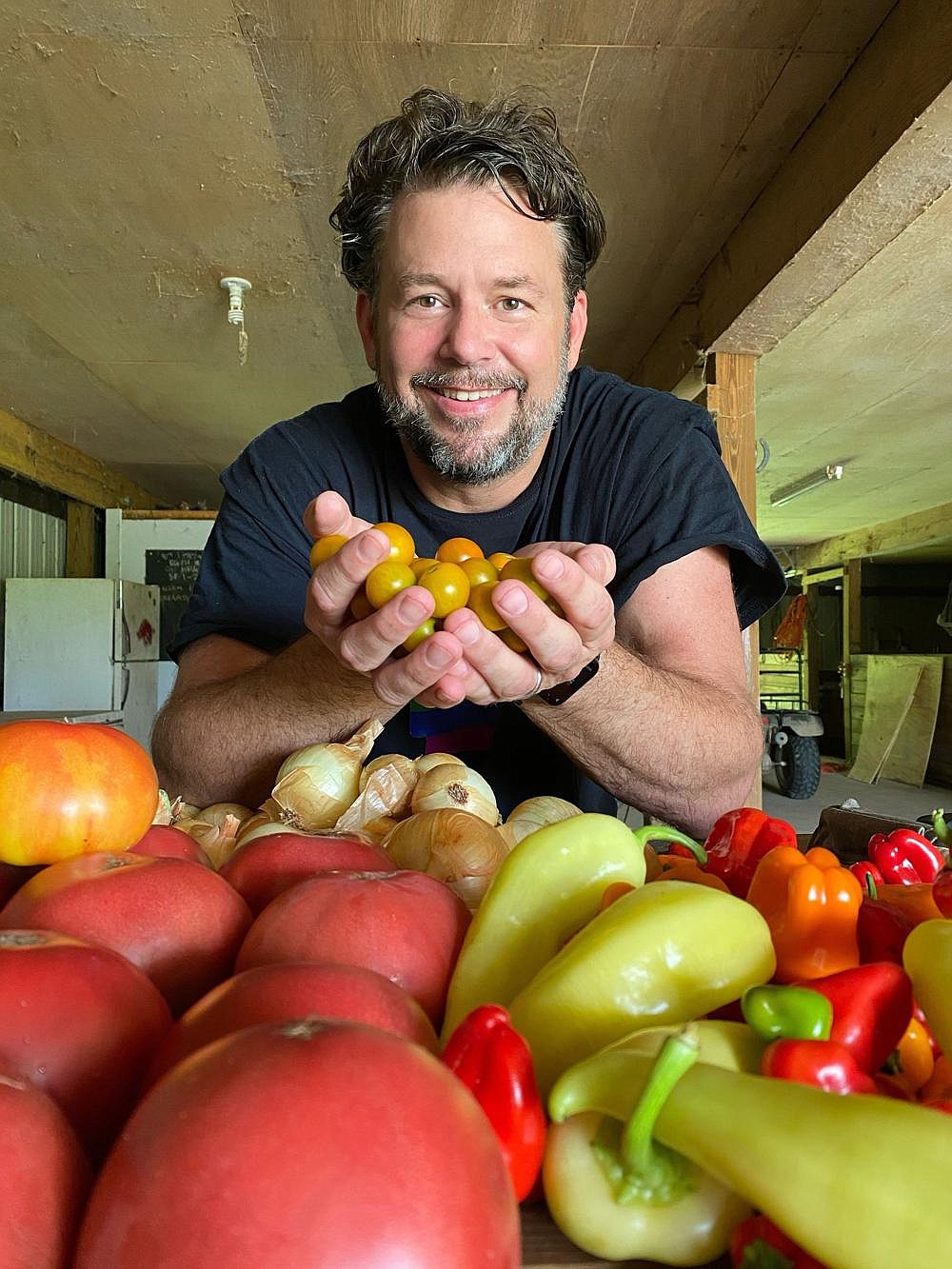 "I was born into a passionate family, passionate for food, travel, art, history, science. I was really engaged in that, a nice little nerdy kid growing up. I would get lost looking at the mushrooms and the bugs and leaves. I was a little more of a romantic-type of kid." -Scott McGehee (Arkansas Democrat-Gazette/Cary Jenkins)
More News
Self Portrait
Scott Thomas McGehee
DATE AND PLACE OF BIRTH: Feb. 16, 1970, Fayetteville
FAMILY: Married to Angel Natasia McVay; children Milo Micajah McGehee, 20; Eli Aidan McGehee, 18; Chloe Jelana Butler, 16
IF YOU COULD MAKE SOMETHING THE OFFICIAL ARKANSAS STATE DISH, WHAT WOULD IT BE? Solely based on growing up at my great-grandmother Ruby Thomas' table, it would be field peas, (lady peas, purple hull peas or black eye peas), skillet fried pone bread and green tomato pickle. Those three are the base dish that was a 12-month staple in our family tradition. To complete the plate, add your favorite Arkansas seasonal vegetables.
IS THERE ANY DISH THAT HAS THUS FAR PROVEN YOUR NEMESIS? Not yet.
HAD YOU NOT BECOME A CHEF, YOU'D MOST LIKELY HAVE BEEN: Cooking professionally came into my life at a pivotal time. I was firmly on the wrong path. Without food and the creative outlet it inspires, and the mentors I met on my journey, I can't imagine that things would have ended well.
YOU'RE STRANDED ON A DESERT ISLAND WITH WHAT THREE THINGS FROM THE KITCHEN? A high-quality chef's knife is a must. A large cast-iron Dutch oven. A blow torch.
YOU'VE JUST BEEN GREEN LIGHTED FOR YOUR OWN TV COOKING SHOW — WHAT DO YOU CALL IT AND WHAT'S IT ABOUT? "The Melting Pot"; a cooking show that peels back the layers of time through traditional recipes and ingredients that reveal how all the world's cultures contribute to what we eat.
WHAT FOOD IS YOUR GUILTY PLEASURE? Packaged ramen noodles.
WHAT IS YOUR FAVORITE FOOD INFLUENCE OR CULINARY/ETHNIC TRADITION? That's like choosing a favorite child, but I'll throw a dart and say Italian food. With my family in Arezzo, and having spent so much time there exploring, tasting and cooking, certainly a large piece of my heart remains in Italy.
WHEN DOES FOOD BRING YOU THE MOST JOY? A great meal brings friends and family together. Couldn't imagine anything more joyful than that.