This was a good garden visiting week.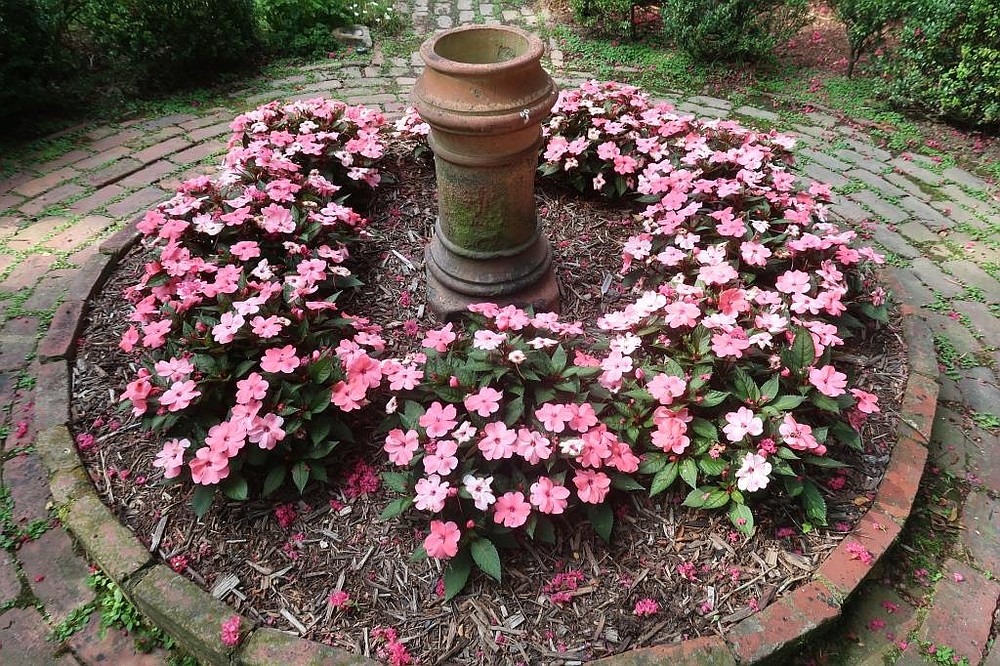 I think we also learned that the earlier we can go, the better. It does heat up in the afternoons. I got to visit with three gardeners this week, all with a different gardening perspective. One had a more traditional garden with a diverse mix of shrubs, perennials, annuals and vegetables, but also a knack for design, while the other was pollinator central—all plants that are now added need to have a roll with some butterfly species, and the last was a fabulous shade garden that showcased some outstanding art—the combination was a win/win. Each gardener brings their own style and flair to a garden which is what makes them each unique and so interesting. I learned something at each garden and had such a fun time visiting with the gardeners. Thanks, Merilyn for setting these up!
Dale's garden was very much like an English garden, with a backbone of evergreens, and some fine collections of annuals and perennials.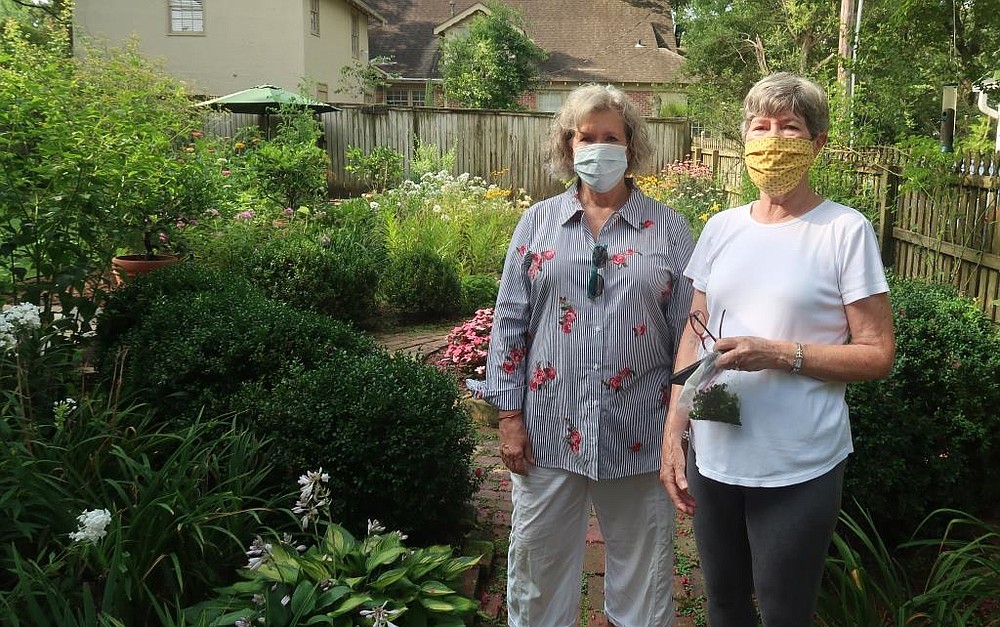 There was so much color!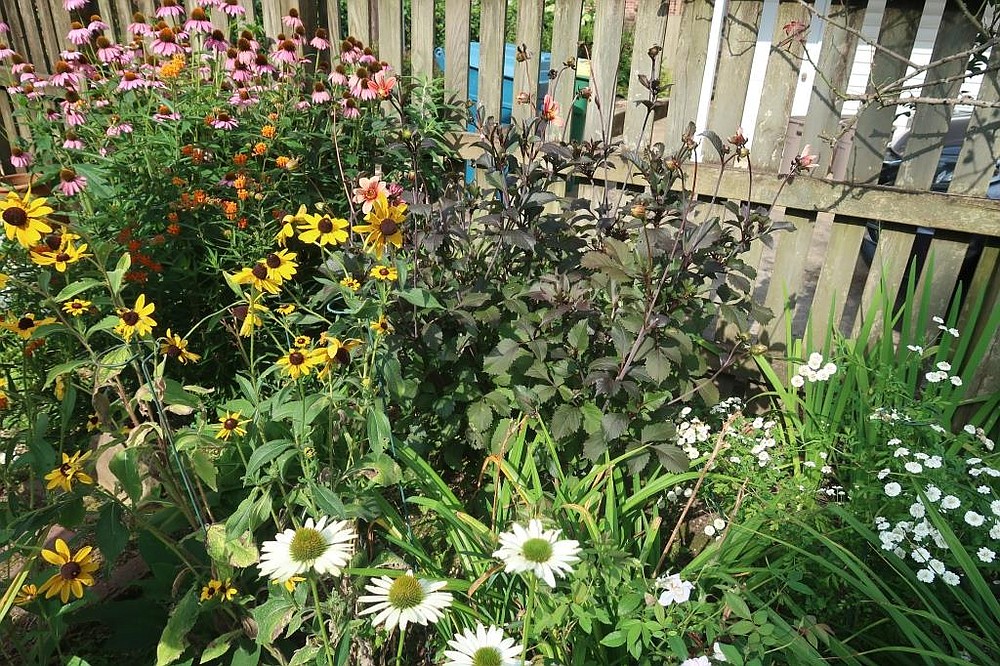 So many varieties of echinacea and daylilies, and some standard lilies were stunning.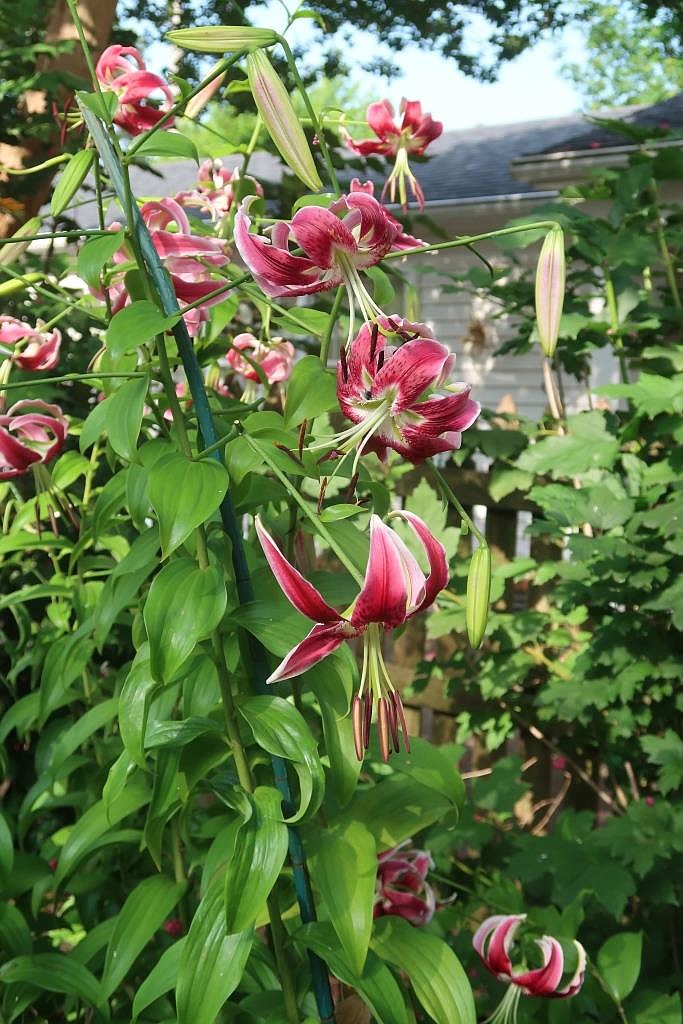 Flanking her screened patio were two incredible standard lantana plants that she has trained and maintained herself.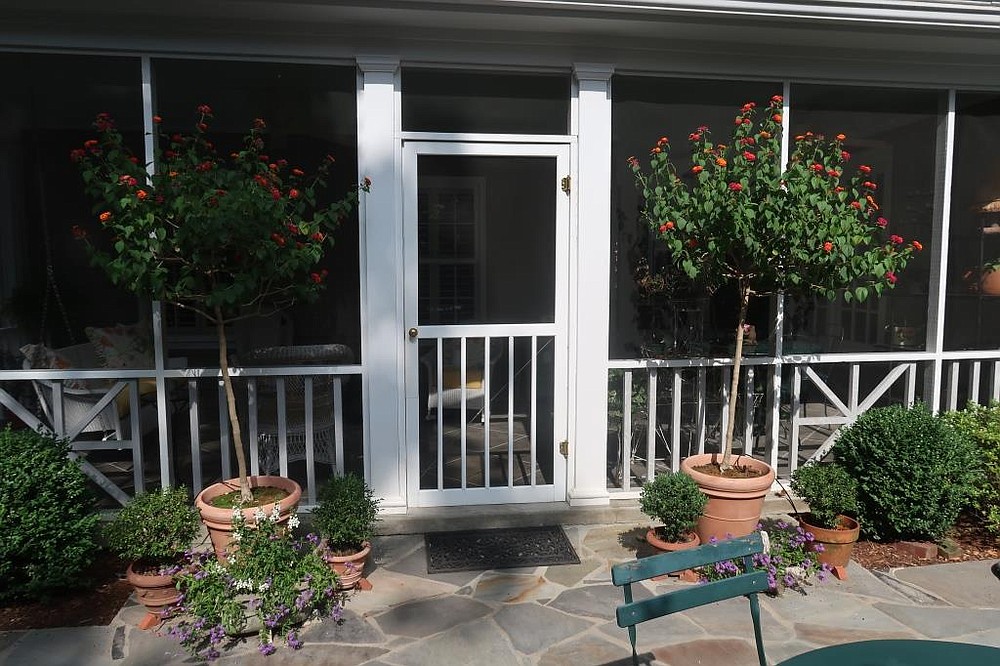 Dale has a knack for interior plants and design as well, which is my weak link. Her clivia was about to burst into bloom,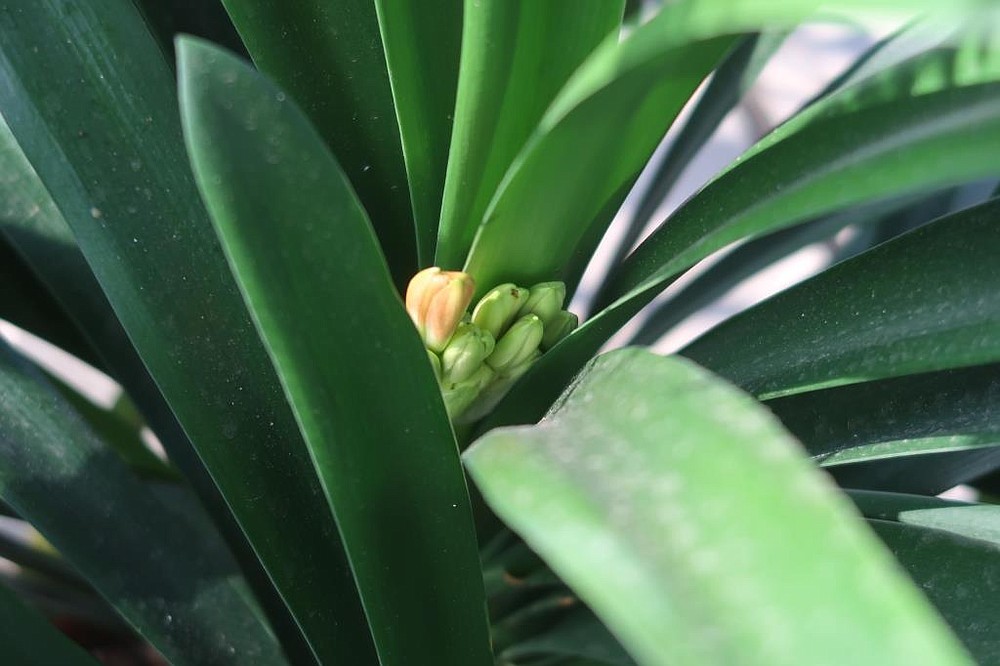 and her incredible covered patio was so cozy, I would never want to leave.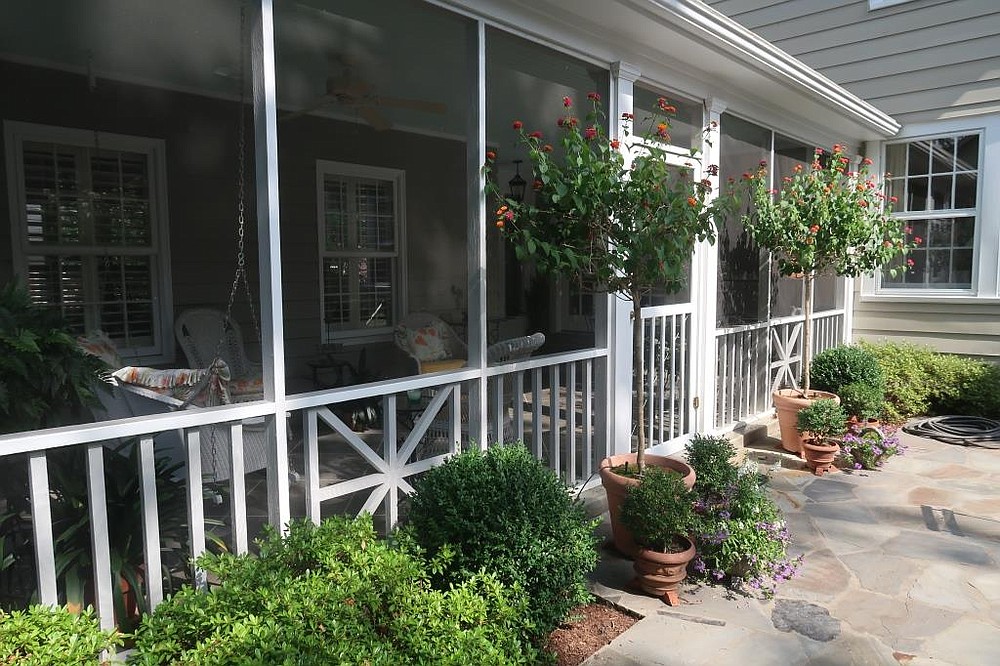 She also had one of the most spectacular crape myrtles,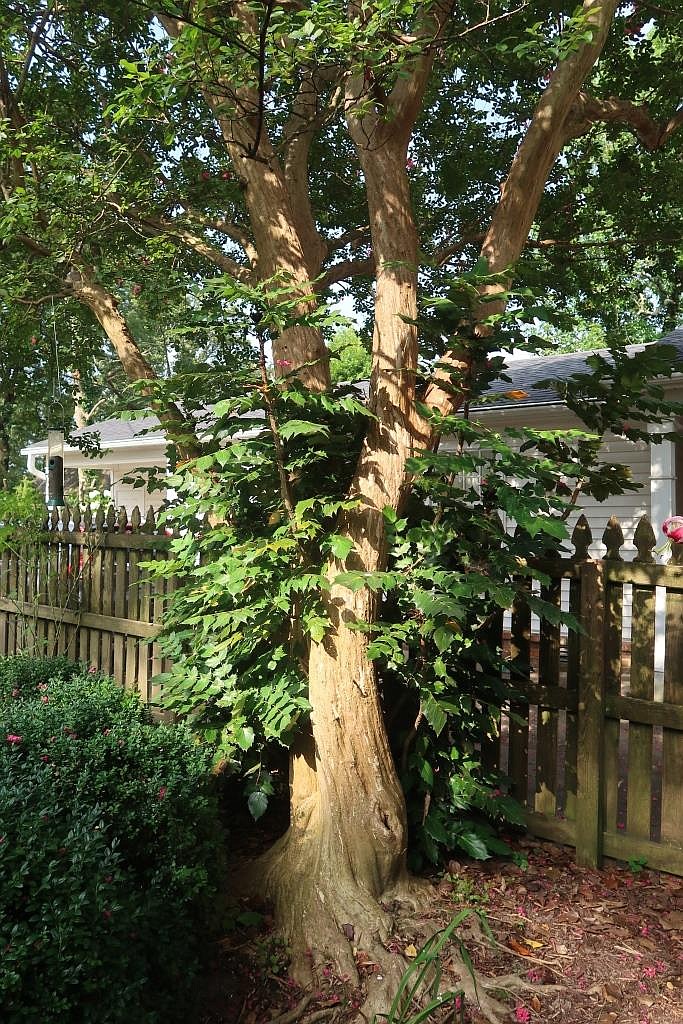 underplanted with a mahonia, that I have ever seen. Since all the plants were outside of the greenhouse, she was using the space in the most delightful way.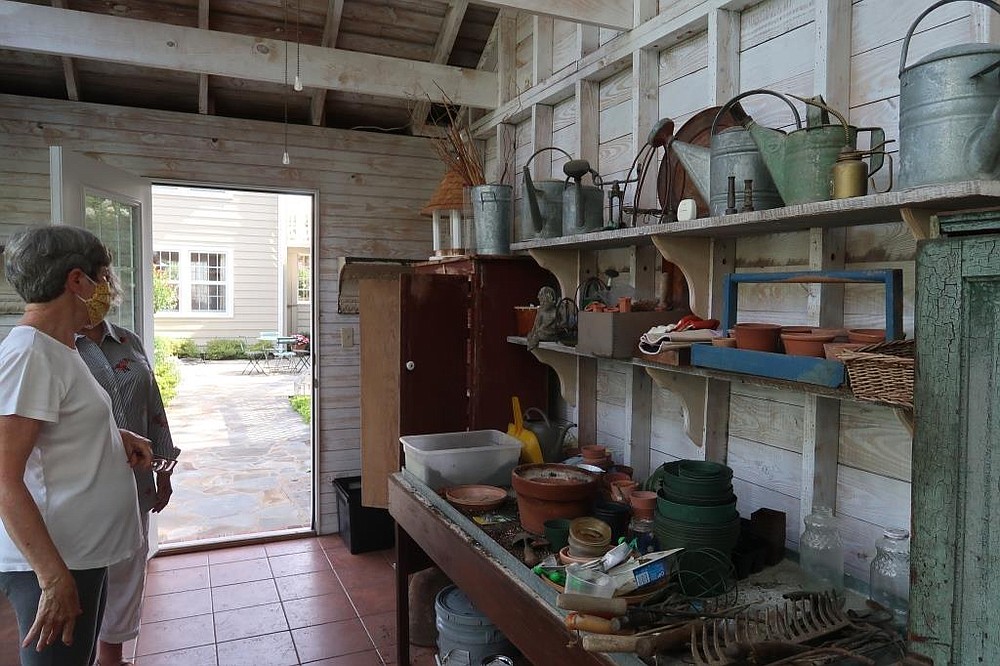 The whimsy of it all added to the charm of this garden. While most of the garden was ornamentals, she made sure to have space for some edibles with tomatoes and herbs, and even her own compost heap. Every inch of the yard was used to the best of its ability.

Our next stop was Mim's garden.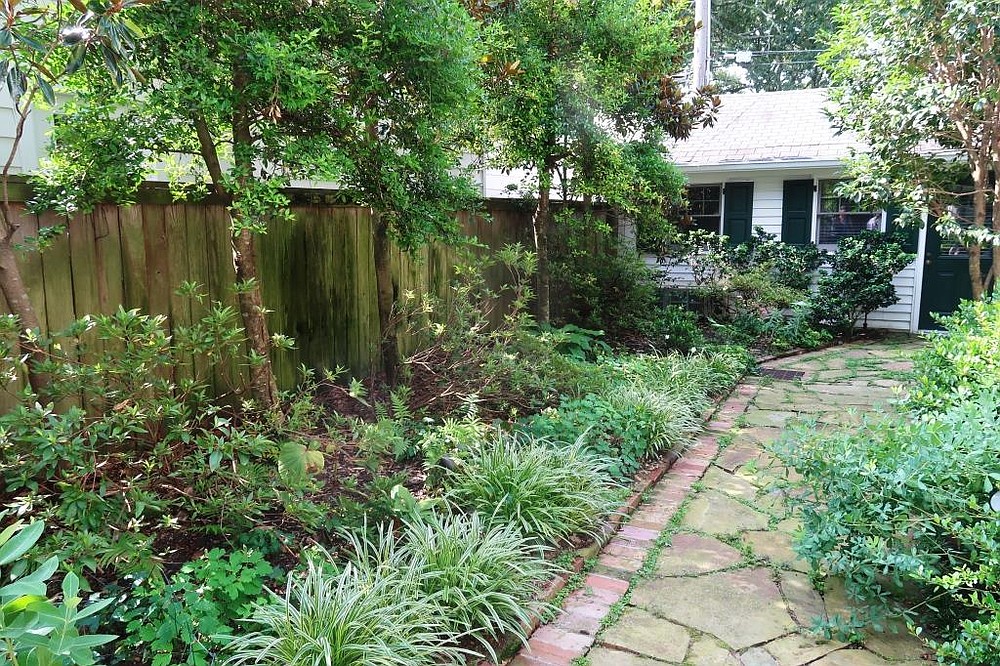 Mim loves gardening, butterflies and also dogs (near and dear to my heart). Since the backyard was not large and she wanted gardens, she had raised beds built to limit where the dogs would go.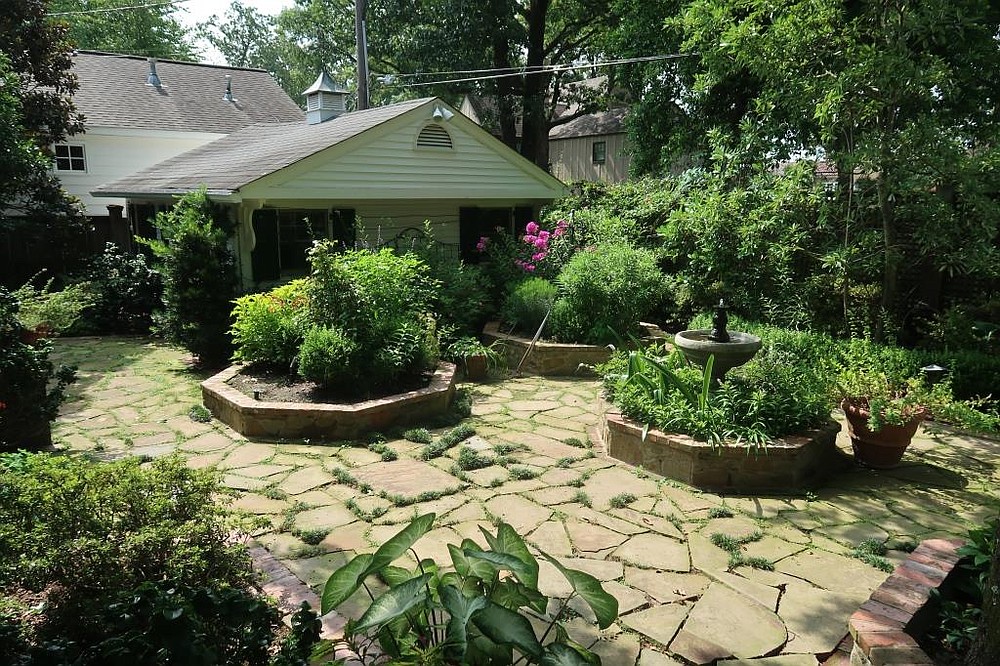 Most of the plants she chooses are host or nectar plants for one butterfly species or another. As we walked down the side yard, she pointed out which plant was for which butterfly – wafer ash for swallowtails,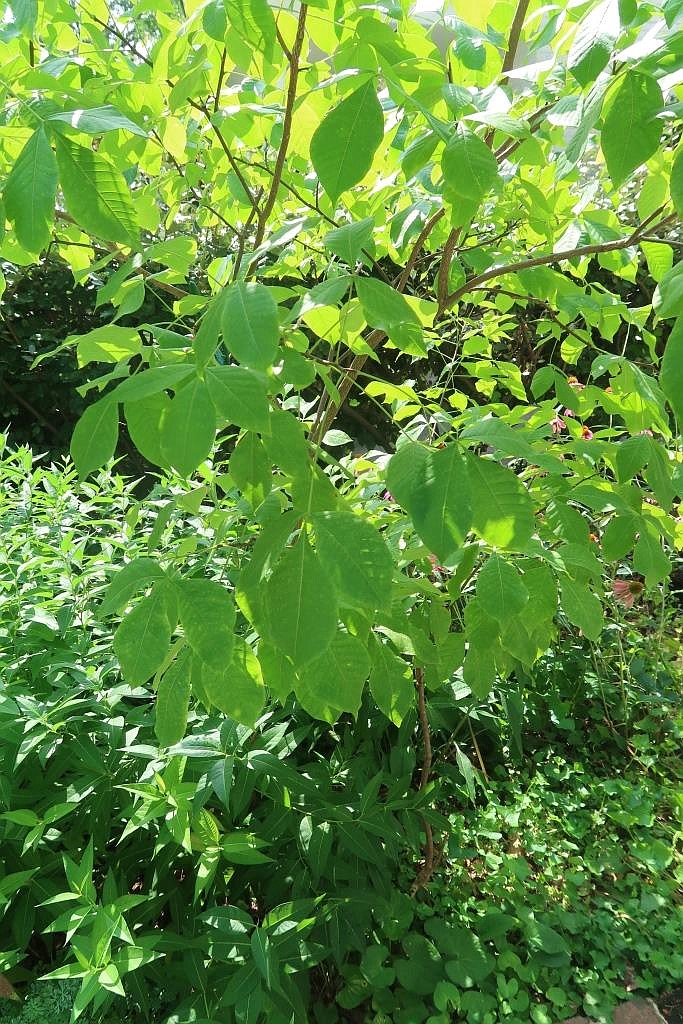 black cherry for many species, buttonbush as a nectar plant for many butterflies and host to several showy moths, spicebush for spicebush swallowtail and milkweeds for monarchs.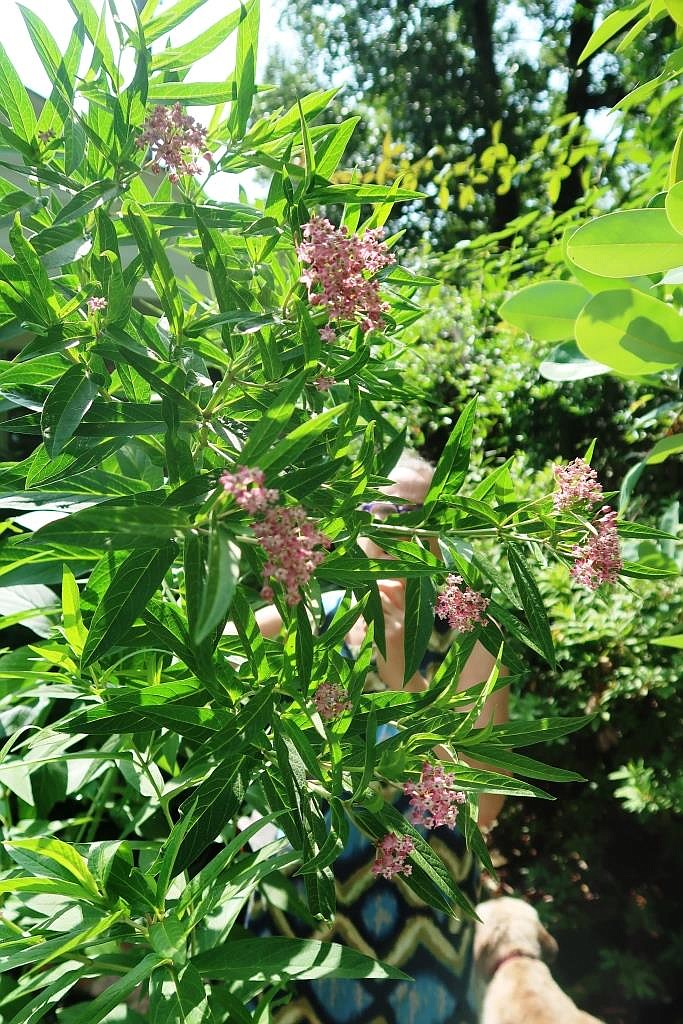 There were many more. She showed me how to know when a spicebush swallowtail was laying eggs based on the curled leaf edge,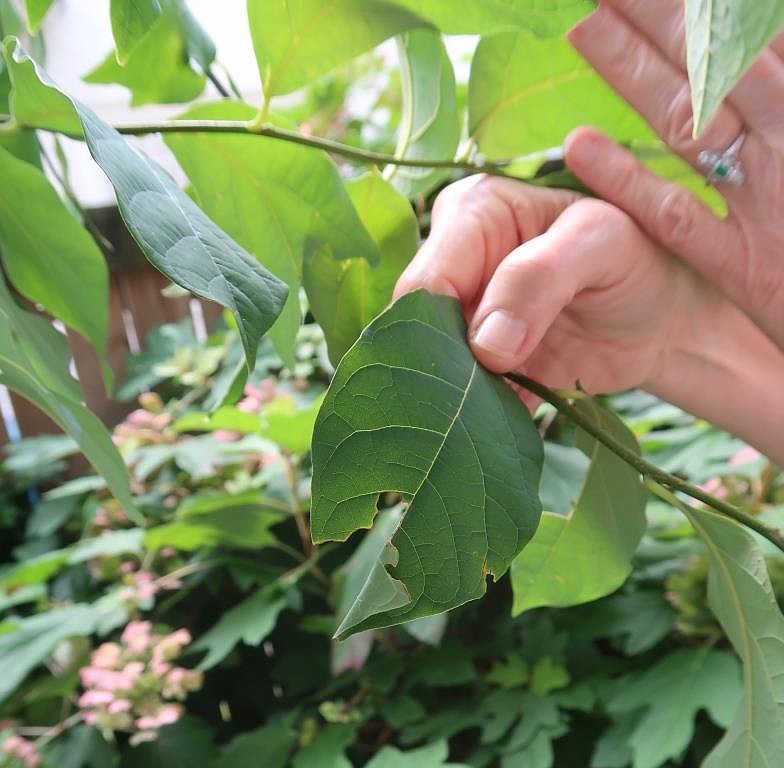 and was quite put out when a monarch caterpillar left its milkweed host and was on a phlox bloom.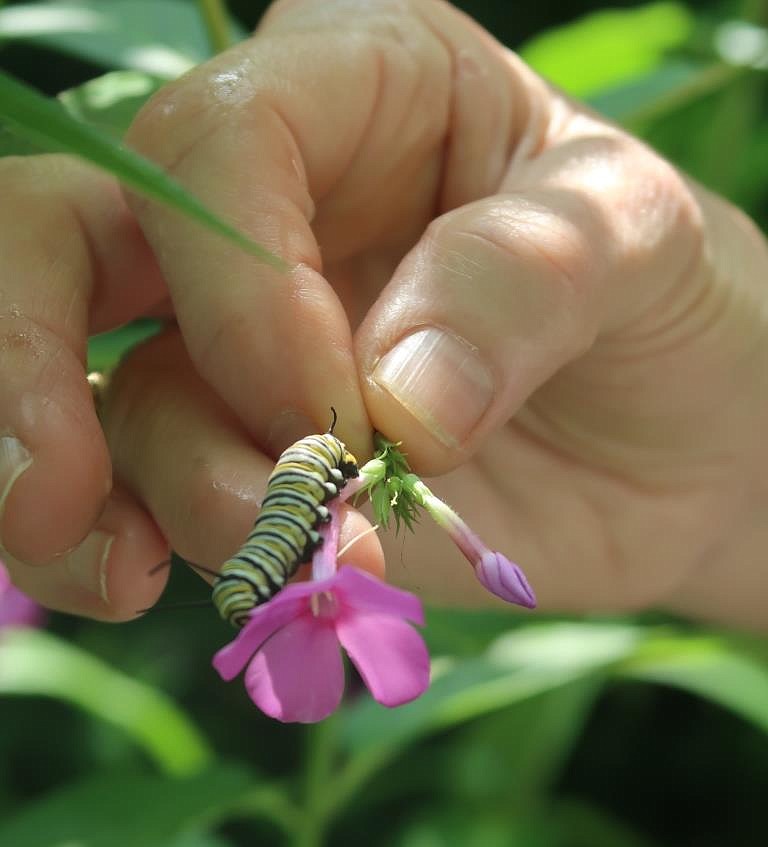 She calmly relocated it back to where it needed to go.
It was a beautiful garden with a mixture of natives and non-natives, but everything had its purpose and her delight in helping the butterflies was quite apparent.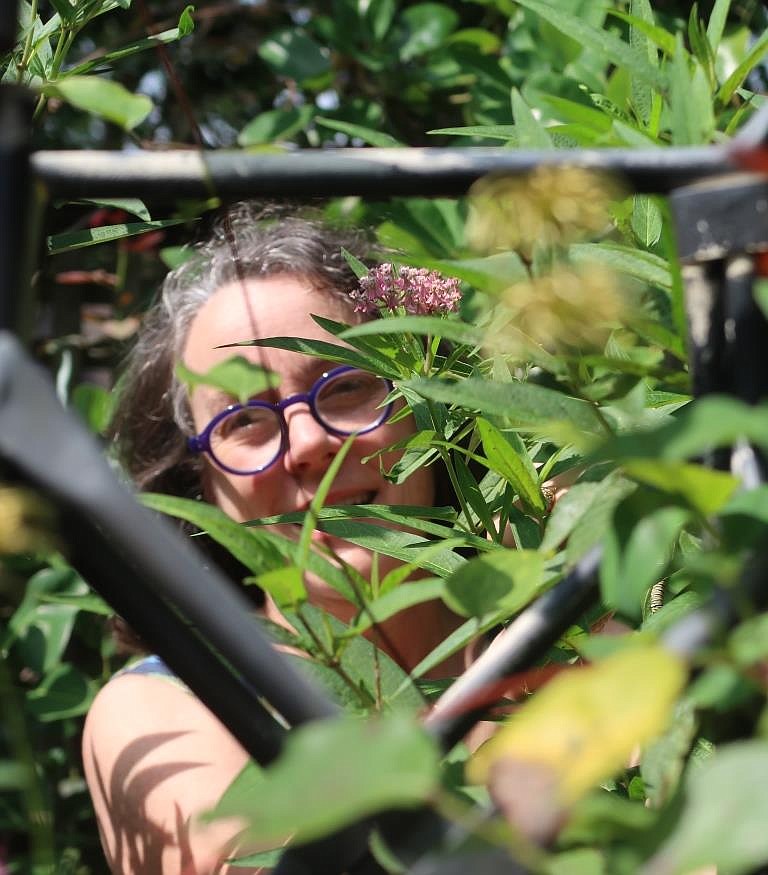 Mim is a natural teacher, and I learned a lot.
After two smaller gardens, our last garden of the week was a large shade backyard.
Cliff has been gardening for quite a while in this yard,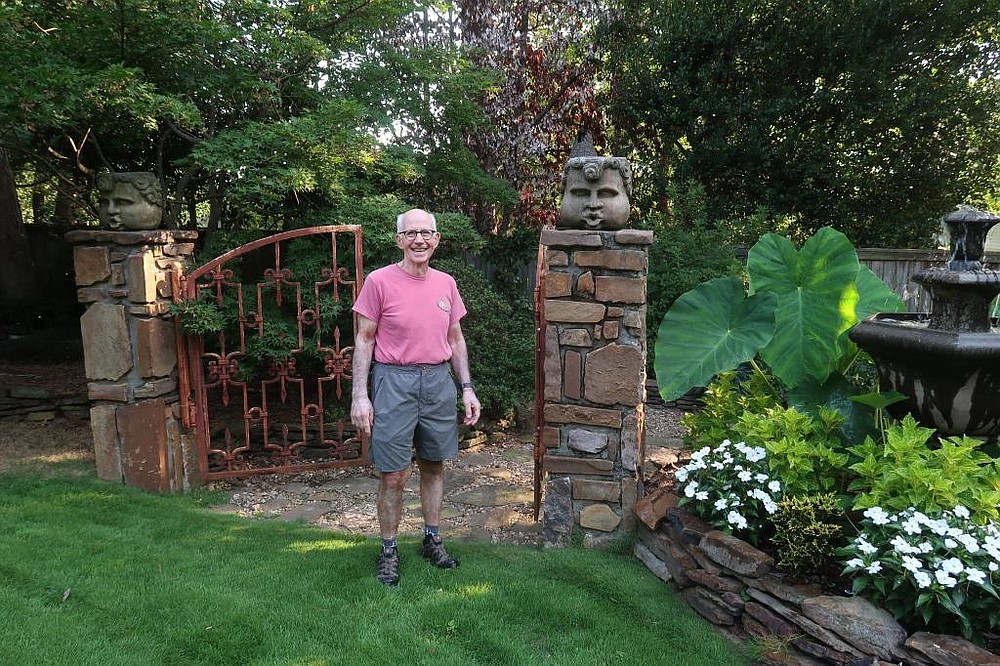 and the mixture of trees and shrubs are impressive and quite large. What made it more impressive was a stunning collection of art which just adds to the ambiance.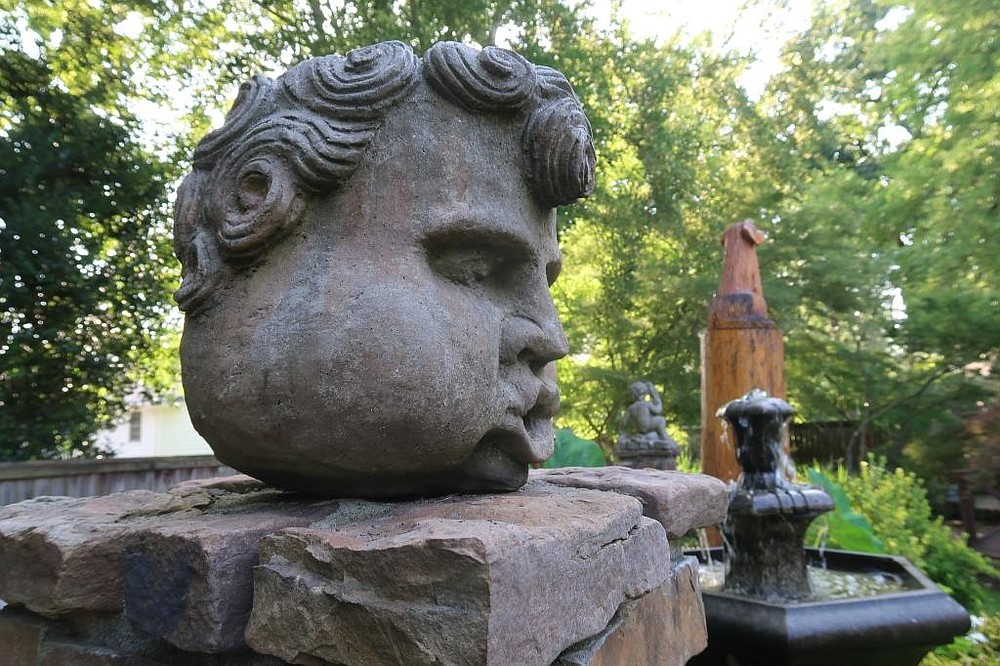 He has over 40 Japanese maples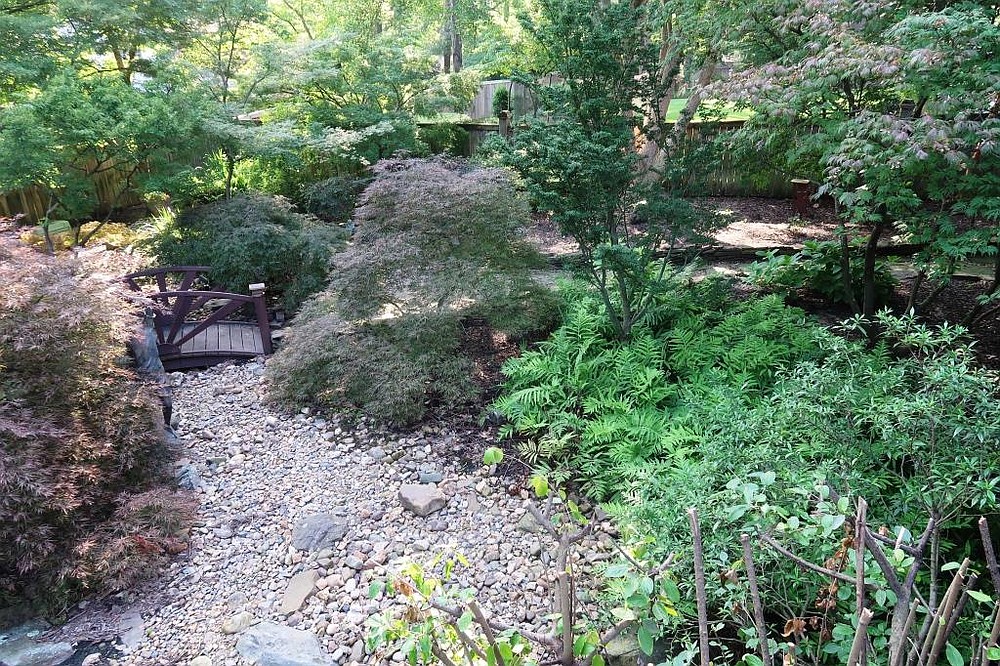 and two of the largest trident maples I have ever seen.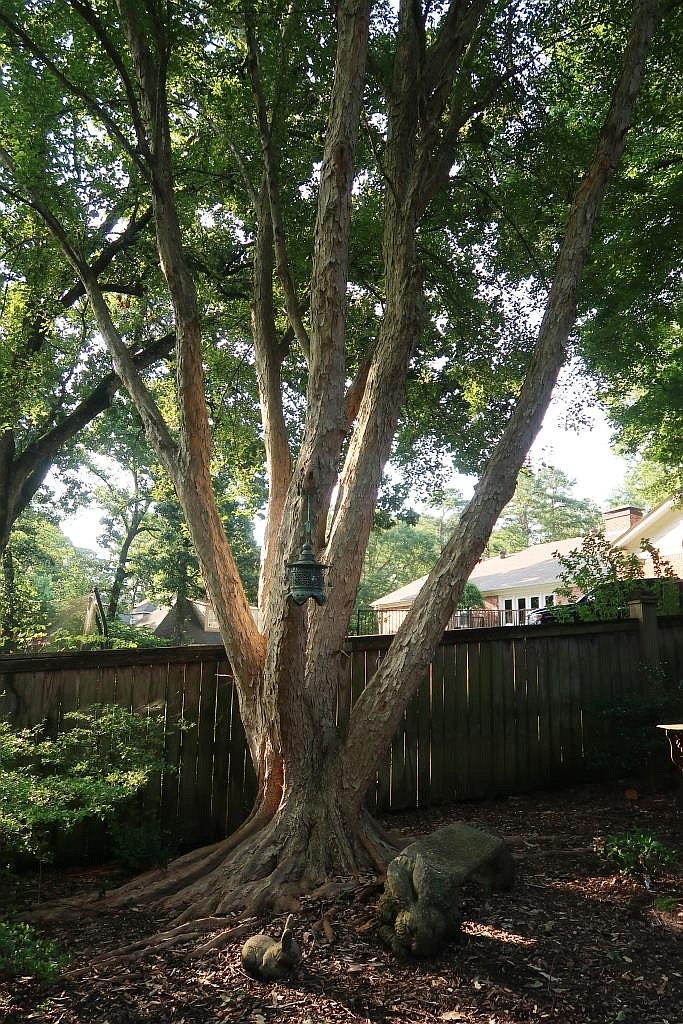 Everywhere you looked in the garden there was some hardscape to add to the plant collection. It might be a wall,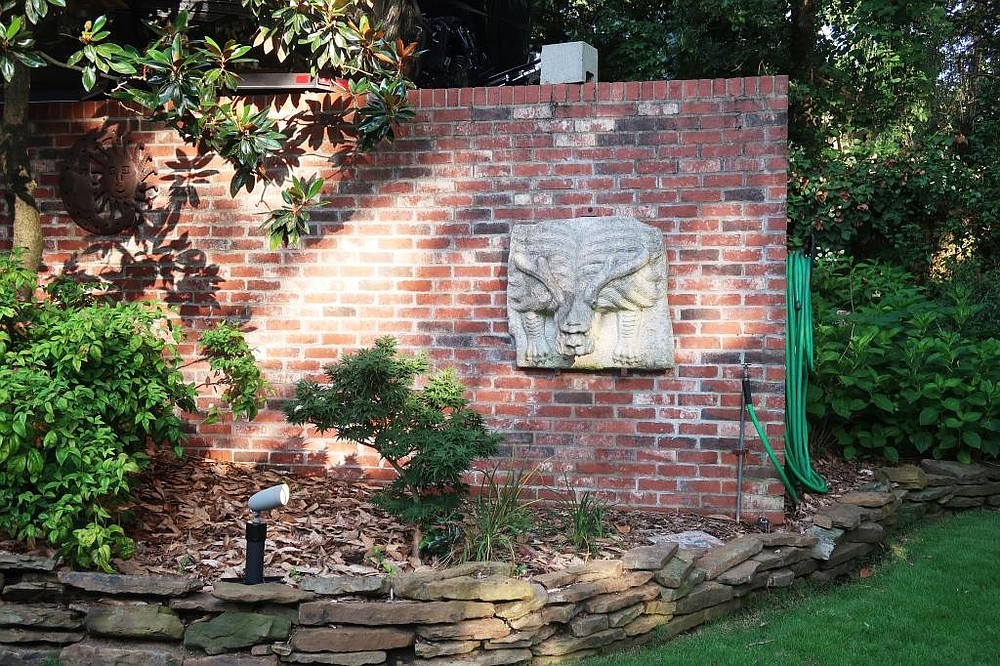 a gate, a bridge or statuary. A fallen tree became its own work of art.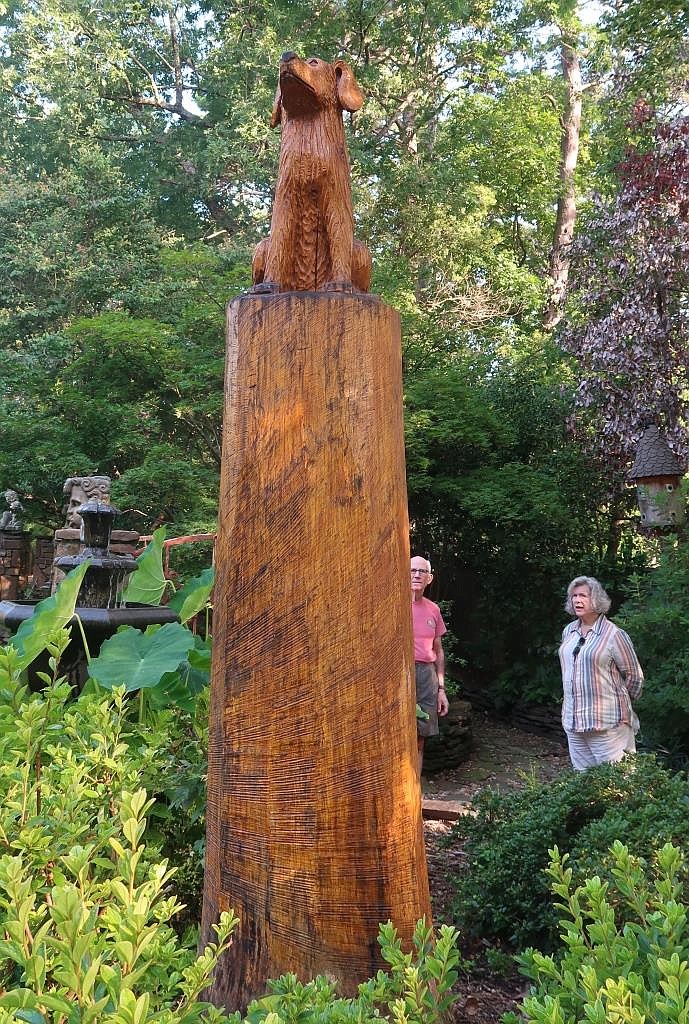 I think I definitely need to visit this garden in the fall, because the fall color pallet should be amazing. Another dog lover, he built his own dog ramp to give aging dogs an easier climb to their raised patio.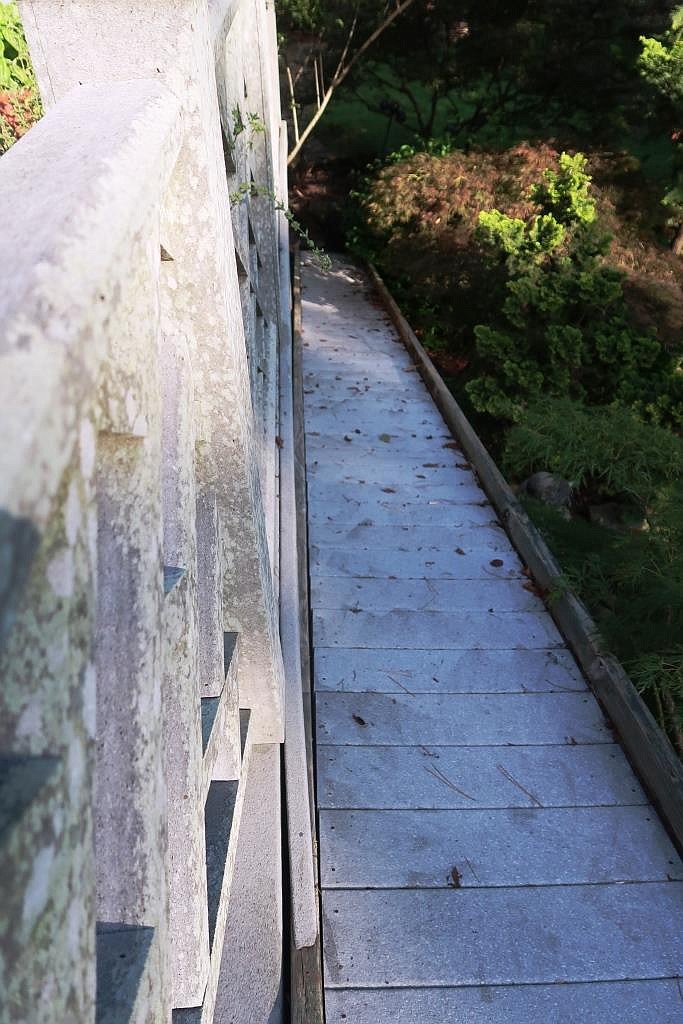 I also got to see some of his indoor art glass collection. Stunning!

I had a great time visiting with gardeners, talking plants and getting some local travel time in. I think this is my way of adding a little twist to each week. Not only am I excited about seeing other gardens, I love the opportunity to talk plants with gardeners, and get some new ideas for my own garden. It is the people/plant connection that I think I need in my life and I was well served this week.
Sponsor Content