Here lately, things that are hard to believe appear in this newspaper every day. Lest anybody mistake that for an unprecedented state of affairs, know this: In July 1920, the front page of the Arkansas Gazette reported that drinking buttermilk violated the Volstead Act.
Or rather, the report was that the state chemist of Delaware had filed a complaint accusing the thick, milky stuff of being an alcoholic beverage. If so, every man who carried a flask of buttermilk at his hip was liable to prosecution.
Long before the dry wave engulfed the whole United States, buttermilk had become very popular among the brass rail brigade, much to the astonishment of the barkeepers. It was sold at almost all bars. It was reserved for a scientist to discover the reason.
Picked up from the Chicago Tribune-New York Times wire service, the two-inch report appeared at the top of Page 1 on July 11 under the smart-alecky headline "Next Step'll Be to Arrest All the Cows."
Dr. Herbert Watson, ardent supporter of Prohibition, had informed a city judge in Wilmington that "real ripe buttermilk" was 3% alcohol.
My first thought was whoever wrote and/or whoever edited this item did not know the whole story or deliberately truncated it to create a "brite" — an amusing tidbit. Buttermilk? Come on. It was once a common notion that buttermilk coated the stomach, making drinking to excess safer. My sainted father, who was (probably) 14 years old in 1920, told me so, once upon a time.
But I wondered two wonders:
◼️ Was there a brand of buttermilk or a buttermilk recipe named Real Ripe Buttermilk?
◼️ Was real ripe buttermilk a cocktail? Cocktails became a thing in the 1920s as clever people found ways to hide the fact — and the harsh taste — of bootleg hootch.
Turns out, buttermilk as we know it is not buttermilk as it was made in 1920. And buttermilk made in 1920 was not buttermilk as it had been made from time immemorial. Historically, there had been three sorts of buttermilk: the creamy, high-fat slop leftover from churning fresh whole milk into butter; the sour, high-fat slop leftover from churning soured whole milk into butter; and soured whole milk that had separated.
How those led to the salty, low-fat buttermilk sold today is a long story that was well told in 2012 by L.V. Anderson for Slate. That story short, a Russian biologist published a paper in 1907 about the longevity of buttermilk-swilling people in the Balkans. This was read by John Harvey Kellogg, prophet of the cold breakfast, who mixed up a deliberately soured milk he called "Bulgarian buttermilk" and served it to health-seekers at his sanitarium in Battle Creek, Mich.
Buttermilk became a legend. Commercial dairies created a cultured version by adding bacteria to low-fat milk (cheaper than whole milk) and allowing it to ferment.
It's roughly accurate to say that there are two types of fermentation, conducted by different microbes. Lactobacillus create lactic acid as they ferment, and alcohol is a byproduct of the fermentation of bakers yeasts. Yeasts are wild little boogers, floating about all around us. Maybe the state chemist of Delaware didn't cover his trial samples and wild yeasts got into them, or maybe ... oh, who knows?
I found Watson's claim mocked in the archives of other newspapers and mentioned in passing in a few chemistry magazines from 1920. The Daily News of Lebanon, Pa., reported it on the editorial page under the headline "Liquid Damnation." That editor said, joking, "There's no telling what a man will do when he's all lit up with buttermilk."
100 YEARS AGO THIS WEEK ...
◼️ Newlywed first cousins in Louisville, Ky., were celebrating the 10th anniversary of their first illegal wedding. They had married illegally at a city hall in Michigan and again in a church in Illinois. Then an Illinois court ruled the marriage invalid. After living apart for seven years, they learned that Kentucky allowed first cousins to marry. They remarried, in Kentucky.
◼️ Someone had stolen the municipal hospital of Connellsville, Pa. The theft was discovered during an outbreak of smallpox when authorities went to the site to drop off the victims and found nothing left but a few boards.
◼️ Harry Houdini, famous escape artist, was unable to unlock his trunk for inspection by customs officials at New York.
He sat on it, kicked it, tried the key again. A locksmith was brought and he put a key in the lock and the lid popped open.
"Huh!" said the locksmith.
"Huh, yourself," said Houdini.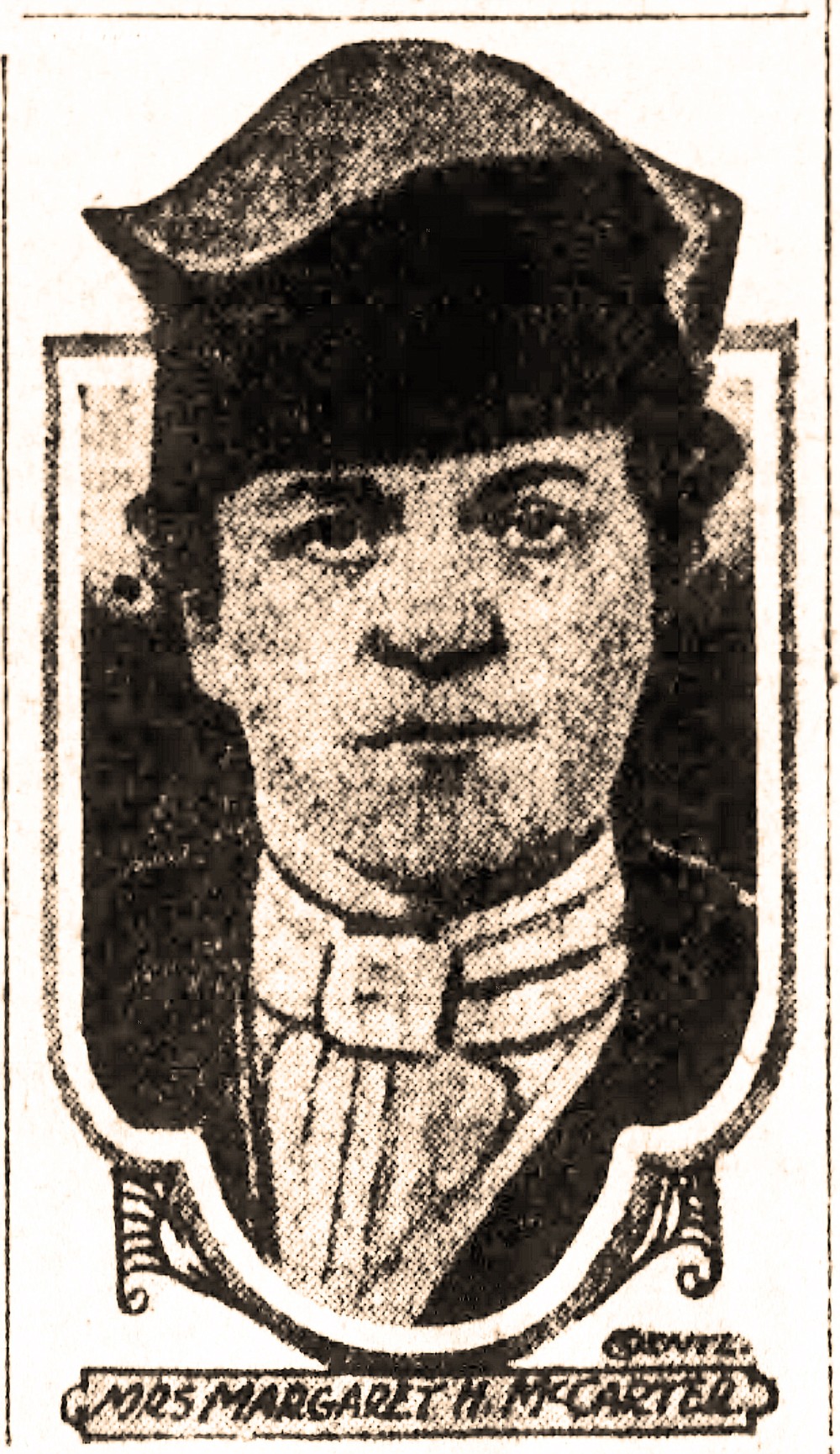 Reported in the July 15, 1920, Arkansas Gazette, Mrs. Margaret Hill McCarter, said to be the first woman to speak to a Republican National Convention, left City Hall at Topeka, Kan., without registering to vote after officials insisted that she had to state her age. (Arkansas Democrat-Gazette)
◼️ Mrs. Margaret Hill McCarter, credited with being the first woman to address a Republican national convention, had been asked her age by voter-registration workers at the Topeka, Kan., City Hall.
Mrs. McCarter insisted "over 21" was sufficient in recording her age, but was told by the clerk that a rule had been established this year that women must give their age or they can't register.
She left without registering.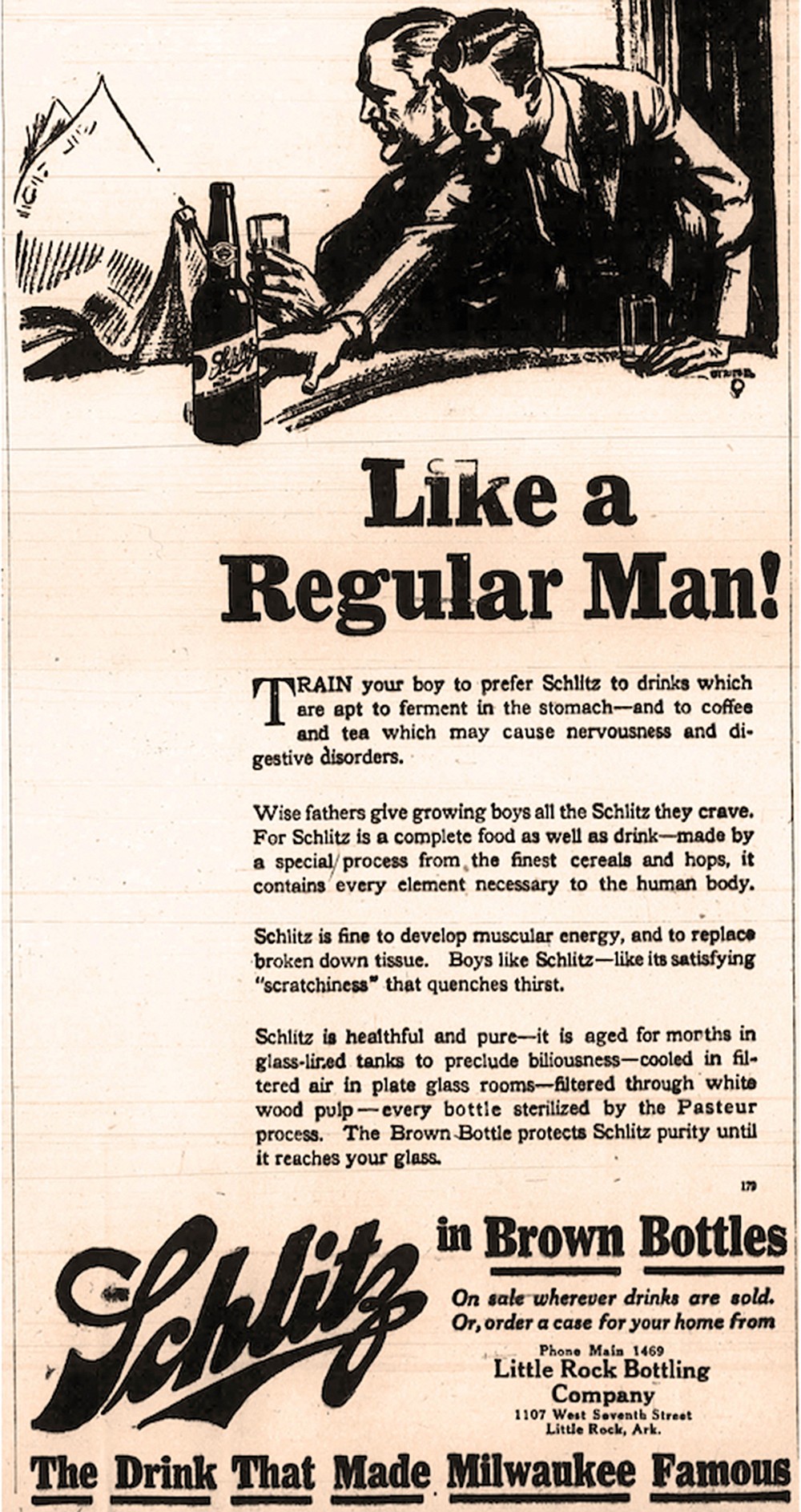 An ad for Schlitz from the July 13, 1920, Arkansas Democrat urges men to teach their sons to drink Schlitz instead of unwholesome beverages that would ferment inside their bodies. (Arkansas Democrat-Gazette)
◼️ North Little Rock iceman L.T. Fisk was in the hospital, counting himself one of the luckiest of men.
Fisk had been driving his 2-ton truck loaded with about 100 pounds of ice back to the plant after a long day of work. As he approached the Missouri Pacific crossing at 11th and Locust streets, he saw the headlamp of a switch engine approaching. His view to left and right was obscured by strings of stationary train cars, so he watched that light closely because it was a dangerous intersection.
"I judged it safe to cross, and just as I got on the track I saw this other engine coasting down on me."
Not more than 20 steps away, it loomed like a mountain. It did not have its lamp on.
"There was only one thing to do, and that was to 'step on the gas' and cut my wheel away from the train to give me a fraction more of a second to get across, and I stepped hard."
The truck rolled, slid and tumbled 300 yards in front of the engine.
He thinks he clung to the steering wheel and the folding top kept him from falling out when the truck rolled over. However, the top is smashed down and the steering wheel bent, so he must have been jammed down between the seat and the lower end of the steering rod.
All he lost was considerable skin, some flesh, a good pair of corduroy trousers and a flannel shirt.
◼️ And finally, 100 years ago today, the Arkansas Democrat reported that Little Rock's City Council had heard the first reading of a proposed ordinance to prohibit the playing of dominoes, chess, checkers or cards in pool halls, cigar stands or other public places. The measure would make playing these games in public a misdemeanor with a range of fines from $10 to $100.
Also, anyone who maintained any paraphernalia or a table for playing such games in public could be fined $25 to $200 and the paraphernalia — cards, dominoes, chess pieces, checkers and tables — could be confiscated and destroyed by the police.
Chess! Checkers! Dominoes! Right here in River City.
Email:
cstorey@adgnewsroom.com