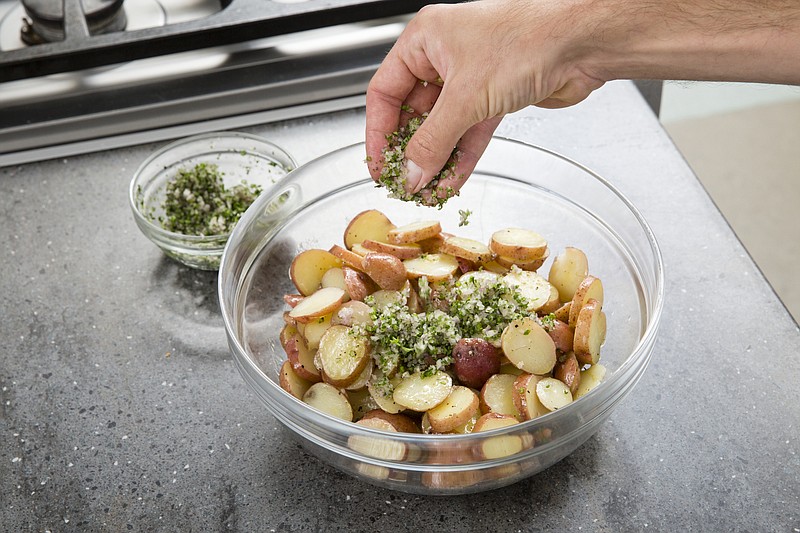 French Potato Salad With Dijon Courtesy of America's Test Kitchen
A week's worth of quick, healthful meals for budget-minded families
SUNDAY: Family time will be extra-special when you serve Marinated Flank Steak today. In a shallow dish, combine ½ cup light soy sauce, 2 tablespoons sesame seeds, 3 tablespoons honey, 3 tablespoons canola oil, 2 sliced green onions, 1 clove garlic (minced) and 1 teaspoon grated fresh ginger; mix well. Add 2 trimmed flank steaks (1 pound each). Cover and refrigerate 8 hours; turn occasionally. Heat grill to medium. Remove steaks; discard marinade. Grill, covered, 7 minutes per side or until meat thermometer reads 145 degrees. Let stand 5 minutes; slice thinly across grain to serve. Serve with French Potato Salad With Dijon (see recipe), and add a baguette. For dessert, make or buy a blackberry pie and top with vanilla ice cream.
Plan ahead: Save enough steak, potato salad and pie for Monday.
MONDAY: Stay cool tonight with Steak and Potato Salad. Toss leftover potato salad with 6 cups salad greens and a light balsamic vinaigrette. Top with thinly sliced leftover steak and crumbled blue cheese. Add whole-grain rolls. For dessert, warm the leftover pie.
TUESDAY: For a low-cost dinner, try Fettuccine With Clam Sauce and Broccoli. Steam chopped fresh broccoli with some unsalted chicken broth until tender. Stir in canned clam sauce and a handful of chopped parsley. Heat through and serve over hot, cooked fettuccine. Add sliced tomatoes and garlic bread. For dessert, nothing beats fresh peaches.
WEDNESDAY: Ham and Cheese Stacks make a quick meal. Layer Swiss cheese and ham slices on dark rye bread spread with grainy mustard. Top with drained deli coleslaw. Add steak fries (from frozen) on the side along with dill pickles. Make chocolate mousse (from mix) for dessert.
THURSDAY: Mango Brie Quesadillas are a sure winner with the kids. To make 1 quesadilla: On half of a whole-grain tortilla, place 2 tablespoons shredded part-skim mozzarella cheese, 4 slices mango and 1 ounce sliced brie cheese; fold in half. Place in a heated nonstick skillet and cook 1 to 2 minutes on each side or until browned. Serve with salsa. Add fresh corn-on-the-cob and fresh baby carrots. For dessert, red and green grapes will hit the spot.
FRIDAY: Keep it simple with a Southwestern Frittata (see recipe). Add a spinach salad and whole-grain rolls. Dessert is simple with kiwi and peanut butter cookies.
SATURDAY: Surprise the family with an old favorite, Sweet-and-Sour Chicken (see recipe), served over rice. For some color, add tiny green peas (from frozen) along with sourdough bread on the side. What could be easier for dessert than Dusty Strawberries? Wash, hull and halve fresh strawberries. Sprinkle with powdered sugar just before serving.
THE RECIPES
French Potato Salad With Dijon
2 pounds small red potatoes, unpeeled, cut into ¼-inch slices
1 teaspoon coarse salt
1 clove garlic, peeled and threaded on skewer
¼ cup extra-virgin olive oil
1 ½ teaspoons white wine vinegar
2 teaspoons Dijon mustard
½ teaspoon ground black pepper
1 small shallot, minced
1 ½ tablespoons minced fresh parsley
1 tablespoon minced fresh chives
1 teaspoon minced fresh tarragon
Place potatoes in large saucepan; add water to cover by 1 inch and bring to a boil over high heat. Add salt, reduce heat to a simmer and cook about 6 minutes or until potatoes are tender and paring knife can be slipped in and out of potatoes with little resistance.
Meanwhile, lower skewered garlic into the simmering potato water and blanch for 45 seconds. Hold garlic under cold running water; remove from skewer and mince.
Drain potatoes, reserving ¼ cup potato-cooking water; arrange potatoes in tight single layer in rimmed baking sheet. Whisk oil, minced garlic, vinegar, mustard, pepper and reserved potato-cooking water together in bowl, then drizzle over potatoes. Let potatoes stand 10 minutes. (Potatoes can be refrigerated up to 8 hours; return to room temperature before continuing.) Transfer potatoes to large bowl. Combine shallot, parsley, chives and tarragon in a small bowl, then sprinkle over potatoes and gently toss to coat using rubber spatula before serving. (Adapted from "The Complete Mediterranean Cookbook," from America's Test Kitchen.)
Makes 6 servings.
Nutrition information: Each serving contains approximately 193 calories, 3 g protein, 9 g fat, 25 g carbohydrate, no cholesterol, 383 mg sodium and 3 g fiber.
Carbohydrate choices: 1.5.
Southwestern Frittata
12 ounces (2 medium) potatoes, cut into ¼-inch slices
1 (8 ¾-ounce) can no-salt-added whole-kernel corn, rinsed
1 (4-ounce) can diced green chiles
1 (2-ounce) can or jar sliced pimentos, drained
3 green onions, sliced
2 tablespoons chopped fresh parsley or cilantro
8 eggs OR 2 cups egg substitute, thawed if using frozen
2 teaspoons water
Black pepper to taste
Heaping ¼ cup freshly grated parmesan cheese
Place potatoes in shallow baking dish; cover and microwave on 100% power for 5 minutes.
Heat a large, broiler-safe nonstick skillet on medium; add potatoes and cook 5 minutes, turning occasionally, until golden.
In medium bowl, combine corn, chiles, pimentos, onions, parsley or cilantro, eggs and water; mix well. Add pepper to taste. Pour mixture over potatoes. Cover; cook 10 minutes on medium or until eggs are almost set. Remove cover. Sprinkle with parmesan.
Heat broiler. Place skillet 4 to 5 inches from heat. Broil 1 to 3 minutes to finish cooking eggs and melt cheese. (Watch carefully!) Cut into wedges and serve immediately.
Makes 4 servings.
Nutrition information: Each serving contains approximately 302 calories, 19 g protein, 12 g fat, 30 g carbohydrate, 378 mg cholesterol, 362 mg sodium and 4 g fiber.
Carbohydrate choices: 2.
Sweet-and-Sour Chicken
2 teaspoons canola oil
1 pound boneless skinless chicken breast, cut into ¾-inch pieces
1 tablespoon cornstarch
1 (8-ounce) can pineapple chunks in juice, divided use
¼ cup light brown sugar
1 tablespoon light soy sauce
¼ cup white vinegar
½ cup no-salt-added tomato sauce
1 green bell pepper, cut into ¼-inch strips
Crushed red pepper, if desired
In a large skillet, heat oil on medium-high. Add chicken and cook 5 minutes or until brown on both sides. Remove chicken from skillet; cover to keep warm. Mix cornstarch with juice from canned pineapple (about ¼ cup). Add to skillet, along with brown sugar, soy sauce and vinegar. Heat on low and simmer 3 minutes or until sauce thickens. Add pineapple chunks and chicken. Bring to a boil; simmer 5 minutes. Add tomato sauce and bell pepper; cook 3 minutes or until heated through. Garnish with crushed red pepper if desired.
Makes 4 servings.
Nutrition information: Each serving contains approximately 263 calories, 25 g protein, 5 g fat, 27 g carbohydrate, 73 mg cholesterol, 242 mg sodium and 1 g fiber.
Carbohydrate choices: 2.
Susan Nicholson is an Atlanta-based cookbook author and registered dietitian. She can be reached by email:
susan@7daymenu.com
Sponsor Content