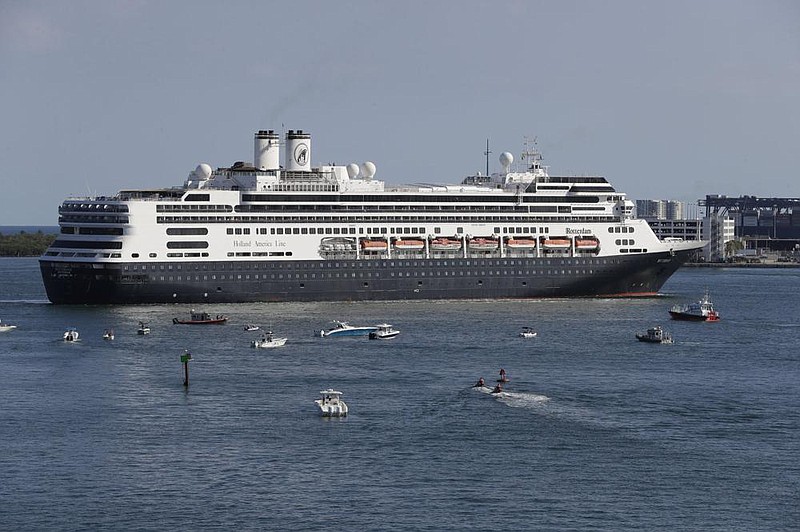 The cruise ship Rotterdam heads into dock at Port Everglades in Fort Lauderdale, Fla., in April. The Rotterdam is among the ships operator Holland America is selling as the cruise industry tries to survive the pandemic. (AP)
MIAMI -- Cruising is banned in U.S. waters until at least Oct. 1, the U.S. Centers for Disease Control and Prevention announced Thursday.
The health agency extended its no-sail order for cruises, previously in place through July 24, for the second time during the coronavirus pandemic as outbreaks persist on cruise ships. The extension comes as the number of infections on land in the U.S. is surging.
The latest setback for the industry did not come as a surprise, as dozens of states are experiencing spikes in virus cases, including Florida, home of PortMiami -- the world's busiest cruise port -- and headquarters offices for all of the major cruise companies.
Companies that are members of the cruise industry lobbying group Cruise Lines International Association, including Carnival Corp., Royal Caribbean Group, Norwegian Cruise Line Holdings, MSC Cruises, Disney Cruise Line and Virgin Voyages, had already canceled cruises through at least Sept. 14. Bahamas Paradise Cruise Line had canceled cruises through Aug. 28.
[CORONAVIRUS: Click here for our complete coverage » arkansasonline.com/coronavirus]
Since the industry shut down on March 13, cruise companies have faced an unprecedented plunge in revenue and reported record financial losses.
While the last cruise passengers were able to disembark in early June, thousands of crew members are still awaiting repatriation without pay, and some are still contracting the virus on board.
Since March 1, cruise companies have reported 2,973 coronavirus illnesses to the CDC on cruise ships in U.S. waters and 34 covid-19 deaths, according to the agency. Around 1,000 of those confirmed and suspected cases and one of the deaths -- a crew member on the Disney Wonder ship -- have occurred since June 23, records obtained by the Miami Herald show. The CDC said the confirmed and suspected cases were part of 99 outbreaks on 123 cruise ships.
A Miami Herald investigation has found at least 95 cruise passengers and crew have died worldwide from covid-19 across 72 ships, representing 28% of the global ocean cruise fleet.
According to U.S. Coast Guard data, as of July 10, there are 67 ships in and around U.S. waters with 14,702 crewmen onboard.
Seattle-based cruise line Holland America Line has sold four ships in its fleet as the coronavirus pandemic has halted operations and subsequently slowed businesses that rely on incoming traffic from the industry.
Holland America made the announcement after the CDC cruise ban announcement.
The company is selling the Amsterdam, Maasdam, Rotterdam and Veendam, which reduces its fleet to 10, the company said. All cruises booked on the ships will be canceled or changed.
Information for this article was contributed by Taylor Dolven of the Miami Herald and by staff members of The Associated Press.
Sponsor Content