Texas GOP blocked from convention site
HOUSTON -- After the Texas Republican Party won a last-minute ruling Friday allowing it to move thousands of delegates into Houston's convention center, a federal appeals court blocked that move before dawn Saturday at the request of Houston's mayor.
The Texas GOP will have no access to the George R. Brown Convention Center until the appellate court in New Orleans fully reviews the fight over its convention contract, according to an order posted to the 5th Circuit's docket early Saturday. The convention was to have taken place Saturday.
On Friday, U.S. District Judge Lynn Hughes granted an emergency request by party officials to reinstate the in-person assembly for the selection of the Texas GOP's presidential electors.
Houston Mayor Sylvester Turner, a Democrat, had canceled it earlier this month after the city's top medical officer testified that such a large indoor gathering could become a "superspreader" event for the coronavirus. The Texas GOP sued, claiming Turner had improperly invoked an escape clause in the convention contract to quash the free-speech and assembly rights of a rival party.
Party officials said extensive social-distancing and cleaning procedures already in place would make the cavernous hall, which holds 50,000, safe for several thousand delegates. They said the delegates have been meeting in hotel lobbies and restaurants across Houston and that the city would be better off corralling them inside the hall.
Police, protesters hurt in Chicago clash
CHICAGO -- Protesters trying to topple a Christopher Columbus statue in downtown Chicago's Grant Park clashed with police who used batons to beat people and made at least a dozen arrests after they say protesters targeted them with fireworks, rocks and other objects.
The clash Friday evening unfolded after at least 1,000 people tried to swarm the statue to topple it after a rally in support of Black and Indigenous people.
Police said 18 officers were injured and at least 12 people were arrested. Four protesters also were hurt during the confrontation, which led elected officials and activists to condemn the officers' tactics.
"We unequivocally condemn Mayor Lori Lightfoot's decision to send the Chicago police to beat, arrest, and terrorize the demonstrators and journalists gathered in Grant Park tonight," a group of elected officials said in a statement released late Friday.
The Police Department said in a statement that officers assembled in the park as the protesters converged there and were "providing security and protecting their First Amendment right to peacefully assemble." It said that as demonstrators approached the statue "some members of the crowd turned on the police and used the protest to attack officers with fireworks, rocks, frozen bottles, and other objects."
FBI to look into fatal police shooting
LOS ANGELES -- The FBI announced that it will review the death of an 18-year-old man who was shot and killed by a Los Angeles County sheriff's deputy.
The agency will review "all available evidence to determine what federal response is warranted," according to an FBI statement Friday.
Andres Guardado Pinedo was shot five times in the back on June 18, according to both the official autopsy and an independent autopsy arranged by his family.
Chief medical examiner-coroner Dr. Jonathan Lucas released the official results last week despite a sheriff's office request that the report remain confidential under a security hold while the shooting is investigated.
The sheriff's office said the shooting occurred in an unincorporated area near the city of Gardena after two deputies on patrol spotted Guardado with a gun and he ran.
A lawyer for Deputy Miguel Vega, said his client and another deputy saw Guardado with a gun in his waistband. After a chase, Guardado stopped, put the gun on the ground and lay face down but as Vega went to handcuff him, Guardado made a grab for the weapon.
Guardado's family has denied the gun was his and the shooting has sparked protests.
River low, N.M. to get emergency water
ALBUQUERQUE, N.M. -- New Mexico has received permission from neighboring states to access stored water after little rainfall, low runoff and high temperatures dried out some sections of the Rio Grande.
The Middle Rio Grande Conservancy District and the state can now access up to 38,000 acre-feet of water -- or more than 12 billion gallons -- currently stored in El Vado Reservoir under the Rio Grande Compact agreement among New Mexico, Texas and Colorado, the Albuquerque Journal reported.
John D'Antonio, New Mexico's commissioner for the compact, submitted the emergency request.
Rio Grande Basin Manager Page Pegram said the state has been granted only emergency use of that stored water one other time -- in the 1950s.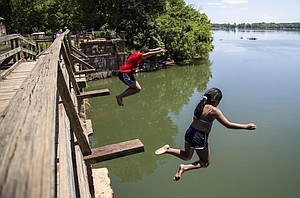 Photo by AP
Andrea Cisneros, 10, (front) and her brother Francisco, 13, jump from a bridge into the Seneca Creek on Saturday in Dar- nestown, Md.
(AP/Manuel Balce Ceneta)
The agreement requires New Mexico to deliver a certain amount of water to Elephant Butte Reservoir each year but all three commissioners from each state waived the requirement.
-- Compiled by Democrat-Gazette staff from wire reports