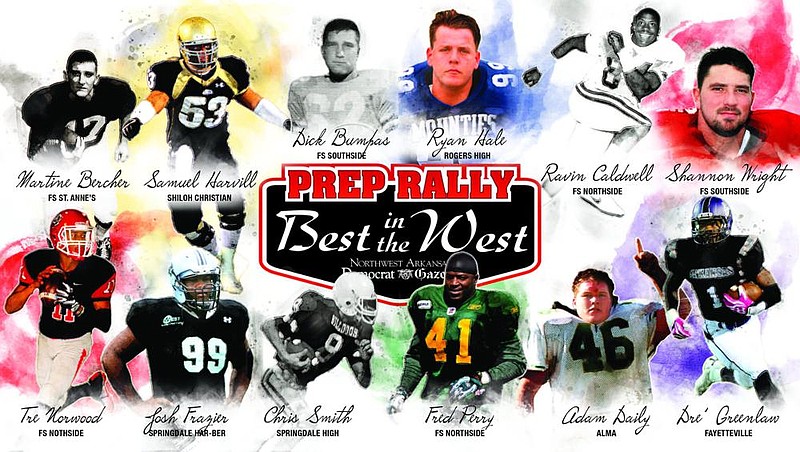 Prep Rally Best in the West
The Prep Rally: Best in the West series concludes with today's all-time football team as selected by the Northwest Arkansas Democrat-Gazette.
The quality and depth of the Best in the West all-time best football team borders on the ridiculous.
The players who made the 12-player offense and 12-player defense are not just some of the best players in the western region of the state, they are some of the best-ever in any part of the state, and some were among the elite players nationally.
The offense starts with former Parade Magazine, USA Today and Gatorade National Player of the Year Mitch Mustain of Springdale High's best-ever 2005 team. Mustain led a team of Division I stars to the most dominating season ever in Class 5A, recording 12 mercy-rule wins in 14 games and a No. 2 national ranking in several prep polls.
Damian Williams was Mustain's go-to receiver at Springdale and enjoyed almost as must post-season glory as his celebrated teammate.
"Anytime you get a chance to play with the high school Heisman winner, you've got to relish that," Williams said of Mustain. "He was a really special player."
The firepower of the offense on this mythical team is epic. Besides Mustain, who was 26-1 as a starter at Springdale and was 190-of-274 for 3,744 yards and 42 touchdowns as a senior, former Fort Smith Northside star Billy Joe Releford was on his way to an equally stellar career before a knee injury ended his senior season after 5 games when he was already over 1,000 yards. Releford was able to return to the field and carved out a solid college career and made it to the last cut with the Pittsburgh Steelers that dominated the 1970s NFL.
Williams anchors a receiving corps that is unmatched. As a senior, he caught 63 passes for 1,476 yards and 24 touchdowns. Josh Bell of Greenwood set a single-season record of 111 catches in 2000 and finished his career with 259 catches. Slick Shelley of Fort Smith Southside, who signed with Tennessee out of high school, led the Rebels to the 2002 state title.
Then there is Matt Jones, an athlete who is perhaps unmatched in the history of Arkansas high school football. In two seasons in Van Buren, his legend began first as a receiver and part-time quarterback, then at Fort Smith Northside as a senior where he ran for 943 yards and passed for 815 in a run-oriented offense.
Jones will forever be remembered for what he did against hated Texas in 2003 in Austin when he led the Razorbacks to a 38-28 win.
"You look at the game Matt Jones had, I don't ever remember seeing a quarterback make that many plays," former Texas coach Mack Brown said after the game. "Today, he changed the game."
It could be said Jones changed the game every game.
The offensive line of this unit is anchored by the late Brandon Burlsworth, a former walkon who willed himself into an All-American at Arkansas. Rogers High's Lee Ziemba was a 4-star recruit at Auburn who started for four seasons on the plains, and Mark Hutson of Fort Smith Northside was star at Oklahoma.
Then there is the defense, where two-time Super Bowl champion Ravin Caldwell of Northside leads the unit.
"It was a joy to play," Caldwell said. "No matter the sport – football, basketball and track – I loved to compete. If you put an opponent in front of me, it was like "OK, let's see who's the better man here."
Most of the time, it was Caldwell.
The late Samuel Harvill was as fierce a competitor as ever stepped foot on the turf. With his trademark eye-black smeared face, Harvill wreaked havoc for four seasons at Shiloh Christian, leading the Saints to three-straight state championships in 2008-10.
The young star on the defense is one of the current rising stars in the NFL. Dre Greenlaw, or Big-Play Dre as he was called at Fayetteville, emerged as a rookie last season for the San Francisco 49ers, leading the team to the Super Bowl.
"He did everything for us except kick extra points," said former Fayetteville coach Daryl Patton. "Just a smart football payer with a lot of athletic ability. We knew he was going to be special."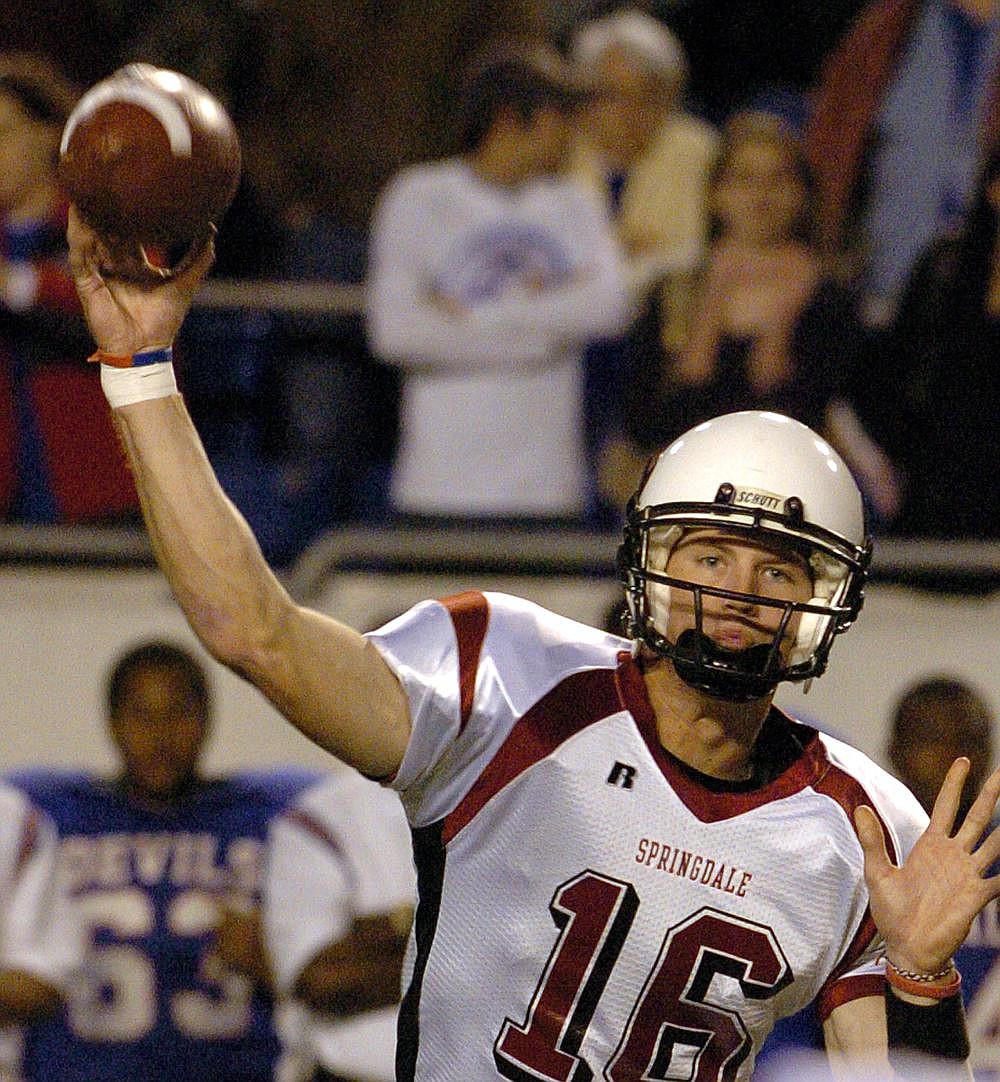 Quarterback Mitch Mustain was 26-1 during his career at Springdale and was named the Gatorade national player of the year in 2005. (Democrat-Gazette file photo)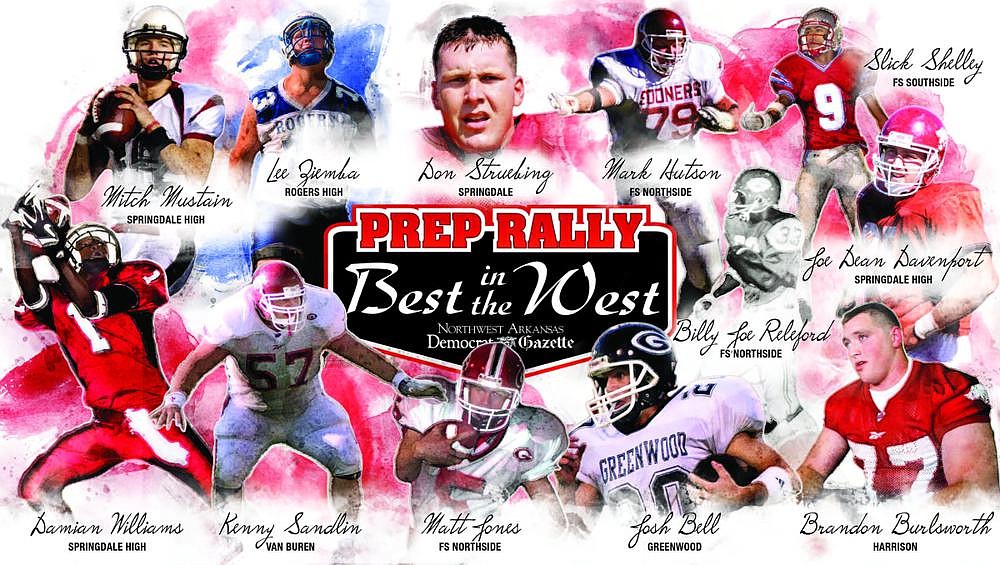 Prep Rally Best in the West
Chip Souza can be reached at csouza@nwadg.com or on Twitter @NWAChip.
Sponsor Content