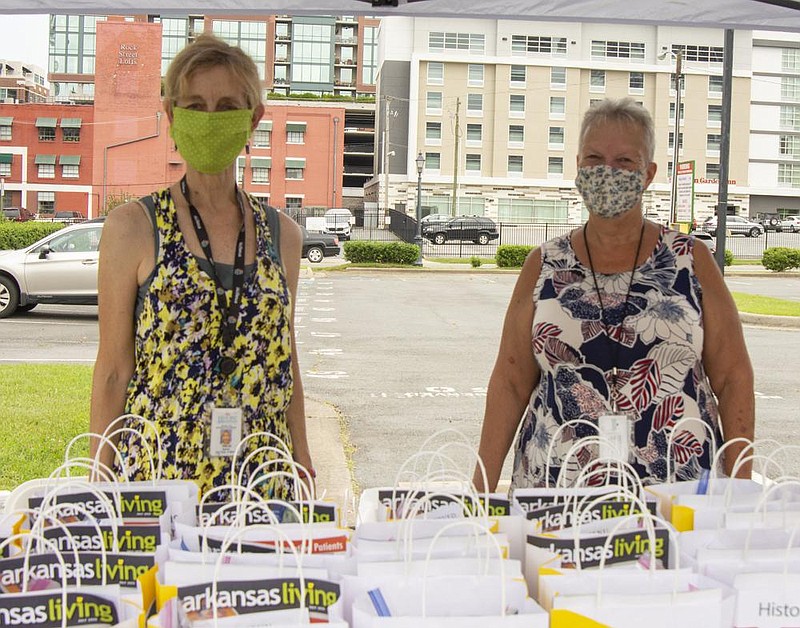 Tricia Spione and Sherry Stevensonon 07/16/2020 for Historic Arkansas Museum's History is Served (Arkansas Democrat-Gazette/Cary Jenkins)
The Arkansas Delta: Tamales & BBQ was the focus of History Is Served on July 16. Hosted by the Historic Arkansas Museum, the event is part of this year's series focusing on Arkansas food and culture.
To be safe and prevent the spread of covid-19, the event was not held at the museum. Instead, guests drove through the parking lot across the street where they picked up a swag bag, which included a copy of the book "Delta Hot Tamales: History, Stories, and Recipes." They also picked up a five-course meal prepared by Chef Gilbert Alaquinez of The Lab Food Truck.
Gallery: History is Served
[Gallery not loading above? Click here for more photos » arkansasonline.com/726ham/]
The menu included field peas and chow chow; smothered chicken and rice; a pork rib plate which included turnip greens and candied yams; and a red hot, a tamale filled with beef brisket and topped with smoked tomato beef chili. Chess pie was served for dessert.
A program on Zoom rounded out the evening. Guest speakers included Jessica B. Harris, a 2020 James Beard Lifetime Achievement Award recipient, and Anne Martin, author of "Delta Hot Tamales."
Sponsor Content