Trump puts off plan to throw first pitch
WASHINGTON -- President Donald Trump won't be throwing out the first pitch at Yankee Stadium next month after all.
Trump tweeted Sunday that he won't be able to make the trip because of his "strong focus" on the coronavirus, vaccines and the economy. Trump said in the tweet: "We will make it later in the season!"
He had announced at a briefing Thursday on major league baseball's opening day that he'd be at Yankee Stadium on Aug. 15 to throw out the first pitch.
Trump has been trying to show voters that he is taking the virus seriously by holding briefings and canceling Republican convention events set for Jacksonville, Fla. Florida is among several states where the virus is raging.
But on Saturday the White House tweeted a photo of Trump and former Green Bay Packers quarterback Brett Favre after the pair played golf at Trump's private club in Bedminster, N.J.
With the teams playing in stadiums that are largely empty, Trump wouldn't have had to contend with crowd reaction to his appearance, which has been an issue in some previous appearances at sporting events, where he has gotten a mixed response.
Hurricane Douglas bears down on Hawaii
HONOLULU -- Hawaii prepared for the onslaught of Hurricane Douglas on Sunday, with predictions of high winds, rain and storm surge.
"It's definitely going to be a triple threat," said National Weather Service meteorologist Vanessa Almanza said.
Rainfall from the storm can be anywhere from 5-15 inches. It's "probably not a good day to go to the beach," Almanza said.
Douglas weakened Saturday to a Category 1 hurricane as it approached Hawaii, but officials warned people should not be lulled into complacency. The weather service said Douglas should remain a hurricane as it moves through the islands Sunday.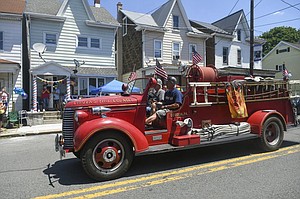 Photo by Republican-Herald
An antique fire engine from Citizen's Fire Co. No. 1 of Gordon, Pa., drives past the home of World War II Marine veteran Mi- chael Wynne Sr. during a parade Sunday in honor of his 99th birthday. (AP/The Republican-Herald/Jacqueline Dormer)
"Douglas is continuing a gradual, slow, weakening trend, which in itself is good news, but the bad news is that this hurricane is going to come very close to the islands even as it's weakening," said Robert Ballard, the science and operations officer at the Central Pacific Hurricane Center. "And we do expect significant impacts as it makes its point of closest approach or possible landfall as it comes through."
Authorities on Oahu and Maui sounded emergency sirens as rain fell and blustery winds swayed trees. They urged residents to shelter in place or, as last resort, to take refuge at shelters.
Oahu, Kauai and Maui were all under a hurricane warning, though a hurricane watch was canceled for the Big Island.
The hurricane was packing maximum sustained winds of 85 mph Sunday.
Virginia to pursue removal of Lee statue
RICHMOND, Va. -- A Virginia panel has recommended that Confederate Gen. Robert E. Lee's statue in the U.S. Capitol be replaced with another yet-to-be named Virginian amid national discussions about removing controversial symbols.
The eight-member Commission for Historical Statues in the United States Capitol voted unanimously on Friday to take down the Lee statue. Like every other state, Virginia has two representatives in the Statuary Hall Collection. The other is George Washington. Virginia picked Lee for one of its statues in 1909.
Gov. Ralph Northam said he would relay the Lee decision to the Joint Committee on the Library of Congress and request the statue's immediate removal.
"The Robert E. Lee statue does not tell our full and true story, and it has never represented all Virginians," Northam said in a statement after the vote. "I commend the commission's righteous decision to remove this relic from the halls of Congress and replace it with a new statue that embodies the inclusive Commonwealth we aspire to be."
Atlanta to restrict teen street vendors
ATLANTA -- Atlanta's mayor says police will crack down on teens selling water at busy intersections.
The effort was announced Saturday after reports that teens have threatened motorists with guns after the drivers refused to buy water.
On July 16, a man was shot twice in his car after a dispute on an Interstate 20 exit ramp. Also July 16, a 14-year-old was detained after police said he displayed a pistol to a driver stopped at a different intersection. The teen was charged and released. In June, an 18-year-old believed to have been selling water was found shot dead in a parking garage.
[CORONAVIRUS: Click here for our complete coverage » arkansasonline.com/coronavirus]
Mayor Keisha Lance Bottoms said police and community groups will try to direct teens to "safer and more beneficial opportunities." Earlier in July, Bottoms set up an advisory council to promote youth entrepreneurship, driven in part by complaint about water sellers. The advisory council is supposed to make recommendations on Friday.
"We appreciate the entrepreneurial spirit of youth who are selling water to motorists," Bottoms said in a statement. "But we have seen an increase in unsafe and violent activity in some locations and cannot allow it to continue."
It's unclear if police activity will include arrests.
-- Compiled by Democrat-Gazette staff from wire reports