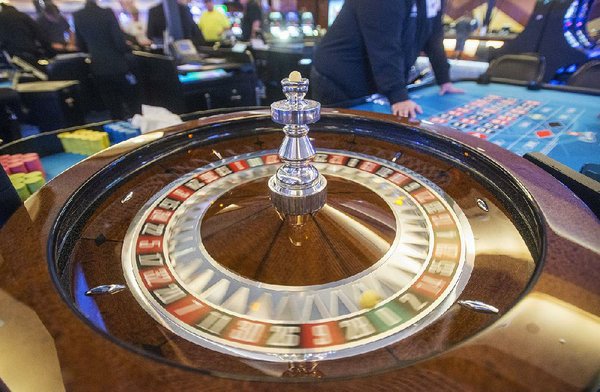 FILE — A roulette wheel spins at Cherokee Casino & Hotel in West Siloam Springs, Okla.
A divided Arkansas Racing Commission on Thursday denied the Oklahoma-based Cherokee Nation Businesses' appeal of the commission's decision to award a casino license in Pope County to the Mississippi-based Gulfside Casino Partnership.
In a 3-2 vote, the commission denied the Cherokee Nation Businesses' appeal of the commission's decision last month to award the casino license to Gulfside.
Commissioners Bo Hunter of Fort Smith, Michael Post of Altus and Denny East of Marion voted for Hunter's motion to deny the appeal by the Cherokees, while commissioners Mark Lamberth of Batesville and Steve Landers of Little Rock dissented.
The commission's action came after it heard from attorneys for the Cherokees and Gulfside argue the merits of the Cherokees' appeal and the commission voted to throw out the initial scores of commissioners Butch Rice of Beebe and Alex Lieblong of Conway.
The commission decided last month that Rice's scores of the two casino applicants were biased in favor of Gulfside, and Lieblong recently decided to recuse himself from the commission's consideration of the casino license for Pope County.
On June 18, the commission signaled its intent to award the license based on all seven commissioners' combined application of scores of 637 for Gulfside, compared to 572 to the Cherokees.
The 71-point difference in Rice's scores — 100 for Gulfside and 29 for the Cherokees was larger than the 65-point difference in the combined scores of the commission.
Lieblong's scores had the second largest difference of 22 points — he gave the Cherokees 95, compared with 73 for Gulfside.
Afterward, Gulfside co-owner Terry Green said that "It has been a long hard fought battle on both sides and we are delighted that it happened the way it did.
"We came out the victor," he said. "We are very excited about hurrying up and getting started to build a casino. I think we have a few more court matters to 'go through.'"
Green said the earliest that the company could break ground on the casino depends on the court system.
Sponsor Content