• From an empty movie theater in Paris, organizers of the Cannes Film Festival on Wednesday announced the films that would have played there in May had it not been canceled by the coronavirus pandemic. Two films by 12 Years a Slave filmmaker Steve McQueen -- Mangrove and Lover's Rock -- had been headed to Cannes, said festival director Thierry Fremaux, as was Wes Anderson's The French Dispatch and Pete Docter's Pixar film Soul. Fremaux announced 56 movies that were selected from a record 2,067 submissions that poured in despite the health crisis. The chosen films will still be able to brand themselves as part of the official 2020 Cannes Film Festival selection."I can see that film is alive and kicking," said Fremaux, sitting on the stage of the UGC Normandie cinema in Paris alongside president Pierre Lescure. The selections were an exercise in what-might-have-been for Cannes, the premier international film festival that for the last 73 years has been the most prestigious and glitzy annual gathering of the global movie industry. The French festival, originally slated for mid-May, initially considered postponing to July but ultimately gave up on a 2020 edition. The selection announcement, usually made in an April news conference before teeming throngs of international journalists, was instead presented during a TV interview that aired on Canal Plus. Fremaux didn't say which films had been slated for its main selection, in which some 20-25 films compete for the Palme d'Or.
[CORONAVIRUS: Click here for our complete coverage » arkansasonline.com/coronavirus]
• Eagles songwriter Don Henley urged Congress this week to "Take It to the Limit" to protect artists against online pirating, wading into a copyright fight pitting Hollywood and the recording industry against big tech platforms like Google's YouTube. Henley, a blockbuster hitmaker of the 1970s, testified online from his home Tuesday before a Senate Judiciary subcommittee weighing possible changes to a 1998 copyright law. The law allows holders of copyrighted material to formally ask parties they believe have taken their content without permission to remove it. If they comply promptly with the request, there are no legal consequences. The so-called "notice and takedown" system under the copyright law is used by the movie and recording industries, entertainment software makers and book authors to pursue tech platforms, universities and other facilitators of file-sharing. Henley called the copyright law "a relic of a MySpace era in a TikTok world." With hundreds of millions of takedown notices sent, for every link taken down, "a dozen more pop up in its place," he said. The system "still allows Big Tech to rake in revenue" after repeated copyright infringements, Henley said.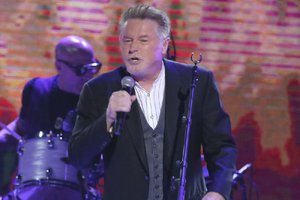 In this Oct. 25, 2017 file photo, artist Don Henley performs at "All In For The Gambler: Kenny Rogers' Farewell Concert Celebration" at Bridgestone Arena in Nashville, Tenn. (Photo by Laura Roberts/Invision/AP, File)
A Section on 06/04/2020