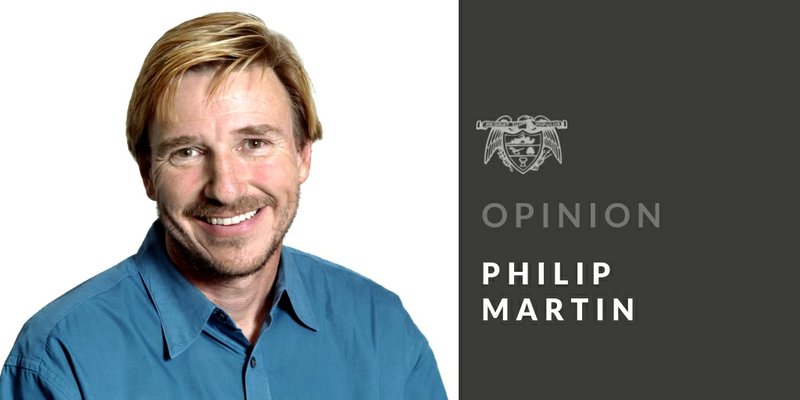 Some will remember Notting Hill, the 1999 Julia Roberts-Hugh Grant rom-com that's the highest-grossing British film of all time. The story of an ordinary person who, through screenwriterly contrivance, ends up in an affair with a world-famous movie star, it is nothing like real life.
It is named for the London neighborhood in which it is set, a place that rapidly gentrified in the '90s. At the time young professionals and creatives lived shoulder to shoulder with a working-class remnant of immigrants, many of them of Jamaican heritage.
In the decades since, it has become less multicultural, a fashionable and expensive enclave of pastel-colored townhouses and chic restaurants. The most notable former resident of Notting Hill is probably David Cameron, a Conservative politician who served as the UK prime minister from 2010 to 2016.
Cameron was born, as one British commentator with an acute understanding of such things said, "upper upper middle class." He was never required to work for a living, which isn't his fault. By the turn of the 21st century, the image of Notting Hill was such that when people wanted to disparage Cameron and certain of his political allies, they referred to them as the "Notting Hill Set."
If you're looking for an American analogue to Cameron, think of Mitt Romney, another traditional conservative type who seems to have been bum-rushed by history. (Cameron called for the Brexit referendum, and like almost everyone else in the world, was shocked when British voters chose to divorce the European Union. He resigned in the wake of that vote.)
Besides the movie, Notting Hill is famous for being the scene of England's worst race riots in 1958, touched off by a domestic dispute between a biracial married couple outside a tube station. A crowd of whites gathered, and against the wife's wishes, had a go at her black husband. Some of his West Indian friends materialized and joined on his behalf. By the next evening, a mob of 200 young white Teddy Boys were patrolling the streets of Notting Hill, armed with clubs and butcher knives, chanting "Go home you black bastards."
Fights broke out, windows were smashed.
"In one street where some of the ugliest fighting has taken place," a reporter for The Times wrote, "your correspondent found a group of men in a public house singing 'Ol' Man River' and 'Bye Bye Blackbird' and punctuating the songs with vicious anti-Negro slogans. The men said that their motto was Keep Britain White."
That reporter also mentioned that black and white children were seen playing together moments "after a violent incident in which a coloured man was chased down a street by white youths."
A lot of the black population of Notting Hill was stunned. They thought of England as the mother country, as a welcoming home. The attacks set them reeling, and some people still think of the Notting Hill riots as the moment when a national myth died. The colonials may have been her Majesty's subjects, but they weren't her children.
And though the police had mounted their largest operation ever, they were largely ineffectual, unable to protect the property or secure the safety of the residents of Notting Hill. It wasn't until the third day of the violence that a group of West Jamaicans counter-attacked, heaving Molotov cocktails into a mob that had gathered outside a popular cafe. As the white mob retreated, the Jamaicans brandished meat cleavers and machetes and gave chase.
Within 48 hours, order was restored. In the end, dozens had been injured and more than 100 arrested. Somehow, maybe because it was nearly impossible to obtain a handgun in '50s London, nobody had been killed.
The second thing that Notting Hill is famous for is the annual Notting Hill Carnival, a celebration of Caribbean music and culture which has its roots in an event organized in January 1959 in response to the riots. Since 1966, it has been one of the largest street festivals in the world, though for much of that time it was a quasi-legal operation that didn't pay much attention to permits and other bureaucratic niceties.
Which meant the police felt they had cause to wade in and ask questions; which meant the residents of Notting Hill felt aggrieved and victimized by harassment. The festivals went on, but there was always an oppressively large police presence looming.
Around 5 p.m. on the last day of the festival in 1976, police arrested an alleged pickpocket, and the crowd turned against the 1,600 police officers superintending the festival. Rocks and bottles were thrown and more than 300 police officers were injured, 35 police vehicles damaged, and 66 people arrested.
Compared to the 1958 riot it was a minor flare-up, but more people around the world know about the 1976 riot because two of the people in the crowd that day, a diplomat's son named John Mellor (who called himself Joe Strummer) and Paul Simonon were in a little-known band that had suffered through a disastrous gig the evening before. They'd come to the festival with their manager Bernie Rhodes for the usual reasons people go to street festivals, to unwind, take in the color and the atmosphere. They got caught up in the riot, and Strummer wrote a song about it, which was the first single released after his band, The Clash, signed a record deal.
"White Riot" is an unfortunate title for obvious reasons, but the song is hardly a supremacy anthem. Strummer wanted to know why poor white people in Britain weren't as angry and proactive as the black residents of Notting Hill who stood up against the police that day. Because, he answered himself, they were mollified by cheap creature comforts: the dole, booze, TV and drugs. For the most part, the police left the white working class alone.
There's a famous picture from those riots, of a young black man with dreadlocks approaching a line of bobbies, that The Clash used for the cover of its Black Market Clash EP in 1980. It looks as though he's about to take on the cops by himself--the iconography is reminiscent of the lone dissident facing down the tank in China's Tiananmen Square in 1989--though he really was leading dozens of punks toward the police.
That man is Don Letts, a club DJ who'd go on to be a filmmaker and The Clash's videographer.
He's quoted in Paul Gilbert's excellent 2004 book about The Clash, Passion is a Fashion:
"[P]eople look back on it as a black and white riot. It wasn't. It was a wrong and right riot."
pmartin@adgnewsroom.com
Read more at
www.blooddirtangels.com
Sponsor Content