THERE'S SOMETHING OF a chill in the air, though not too strong, as a school bus fills the road. The bus is in the middle of the shot's frame, about to leave it, having just passed a stop sign shaded by what appears to be a stand of crepe myrtles. Farther down, where the road's lost in more trees, power lines are illuminated like tungsten in a light bulb by the bright morning light. Driveways with hidden homes lend the scene a feel of small-town America, an everyday scene familiar to so many—but not to the young woman who held the camera, who watched the bus go by as she sat on her friends' porch, eating a bowl of Cinnamon Toast Crunch, taking note of the dew beading on the grass.
---
First time: "This photo was taken during my first road trip throughout the US, when I was 9 months old. My love for both traveling and documenting definitely comes from my parents, as they photographed our adventures at length."
MICHÈLE GIEBING'S RELATIONSHIP with the American South began a little over a decade ago with a series of events that might be called unfortunate: She was 18, a high school exchange student from the Netherlands, set to spend 10 months in the U.S. After some uncertainty as to where she'd end up—she came very close to landing in California—she'd been sent to Arkansas, specifically some 20 miles south of Little Rock. From the beginning, there were problems. There was the matter of the first family that was not a family at all, but a single man, supposedly the local organizer, who was also courting an underage girl from Switzerland. There was a second family, a third family, and a fourth. There were through lines of racism and homophobia as she moved from Hensley to Sheridan to Grapevine and back to East End.
To read through her early blog entries that she kept at the time is to feel a deep sense of shame and embarrassment for the experience, what feels like a complete lack of hospitality and respect for a guest who'd traveled all the way from the Netherlands. ("I find it a very strange situation, but I'm not sure what to do," reads a post, written in Dutch, not long after she'd arrived. "I have no internet or telephone and am almost completely cut off from the outside world in this middle of nowhere called East End.")
In truth, it wasn't all bad. At times, Michèle wrote with fondness for particularly American items, making lists of things she liked, such as hacky sack, bluegrass, candy corn, ranch dressing, the dollar theater, school spirit and prom. In the last post before she left to return home, she wrote that she was reluctant to leave, that she was sad to leave her friends and the experience behind. But even still, knowing all of this, it's difficult to understand why she insisted on coming back.
---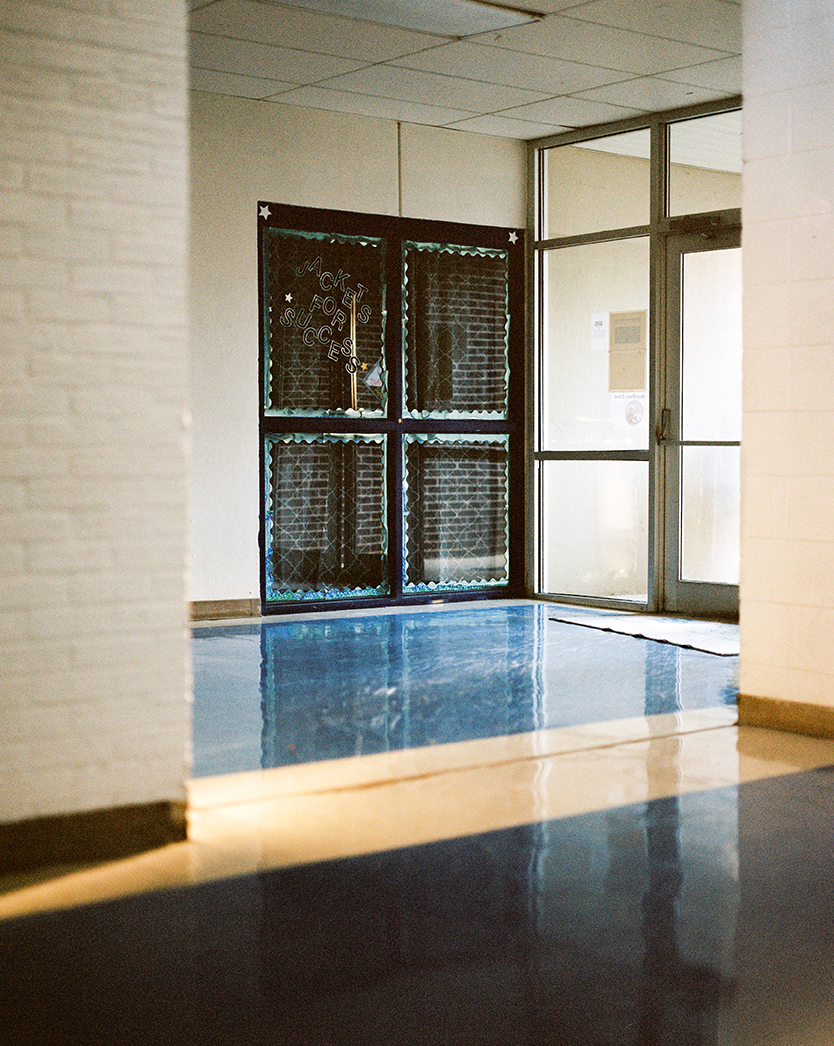 Time/distance: "Being back in Arkansas was like I never left at all. This photo was taken during the surreal event of walking around my old high school. Speaking of time and distance catching up with each other."
LIKE SO MANY of us, she'd grown up in photographs. At her parents' home, a dedicated bookshelf filled with albums of different sizes and shapes offered a snapshot of what it had been like to be her from the time she was very young.
A photo of a camper van, its driver door ajar, desert scrub brush in the foreground, the bluest sky and a long line of striated mesa well behind. A photo, taken from behind, of a toddler-aged Michèle and her mother watching the ascent of a plane made nearly invisible by the glare. An early photo of the family's first of several road trips across the U.S., with a baby Michèle perched atop her dad's shoulders; he holds her with one arm and hugs her mother close with the other. To flip through these images is to experience not just the formative but the everyday, the flashbulb sum of experiences that contributed to the person she became.
After all, it was her parents' documentary impulse—her dad was behind the camera, her mother penned the captions—that Michèle credits for her own wanderlust, for her desire to be immersed in cultures other than her own, and for her drive to study journalism and have a career as a photographer.
It wasn't until 2018, however, when she was several years out of college, that Michèle finally started to work on personal projects. Naturally, photography was at the crux of the work, but in addition to her serving the fundamental role as an avatar for the audience—to show them what it was like to be there in her shoes—the work had an added dimension. These projects were focused on revisiting places where she had already made memories in the hopes of discovering something about herself.
"Observations Over Coffee," for instance, is a series set in Sydney, Australia, where she'd interned for a local magazine many years before. When she came back as part of that introspective, visual soul-searching project, she focused on the people she was seeing in a coffee shop. She seemed to be seeking answers to questions about what that place had meant to her and why it had acquired such significance in her own life.
Arkansas, however, was different.
---
THAT FIRST MORNING back in Arkansas, she'd gone out to the porch, wearing sweatpants and flip-flops, feeling the first hint of a chill, dipping her spoon into a bowl of Cinnamon Toast Crunch, one of the first purchases she'd made after arriving stateside. This was also around the time when she realized she wouldn't be able to carry out the project she'd planned: As she heard stories from her friends, she realized that it couldn't just be about her own memories and what the place had meant to her. Too much had changed in the interim.
"Being proud of your country is so much more embedded into the daily life of Americans. I remember being surprised on my first day of high school when my classmates would stand up to say the Pledge of Allegiance, facing the flag. Well, that sure is embedded in me, too, now. I don't think I'll ever forget the words to the Pledge."
This was putting it mildly. In the decade since she'd left, many of her Arkansas friends and classmates had fallen on hard times. There had been many deaths, the results of drugs, car accidents and suicides. Even the house where she was staying—the home of a friend who'd offered to put her up during her stay—was nearly empty, having recently been burgled. However, something that she noted, which is a recurrent theme in her writing and photography, was the resilience she'd seen in so many of them.
"When people ask me how I've had it in Arkansas, it's hard to answer 'nice,' she writes. "It was intense. It was intense [sic]. I knew beforehand that it would not be a walk in the park, but I still underestimated it. But—how shocked I was by all the problems. I was also surprised by resilience and courage. Despite all the setbacks, they go for it. And so they try again. And again, every day."
---
DURING THE MONTH Michèle spent in Arkansas, she tried to visit and photograph every place where she'd previously made a memory: where she'd gone to school, where she'd eaten, where she'd walked, where she'd hung out, where she'd lived. She met with old friends and heard stories of where life had taken them. She didn't want to have grand adventures or see the sights. Instead, she wanted to live life, to experience it fully.
They're true images, in the sense that what you see is what you get. They're unvarnished and unafraid. There's a lot of blue sky, same-shaped buildings in various states of habitability, portraits of people she'd known a long time before—people who, despite the time that elapsed and the former distance between, made her feel like home. Although she'd been apprehensive about returning to Arkansas, to places where her former memories had been put away like time capsules, these photographs built on those without replacing them, a means of holding onto everything for a while longer.
For someone looking in, particularly those of us who are residents of this state, who know its shortcomings, who know its caricatures and stereotypes, it can be a little tough to take in. You want to say, There's so much more than this. But at the time, there can be little doubt: The outsider perspective is a necessary one, and it's refreshing in its own right—to know how we're seen. There are reminders that we can be better, that we should give more people voices, that we could allow more people to be seen and, most important, that we need to take better care of those around us.
---
ON THE WALLS of her co-working space in Arnhem, an hour southeast of Amsterdam, there are wedding photos, black-and-white images of budding love. The space is light, airy, with light-colored wood-and-glass walls, and behind Michèle's head, you can see people passing through the hallway, revealing that it's a busy place, even in the midst of the quarantine. It's a far cry from what she'd left behind in Arkansas.
But yet, even a few months after returning to the Netherlands, Arkansas is very much on her mind. Just a few days before, her office had been partially filled with stacks of boxes containing prints of photographs she was sending to her friends back in Arkansas. The reason is largely because of how the project developed when she was there.
"The meaning of this work now is, it's almost like my declaration of love," she says. It was a way of showing them that they were seen and heard and appreciated and loved. "I would love for them to see their photo on the wall and for me to be able to say, Look, you're a work of art."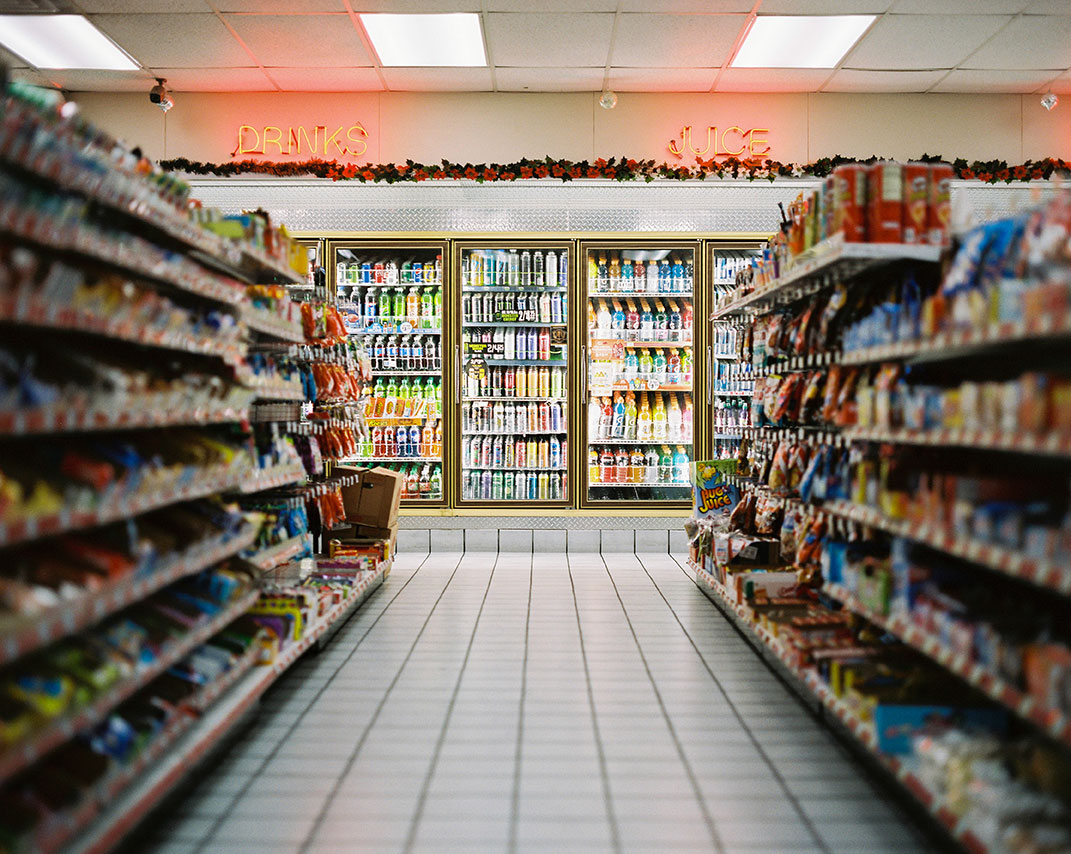 Time capsule: "Scenes like these are like a little time capsule to me. They transport me right back to when I was 18 years old."