THIS YEAR'S Annual Delta Exhibition was already going to be a bit different than in recent years. If you've visited Little Rock's MacArthur Park since October, you miiiiiiiight've noticed that the Arkansas Arts Center, which has hosted the exhibition for the past 62 years, is undergoing a major renovation. The AAC's entire building is currently being reimagined for a new center set to open in 2022, so plans were needed to be made for an alternate venue to host the Delta Exhibition in the meantime. Originally, the center intended to split up the exhibition and display the works in four separate locations: the Historic Arkansas Museum, the Thea Foundation, the ACANSA Gallery and the Argenta Branch of the William F. Laman Library.
But that was before COVID-19 brought about widespread social distancing and self-isolation.
Ultimately, it was decided that a physical exhibition wasn't going to be possible. But the thought of not hosting the Delta Exhibition—one of the longest-running and most prestigious in the region—in some form seemed unfair, too.
"It's so optimum to look at art in person, to see the real thing right in front of you, and certainly, as an arts organization, it pains us that we can't do that," says Dr. Victoria Ramirez, executive director of the Arkansas Arts Center. "But at the same time, you know, artists have been working on their work for [the Delta] for months— some for even a year since the last exhibition—and the thought of canceling it just wasn't right. We had already secured the juror. We had already thought through the details of the award ceremony. So really, it was just a matter of shifting it all online."
So this year, for the first time, the 62nd Annual Delta Exhibition will be held in a digital-only format. We spoke to Dr. Ramirez about the decision, what the digital exhibition will look like and how the decision will affect the Delta Exhibition in the future.
I think the big question is how in the world do you take on something like this? How do you hold an exhibition that's built on people coming and seeing the art in a time when they can't really do that?
So the exhibition will open as planned in June, and it'll be available for any and all to see online [free of charge] with a link provided through our website. We'll also have the award ceremony in June, where we'll hear from our juror, and we'll be able to announce the awards that were given, and we're still going to distribute awards and recognize the artists for their good work.
Now, I think like anything, we're always looking for the silver lining in this new normal, and this does give us an opportunity to potentially reach more people. Definitely people from outside of the Delta can see the talents of the artists in the Delta. And then, of course, the exhibition can be on view for a lot longer than perhaps it would be if it were at a traditional venue.
The other really neat thing that we're doing—we will be hosting artist talks. So we'll be able to hear from artists whose work is in the show. The artists will probably be Zooming in from their studio or from their home. But it gives us a good opportunity to meet more of them, to potentially see where they work, see their surroundings. There's nothing like an artist talking about process, but talking about process in the studio and seeing the studio is really exciting. You even find yourself looking at the shelves in the back, and you know, How neat is it? And how messy is it? And sometimes it's very surprising, too, to see the workspaces that artists create for themselves.
So, as a regional exhibition, this may be one of the most effective—certainly cost-efficient, but effective—ways that we'll be able to reach the region.
Because there are some positives to holding the exhibition online—cost-effectiveness, accessibility— what do you think the lasting impact of this situation will be? Will it change the way the Arts Center holds the exhibition in the future, even after we're no longer having to do social distancing?
Aaron Calvert
I think it could potentially. You know, certainly with our new building, we're going to want to make sure that we're showcasing the work in that space. We want to make sure that we continue to underscore the value of seeing original works with them in front of you. But at the same time, you know, one of the most important things about the Delta is showcasing the artists who are doing exceptional work in the Delta region. And, you know, that's all great for us to see. But it's also important for people outside of our region to see. So to think about having some kind of online component as part of the physical exhibition moving forward, I think, is a really compelling idea, and I actually think it's an idea that a lot of art museums are thinking about, too.
We always valued the physical interaction. We want people in our space, seeing our objects, meeting us. But the truth is, we might be able to make a broader impact when we leverage technology, whether it's for an exhibition or for a program. So there could be some lasting sort of results, even when we're finally post-pandemic. It's also kind of exciting to see that in many ways, the more we put exhibitions online, the more we're developing an archive for this particular program. Certainly, we have an archive of checklists and photographs and various materials that show the Delta Exhibition every year that we've had it on view, but this could be an archive that could be available to anybody. It's almost like we're opening up our vaults and saying, You can come visit the 2020 Delta whenever you want.
It's really interesting, too, because museums have always done technology-based programming since there was technology, but the concern has always been accessibility: What if somebody doesn't have the equipment? What if somebody doesn't have Wi-Fi? What if somebody doesn't know how or is just afraid of it? I don't want to use my computer in that way because I might break it kind of mentality. And I think so many people in the past few months, in many ways, have been forced to use technology in ways that they haven't before. So they're going to be that much more inclined to say, Oh, I've done a Zoom meeting before. I'll do a Zoom artist's talk. I'm familiar with that.
What were some of the challenges that came along with transitioning the exhibition to an online event?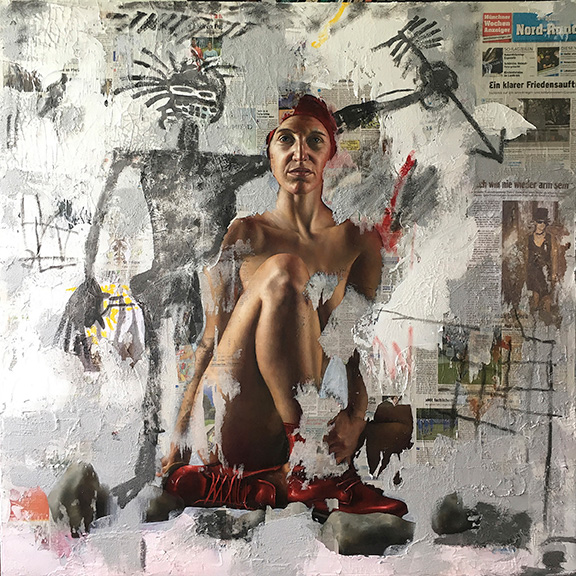 Anton Hoeger
You know, every exhibition tells a story. And when you curate an exhibition, you're not only selecting what's in it, but you're selecting what you want the visitor to see first, what you want them to see after that, what the groupings look like, what is hung or on view adjacent to one another. You want that story to unfold as people walk through the galleries. So, of course, the big challenge is we could have that level of control with the narrative and tell people which works they're going to see first and second and so on and so forth. But really, what we decided is, we needed to leverage what technology allows us to do that you couldn't do in a physical space. We're still working through the details, but as an example, we found that it would be really helpful if people could search the exhibition. They could look for a particular artist; they could look for artists who were coming from a particular state or region or town; they could do a search for medium. So in some ways, we're not going to be telling that story. The visitor will be able to come online, and they'll be able to tell that story themselves. And that's just a very different way for us, as a museum, to work and for our curators to think about that kind of experience.
Is it hard to let go of that control over the exhibition's narrative?
I don't know. I mean, we're living in such an unusual time right now in so many aspects of our lives where we don't have control. We don't know what's coming next week or in two weeks. So it feels right, now. It's important to us that the works as individual objects and the show as a whole mean something to people. And if giving up control helps this project mean something to more people, mission accomplished.
What will the exhibition actually look like online to the user?
We're still working on that now. We have an older website, so we've had to use a completely different platform to build this exhibition, and we're still working on those details. Fortunately, we'll be launching a new website next year. So it's kind of exciting to think that what we might learn from this online
Delta Exhibition
could be applied to the new site. Our current website was just not robust enough to offer something like this. So we've selected an entirely new platform, and we're building it from scratch. And I have to say, I'm really excited because we have staff who have this kind of talent, and we're doing it in-house. This is being done by Arts Center staff.
What can you tell us about this year's juror?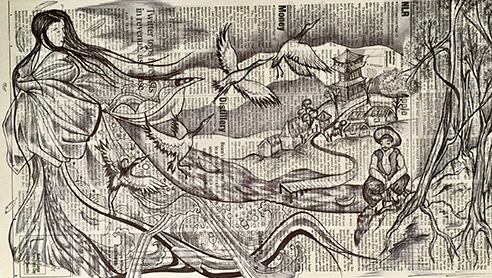 Stephanie Williams
Stefanie Fedor—she's out of Richmond, Virginia. She's a professional that's been working in the visual arts for decades, and she really brings a fresh perspective to this year's show. She's somebody who doesn't reside in the Delta, either. So it also means the community that she's in, in some ways, informs and shapes her selections and what she feels is the strongest work. She will be providing a juror's statement, and she'll also be providing an introductory talk at the award ceremony, so we'll be able to hear from her. I think it's really interesting when you have these kinds of regional exhibitions, to some years have jurors who sort of reside within the community, and then some years have jurors who don't. You tend to get a different array of work, and you tend to get just a different lens that someone's using to assess. I mean, it's exhausting. I have to say, I served as a juror before, and it really is challenging to assess every work and think to yourself, OK, how do I choose the top 25 or 30 percent? And what is that criteria? So that's where, when you have a juror who is very accustomed to reviewing contemporary art, reviewing regional art, they sort of bring a little bit of an edge to them, and that was definitely something we saw in Stefanie.
If you had to give a teaser sentence to sort of contextualize this year's selections, what would you say?
I would say there are a few surprises. Of course, I've only seen images. But there's some pretty phenomenal 3-D work. What's also really exciting is that we were able to contact the artists soon enough and get some really beautiful high-quality images, which can be difficult with sculpture when you're showing them in a 2-D format. But there's some really imaginative and surprising 3-D work that uses some unusual material, too. I think in many ways, it's going to surprise people what artists consider to be fine-art materials. It's not all oil paint, marble, which we all have on hand, right?
Has there been any response from the artists in regard to their work being displayed in this online format?
Everything's been real positive that we've heard. There was a lot of concern that the
Delta
show would not happen. These artists had already put so much work and so much effort into submitting their work, and there was the sense of disappointment that it wasn't going to happen, and we were able to say,
No, it's happening, just in this way
. There was concern that we wouldn't have the awards. And again, the awards and the funding for the awards have been provided by private donors, and that money is earmarked for that particular reason. So cash awards will be given, and we're gonna carry on.
Schedule
June 19 - Aug. 23:
The Arkansas Arts Center's
62nd Annual Delta Exhibition
June 18 at 6 p.m.: Virtual Juror Conversation and Awards Announcement (Register to watch at arkansasartscenter.org/delta)
Virtual Studio Tours and Artist Talks
All talks will be held at noon via Zoom. Register at arkansasartscenter.org/delta
June 23: Delta Artist Virtual Gallery Talk: Ajamu Kojo
June 30: Delta Artist Virtual Talk and Studio Tour: Barbara Satterfield
July 21: Delta Artist Virtual Conversation: Joel Boyd and AAC Education Director Rana Edgar
July 28: Delta Artist Virtual Talk and Studio Tour: Joe Morzuch
Aug. 4: Delta Artist Virtual Conversation: Louis Watts and AAC Chief Curator Brian J. Lang
Aug. 18: Delta Artist Virtual Conversation: Kayla O'Neal and Sharon Havelka with AAC Chief Curator Brian J. Lang