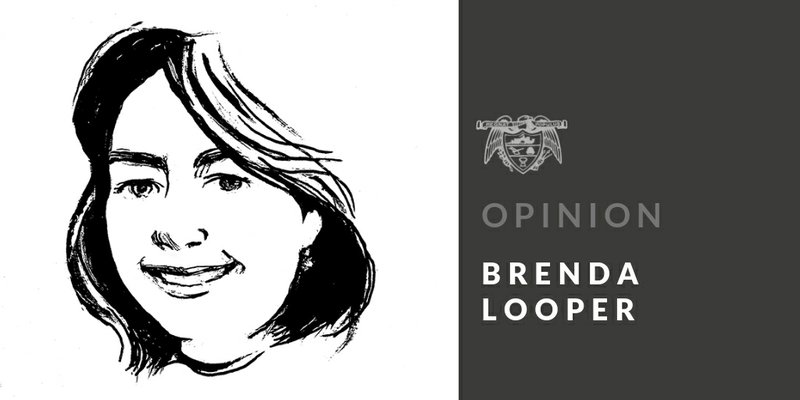 Brenda Looper
It's been hard over the past few months to find rays of sunshine. Between quarantine strictures (with lots of people not even attempting to follow them because protecting everyone's health is apparently political) and social upheaval, many of us have struggled to see the positive.
But there have been good things happening.
• People have come together to fight for positive change. While there have been riots and looting, the actual protests of George Floyd's death have been largely peaceful, and have already reaped changes. Many who have used the protests to further their political agendas aren't getting quite the traction they expected, especially those who have misused images (such as those from earlier riots that have nothing to do with the current protests) to portray a much more lawless picture of protesters.
Floyd was neither all good or all bad, and neither are we. He had troubles in his past, but had largely turned his life around since moving to Minnesota from Texas. In his death we are finding impetus to challenge the status quo, but must remember that peace speaks more convincingly than violence when it comes to change.
• New Zealand Prime Minister Jacinta Ardern was able to declare her country virus-free, with no known active cases of covid-19. She told reporters that she "did a little dance" to celebrate the news. Because of the lockdown that began March 25 when there were 200 cases in the country, New Zealanders are now able to return to nearly normal life. New Zealand ultimately had 1,154 cases and 22 deaths.
• Scientists at Harvard found that altruistic acts can help you live longer, reports Positive.News: "A study of 13,000 adults in the U.S. found that people over the age of 50 who volunteer for two hours a week have a substantially reduced risk of mortality, less chance of developing physical impairments and an improved sense of well-being compared to those who don't." The study was published in the American Journal of Preventive Medicine.
Study co-author Dr. Eric Kim says it fits with another study that showed that being kind can help people cope in a crisis such as the covid-19 pandemic. "If you are able to do so while abiding by health guidelines, you not only can help to heal and repair the world, but you can help yourself as well."
• Antonio Gwynn Jr., a Buffalo, N.Y., high school senior, just wanted to make sure people in his community wouldn't have trouble commuting to work the morning after protests, so he began cleaning up beginning at 2 a.m. and continuing till noon. The Good News Network reports that when an organized group showed up the next morning to clean up, Antonio had already done most of it.
Because of his initiative, another community member gave Antonio a red 2004 Mustang convertible, a local insurance agent is covering the insurance costs for a year, and Madaille College in Buffalo offered him a full scholarship. Good News reports: "Antonio, who is involved in many community projects at church and with Kappa Phi, said that--although he is grateful for the gifts of help--above all, he hopes that his actions have made his late mother proud."
I'm pretty sure she is. I know I am.
It's the little bits of news like these that give me cause for hope. We still have a lot of work to do, especially to get past the divisions that have festered in the past few years and have made reporting news an unintentional (in most cases) political statement. Still, I think we have a shot.
One of the truest pieces of advice I ever received was simple: You can't please everyone, so don't even try.
Pessimists would take that last part as the essential core: You won't have an effect on anything anyway, so why even put out the effort? Optimists would take the first part as a challenge ... and would ultimately find out that it's true. Realists understand that not everything you do will be pleasing to everyone, but it shouldn't stop you from making an effort: Some will be pleased, while some won't, but they'll all have been affected in some way, even if it means you receive brickbats.
(Word Nerd word for the day: brickbat, meaning critical comment. You're welcome.)
That advice has come in most handy in this job, with compliments and complaints coming to me most days for things printed or not printed on the Voices page, as well as for things I have nothing to do with, such as news coverage and comic strips (because I'm all-powerful, apparently). I don't mind, but I pass those comments on to those who handle those things. (I've also asked where I can apply to be all-powerful, but haven't gotten an answer.)
Do I make mistakes? Yep, all the time ... it's what happens when you're human. The best we can do is to learn from them and try not to make the same ones.
I learn more from criticism than I do from compliments, as should we all. If all you ever hear is the good, you won't realize you can always be better.
And we should all at least try to be better.
Except cats. They're already better. If you didn't know that, they'll tell you.
--–––––v–––––--
Assistant Editor Brenda Looper is editor of the Voices page. Read her blog at blooper0223.wordpress.com. Email her at blooper@adgnewsroom.com.
Sponsor Content