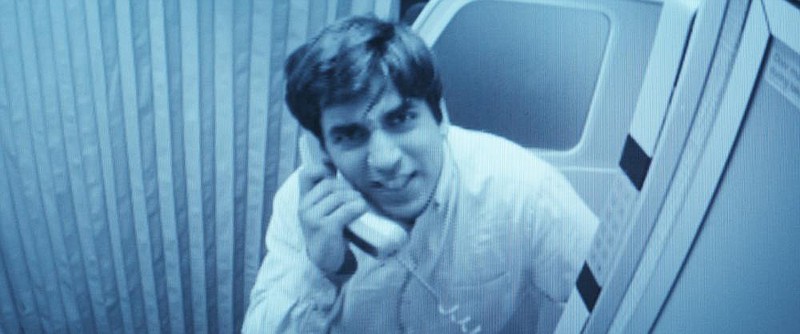 Vedat (Omid Memar) is an 18-year-old who is somewhat ambivalent about sky-jacking an Airbus A319 in Patrick Vollrath's debut feature, the claustrophobic thriller 7500, which was filmed almost entirely in the airplane's cockpit.
German director Patrick Vollrath's feature debut begins and ends in silence. An eerie sort of silence in which the implication of things is vastly more disturbing than anything we actually witness. The film opens via a series of closed-circuit, grainy shots from the security cameras at the Berlin Airport. Nothing is readily apparent at first, but Vollrath's camera helpfully gets a closer look at certain passengers making their way through security, and then in and out of a men's bathroom, carrying suspicious-looking backpacks. The sequence ends with an excruciating shot of one of the airport gates, people scattered about in their seats, idling their time until the call for boarding, and for every second the shot lingers, the tension rises geometrically.
We next see the flight's co-pilot, Tobias Ellis (Joseph Gordon-Levitt), studious and confident in a way that belies his years — when asked his age by the captain (Carlo Kitzlinger), a gregarious sort, Tobias tells him he's 31 but has already been flying for a decade — as he settles into the cockpit and starts to perform all the requisite pre-checks, and counter checks with the captain. Vollrath follows these complicated ministrations with a meticulousness that adds to the growing tension. By this point, we understand something terrible is going to happen, but rather than simply give way to it, Vollrath squeezes us as if we were a bowl of ripe limes, letting the tension build, and adding to our discomfort with his penchant for holding onto shots — such as the cockpit monitor behind them that allows the pilots to see into the main cabin — for several beats longer than necessary.
In short order, a few things are established early: Tobias is an American living in Germany with his partner, Gökce (Aylin Tezel), one of the flight attendants on board, and they have a young son together for whom they are desperately trying to find a good preschool. As the flight begins its ascent, the camera keeps lingering on the cabin monitor — even as the attendants close the curtain blocking our view of everything but the galley just outside the locked cockpit door. As the pilots continue their normal routine, behind them the monitor shows a corner of the curtain being lifted just a bit, several times. Right up until one of the attendants brings the pilots their dinner, allowing the cockpit door to open for a couple of seconds.
When it does happen, it comes like a furiously onrushing wave: A couple of men brandishing some sort of blades come flying into the cockpit, and the pilots have to fend for themselves against them. Tobias manages to push his assailant back into the galley, locking the door behind him, while sustaining a knife wound to his left arm; the captain doesn't fare as well against his man, getting stabbed repeatedly. When that terrorist is finally subdued, and knocked out, Tobias is forced to take control of the plane and try to execute an emergency landing in Hanover, some 20 minutes away.
Despite the action-drama setup, Vollrath's film moves meticulously and with such precision, the tone is far removed from the pumped-up gloss of the average bang-bang. It's as if he'd made Sully as a Dogme film. When characters take physical punishment, the wounds are for more than macho blood-splatters. His arm stabbed early, Tobias struggles with the pain of the wound for the entire film, the simple act of putting on a headset, or fastening a seatbelt, becoming agonizing.
Throughout, Vollrath's atmospherics are extraordinarily effective. With the cockpit door locked and sealed, the remaining terrorists frantically attempt to break it down by hammering against it with anything they can get their hands on, producing an unceasing flurry of pounding that almost never lets up, increasing the tension further. In one memorable scene, Tobias attempts to administer CPR on the captain, one-handed, with one KO'd terrorist strapped in a seat on one side of him, and the relentless pounding of the door on the other. Increasing the claustrophobic element, we rarely get to see what it is the other terrorists are doing, but for occasional shots of them wailing away on the door, or when they grab a passenger and threaten to kill him if Tobias doesn't open it.
Tobias' general unflappability gets challenged in ways global, and deeply personal, but because of Gordon-Levitt's marvelously nuanced performance, we can see the struggle within him, the adherence to procedure and protocol that enable him to stay focused on landing the plane, preserving as many lives as he can. Gordon-Levitt, always an emotionally lithe actor, has added dimension to his countenance as the years have begun to pile up, a maturity that enables him to present a character completely devastated by circumstance, and willing away any emotional provocations, no matter how ruined he may feel.
If the film has a weakness, it's in its dead-simple politics — the terrorists are Muslim, trying to avenge the deaths of their people, an act the film shows to be desperate, cowardly and ill-prepared — such that the Gandhi quote that serves as the film's epigraph ("An eye for an eye only ends up making the whole world blind") feels a bit on-the-nose for a film otherwise so careful in its construction.
Despite the facile cliche element of the terrorists, Vollrath's debut remains duly impressive. One hardly needs to feel more stress and anxiety at this point in all our lives, but at least this source of anguish comes with (silent) closing credits.
More News
7500
88 Cast: Joseph Gordon-Levitt, Omid Memar, Aylin Tezel, Carlo Kitzlinger, Murathan Muslu, Paul Wollin
Director: Patrick Vollrath Rating: R, for violence/terror and language
Running time: 1 hour, 32 minutes In English, German, Turkish, Arabic This movie is streaming on Amazon Prime.
Sponsor Content