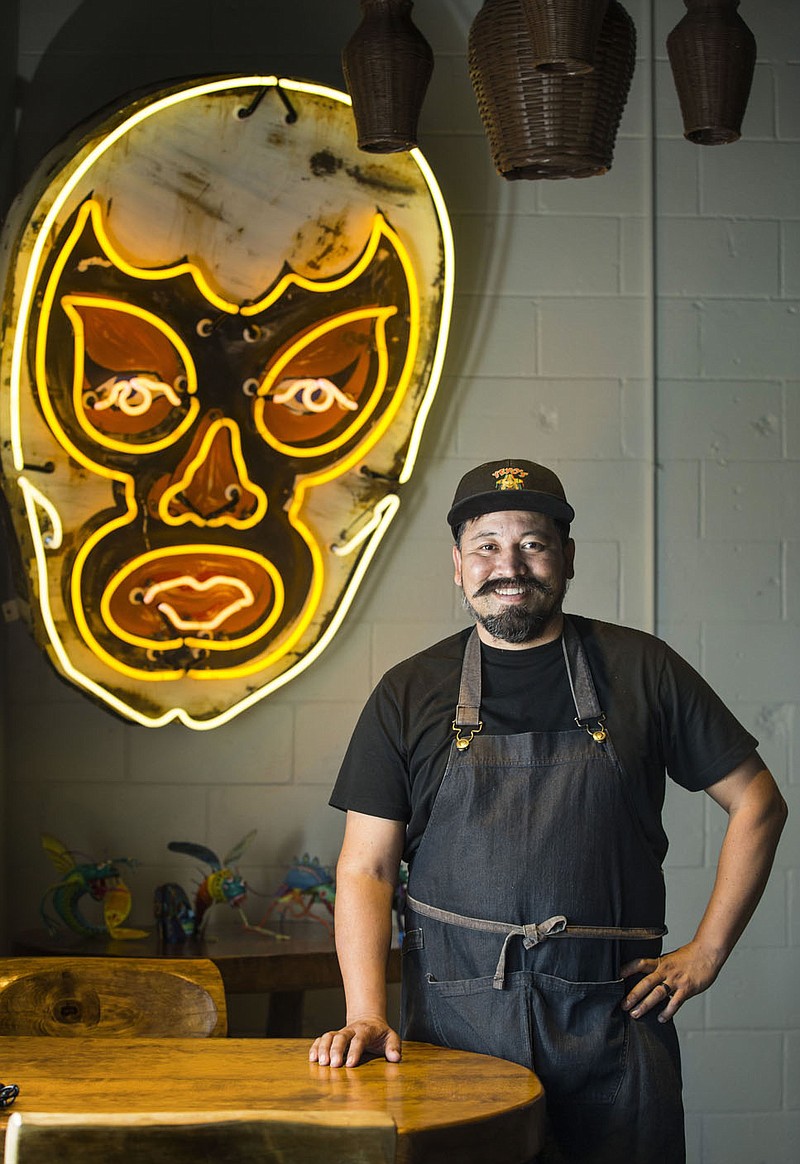 Rafael Rios poses for a photo Tuesday, June 16, 2020, at Yeyo's Mexican Grill in Bentonville. Go to nwaonline.com/photos to see more photos. (NWA Democrat-Gazette/Ben Goff)
Step through the door of Yeyo's Mezcaleria y Taqueria in downtown Rogers -- the newest culinary experience offered by Rafael Rios, the founder and executive chef of Yeyo's Food Truck and the brick and mortar location at 8th St. Market in Bentonville -- and you step into a different world.
The walls are covered with beautifully designed Mexican folk art masks. Over 200 specialty bottles of Mezcal, a distilled alcoholic drink made from agave, line the shelves behind the bar. Intricately detailed artworks by artist Octavio Logo offer a feast for the eyes. One massive art piece that's the focal point of the first floor of the space -- a collaboration between Logo and artists from the University of Arkansas and Terra Studios -- is centered around a photo of the calloused, tough hands of Rios' hardworking father, Hector, whose childhood nickname, Yeyo, inspired the name of Rios' establishments. The piece hangs from the wall on chains from Hector's 1972 Kubota tractor.
The entire space, in fact, is exactly what Rios intended it to be -- a love letter to his heritage and a chance to share the culture, art and, most importantly, the best of food and drink from Mexico with the Northwest Arkansas community. It hews closely to his original mission with Yeyo's, back in 2012, when Rios opened his food truck on the Bentonville square.
"I wanted to bring people together and make sure that Mexican food is perceived in a different way," he says. "You know, like when you think of quality, when you think of flavor, when you think of healthy options -- that's my goal. It was my goal then; it will always be my goal. I don't want people to think that they have to go for a 20-mile bike ride after they eat my food."
Now, with the Mezcaleria, Rios is sharing more of his heritage with the community.
"We're going deeper into the culture than just a sombrero," says Rios, an excellent storyteller whose sunny disposition is reflected in his choice of Bobby Ferrin's Don't Worry, Be Happy as a cell phone ring tone. "There's much more to it, and we want to showcase that. We want to make sure that people truly understand what we're doing -- where we came from and where we're going."
Hence the focus on Mezcal, the national spirit of Mexico. Rios' Mezcaleria, he says, is the first one of its kind in Arkansas.
"Usually, they're only seen in huge cities, like Mexico City, Chicago, San Francisco, New York," he notes. Mezcal is commonly produced by small companies, often family-run for generations, in small batches. "We have the largest selection of artisinal Mezcal in the state."
It's March 10, and the weather is warming. Rios is looking forward to opening the Mezcaleria's patio, which can hold around 40 patrons. Rios' outlook is as bright as the spring weather, but by the end of the week, Northwest Arkansas will be rocked by a succession of national and local cancellations and closures due to the covid-19 global pandemic.
The months since then have been particularly rough on the restaurant industry. On March 19, Gov. Asa Hutchinson ordered restaurants to stop serving dine-in customers in an effort to stem the spread of the virus in Arkansas. Though some restaurants opened back up with restricted seating on May 12, nothing about the situation has been easy.
"There was a possibility of failing, so there was this fear on us," admits Rios in a mid-June follow-up phone call. "We had to make some tough decisions."
Those decisions included laying off some personnel -- excruciating for a business that has low staff turnover and close relationships with its employees -- and revamping its website and social media feeds to accommodate online ordering and curbside delivery. The Mezcaleria -- open for only a few weeks prior to the shutdown -- was shuttered for the duration. Rios says opening it back up is dependent on when employees of the large corporations in the area, like Walmart and Tyson Foods, return to their offices -- representing, he says, thousands of customers to both the Rogers and Bentonville locations. Meanwhile, take-out business has been brisk, and Rios says he's grateful for how people have adjusted to the new -- albeit temporary -- normal.
"Our customers have really embraced this, and they've been part of our success during the past three months," he says. "We made them part of the decision-making process by asking what their favorite dishes were and what they would like to see on the [takeout] menu."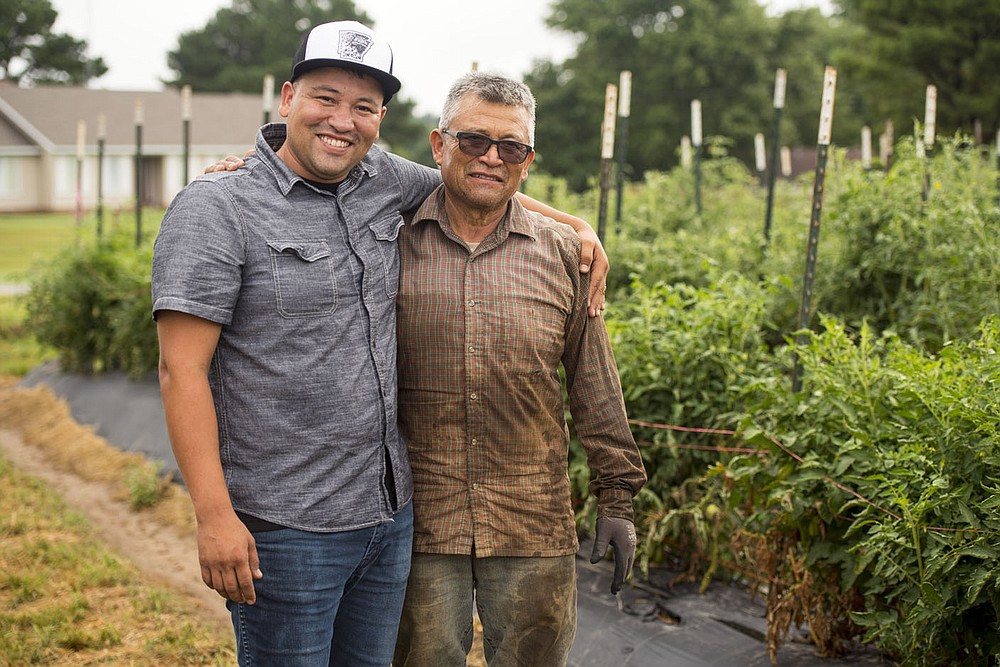 NWA Democrat Gazette/SPENCER TIREY Rafael Rios, left, stand with his father Hector Rios at thier family Friday July28, 2017, in Rogers. Rafael Rios and his family are playing an interesting role in the Bentonville culinary scene. Refael Rios operates YeyoÕs food truck in downtown Bentonville. His family also owns a farm in Rogers, which supplies several restaurants in Bentonville. His next step is opening a physical location in the Eighth Street Market.
Family first
Also critical to keeping the business afloat since March has been Rios' family -- his mother, father and six siblings.
"At some point, all seven of us and our parents were all here working, like with the production of tortillas on Mondays," says Rios. "Our family was ready to engage and help us through it all. I just have to call upon them and say, 'Please come, we need some help,' and they're here in minutes. We're super blessed to have a family that is united in tough times. It really pays off."
You'll find the Rios family all over the Yeyo's website: Two brothers, Roman and Fernando, are listed as partners, and gorgeous, color-saturated photos of his six siblings, their families and the family's farm in Little Flock emphasize the idea that this is a family-run business. But this isn't just some glossy marketing ploy; the Rios family as both inspiration for and contributors to Yeyo's success is indisputable. Rios is most animated when he tells warm, humorous stories about his childhood and his current relationship to both his immediate family in Northwest Arkansas and the extended family that remains behind in Mexico.
"We're very close," he says. "But we do have really heated conversations. When we get together on Sundays, we go to church and have dinner together and cherish that moment at the table. But after it's all done, we usually start a good topic to discuss, and it gets really heated. And then we'll go home, and we're just like, 'Hey, don't forget tomorrow we have this coming up,' or something like that. We work things out all the time. And then we're back there on Sundays again and do it all over again. But we truly take care of each other really well."
Rios was born in Tulare, Calif., the son of migrant farm workers who traveled seasonally between Mexico and California. Until he was 14, he was raised in the Mexican state of Michoacan, his immediate family surrounded by a close-knit group of aunts, uncles and cousins who looked after him and his siblings when his parents traveled for work. His father, Hector, who worked for Underwood Ranches near the Simi Valley in California, was enormously popular in the community. Rios can give you a number of charming details about Hector that offer a sense of what kind of father he was: He bought cases of candy bars on sale to distribute to the neighborhood children. He was the only person in their small community who owned clippers, and kids would line up so that he could cut their hair. His tiny 1972 Datsun truck was bright green, "like a parrot," and when Rios was young, his dad would corral him into selling produce, door to door, out of the back of it. That's just one way he encouraged his kids to have as strong a work ethic as he did.
"He was always an example to follow, even by grown-up people in our community," says Rios. "They would say, 'Dude, your dad is a beast. No one has ever worked so much and loved his family so much.' To hear that from other people was really special."
Yeyo's -- the business -- was born at the intersection of fresh, healthy produce and traditional Mexican cuisine, and, says Rios, both of those aspects come from his rich family history. Both of his parents were wonderful chefs with distinctly different styles. His mother could create technically difficult and delicious meals by carefully following a recipe, while his father seemed to cook on instinct alone.
Hector's affinity for growing things, says Rios, was another inspiration.
"He enjoyed creating food," notes Rios. "Attending to his plants and trees and peppers. That's what he's done his whole life back home, tending to his avocados, fruit trees, vegetables ... he introduced us to broccoli for the first time. He introduced us to spinach for the first time -- which we hated. Cauliflower. All of those things -- great, great stuff, and that was when we didn't have anyone around us who ever ate anything like that. So sometimes we hated it, but these are the things that he absolutely loved."
Serving his country
Hector, says Rios, was intent on moving his family to the United States. He started the process in 1976, says Rios, and the family found out in 1989 they were eligible to move. They relocated to Oxnard, Calif., when Rios was 14 years old.
It was a tricky transition. In the 1990s, the demographics of Oxnard were shifting, and racial tensions in the community frequently spilled over to the high school that Rios, who spoke no English when he first moved, attended. His parents were careful and strict and kept him and his siblings out of trouble by monitoring who they were hanging out with and what they were doing. That strategy worked -- the worse thing Rios and his siblings ever got in trouble for was fishing without a license -- and Rios remembers their time in California fondly: family cookouts in Arroyo Verde park, day trips to the beaches and hiking in the woods. As Rios approached high school graduation, he developed a desire to serve in the armed forces, a decision with which his worried parents strongly disagreed.
"They were in Mexico when I joined," says Rios with a slight wince. He had deliberately waited for their annual trip home to enlist, because they objected so strongly to the choice. Rios says he regrets that now. "It was actually a really bad thing. But, I said, 'I want to serve. Look where we're at.' My thing was always that I'm thankful." He says that he could look around him and see families that were separated, that weren't allowed to reunite in the United States because of their citizenship status, and he was so grateful that his family was not in that same situation.
The decision caused a rift in the family -- a first -- that lasted until Rios' graduation from basic training from Fort Sill in Oklahoma.
"They sent my oldest brother, Fernando, to my graduation," he says. "It was one of the most beautiful moments in our lives, because he had never been in an airplane before. I wasn't expecting anyone to show up. Then, come graduation time, we're marching into the bay, and I see my brother sticking his head up, looking for me. It was a super touching moment. He's only a few years older than me, and he had never been outside of the state by himself. So that was really touching."
The Army opened up the world to Rios, and he thought he would make a career of it. Four years after he joined, the Sept. 11, 2001, attacks on the United States meant two deployments to Afghanistan. Wartime deployments were just what his parents had feared when he joined the Army.
"We would talk every day," says Rios. "I would tell them, 'I'm learning ping pong,' and I would show them a video. 'I've got a good backhand!' It was just to cheer them up. I always thought about them before I thought about me."
To handle his own stress, Rios turned to a familiar theme.
"I made friends with the cooks so that they would give me leftover chicken, and then I would give the chicken to the Indian contractors, and they would give me some marsala back," he says. "So I would make all of these people happy, and they loved me. The same with the Turkish -- they had some great feta cheese and olives, and their barley soup was amazing. They had this huge oven that I fell in love with.
"I got in a little bit of trouble for that, as well. But there's a human side to all of us, and I believe that rules, obviously, are to be followed, but they're also meant to be broken." Rios bent some rules, he says, in order to "motivate people to come together in a place where we all have a single goal, which is, hopefully, to bring peace. So I was a little rebellious in the name of that."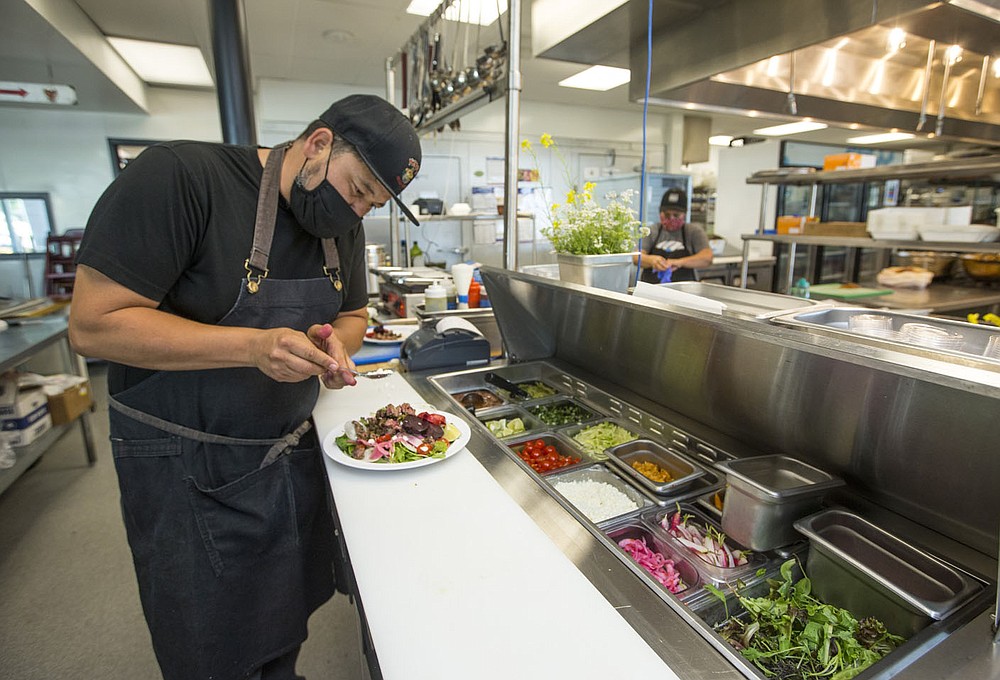 Rafael Rios prepares a steak salad Tuesday, June 16, 2020, using only produce from Rios Family Farm at Yeyo's Mexican Grill in Bentonville. Go to nwaonline.com/photos to see more photos. (NWA Democrat-Gazette/Ben Goff)
Cooking for community
Cooking was a way to communicate, to build community and to release stress -- but Rios didn't consider it as a possible career at that point in his life. He expected the military to be his career, but that changed during his second deployment to Afghanistan. It's not something he likes talking about.
"It was good," he says of his 15 years of service. "I loved every single minute until my last appointment. That was it. Something changed there, and my heart said, 'You're not to do this anymore.' And I asked for my exit out of the military."
His brother, Roman, had already relocated to Northwest Arkansas, and, on a trip through the area, Rios had noticed how affordable land and houses were. Shortly after leaving the military, Rios and his entire family packed up and moved to join Roman. They sold their California house at the height of the housing boom at such a profit that it allowed Northwest Arkansas housing for everyone -- as well as ample land suitable for farming, so that Hector could finally have the extensive farm of which he had always dreamed. Before long, Hector's skill at working the land left them with far more harvest than they could eat themselves, so they started setting up at the Rogers Farmers Market. Business was slow, at first, but when the family switched to the Bentonville Farmers Market the next year, they found their niche. The revitalization of the downtown Bentonville area, spearheaded by Daniel Hintz and the Downtown Bentonville organization, was in full swing.
"I always talk about [Daniel] because he was the person that said, 'Dude, we got you. We're going to do this, and we're going to support you, and we're going to tell everybody what you're doing and what's happening," remembers Rios. The family's produce was a huge hit, and they often sold out, sending family members racing back to the Little Flock farm to bring even more produce to sell. Local restaurants started taking note.
"I was drawn to Rios Farm about six years ago when I moved here," says Matthew Cooper, executive chef at the Bentonville restaurant The Preacher's Son. "I heard about this amazing family that had an authentic food truck and that happened to be one of the first organic growers in the region. So I went to check them out, and we pretty much immediately became family. I love the passion and integrity of this family because that translates to everything they do. They care about this community and its success, like myself, and continue to try to evolve and grow with it."
When Rios decided to go forward with his dream of opening a food truck, the reception of downtown Bentonville was immediate and overwhelming.
"Now we were linking the food truck and the produce," says Rios. "The people were embracing this, saying, 'Wow, this is the first Mexican food truck that I've ever seen that has a farm-to-table approach.' We had our little stand set up outside the truck, so if we ran out of onions, we would just go grab some onions. Now we had a brand. We were the first official farm-to-table food truck serving Mexican food in Northwest Arkansas. We were breaking ground."
The next ground they broke was at the innovative 8th St. Market space in Bentonville, where Rios established his first brick-and-mortar restaurant in 2017.
"People started coming and embracing the fact that this was another cool spot to come to," says Rios. "And now, obviously, with the Momentary right across the street from us, it's just incredible what's happening."
The Mezcaleria, says Rios, will be the last of the expansion for a bit -- he's wary of spreading himself and his team too thin and is determined to give his customers as peak an experience as possible, whichever of the three establishments they choose to visit. He also wants to take the time to enjoy the place he and his family have found for themselves among the community.
"[After the success of the food truck,] we said, 'OK, we're officially members of this community, and now we're going to make this community better,'" he says. "Now we're going to improve the quality of the life for the people to come and see us. How? Through our food. Through our customer service. Through our experience. Through our indulgence. And throwing a little bit of our culture into the mix."
Cooper says the Rios family is well on their way to achieving that goal.
"Soon after we met, we wanted to really create a different dynamic with food and how it translated to our cooks and employees. So with the support of the Rios Family, we would take all The Preacher's Son people, Pressroom people and others from the culinary and hospitality world, out to the farm once a year for the spring planting and help plant some crops. You quickly saw how much this family cares. The entire family would be out there cooking while we planted crops and when the work was done, we would all sit together and eat as a family. We did this for a few reasons. It is vitally important that all of our team members have a connection with where food comes from. Also, building relationships is at the core of any successful business, especially the hospitality industry. If we fail, we fail together. If we succeed, we succeed together.
"That's what this family believes in and that integrity, among other things, is what sets them apart."
More News
Self Portrait: Rafael Rios
A kitchen tool I can't do without is a Chef's Knife.
An ingredient that has the ability to make just about any dish better is epazote, especially in quesadillas and any soup.
My favorite dish to eat is Tacos Al Pastor.
If I hadn't ended up a chef, I might have made a living as a police officer.
My favorite Northwest Arkansas destination to visit when I'm not working is definitely Crystal Bridges; inside the galleries or the gardens are equally amazing.
I know I've helped someone when I improve their quality of life through food.
Something about me that might surprise someone to know is I worked at a Turkish restaurant and learned how to make traditional Turkish food on my free time while deployed to Afghanistan.
I'm at my best when my family is happy.
The best piece of advice I've received is nothing is more dignifying than honest work!
The best business decision I ever made was focusing on sustainability through local farming. Doing so adds value to the food we serve, and it sets high standards for traditional Mexican street food.
My greatest strength is a supportive wife and amazing family with great values.
Sponsor Content