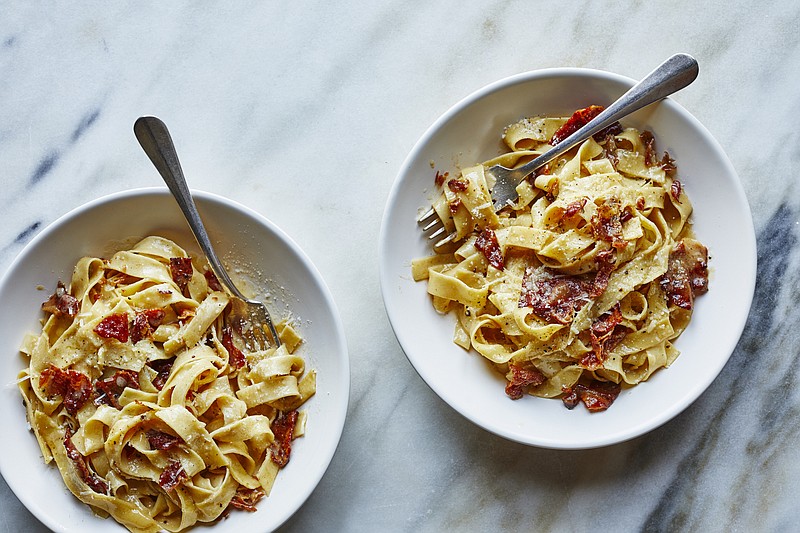 Tagliatelle With Prosciutto and Butter (The New York Times/Con Poulos)
At its best, Felix Trattoria is electric.
On a busy Friday or Saturday night before the pandemic, customers flocked in droves to the Venice neighborhood of Los Angeles for some of the best handmade pasta in the country. All 100 seats were filled by an eclectic mix of locals, tourists and, as in most buzzy California restaurants, celebrities. (The chef, Evan Funke, counts Jay-Z and Beyonce as fans.)
The music was intentionally familiar — some James Brown or '90s hip-hop, occasional rap or classic rock — but never too loud, lest it disrupt the olfactory experience. Funke, 41, considers the scent of the restaurant even more welcoming than the vibe.
"If the track pulls too hard, none of those beautiful aromas can weep into the dining room," he said. "When you walk into Felix, you can smell the orecchiette Pugliese, the Genovese and the Bolognese. You smell the pizza, the salame piccante. It's this one amazing perfume that is the cumulative effect of everything that's going on in the restaurant."
The seating hugs the heart of Felix, an open kitchen where cooks used to knead, cut and fold up to 75 pounds of pasta on a typical day. Funke said his pasta laboratorio "isn't just built as theater and conversation piece"; its true purpose is to connect pasta-maker and guest. For Funke, the act of making pasta is not only about preserving a rich history of more than 2,000 years; it's also about hospitality. "That connection is really important to me," he said.
After Los Angeles halted dine-in service, Funke struggled with the decision that faced everyone in the industry: to close, or pivot to a new business model. Two days later, the restaurant celebrated for ornate, delicate handmade pasta was serving takeout.
"I have people on my staff that live paycheck to paycheck, just like every other restaurant in the United States," Funke said. He described them as an extended family. "We stayed open so our staff could put food on the table."
But adapting a fine-dining restaurant to takeout is a challenge. There is no way to control the temperature and structure of cooked pasta for delivery. "I'm a student of consistency," Funke said. "In this business, if you're not consistent, you have nothing."
Instead, the restaurant created pasta kits, pairing 14 or 15 fresh varieties — eight or so made fully by hand, and the rest extruded — with pesto Genovese, arrabbiata and other classic sauces suited to each size and shape, and providing careful instructions for cooks to prepare the dishes at home. Down to one full-time and one part-time pasta-maker, Felix is still producing more than 65 pounds of pasta daily.
While the open kitchen was a draw for customers, it also allowed the staff a window on its audience. "That's why we do it, to see the reaction of our guests, to feel that they're satisfied." Funke said. "We've been reduced to these 90-second interactions when people pick up, and that's literally what's been sustaining us as a group."
Tagliatelle With Prosciutto and Butter
6 tablespoons unsalted butter
2 ounces prosciutto, torn into bite-size pieces
Kosher salt and black pepper
¾ pound fresh tagliatelle
½ cup finely grated Parmigiano-Reggiano, plus more for garnish, if desired
Bring a large pot of water to a boil over high heat.
In a large skillet, melt the butter over medium-high heat until frothy and golden, about 1 minute. Add half the prosciutto in one flat layer. Cook until crisp, 1 to 2 minutes, then transfer cooked prosciutto to a paper towel-lined plate. Repeat with remaining prosciutto, leaving it in the skillet, and remove skillet from heat.
Season the boiling water lightly with salt. When the salt dissolves, add the tagliatelle and cook until toothsome and slightly undercooked, 2 to 4 minutes or according to package instructions.
Just before your pasta is ready, return the skillet to the heat and warm over medium. Do not drain the pasta, but use a slotted pasta fork or tongs and transfer the cooked pasta directly to the skillet. Working quickly, add ½ cup Parmigiano-Reggiano and about ¼ cup of the pasta cooking water and swirl vigorously to emulsify, jostling the pan at the same time, and cook just until sauce is silky, about 1 minute.
Divide the pasta among shallow bowls, sprinkle with pepper and remaining prosciutto and serve immediately, along with more Parmigiano-Reggiano if desired.
Makes 2 servings.
Recipe adapted from Evan Funke's pasta cookbook, American Sfoglino (Chronicle Books, 2019)
Sponsor Content