Putin lauds Nazi loss at Moscow parade
MOSCOW -- Russian President Vladimir Putin hailed the defeat of Nazi Germany at the traditional massive Red Square military parade in Moscow, which was delayed by more than a month because of the coronavirus.
The parade is usually held May 9 on Victory Day, Russia's most important secular holiday, but was postponed until Wednesday because of the pandemic. But the timing allowed Russia to mark another significant war-era event -- the 75th anniversary of the Red Square parade by troops returning home after the Nazis' defeat.
"It is impossible to imagine what would have happened to the world if the Red Army did not stand up to its defense," Putin said in an address to the parade.
Some 14,000 soldiers took part in the parade, including units from several former Soviet republics and from Mongolia and Serbia.
[CORONAVIRUS: Click here for our complete coverage » arkansasonline.com/coronavirus]
More than 230 military vehicles drove across the vast square in the Russian capital, ranging from renowned WWII-era T-34 tanks to hulking Topol intercontinental ballistic missile-launchers. A flyover of helicopters, bombers and fighter planes completed the show of military might.
An estimated 27 million Soviets died in the war, either on the battlefield or as civilian casualties. Their valor and suffering has become key to Russia's national identity.
Deaths climb to 7 in Mexico earthquake
MEXICO CITY -- The death toll in Mexico's 7.5 magnitude earthquake has increased to seven, Oaxaca state Gov. Alejandro Murat announced on Wednesday.
More than 530 homes and 21 hospitals suffered minor damage, while 139 evacuated people were lodged in 12 hostels, according to figures given by civil protection coordinator David Leon.
The civil protection authorities said earlier that six people had died.
Twenty-three people were reported to have been injured.
All the deaths occurred in southern Oaxaca state, where two of the victims were women and five were men, Murat said.
More than 2,000 homes and over 55 schools suffered damage in the state, where road traffic was reestablished after nine roads were hit by landslides or suffered other damage, according to the governor.
The quake occurred off the Pacific coast of the state of Oaxaca, with its epicenter 14 miles south of Crucecita, at a depth of 3 miles, at 10:29 a.m. Tuesday.
It produced 1,571 aftershocks, the strongest of which had a magnitude of 5.5.
Charges dropped against Canadian chief
TORONTO -- Charges against a Canadian Aboriginal chief were dropped Wednesday at a hearing that followed the release of police dashcam video that showed an officer tackling and punching him.
Alberta Justice spokeswoman Carla Jones said in a statement the prosecution reassessed the available evidence and withdrew the charges of resisting arrest and assaulting a peace officer against Chief Allan Adam of the Athabasca Chipewyan First Nation.
The action came at a provincial court hearing in Fort McMurray, Alberta.,
Royal Canadian Mounted Police dashcam footage showing Adam's arrest, made public as part of a defense application to drop the charges, caused widespread public outrage and Prime Minister Justin Trudeau called it "shocking."
The 12-minute video shows an officer charging at Adam with his arm and elbow up and tackling him to the ground. It also shows the officer punching him in the head.
"My wife and I know we didn't do anything wrong," Adam said. "It was just for an expired license plate. I don't know the reason why it had to escalate."
Adam in the past has spoken out about excessive force and racism. He has noted that although aboriginal people represent 5% of Canada's population, they make up to 30% of the prison population.
Pilot error blamed in Pakistani crash
The pilots of a Pakistani airliner that crashed last month in Karachi were busy talking about the coronavirus and repeatedly ignored directions from air traffic controllers before their plane went down, killing 98 people, Pakistan's aviation minister said Wednesday.
The Pakistan International Airlines pilots also ignored automated warnings in the cockpit and failed to lower the landing gear, causing the plane's engines to hit the runway, according to a preliminary report on the crash.
The aviation minister, Ghulam Sarwar Khan, said air traffic controllers warned three times that the plane was flying too high on its approach to the runway at Karachi's airport and directed it not to land.
"But the pilot ignored these warnings," he said.
The plane was carrying military officers, executives and bankers on a flight from the eastern city of Lahore to Karachi on May 22 when it crashed into a residential area.
Of the 99 people on board, only two passengers survived. Four others on the ground were injured, and one subsequently died.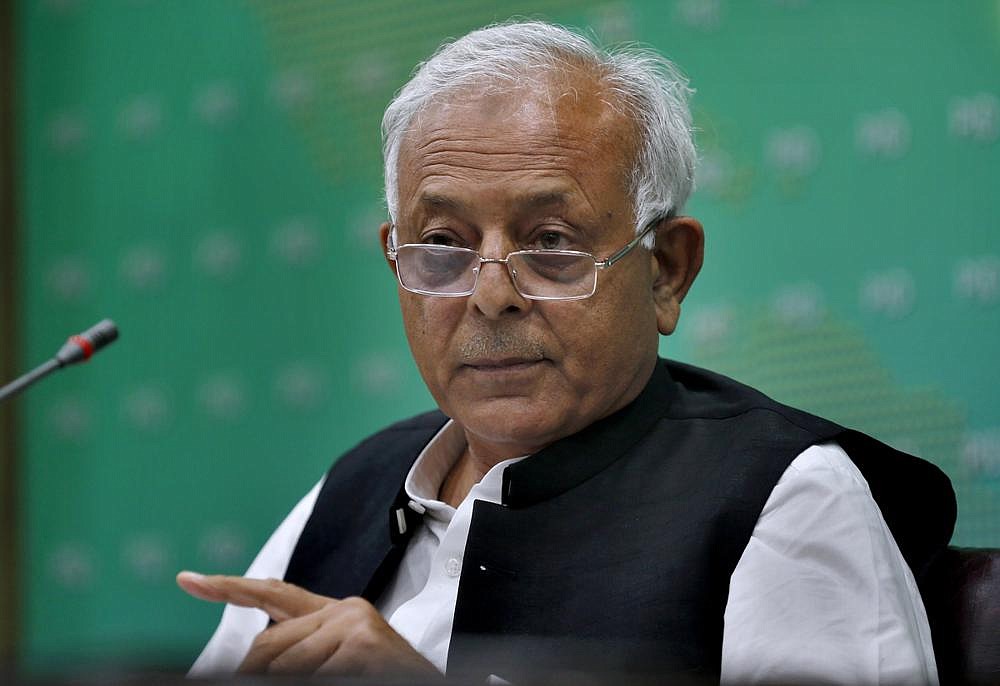 Ghulam Sarwar Khan, Pakistan's aviation minister, said Wednesday that air traffic controllers issued three warnings directing a crashed airliner's pilots not to land because the plane was flying too high on its approach to the Karachi airport. (AP/Anjum Naveed)